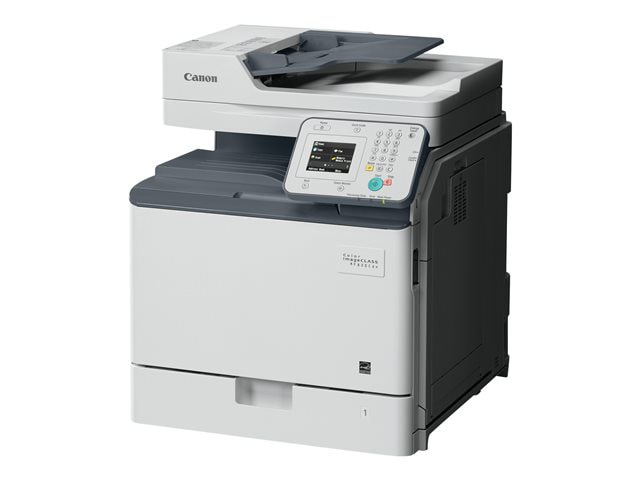 Quick tech specs
Color
Legal (8.5 in x 14 in) (original)
up to 36 cpm (copying)
Capacity: 650 sheets
USB 2.0
USB Host
Laser
A4/Legal (media)
up to 36 ppm (printing)
33.6 Kbps
Gigabit LAN
View All
Know your gear
The Canon imageCLASS MF820Cdn Printer helps you increase your productivity by offering print, scan, copy and fax functionalities. It quickly prints documents at speeds of up to 36 ppm and renders the first printed page within 6 seconds. This machine's copy speed is 36 cpm and it can process up to 999 copies of a document in one go. With its Gigabit LAN, USB 2.0 and USB host ports, the laser printer can easily be connected to LAN networks or computer systems. Print from handheld devices using smartphone applications like Canon Mobile Printing, Apple AirPrint, Mopria Print Service and Canon Mobile Scanning for Business. Its duplex printing standard reduces paper usage by half, while a 50-sheet automatic document feeder helps avoid manual sheet input to save time. This multi-function printer has a smart control panel and a 3.5-inch clear LCD touchscreen to help you select the required functions. Print, copy and scan at resolutions of up to 1200 x 1200 dpi, 600 x 600 dpi and 600 x 600 dpi, respectively. The peripheral featuring the energy saver mode, has a 550-sheet cassette tray, a 100-sheet multipurpose tray and a 250-sheet face-down output tray, allowing you to print multiple documents at the same time. Compatible with Windows, Mac and Linux (with drivers) operating systems, it supports a wide range of media types.
Color laser printer is recommended for commercial or business use
Monthly duty cycle of up to 88,000 pages to fulfill all your printing needs
1 GB print memory to ensure efficient operation
406 x 391 dpi fax resolution with 33.6 Kbps transmission speed and 512-page fax memory for convenient faxing
Contact Sales Assistance
(800) 800-4239
,
Monday-Friday 7am-7:30pm CT
Canon imageCLASS MF820Cdn
is rated
4.17
out of
5
by
6
.
Rated

5

out of

5
by
Dave1171
from
null
This printer is now permanently installed in our shipping department at our local manufacturing facility. It is acting primarily as a scanner and a printer. Things we like - Good Build Quality Initial Setup VERY easy Working with the toner was awesome. No tricks. Just pull the tube out and re-insert. Since this is the part that End Users interact with the most besides loading paper, it is important that changing toner be as easy as possible and Canon, I have to say I think you got it on this machine. Also found the paper tray easy to adjust, load and use Web Interface is OK Easy to add entries to the address book Very good print quality Things we didn't like as much - Touch screen on control panel. Scrolling on this screen was not easy, at least for me. I had to touch the screen in just a certain way so it did not think that I was making that choice. There were a few points where I had to go back a few times to get the selection I wanted. I wish there were a few more settings for quality on the scanner side. Perhaps I am asking too much for a multi-function machine at this price point? Initial Minor Issues I ran in to - Document feeder had trouble picking up one sheet of paper. Granted this was a printout and slightly curled, but I had to fiddle with it at times to get it to pick up the sheet. Default Copy quality was just "OK" unless I fiddled with the Density and Picture/Text settings This unit also has Mobile Apps that work with it This was a very clean app and easy to use. I liked the Capture feature. We are doing 6 Sigma projects around the office and having the ability to take a picture of a white board and then print out the result and have the ability in the app to adjust what prints is incredibly cool. I also found the Scanning app easy to use. I liked that I could easily scan something in on the machine directly to the mobile device. The Android app was equally easy to use. Everything I printed seemed to print as I would have expected. A+ on the Mobile apps in my opinion. Very Handy. All in all, this is a very feature rich durable printer and an excellent value.
Date published: 2015-12-01T00:00:00-05:00
Rated

5

out of

5
by
Michael7140hz
from
null
The Canon imageCLASS MF820Cdn is a great little printer. Sure, it is not the smallest device out there, but it is compact enough to be able to deploy and a wide variety of environments. As the device has color printing, scanning, copy, and fax features, it fits great in satellite office locations. Users are able to scan to email using PDF options as well as scan to USB drive if they have tons of stuff and are on the go. Features aside, maintenance and supplies for this unit are a breeze. Toner is easy to swap and getting in to find paper jams (misfeeds) are pretty straight forward. The LCD display is also quick to alert you of where the problem is and who to resolve it. Aside for some minor issues in the set up utility, this printer is easy to connect to. Once hooked up to a network with wifi, users are able to connect to it with their Apple phones or Android phone with provided apps. There are options to restrict access as well so that any small office can prevent unauthorized access. I would give this printer a 4.5 out of 5.
Date published: 2015-12-02T00:00:00-05:00
Rated

5

out of

5
by
Sean Donnelly
from
null
The Canon imageCLASS MF820Cdn continues it's excellent product line with a long list of MFP features, including mobile printing and scanning. Whether using from your PC or mobile device you'll always be able to print or scan as needed. Coming from a print background I am quite familiar with Canon, and have always had success with their products, this MFP is no exception. I used this in a heavy printing environment within our marketing department, after having it take the place of an older but reliable HP. Needless to say the quality and speed of this device made it an easy switch for the staff who never once complained about print quality, speed, or colors being off. The touch screen display was easy enough for staff to understand use without having to bother me every 5 minutes. We used the typical features as well like scan to email, which was easy to setup and worked without issue. This product can fit into a small or medium sized business easily and not skip a beat if put to the test.
Date published: 2015-11-25T00:00:00-05:00
Rated

5

out of

5
by
JessMT
from
null
This has been a great workhorse for our IS department. We've been using it for around 6 months. Parts of the setup were a little confusing at first, but the online manual was very easy to use!
Date published: 2016-02-26T00:00:00-05:00
Rated

5

out of

5
by
shifty434
from
Quick and Easy Setup
We purchased this printer to replace our existing, aging, color laser printer. The MF820Cdn was already well reviewed and we have had great experiences with Canon printers before. We have about 35 users that are constantly in the office and this printer has been able to handle the load without print jobs backing up or getting stuck. This includes both black and white documents and high color power point presentations and marketing graphics. The Setup for this printer couldn't be easier. I assigned a static IP and did the rest from the web portal. Configuring the scan to email features was simple and straight forward, as well as adding users to the "address book" for quick emailing of scanned documents. The other settings were easy to understand and see in the portal, so no confusing menus or navigation trees. If you need a mid-sized workgroup color laser printer, this one will fit the bill perfectly and I would highly recommend it for consideration.
Date published: 2016-03-02T00:00:00-05:00
Rated

5

out of

5
by
Nancy
from
No Mac CD and/or Technical Guide
To whom it may concern, If you are concerned about customer service, then why hasn't anyone in your company sent us a technical manual and/or a CD for a Mac? At the very least I need a link for a Mac compatible and/or cross platform technical guide. The CD you provided is useless and can be used as a small frisbee. This is an excellent printer, however is useless we have no PC's and do not plan to ever own one. There are a few things I need to tweak and cannot since there is no guide for Mac platform. Regards Nancy,
Date published: 2017-09-17T00:00:00-04:00