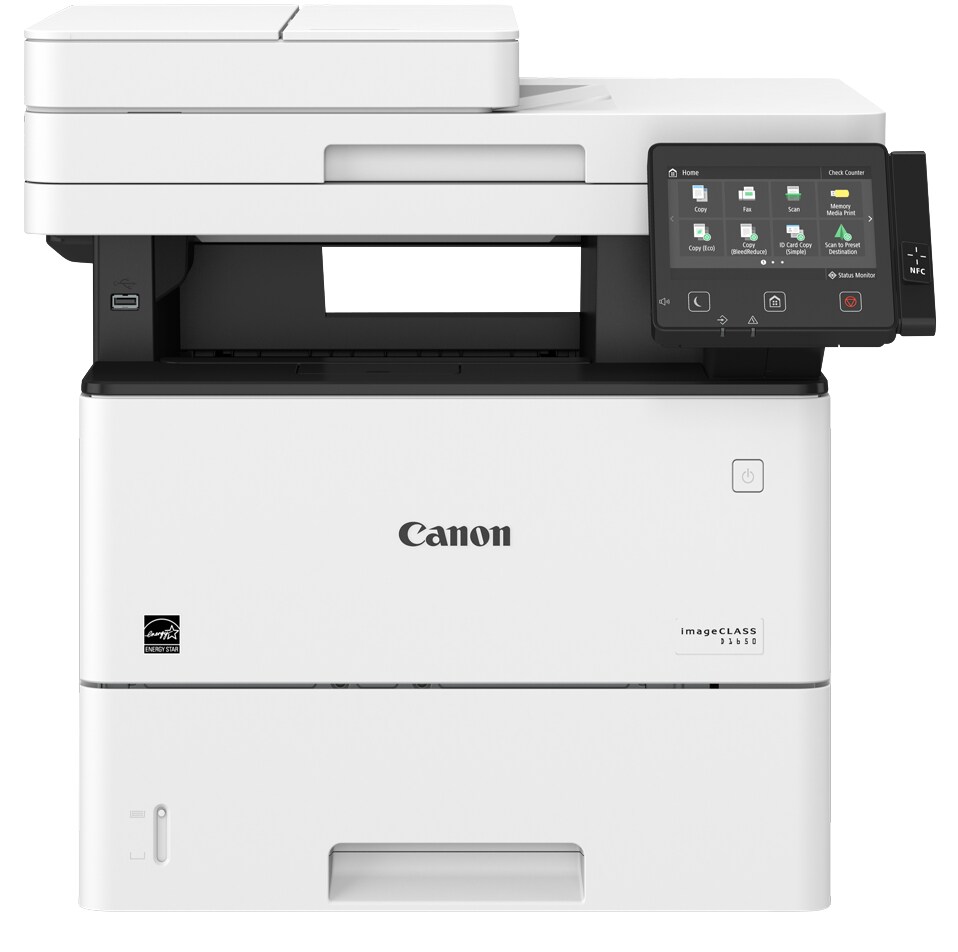 Quick tech specs
Multifunction printer
laser
Legal (media)
up to 45 ppm (printing)
33.6 Kbps
Gigabit LAN
USB host
B/W
Legal (8.5 in x 14 in) (original)
up to 45 ppm (copying)
650 sheets
USB 2.0
Wi-Fi(n)
NFC
View All
Know your gear
Designed for small to mid-size workgroups, the imageCLASS D1650 balances speedy performance, minimal maintenance, and the ability to expand paper capacity for busy groups. A 5"color touchscreen delivers an intuitive user experience and can be customized by a device administrator to simplify many daily tasks.
Canon ImageCLASS D1650 - multifunction printer - B/W
is rated
4.06
out of
5
by
16
.
Rated

5

out of

5
by
cchh
from
great printer
yes you can buy ink at walmart and it is cheap and this printer is the best
Date published: 2020-11-27T00:00:00-05:00
Rated

5

out of

5
by
CBlue
from
Setup is difficult if you have a Mac
Setup is too complicated! I still don't have the ability to scan to email
Date published: 2020-06-30T00:00:00-04:00
Rated

5

out of

5
by
Danny 1234
from
Print cartridges too expensive
You cannot buy off market print cartridges for it. And the canon cartridges are very expensive, close to $200 each.
Date published: 2020-01-04T00:00:00-05:00
Rated

5

out of

5
by
Shelly15
from
Best printer ever
No need for phone cable or any extra wires other than wall plug. Working fine with our phones and laptops. So far I loved it. Just bought it 2 weeks ago, I hope It will work fine in future too. So far loved it.
Date published: 2019-12-13T00:00:00-05:00
Rated

5

out of

5
by
ShannonF
from
Super Duper Speedy!!!
I received this product in exchange for my unbiased opinion.My business uses multiple all-in-one print/copy/scan/fax machines on a daily basis so I was very excited to have the opportunity to try this product.Pros- This machine is much quicker than any I have used in the past. The rate at which it produces copies far exceeded my expectations. Making double sided copies from two separate pages and copying double sided forms is such a breeze with this model. It's also extremely quiet compared to any other similar printers we've had in the past. The setup was very easy but I've only had about ten days to use it so I'm still learning all of its capabilities. Cons- The machine itself is quite large and very heavy. (We have it in its permanent location now so the weight of it shouldn't be a factor in the future. The quality of the printing isn't as sharp or crisp as with other printers we use currently. We still send old school faxes on a daily basis and this machine doesn't seem to have an option to print a confirmation after a fax has been sent. It's a minor detail that wouldn't keep me from purchasing it but it would be a beneficial option for our office.Also, the keypad is extremely sensitive, it types in things you are not touching and sometimes takes multiple taps to register a number. I looked into the toner cartridge price and it appears to be around $100, a little steep, but it only does black to I think it might be a savings in the long run over our color printers. Overall, I am thrilled with the product. The speed and quietness are far beyond what I expected! We love it!
Date published: 2019-03-27T00:00:00-04:00
Rated

5

out of

5
by
Sasha s
from
STUNNING Printer!
"I received this product in exchange for my unbiased opinion."Item: Canon D1650 PrinterI started working remotely in March and needed a printer and scanner. I got one for free at work but it was nothing like the Canon printer. ASSEMBLY: Overall, it was very easy to assemble. The box was huge so the hardest part was the weight of the item and just getting it out of the box. If it wasn't for the weight it could be don't by one person. I was nervous I would drop it. LOOK: This is pretty dorky but when I removed my office printer and put the canon at my desk, it felt like a much more expensive and sleek desk. I was extremely excited by this new look. It was clean and sleek and made my office make me feel productive and successful.PROBLEMS: Figuring out the Wi-Fi emailing capabilities took me a while and I had to do a lot of test runs but I eventually figured it out. It is not a color printer which is a bummer as who wants two separate printers. PRICE: It is a very expensive printer however it will make you much more productive at work and it looks nice so it is definitely worth the money.
Date published: 2019-03-26T00:00:00-04:00
Rated

5

out of

5
by
Math117
from
Love this machine
Are use this copier for a small business in my home and it's perfect! I'm impressed with the speed of copying and the ease of accessing all of its features
Date published: 2019-04-29T00:00:00-04:00
Rated

5

out of

5
by
Lois41
from
Great all-in-one printer/copier.
We are so happy that we purchased the Canon Image Class D1650 All in One Printer/Copier. It works perfectly and takes up much less room than our previous arrangement with a separate machine for each function. It is our dream machine! Thank you, Canon!
Date published: 2019-03-20T00:00:00-04:00
Rated

5

out of

5
by
hunter
from
Awesome Printer
I received this product in exchange for my unbiased opinion. The Canon D1650 Printer was easy to assemble and connected easily with my phone and all the computers in our network. Fast, clean prints and I am excited about all the money I will be saving on cartridges now that I am using a laser printer. This product exceeded our expectation on how easy it was to set up and integrate into our network and business. I highly recommend this printer. Thank you Canon.
Date published: 2019-03-25T00:00:00-04:00
Rated

5

out of

5
by
AlysonS
from
Awesome Printer!!! Great Machine!!!
I received this product in exchange for my unbiased opinion. This multi-function printer/ copier works like a DREAM! It scans, copies, prints and faxes wonderfully. The speed, accuracy, ease of use and accessibility makes this multi-function printer one of the best that I have ever used. My favorite feature has to do with the two-sided scanning and copying features. I love how you only need to allow the paper to pass through the machine once while it simultaneously scans both sides. This machine has a quick start up. Thankfully you do not need an engineering degree to use this printer. The directions are clear, concise and they make sense. There is no technical jargon to confuse the operator. Even the clear, LCD display screen is amazing!I found it quite easy to navigate. The set up of the printer was fast and easy. I thought it would be a bit complicated to set up with my router and use it as a wireless device, but I was pleasantly surprised. I had the machine connected to a variety of devices and online within 20 minutes. Compared to other similar printers I have used, this printer is far superior. This printer has a sturdy construction and looks like it can keep up with a high work demand. Moreover, compared to other similar machines, it is easier to navigate the LCD menu display. It is also easier to see. Once again, the output capacity surpasses that of other machines I have used in the recent past. This printer clearly exceeded my all of my expectations. I knew Canon was a good brand, but I usually went with other brands to fulfill my small office needs. I will never do that gain. The quality and abilities of this printer are most likely the BEST on the market for this price. My only suggested improvement would most likely be to have a color option for this machine. Also, a staple option would be nice. My overall impression is that once again, Canon has provided a durable, reliable, high-functioning, high quality printer for small office use. This machine will serve me for years to come with no regrets on my part. I would urge anyone with similar needs to purchase one of these printers. You will not be sorry.
Date published: 2019-04-05T00:00:00-04:00
Rated

5

out of

5
by
SPolk
from
Great Features.!!!!Awesome Productivity!!!
I received this product in exchange for my unbiased opinion. The printer came quickly. Follow the instruction`s located at the top of the box on how to remove from box. Take the small box out first before removing anything from the printer the instructions are located in there. The instructions are easy to read and follow. Set up took maybe 20m mins. The printer pages are crisp and clear no residual ink after touching. The usb port was a little hard to find at first. But overall good product, would like to see it in color though.
Date published: 2019-04-03T00:00:00-04:00
Rated

5

out of

5
by
RobertM
from
Solid, but could use improving
ASSEMBLY: Getting the physical product set up was fairly simple. The instructions were clear and easy to follow to get it set up in my office. I then connected it to my Windows laptop (via WiFi connection), which was also easy and the instructions in the manual were again clear and easy. However, when I connected it to my Mac desktop (also via WiFi connection), this proved to be quite the ordeal. The manual gave no definitive answers outside of checking the website. The instructions on which drivers and software I needed to download and where to find them were vague and difficult to figure out. It took me a few hours to figure and what I did and didn`t need to do to add my printer to my Mac network. The instructions for Macs definitely needs to be improved upon, as I felt it was really trial and error and my own searching that finally gave the desired outcome. USAGE: The product scans images beautifully. It came out crystal clear on my computer. Also, when working properly it can print many pages quickly. However, it encountered regular paper jams and feeding problems when I had to do a slightly larger job. It couldn`t pick up the right size of paper properly. It seemed to work fine after that adjustment, but I thought such an expensive machine could figure that out easily enough. OVERALL: For such an expensive item that should specialize in such print jobs, it did not seem worth the price to encounter that many jams. With other printers, I feel I can get similar speed on large printers with far less jams. My primary suggestions for improvement would be to more clearly spell out instructions for Mac computers and to see if the sensor/feeder that reads the paper size could be less finnicky and more able to pick up which paper it is picking up.
Date published: 2019-03-25T00:00:00-04:00
Rated

5

out of

5
by
SamanthaL
from
Perfect high quality laser printer
I received this product in exchange for my unbiased opinion. This is a super easy to use touch screen laser printer. Setup - there was hardly any setup getting it out of the box and ready to go. Just had to use the manual to look up how to connect it to WiFi. Speed - incredibly fast printing! Fax and copying - worked perfectly. Print quality - excellent. WiFi printing - seamless! I was able to quickly and easily print wirelessly straight from my phone, my laptop, and also hooked up to a computer with a USB cord. I would definitely recommend this printer for any of your printing needs. This has made my work life easier and personal printing as well.
Date published: 2019-03-20T00:00:00-04:00
Rated

5

out of

5
by
El Luko
from
If you want to actually scan DO NOT BUY
Scanner doesn't work without 300 MB of software downloads. Worthless knowledgebase, no decent support. Honestly way more frustration than this overpriced brick.
Date published: 2019-08-01T00:00:00-04:00
Rated

5

out of

5
by
American Data Plates Inc
from
Outstanding Office Printer
Great printer. Does everything you can need for a medium sized business. Only downfall I found is trying to print single checks from a full sheet from Quickbooks if needed. Still have yet to figure it out on my own or in the forum where I posted for help.
Date published: 2021-06-30T00:00:00-04:00
Rated

5

out of

5
by
Dengreg
from
It's not the best, but not the worst either.
I like this printer but there are a few design flaws.
Date published: 2021-06-11T00:00:00-04:00