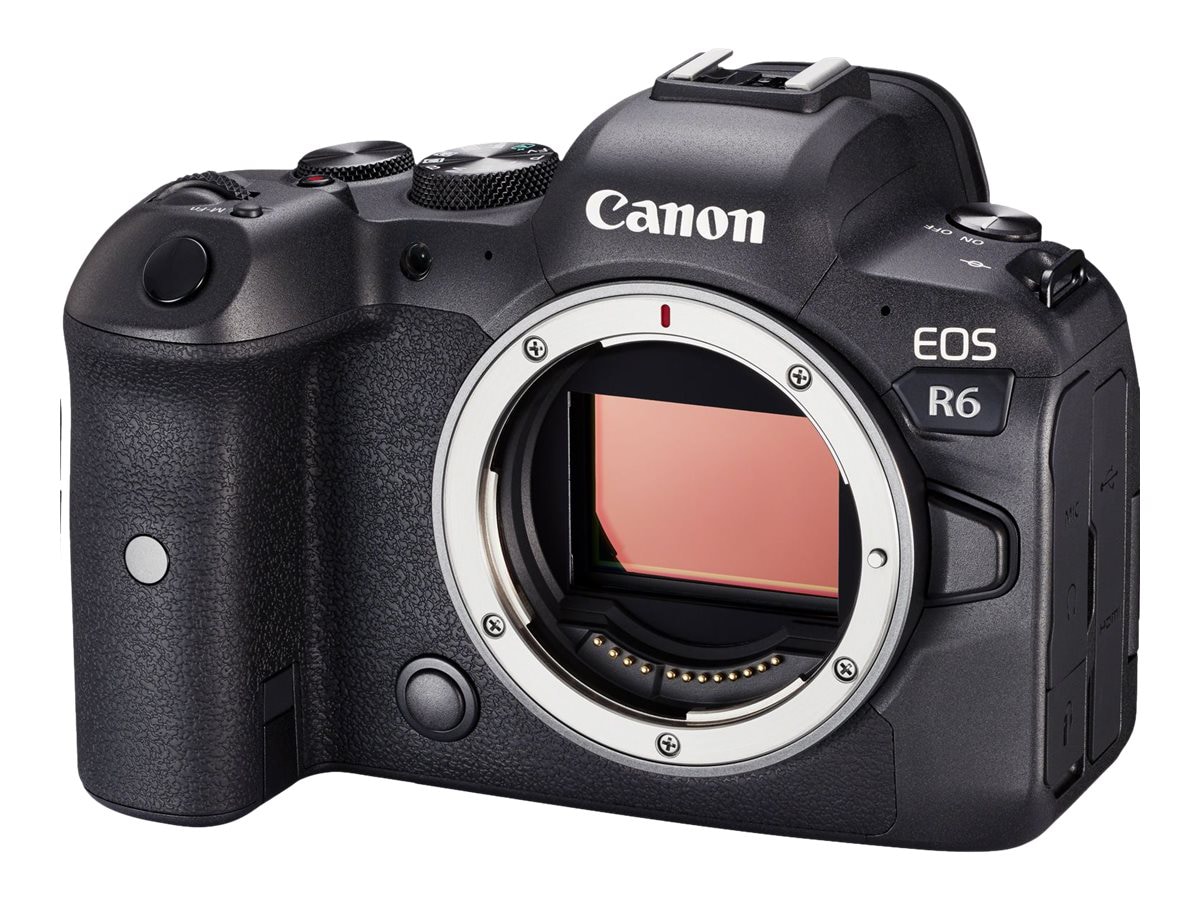 Quick tech specs
Digital camera
20.1 MP
4K / 60 fps
Wi-Fi
black
mirrorless
Full Frame
body only
Bluetooth
View All
Know your gear
Whatever you shoot, however you shoot it, the EOS R6 lets you be creative in ways you never thought possible.
Canon EOS R6 - digital camera - body only
is rated
3.80
out of
5
by
41
.
Rated

5

out of

5
by
CRodgers
from
Hard to Focus
I love the camera except for the fact that I can't get it in focus a lot of the time!
Date published: 2022-01-29T00:00:00-05:00
Rated

5

out of

5
by
Howard5
from
Canon R6
The R6 turns old EF lenses going back to 1992 into very useful lenses that can always be depended on to deliver the best result possible the first time the photo is captured. I like the new RF lenses but I prefer some of the older designs such as using the 1.4TC or 2.0 TC with an EF70-200/4 or EF70-200/2.8. Failure to make the new RF 70-200 series compatible with both teleconverters is a mistake by Canon.
Date published: 2022-02-10T00:00:00-05:00
Rated

5

out of

5
by
Gizmo6257
from
Great Camera
I was going to get the R5 ,but I went to camera shop and took both R5 and R6 outside and indoors and shot both for a couple of hours. I picked the R6 over the R5 becuse of a few reasons, it wasn't worth the difference in money, I actually got better photos in low light and I think just as good Photos as tehR5. I have been amazed at how good this camera is. I have the EOS R too and even though it is 30 megapixels , I really got better show on R6 because of IBIS and better Auto Focus and Low Light. I love the features too. I really enjoy the Function button back on top, it is so quick. I did set one of my Buttons to record Viedo with one touch and then I can switch back with one tough. Fantastic Camera. I think the Color that comes out of the R6 is awesome too.
Date published: 2021-01-31T00:00:00-05:00
Rated

5

out of

5
by
Hgrbr
from
Changing my rating.
Great camera but have not seen many updates to this expensive camera. Why have a limit on recording? Why not have more 4K options that don't overheat. The c settings need fixed for video. Make this a great hybrid with an update. Currently it is less of a camera then the Sony a7s3 and almost the same price point. Add the lens cost and it is right there at cost with less features.
Date published: 2021-02-02T00:00:00-05:00
Rated

5

out of

5
by
YECHWANDO
from
Best of Canon
I waited 5 years to get this camera. First I waited for the right Sony. Then I purchased the Sony A7III and soon after the Fujifilm XH1. Both great, outstanding and groundbreaking cameras in their own right. But I already had plenty of Canon Lenses and used these lenses with those bodies with an adapter. Although some lenses worked better than others, reliability was always an issue. No more. I am happy that I've returned to Canon. Still love my other bodies. Life is good. Enjoy
Date published: 2021-02-11T00:00:00-05:00
Rated

5

out of

5
by
tomKphoto
from
You won't be sorry
A new era in event & action photography. The number of keeper shots you can capture with this new AF system is hard to believe. I've owned (or shot with every Canon dSLR since 2005 and without hesitation I'll report the R6 is a real leap in performance — especially for such a small camera. The size, weight & ergonomics are all excellent and the customization is vast — it took me a few weeks to get the custom buttons/dials set to deliver the quickest shooting experience but tweeting with it so worth it! I photograph over 100 weddings a year and with the R6 I never want to stop. It's that good.
Date published: 2020-10-19T00:00:00-04:00
Rated

5

out of

5
by
Smitty_GSMNP
from
Capturing delight with less work!
I love this camera! I am upgrading from a dated 40D. I like everything form the ability to put the 1.6 crop factor back in like you are selecting the aspect ratio on your tv to the massive amounts of AF points.yes, I can control it with my iPhone or instantly download images to a device. Using the adapter for my old lens is a non issue for me!
Date published: 2020-12-05T00:00:00-05:00
Rated

5

out of

5
by
Mike Gee
from
It's a great buy
I had a Eos R and also own a 5dMark IV. The focus ability of this camera is great as well as the ability for use in a sport and wildlife scenario. Everyone says it has only 20 MPs but no one complains about that with the 1D series. This is a baby 1D level camera in a mirror less body. As far as the video goes if you use it for very long shots and are worried about the time limits or overheating issues then maybe a camcorder is what you need. It is very easy to use especially if you are a Canon shooter. If you don't need the R5 buy this camera, you will enjoy the features and performance.
Date published: 2020-12-30T00:00:00-05:00
Rated

5

out of

5
by
GBr6
from
Excellent photography camera
I purchased the R6 one month ago, and I have found it to be very capable when paired with Canon's RF lenses. I am using the F4 24-105mm for an everyday/family photo lens, and the F11 600mm for bird watching.
Date published: 2020-11-19T00:00:00-05:00
Rated

5

out of

5
by
KimZ
from
Canon r6 body
Love it! Great AF systems and Ibis! Now I want the R5 too! These cameras are game changers. I feel like my EF lenses have new life breathed into them! My L glass is shining with this body attached. Worth every penny!
Date published: 2020-09-26T00:00:00-04:00
Rated

5

out of

5
by
canajun
from
Best camera I've ever owned and used.
Fit and finish from the git go. Fits my hands perfectly and the weight is superb. Mounting 70-200mm lens to it's own tripod as it's quite heavy, but the ability to use my EF lens is an added bonus. Using the insert style adaptor so able to use adjustable ND Filter as well as Polarized filter.
Date published: 2021-01-15T00:00:00-05:00
Rated

5

out of

5
by
QC Cong
from
Purchaser
Just less than a month, there is a malfunction on my camera function dial. It's completely out of whack in a weirdest way I had yet experienced I. Any camera I've used.
Date published: 2021-01-02T00:00:00-05:00
Rated

5

out of

5
by
Joey94
from
High quality but too much anxiety
It's a high quality camera with amazing autofocus but unfortunately I just have to much anxiety using it worrying about turning it off as often as I can so that it doesn't overheat which is causing me to miss important moments on a wedding day.
Date published: 2020-11-29T00:00:00-05:00
Rated

5

out of

5
by
Alekandra
from
Love it!
I love everything about this camera for both stills and video. I can't wait to get another one!
Date published: 2020-10-04T00:00:00-04:00
Rated

5

out of

5
by
CGP18
from
Amazing
I used this camera for sports and event and I LOVE it the evf is amazing and it feels great in the hand! the photos I'm getting with this camera are the best I've ever gotten!
Date published: 2020-09-27T00:00:00-04:00
Rated

5

out of

5
by
Jg96795
from
Great but needs more
I got this a week ago. Keep in mind you are spending 2700 dollars on a camera that still needs to be in 1080p sometimes. It does an amazing job on 4K but when it overheats you have to drop down to 1080. At 2600 you would hope 4K some format would not overheat. With that said what you get out of this camera looks amazing. They need some firmware updates to help it out. I should be able to use my custom settings for video modes and not just photography modes. The R5 does this. The R6 should as well. We do need Clog3 and alli if it helps the camera not to overheat. Ipb uses lots of processing. Would like a hq 1080 p as well from a down sample of 2k maybe.
Date published: 2020-09-08T00:00:00-04:00
Rated

5

out of

5
by
gregory71
from
Returning mine
I bought this camera and it was great until I tried shooting 1080 60. The quality is worse than any camera I've used in the past with "moire" and "aliasing". The R5 for some reason doesn't have this issue. While we love shooting in 4k, we still need 1080 to look great.
Date published: 2020-09-13T00:00:00-04:00
Rated

5

out of

5
by
kif
from
Disappointed
Pros: 1. Great IBIS 2. Great auto focus 3. Great color science Cons 1. No ALL-I 2. No aperture or shutter priority for video recording 3. No dual video recording to both cards
Date published: 2020-09-08T00:00:00-04:00
Rated

5

out of

5
by
reidtv
from
No All-I
This camera would have 5 stars but they crippled it with not having ALL-I I hope they add this in a firmware update, for now I will wait for Sony and see what they do with the A7SIII
Date published: 2020-07-12T00:00:00-04:00
Rated

5

out of

5
by
Vinny13
from
Great for Stills & Short Video Clips
My review is from the perspective of a photographer who at times will need to capture video. I'll address the elephant in the room immediately - if you're looking at the R6 for mostly video work, it's not the right camera. Yes, it captures 4K60, but there's a 30 minute run limit, 4K60 can cause the camera to overheat, and to get another 30 minute run time you need to let the camera cool off for a pretty long time. However, if run times are shorter, or you will use 4K at 24fps primarily, and/or switching back and forth between video and stills, you'll probably be fine and I have not had an issue. For what I do, with run times at 7 to 10 minutes in length on average - it does fine and I haven't even seen an overheating warning. My biggest complaint when it comes to video is the rolling shutter - and without a BSI sensor, this will happen due to sensor readout speeds, so you have to be careful with panning/moving shots. Looking into the future, Canon probably develops a BSI or BSI-like sensor for newer models. Also, rolling shutter isn't horrible, but it's noticeable if you're not careful. For stills, this camera is amazing. I'll break this down in sections... it won't be short, but hopefully it'll be helpful. Ergonomics & Build: It has the Canon quality with a robust build. Even though it's a polycarbonate shell, it feels durable with some heft, not cheap and plasticky. The size is comparable to a APSC DSLR, the grip fits well into the hand, the button layout makes sense and has some customizability. I also shoot with another brand and I have the camera buttons and dials mapped out almost identically. It's winter so I haven't used it in rain yet, but in snow - no issues with snow melting all over the camera. At its price point, I wouldn't take it into a massive downpour, why? It's an enthusiast-level camera, and the average R6 user probably wouldn't be out in those conditions - this is a completely anecdotal assumption though. However, I heard the level of weather sealing is the same amount as the EOS R and EOS 6D - which is less than the R5. Therefore my assumption is probably right. The joystick is back, but doesn't do much more than move the AF point, but by default it does nothing so turn it on in the menus even though it should be on by default. The rate button is there and you can assign what stars you rate an image - I use 3 & 5 stars for like/love, and it bakes into the exif data and will appear in most raw editors when you import. I do wish video was next to or closer to the manual mode on the mode dial - or even better, a simple switch to go from stills to video. EVF: It's good, again for the price point, it's what you'd expect - nothing more, nothing less. If you need to capture fast motion you can also up the EVF to 120fps. For those who haven't used mirrorless extensively, 120fps does help with the transition from OVF to EVF. If you wear polarized glasses, you might have issues, as I can't wear my sunglasses that are polarized, but that's physics, and not the fault of Canon. Menus: I have used and do own other brands of mirrorless, this is by far the best menu system. While you will get used to any menu system, this is one of the few that I've had to look up very little to find features. There is a "Q" or Quick menu button that I wish could be customized, but it can't so you'll have to setup your "My Menu" Image Quality & Dynamic Range: 20MP is more than enough for most, but I do feel the precedent is being set by other manufacturers that 24-28MP is the standard being set for this price level. The RAW files have great detail (both RAW and C-RAW, and JPEGs have good colors that I have no problems using for proofing and for some jobs delivering. However, I also shoot another brand that's the gold standard for film simulations, and I hope Canon gives us some software to easily create Picture Styles. Dynamic Range - this is where I used to think Canon was relatively weak, but not anymore when you're using the mechanical shutter. In first curtain electronic shutter (FCES) and ES, you can notice a degradation in quality of the RAW file. If you use the Low ISO (ISO 50) it will also degrade the raw some too, as going below the native ISO is done artificially. Shadow recovery is good, but not great. I still expose to the right if I'm in really challenging situations. AF: if it's not the best, it's close to the best - even in low light. I have yet to find an instance where I can't trust the AF and EyeAF. But just in case, I've mapped a button to be able to put the camera in single point with a simple click, and when I go into manual focus I can rely on the MF tools. IBIS: It works, and I can handhold at slower exposure times and get a sharp image, but do know it's not a fix-all and you do have to shoot a small burst of images. For video, where you're stationary, it does a great job too. However, I will say maximizing its ability and sharpness of your photos has more to do with your skills than the ability of the camera's IBIS. Battery Life: the CIPA rating is under the most challenging situations, and even in cold weather, I had no problems getting 1000+ photos in cold weather without having to swap out the battery. When I wrapped up the shoot, I was down to 1 "bar" of battery remaining. When I turned on the camera the next day I was back up to 2 bars of battery, which shows what 25 degree F weather does to battery life. However, this exceeded expectations. Why did I rate it 4 out of 5 stars? Because I couldn't rate it 4.5 stars. It's a great photography camera, but is it that much better than others that have released in the last couple years at the same price or cheaper, probably not. I think this camera should have been released at the $2200-2300 price point, or at a minimum bundled the basic EF-RF adapter with the camera at its current price point. Other influencing factors, is definitely rolling shutter, lack of a switch to easily go between stills and video for hybrid users, AF in video isn't perfect especially with tracking subjects, and 1080p/120 isn't great but is usable. As you can see my complaints are with video. But I didn't downgrade the rating of the camera because this was never touted at the superior "hybrid camera" and at least to me was billed as a stills camera that can do video. However, I'm also in the camp of, don't put features on a product that's an after thought, and I feel video was a little bit of an after thought. This camera is definitely not for video intensive creatives, but it is good enough for video as long as it fits your work flow. As for stills, probably the best around in the sub 30MP mirrorless category.
Date published: 2021-01-21T00:00:00-05:00
Rated

5

out of

5
by
Shawne
from
Great Buy
I've owned this camera for a few months now and can honestly say it's the best camera I have ever used. Had to get over the psychological disappointment of the 20 megapixels but I actually much prefer the image quality compared to some of my 24 and 30 mp cameras. Super happy with my purchase.
Date published: 2021-01-26T00:00:00-05:00
Rated

5

out of

5
by
LindaD
from
Great camera
Love the camera so far...taking the time to learn the menu's and AF
Date published: 2021-03-18T00:00:00-04:00
Rated

5

out of

5
by
HappyHill
from
Blown Away
Extremely happy with the Canon EOS R6. I'm a professional wedding photographer and was blown away by the speed and accuracy of this camera. I studied it all week before taking it to a wedding and highly recommend doing the same, it has some features that need to be set up but once I had it were I wanted it, it was a dream to shoot with. I hadn't shot a wedding since October 2020 and only shot three in 2020 due to the pandemic shutdown, so the tears of joy running down my face at the first of many weddings this year and the feeling of finally getting back to work, combined with my brand new camera, felt so good!
Date published: 2021-05-13T00:00:00-04:00
Rated

5

out of

5
by
Upsman
from
Best Camera I've ever owned.
I purchased the R6 mid January and what a delight it has been to use it. First the whole setup and ergonomics of it are all laid out to be fluid, from how it holds in the hands all the way through the menu system, it's all been thoroughly thought out. With these two new mirror less cameras the R6 and R5 you can tell Canon is now engaged and on board creating world class leading mirrorless Cameras, the autofocus is spot on and its tracking capabilities leaves your jaw on the ground. Image quality is superb, with excellent white balance and color rendition, high ISO performance is world class, you can really push this up into 12k´s and easily have very usable images with little noise. The last thing I'll say, the camera is just a pure joy to work with, you can tell Canon listened to its customers and gave them what they were looking for. This Camera comes produced by the worlds number one camera maker Canon, it's manufactured in Japan, by leading craftsmen and craft woman and you can tell their love in their craft went into manufacturing this amazing camera. Thank you Canon
Date published: 2021-04-16T00:00:00-04:00
Rated

5

out of

5
by
tharzill
from
Worst Camera I Ever Owned
The EOS R6 is not what I thought it would be. While it has a few good features (for my use I do NOT include Video as I only take still photos such high fps, and I do like the silent shutter as it is truly silent and the EVF is not nearly as bad as I have heard some say, and while it does do a good job in low light I have to ask what's the point? With the small 20.1 MP sensor you get no good detailed shots unless maybe if you are standing on top of your subject. And excellence in photos is in the detail. They Animal tracking is superb... when it hits. Which is in my experience about 60% of the time. There is a lot of room for improvement here. Overall I am extremely disappointed in this camera. Had I the opportunity to do things different I would have purchased an EOS 90D. I can not recommend this product to any serious photographer. And if you are not serious it is pricey.
Date published: 2021-04-23T00:00:00-04:00
Rated

5

out of

5
by
LBPhoto
from
For the money, an excellent camera body.
Originally bought this as a backup for an R5. There is a reason it is less expensive. It is not as strong as the R5, although it is an excellent medium priced camera. Lots of features and easy to use.
Date published: 2021-05-17T00:00:00-04:00
Rated

5

out of

5
by
Mike2021
from
Works great to take photos, just can't do anything with them
Computers have been unable to recognize the camera on multiple occasions, and I have had to reset the camera settings to the original settings in order to solve this issue. Extremely annoying to have to continue to reset the settings just to be able to download your photos
Date published: 2021-07-08T00:00:00-04:00
Rated

5

out of

5
by
Emily L
from
Focus & viewfinder are game-changers!
The incredible focus capabilities and electronic viewfinder are so wonderful and were both huge selling points for me in upgrading from my Canon 5D Mk IV bodies. I'm in love and it's made me excited to take photos again!!
Date published: 2021-06-29T00:00:00-04:00
Rated

5

out of

5
by
RobR21
from
Couldn't Be Happier with My R6 Purchase
The R6 is my fourth Canon digital camera (Rebel TSi– 40D – 6D MKII – R6 and it's the largest relative improvement of any of my upgrades – even considering that I upgraded from the excellent 6D MKII. There are four main areas of improvement I'd like to highlight, focus, picture quality, the new Fv mode setting, and customization. (1) The focus is unbelievable. Not only can I move the focus point with a touch of my thumb to anywhere within the frame, the R6 focusses faster, more accurately, and tracks moving objects far better than my 6D MKII. Moreover, the face / animal tracking feature, whether you have eye recognition selected or not, is unbelievably accurate. To test it, I focused on pictures in my house and the camera had no problem quickly finding the eye in the photos. I also like that you add an electronic indicator ("Electronic full-time MF" in the AF 5 menu) that tells you when you are in focus when using manual focus. It's comforting to know that I can go to manual focus and not have solely rely on my aging eyes to obtain focus. The only negative is that there are too many focus options, but this can easily be rectified by customizing the choices ("Limit AF methods" in the AF4 menu). (2) The picture quality from a color and detail perspective is better than my 6D MKII even though I stepped down from a 26 MP to a 20 MP sensor. The smaller sensor size was the biggest negative I had before my purchase, and the camera has mitigated the issue. (3) The Fv mode setting allows the user to quickly jump between shutter, aperture and ISO priority or any combination of the three (e.g., fully automatic; auto ISO, auto shutter, aperture priority; or auto shutter, set ISO, set aperture, etc.). After you get acclimated to the setting (there is an adjustment period), it is an excellent tool that negates the need to use Av or Tv settings. (4) The fourth area, though less important, is the degree of customization. I like to customize the menus to hold key items that I use often because I can't remember where the information resides in the standard Canon menu layout. This camera allows for multiple customer menus, which I have set up for movies, photos, and general stuff like formatting SD cards. I also like that the mode dial has 3 customer settings, which I have set up for landscapes, portraits, and action/sports (my 6DMKII only had 2). I could go on and on about the extra ring on each RF lens that can be customized, smoothness of the shutter, more detailed information in the view finder to set up the shot, the view finder adjusts proportionately when exposure compensation is used, but you get the picture – I couldn't be happier with my new camera.
Date published: 2021-08-13T00:00:00-04:00
Rated

5

out of

5
by
alpnts
from
Excellent for action photos and video.
I bought this camera about 4 months ago, i was debating this camera or the 1Dx Mk ii because here in Taiwan they were about the same price, the 1D would be used. I'm very glad i went with the R6. I use it mainly to take pictures and videos of my 2 todlers and it tracks them very well even when there is no light or very dark, the screen is black but it the camera is still tracking the eye or face. I upgraded to this camera from the 6Dmkii and it's about the same for photos, video however is much more of an upgrade than I expected, i really love the backup recording of photo and video, i keep two 512GB microSD Sandisk Extreme cards in it and it will record in every mode including 10bit Log at 60fps, canon states you need a UHS-II card but i have not had any problems so far. I mostly record in the higher compressed 4k modes because the files are so big and it looks about the same to me. As far as battery life goes, I use a battery grip with 2 LP-E6NH batteries, we went on a 2 day 1 night trip and started with 100% battery, took about 2500 photos and about 1 hour of video and had about 30% battery life remaining. I'm very happy to use USB charging because it's so convinient compared to the bulky chargers that only charge one battery at at time. I use an anker 20W PD power adapter and a 60W rated 3ft or 6in usb C to C cable, the 10ft cable rated at 100W wont charge the camera, also works in the 45W outlet of the PD wall adapter. I keep it on 15 seconds to turn off the screen and either 30 seconds or 1 minute auto power off, i don't really review pictures becuase i know i got the shot and the exposure with auto ISO and manual everything else. I do wish it had GPS like my 6D had but i still have an old Canon GPS module that i attach to the hotshoe and it works great, GP-E2 i think. The camera has had an error 2 times since i bought it where I can't turn it on after it has been in my backpack for some time, i just pop out the battery tray and pop it back in and then it powers on. I can't really compare the image quality to my 5DsR because the difference is too great and they are completely different cameras, the R6 takes pictures fast and accurately, no waiting for focus, i mostly keep it on face detect and it gets the job done most of the time unless it's a difficult subject like someone on a horse going in circles in a ring in front of you doing acrobatics on the horse and constatnly moving with a complex background behind them then the focus will jump off the subject and it takes some effor to reaquire but it's miles ahead of the 5DsR where you have to choose the focus points and tracking is not so great, very difficult to get a tack sharp image on a moving subject, but very easy on the R6. I have never been even close to outrunning the buffer that is 64 deep with the UHS-I cards i have in it and the pictures go from the buffer to the camera almost instantly, compared to the 5DsR where if i take 8 pictures i have to wait 15 to 20 seconds to even be able to review or take more pictures. I only use EF glass with the control ring adapeter and everything works perfectly, i have 4 L lenses and i don't see a reason to upgrade while i still own the 5DsR.
Date published: 2021-09-23T00:00:00-04:00
Rated

5

out of

5
by
TBSHARP
from
When it works - It's Great... But it doesn't work, frequently
I bought this camera as an upgrade. When it works and takes a picture it can be really good but there are some major issues. 1 these shadow lines show up in the pictures. Doesn't matter what mode I am in or what setting but if I am in "electronic shutter mode" they happen. 2) It locks up constantly. With different things. Can't access card, busy, cant communicate with lens... I have updated firmware for the camera and the lens, changed cards, changed lenses, nothing fixes it. I spent a ton of money on something I have to fight constantly to work.
Date published: 2021-09-27T00:00:00-04:00
Rated

5

out of

5
by
DanP
from
Great upgrade
I bought the R6 upon release, I've been shooting with it for about a year mainly shooting youth soccer and family. This is a massive upgrade from my 1div that I was using. the AF system in this is literally the best I've used on any system (I've owned other brands as well.) I love how quickly it acquires focus and tracks subjects. I've had 0 issues with my camera. I honestly can't find anything to complain about with the body.
Date published: 2021-08-08T00:00:00-04:00
Rated

5

out of

5
by
Added Expense
from
You need a fairly new computer to read Canon CR3 file, i.e., RAW file
Please be aware that different camera manufacturers use different file names for their own version of RAW files. The Canon extension is .CR3. There are several free programs designed to convert these various extensions to RAW files you can then work with in Adobe Photoshop, Lightroom, etc. However, these programs do not work with older operating systems. Also, you can't upgrade your computer's operating system after a while. So, I am reluctantly coming to the conclusion that I need to buy a new computer in order to use my terrific Canon R6. By the way, my IMAC is only 4 years old and works perfectly. Such is life I suppose.
Date published: 2021-07-24T00:00:00-04:00
Rated

5

out of

5
by
Canon users
from
Great camera.
It's a great camera for both video and photo. Now with the Sony a4. I should of waited. Unlimited recording limit is worth it to wait and get the Sony. It offers the same as canon but doesn't have that record limit.
Date published: 2021-10-23T00:00:00-04:00
Rated

5

out of

5
by
Suzy G
from
Great...at first
Loved it for the first 9 months. until my flash fell off my camera with the hotshoe still attached to it. Some very "smart" designer decided it was a great idea to place the hotshoe screw heads inside the camera body. Which means, in order to get them tightened they have to take your camera apart. And we all know that taking an electronic item apart multiple times will weaken it, shorten it's life, and cause it to be compromised long before it should be. I have shoot Canon and loved them for 15 years.....but I am now seriously considering switching to Sony unless they do a recall and change out the hotshoes. This is beyond ridiculous!!!!!
Date published: 2021-10-21T00:00:00-04:00
Rated

5

out of

5
by
Bryanwww
from
Quality concerns
I bought the R6 a few weeks ago, after waiting nearly a year for any issues to be ironed. I was very excited to finally make the purchase. When I got the camera home, I attempted to put a memory card into slot 1. Unfortunately the spring locking mechanism was not engaging the card. Slot 2 seemed to work, but slot one would not seat the card. I brought the camera back and exchanged for a second one. With the second body, the slots were fine. However, while scanning the menus, I noticed the screen jumping around to different menus on its own. I thought maybe I had some oil on my fingers that was tripping up the touch screen so I ignored the glitch. A few days later, while using the camera at a shoot, I could hear the camera beeping and focusing on its own. I was in live view, but was not touching the screen. The camera kept beeping and trying to focus in the car right bottom of the screen. I knew that was right. I got the camera home and tried to recreate the issue. After a while, the screen started ttrying to focus on its own in the far upper left of the screen. I set the camera down and backed away. The camera continued to beep and seek focus in that upper right corner, even though I wasn't near it. I recorded the a video of what it was doing and called canon. I uploaded the video and was told the engineers would look at it an call me back. I never heard back from canon. Fortunately, the store manager took pity on me and agreed to exchange the body for a 3rd one. This current body seems to be fine, but I haven't used it much yet. I love the camera, and it's features are superb. However, I am VERY concerned about the build quality and the longevity of the camera. I should have to exchange two bodies almost immediately, not should I have to send a 2 day old camera to canon to be "repaired". I hope this body works out, but I'm now very skeptical.
Date published: 2021-10-25T00:00:00-04:00
Rated

5

out of

5
by
Hammy
from
Generational LEAP in AF performance!
This is not your T series, 7 series, 5 series, early R series and I dare say 1 series increment of better AF. This is a SERIOUS upgrade in AF capability. I've been shooting with all of the previous listed models for nearly 20 years, they've all had their nuances of getting the settings to work for you, the way you want, for different subjects. THIS camera, along with R5, R3 (and assuredly the R1 stand alone in a new generation of wicked accurate AF performance!
Date published: 2021-10-31T00:00:00-04:00
Rated

5

out of

5
by
anoy
from
issue showing while recording cannont going live sreaming
almost ok but issuein live streaming purpose no respond and any updation from cannon side
Date published: 2021-11-25T00:00:00-05:00
Rated

5

out of

5
by
Sean D
from
Poor Build Quality, Disappointed
Had a problem with the front of the camera button. It got stuck. Quality wasn't there for me, feels cheaply made. Not to mention the over heating issue as well. Expected more from Canon. I am a long time Canon costumer and all my lens glass is Canon but this is making me rethink my future investments.
Date published: 2021-12-14T00:00:00-05:00
Rated

5

out of

5
by
Wrei
from
Saved me $$$
I had been researching buying a 1Dx III or the R3. Well, the R3 availability did not develop in time to meet my requirements. I almost pulled the trigger on a 1Dx III, but held off to evaluate the R6 for sports. I purchased the R6 in September and received it in November. I am excited to say, for sports, it is meeting my requirements. I needed an upgrade from my 7D II and the R6 is fantastic. I am loving the higher ISO capabilities and the overall capabilities the R6 provides for sports. The files coming out of the R6 are great and my editor loves them. This is the sleeper 'value' mirrorless camera from Canon.
Date published: 2021-12-22T00:00:00-05:00
Rated

5

out of

5
by
Ben Photos
from
Camera will freeze even with latest firmware update
I had the camera for a little over a year. I cover high school and college sporting events. Recently the camera kept freezing up right in the middle of a shoot. I upgraded to firmware 1.5.1 camera still freezes up at time. Recently I attempted to focus on a basketball player going in for a dunk all I got was a black screen and a locked camera. I completed the games with my old !DX Mark II.
Date published: 2022-03-09T00:00:00-05:00