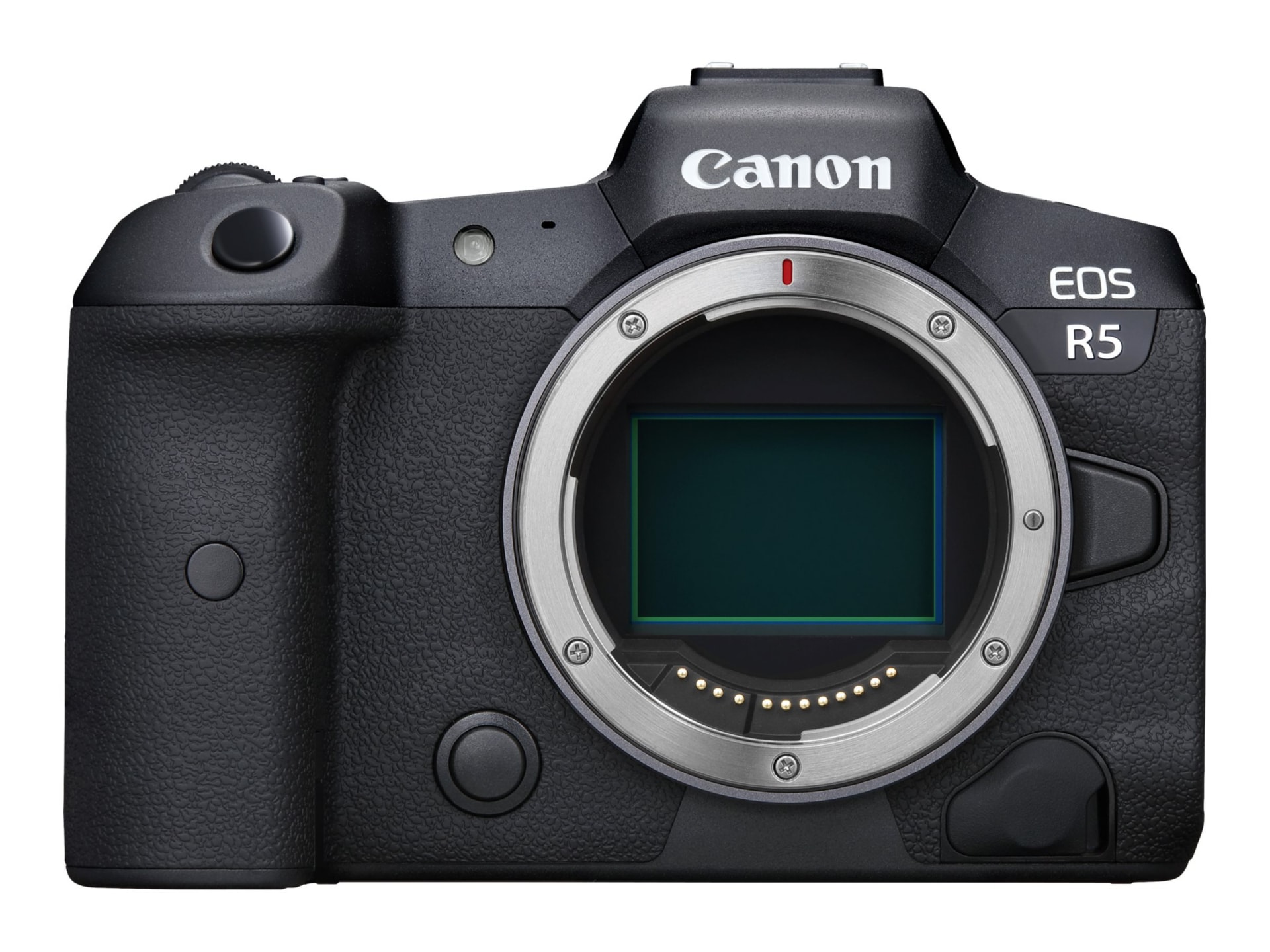 Quick tech specs
Digital camera
45 MP
8K / 30 fps
Wi-Fi
mirrorless
Full Frame
body only
Bluetooth
View All
Know your gear
Whatever you shoot, however you shoot it, the EOS R5 will let you be creative in ways you simply couldn't before. Capture sensational 45 megapixel photos at up to 20 frames per second, or cinematic 12 bit 8K RAW video using the entire width of the camera's sensor. Advanced AF is programmed using deep-learning artificial intelligence, while in-body image stabilization works in concert with a lens's own IS to provide up to 8 stops of protection against camera shake.
Canon EOS R5 - digital camera - body only
is rated
4.09
out of
5
by
85
.
Rated

5

out of

5
by
ArtCreate
from
Great camera for anything
I bought the first Canon EOS 5D when it came out. What a great camera full frame back then, but I wanted a better autofocus, I bough a lot of Canons until I got the 5Ds that I can I wished it was better on the iso. I bought a Sony camera and I sold a lot of cameras from canon but I kept the 70-200 is II. I was about tho begin buying glass for the Sony until I had money to go for the EOS R5! The Sony is collecting dust and I have new RF glass. This is the Camera that I waited for a decade! Now I feel this Camera is perfect for now! We always want more but I can do great things with this tool. Thank you Canon! I feel good about this camera!
Date published: 2022-03-11T00:00:00-05:00
Rated

5

out of

5
by
Kevin24689
from
Mirrorless is the way to go!
I love this camera. Mirrorless is they way to go. The viewfinder is terrific. The files are very larger but so is the ability to crop dramatically and still get a great image. I've been using it for about 6 months with no problems. I don't shoot a lot of video, but for short clips, some up to 15 minutes, I've never had a problem with overheating. I do not shoot in 8K video as I have no screens or TV's that can show 8K! 4K seems like more than enough. Animal, people and eye tracking for autofocus is really impressive. The RF 24-105mm Lens is very good and better than the original EF version, which I had before.
Date published: 2022-02-06T00:00:00-05:00
Rated

5

out of

5
by
Luv2Shoot
from
Outstanding
I've had the R5 for a little over a month. I'm using it with an RF 70-200mm f2.8 and an EF 17-40mm f4 with control ring adapter. I continue to be amazed by the versatility of this camera and the stunning image quality. I got the camera for photography not videography so over heating is simply not an issue. I am having fun exploring the video capabilities but that will never be my focus. I'm looking forward to photography with the RF 28-70mm f2 which I've purchased but is on backorder.
Date published: 2021-02-11T00:00:00-05:00
Rated

5

out of

5
by
brh
from
Bird Photography Pros and Cons
The r5 is extraordinarily good--almost astonishingly so--for photographing birds in flight, even against a busy background. It is poor, however, at single-spot focusing at birds against a busy background; if you search the internet (e.g., Canon Rumors for this topic you will see that this is a recognized problem. I have tried many different settings, but I cannot use the r5 in situations involving trees or leaves behind an immobile small bird and expect the camera to focus. If I am doing bird photography at the beach or the desert, the r5 is great. In the forest/woods/chaparral it is necessary to use the 7d2.
Date published: 2021-02-11T00:00:00-05:00
Rated

5

out of

5
by
Jonno
from
Brilliant!
Sold my 7D II and 100-400 Mk.II Got the R5 and 100-500 RF very happy with results. Lenses not huge difference but enough, especially on full frame. The extra megapixels allows you to crop well, without loss. Someone had issues with focus in the bush, no worries mate, just set your * button to eye detect and back focus on AF with spot. Sot bird first then hit * for eye focus. Works beautifully.
Date published: 2021-02-14T00:00:00-05:00
Rated

5

out of

5
by
FotofriQ
from
Best Mirrorless Camera. Period.
Just buy it. Sell your kidney, sell your kids. It's that good!
Date published: 2020-09-20T00:00:00-04:00
Rated

5

out of

5
by
Veloy
from
An absolute dream!
An absolute dream! This is the stills camera I have been waiting for. It is so intuitive that I focus more on my photography than fiddling with my camera.
Date published: 2020-09-14T00:00:00-04:00
Rated

5

out of

5
by
Andrew Iurenko
from
Top rech
Unbelievable technology in such compact camera. Money Making tool. Appreciate all what Canon creates!
Date published: 2020-09-15T00:00:00-04:00
Rated

5

out of

5
by
pierpuppy
from
everything I wanted in a camera
Bought is a month ago. So happy I did! It is everything I ever wanted!
Date published: 2020-09-13T00:00:00-04:00
Rated

5

out of

5
by
Evanb
from
Overheating issue and bad recovery time!
The camera overheats quickly and it takes for ever to recover that makes it unusable, No noticeable diffrence in 120 fps vs 60 fps EVF, battery life is bad compared to my R and 5D IV.
Date published: 2020-09-16T00:00:00-04:00
Rated

5

out of

5
by
LH1
from
Fantastic Camera!
I moved from the 77D to the EOS R not too long ago, and then recently picked up the R5, and the R5 is a huge improvement over the EOS R (which is still a great camera. I am using this camera primarily for stills photography, and so I will not be reviewing the video aspect of the R5. The dynamic range is fantastic, the ISO capabilities in low light are wonderful for what I have tested so far, and the image quality is amazing. It works wonderfully with the EF lenses using the lens adapter. I still need a bit of time with this camera, however, I highly recommend it for stills photographers.
Date published: 2020-09-07T00:00:00-04:00
Rated

5

out of

5
by
Quoc
from
EOS R5
Over heating , record limits, and recovery time are issues that I would like to eliminate. I would like to improve the time it takes to power on the camera. It seems be around 10 seconds to turn on versus 2 seconds on the EOS R.
Date published: 2020-08-28T00:00:00-04:00
Rated

5

out of

5
by
Len Catalanotto
from
No camera...poor review.
I would love to rate it...but you didn't send it to me yet..been waiting for over a month. Sad as you would think a camera manufacturer would know how many cameras to make before telling people they are shipping them out...to find out they don't even have any idea is mind blowing.
Date published: 2020-08-27T00:00:00-04:00
Rated

5

out of

5
by
Ajaxxn
from
Canon EOS R5 Overheating
This is a great camera, but the overheating issue needs to be fixed ASAP or I will be returning this camera. If the overheating is fixed soon, I will update my rating to 5 stars. The over heating is not just a problem in the high quality video modes, the camera also over heats when shooting still in burst mode...UNACCEPTABLE. CANON IF YOUR LISTENING, PLEASE FIX ASAP!
Date published: 2020-08-26T00:00:00-04:00
Rated

5

out of

5
by
a Kent
from
R5 is great, but needs a bit more
This new body has reinvigorated my photography interest. While it did hang once (requiring power off, not an overheat issue after a bursty stills session of 700+ over 30 minutes, I have had no other problems. Beyond the micro HDMI port, the only other complaint I have it that it lacks HDMI 2.1 or DP 2.0 for 8k external recording. Also, adding the ability to program the AFON button would be great. I want eye AF except when I press AFON, when I want to force the focus to a pre-selcted spot, then eye AF when I press the shutter button.
Date published: 2020-08-20T00:00:00-04:00
Rated

5

out of

5
by
Oleg M
from
Mind blowing, and it's not an exaggeration
I've owned and rented many cameras in my life, and I've never seen anything even close to the R5. Autofocus is extremely accurate and fast. No problem catching an iris in focus while shooting straight into the sun. The long-awaited IBIS is much more superior to what I've seen in the Sony A7r4. No motion blur at 1/6" shooting the RF85/1.2 - this is insane. Ergonomics is typical Canon - very comfortable to shoot all day, and nothing to complain about. 20fps helps to pick the best frames in any kind of action. The DR is noticeably improved compared to the EOS R. I'm glad to see the level is now working with Eye-AF (didn't work in the EOS R). The only thing I wish the camera would offer is to go over 1/8000s with electronic shutter to allow shooting the f/1.2 primes in bright daylight. Maybe it's possible to add via a firmware update? Overall, I'm very happy with the purchase.
Date published: 2020-08-18T00:00:00-04:00
Rated

5

out of

5
by
PhotogTom
from
Excellent autofocus, IBIS, a clean sensor, and ease of use
I'm reviewing this as one that takes still images almost exclusively. I have very little experience in video, and so am not affected by the concerns that some have voiced about heat-related issues. The autofocus system is heads and tails above previous cameras I've had, including my R and my 5D4. The animal eye-focus is very good, and does a great job of tracking, based on the limited time that I've used the body. High-ISO noise seems to be on track with my 5D4, but it cleans up nicely, perhaps a benefit of the increased pixel density (finer grain to the noise). I have yet to experiment with and utilize all the capabilities of this camera, so my review is somewhat premature. But I'm really liking it so far.
Date published: 2020-08-19T00:00:00-04:00
Rated

5

out of

5
by
WPPHOTO808
from
Great Replacement for my aging 5D Mark III
My main body is the 1Dx Mark III. First, I have not tried the video capabilities since I'm primarily a stills photographer. I shoot both portraits and landscapes. The image quality is far better than I had expected. Dynamic range is huge improvement over my 5D Mark III. I've been shooting with my EF L glass since I don't own any RF lenses and I'm very happy. My most problematic lens is my 50mm f/1.2L. The Eye AF and IBIS have restored my faith in this lens. I'm using DPP to process raw files. Being able to activate HDR PQ in DPP is a big plus.
Date published: 2020-08-15T00:00:00-04:00
Rated

5

out of

5
by
JHOF
from
Phenomenal stills camera, disappointing video camera
I received the R5 the day it was released and was extremely excited to start using it professionally. I recently graduated college and invested this camera to get me started with my career as a freelance videographer/photographer. The photography capabilities of this camera are absolutely phenomenal. Some of the highest quality images I have ever seen. being able to shoot 45 megapixel photos at 20fps with autofocus is insane. Unfortunately, the video features leave a lot to be desired. On paper the video specs are impressive, but once you start using this camera in the real world you will quickly realize that this camera is almost unusable as a video camera. During my first video test with this camera I went to a nearby dog beach to test out the 4K 120 feature. It was a chilly overcast day and my camera overheated after only 10 minutes of filming short clips of 4K120. I was extremely disappointed. The camera was still cold to the touch so I believe that this could be a software limitation and not a physical limitation. The full cool down time for this camera is almost 3 hours, regardless of the ambient temperature. This is completely unacceptable for a camera of this price. The second you turn this camera on, you will start to lose video time because of heat. Even taking photos will take affect the recording time of this camera. I took about 100 photos at the zoo to test out the animal AF feature and was very impressed. The only problem was after taking about 100 photos, I switched to video mode and was unable to record any 4KHQ, 4K120, 4K60, or 8K video because of overheating. If you plan on using this camera to take a large amount of photos, understand that you will be taking away your ability to film in 4KHQ, 4K120, 4K60, and 8K. There is no overheat limit on normal 4K30, but just know that this mode is noticeably softer than other 4K modes. I would definitely recommend this camera as a photography camera. This is honestly one of the best that money can buy. If you are a videographer looking for a reliable high quality video camera, I would recommend looking elsewhere. The frequent overheating absolutely cripples this camera. If the overheating problem was fixed, then this would be the perfect camera.
Date published: 2020-08-14T00:00:00-04:00
Rated

5

out of

5
by
swimvball
from
Just about my perfect camera
I was halfway out the door... running my canon lenses on another manufacture's body and seriously considering selling all my lenses to fully make the jump.. But I am so glad I held out. The R5 has been everything I was hoping for in a stills camera. I used to have to carry around two cameras to cover the types of shooting I enjoy. One for sports / action and one for high resolution work. But now I can simplify to just the R5. I love the 12 fps mechanical and 20 fps all electronic (and that is at twice the megapixels of the 1DX MK II). The eye AF is fantastic and works with all animals I've encountered. Its crazy how quiet the mechanical shutter is when compared to the 1DX MK II I was using before this. Having 3 dials plus the lens ring for quick settings adjustments is really nice. Canon included not only zebras & focus peaking but also their three triangle focus indicator which has been amazing to use. I can recharge it via USB so I don't have to bring the separate battery chargers (that was an issue with the large 1DX charger). I also really like the video options they put into this camera. The ability to pull a high res photo from a video is really cool. For the short couple seconds to three minute video clips I grab the video features of this camera exceed everything I was hoping for. The R5 has exceeded all my expectations and has proven to be just about the perfect camera for the primarily stills photography with light video usage I do.
Date published: 2020-08-30T00:00:00-04:00
Rated

5

out of

5
by
Reenah
from
Just buy it
Amazing camera Everything a camera should be. So glad I ordered one!
Date published: 2020-08-31T00:00:00-04:00
Rated

5

out of

5
by
EyeNorth
from
Great camera, but I'd if I were you
I love this camera for photos! But it does get hot shooting photos outdoors for 30 - 40 minutes. No video! No continuous shooting. Just taking pictures of a model with a strobe light. The overheating is concerning! Especially for professional use. But the photos are top notch! I do hope a Canon figures this camera out. I don't want to return it and stick with my Sony.
Date published: 2020-08-29T00:00:00-04:00
Rated

5

out of

5
by
A Bouchard
from
Too much Too soon.
This is a fantastic camera with some issues, which seem to be getting addressed. The problem boils down to overheating (pun intended). This makes using some of the more amazing things not practical except for very short videos. The first update has helped alleviate the problem but it is still and issue. Maybe they released it too soon.
Date published: 2020-08-29T00:00:00-04:00
Rated

5

out of

5
by
Uli123
from
Elephant in the Room
this is a no brainer, remove the recording time limits from the video features ( at least from all but 8k) and the price will be justified. but TRUST me, you will live with the little thought in that back of your head, when shooting video, that inevitably it will "overheat". Not only does it overheat, but it has a cool down timer that inhibits you from recording further, for long periods of time. for wedding, podcasting, short film making this camera just isnt designed to help the user. those limits removed, then id recommend you buy 2 of these cameras as all other aspects of the R5 are superb. but for primarily video shooting, i think we all know which new release is much better for the job.
Date published: 2020-09-02T00:00:00-04:00
Rated

5

out of

5
by
Elston
from
great technology advances
Great focus. Stabilization in camera. High resolution. Works well with EF lenses.
Date published: 2020-08-14T00:00:00-04:00
Rated

5

out of

5
by
Arriola
from
Fulfillment and brand tarnished - disappointed
First experience, worst experience ever. The fact I'm receiving this feedback survey before I've even been contacted or received the camera tells all. Very disappointed.
Date published: 2020-08-13T00:00:00-04:00
Rated

5

out of

5
by
PDCCO
from
Exceptional Image Quality
As a landscape photographer, after a few weeks of use, I can confidently say this is a very fine instrument! Dynamic range, image quality, Canon glass - this camera is simply outstanding. Too many features to get into in a short review, but I really appreciate the abundance of relevant information displayed in the EVF/LCD display. I used to have to manually focus with my old system to achieve critical focus in my images, now I can simply touch/select objects within the fame and let the auto-focus take over. As I become more familiar with the capabilities of this camera I am sure I will applicate it even more! Attached photo was shot in an very high dynamic range situation, direct sunlight spot lighting a waterfall in a slot canyon. Shadow recovery was amazingly clean. Would normally of had to take multiple shots and exposure blend in post to achieve the results I got in one exposure with the R5.
Date published: 2020-08-13T00:00:00-04:00
Rated

5

out of

5
by
Ray Pan
from
Canon EOS R5 Dispointment
Canon should take responsibility to fix overheat issue not just make market highlight
Date published: 2020-08-13T00:00:00-04:00
Rated

5

out of

5
by
DZ1
from
Great camera so so service.
Best canon I have ever owned. Same horrible canon CS. Love the new R5's FPS and AF features. The IS is amazing to say the least. I was thinking it would be lighter with the new lenses but that really isn't the case. However the tremendous improvements makes it a mute point. Rather have the advancements over weight loss.
Date published: 2020-08-11T00:00:00-04:00
Rated

5

out of

5
by
JID
from
Initial Impressions, Rev. 1
This is a follow-up to my Initial Impressions review. I found that I had my 5D4 set on Daylight White Balance. When I changed it to AWB, both cameras produced identical color JPG and Raw images. I took some closeups of flowers and plants. While I could not see any difference in resolution with my bird pictures (which were at a distance, I could see a significant improvement in the closeups with the R5. I need to keep working on the birds. I change my rating to "5" now. (I still miss the GPS but I knew about that before I bought it.)
Date published: 2020-07-31T00:00:00-04:00
Rated

5

out of

5
by
Kathy W RPV
from
Looks Great Feels Uncomfortable
I have not had the pleasure of using it yet, I am working through my menu settings. It's not pleasant to hold. The corners are needlessly square. I'm having serious separation anxiety over letting my 5D Mark IV go. That was a lovely camera. And just so you know, I work with my hands. They are tough and strong.
Date published: 2020-07-31T00:00:00-04:00
Rated

5

out of

5
by
CanonLover2020
from
Overheating
This camera overheats way too fast. At this price point was expecting more.
Date published: 2020-07-31T00:00:00-04:00
Rated

5

out of

5
by
JID
from
Initial Impressions
I am a long time 5D3 & 5D4 user. I got my R5 yesterday. I really don't like the fact that there is no GPS in the R5. This is very important to me as a wildlife photographer. Connecting to my cell phone is not working for me because I can only connect two items at a time - my car and my smart watch. Eventually, I may try unlinking one of them. For now, I used a GP-E2 and it worked flawlessly (however, it is an extra thing to carry). I was concerned that I would not like the control changes in the R5 but I have found that I REALLY like them so far. The animal focus works well on birds as long as they are reasonably exposed to view. I compared the 5D4 to the R5 trying to take the same photo with the same settings (using Canon white lenses). The jpg images on the 5D4 looked more colorful than those from the R5. My wife liked the 5D4 images much better. A quick comparison of raw images with no processing still showed some but less difference. Resolution and sharpness was surprisingly almost identical for the wildlife photos that I took. Overall, I like the controls and ergonomics but I am disappointed that there is no significant increase in image quality with the newer technology. I look forward to leaning how to use the camera better.
Date published: 2020-07-31T00:00:00-04:00
Rated

5

out of

5
by
Teresazazen
from
Great for Stills, too much $$ for crippled video
I would've loved it if they would've released an option for stills only instead of paying more to include a crippled video portion, I can't justify this only being able to use 4k30, & paying the high price for video that is useless. Hope they do something about it, bummed I will have to return
Date published: 2020-08-25T00:00:00-04:00
Rated

5

out of

5
by
EpicNext
from
Remove the Overheating timers Canon!!!
Dear Canon, You're better than this. The overheating timer issue is absolutely ridiculous. You've built a great product, but playing games with consumers destroys consumer confidence and brand loyalty. This the same game that Apple played with slowing down devices and claiming battery preservation. They got a class action lawsuit. Don't fall into the same trap due to corporate greed. Keep innovating and making amazing products instead! Loyal and EXTREMELY disappointed customer.
Date published: 2020-09-26T00:00:00-04:00
Rated

5

out of

5
by
Capturing Kapcia Photo
from
Overall impressed + looking to see what's to come
Upgrading from the EOS R ended up being a good decision. The R5's capabilities are much better than the R, in my opinion. The AF is much quicker, ergonomics are better, although, I would have liked the body to be a little beefier, and the eye/face detection is a huge improvement. Dropping the larger files into PS wasn't as worrisome as I thought it would be, as my laptop is handling the edits just fine. I haven't tried out the video yet, but will once I am able to afford a Cfexpress card in the near future. The customization, even though I haven't experienced everything yet, is a little better. There are settings that I wanted that I had to go in and change from default, but that's not a huge deal. Battery life, from what I can tell, isn't as great as the R and only being 15% larger capacity can only go so far on the R5. Hopefully with future firmware updates, the overall bug fixes will happen, along with some temp tweak options as well. I assume longer recording times will be looked at, too. Overall, after using this new body for a couple weeks now, I have been happy with my results. And it's always a good ice breaker with other Canon shooters since it's such a new camera.
Date published: 2020-10-28T00:00:00-04:00
Rated

5

out of

5
by
NancyP
from
Canon R5 Rocks!
This camera was everything I hoped it would be. For dog photography it's a dream come true! Was able to get many more sharp in focus action shots than I'd be able to get with my 5D Mark III. Also the increased rapid fire of this camera was awesome. The battery did seem to get used up quicker than my current camera, but I can live with that. Loved this camera so much I went ahead and bought one!
Date published: 2020-11-23T00:00:00-05:00
Rated

5

out of

5
by
KirkD
from
A pleasure to use
I received my R5 a couple weeks ago and have been putting it through its paces both with stills and videos. Did an all-day professional video shoot with it at 4K30 with no issues at all, as I had expected from the reviews. Having a controls layout similar to my R, but with extra features, is a bonus. Love its HDR for RAW photos in Lightroom, especially for nightscapes. I've been using Canon cameras for years, starting with the AE-1 and then the F1, all the way up to this new R5. This is the best camera, by far, and I am totally satisfied with it.
Date published: 2020-11-11T00:00:00-05:00
Rated

5

out of

5
by
MediaProf
from
Canon R5 comfortable, professional, excellent.
I have, also, a Canon EOS R. The R5 is far superior in its layout and controls...and, of course, in its photographic capabilities to the R, which I've used for the past two years. Although I've not had a chance to use the R5 extensively, I have shot stills in 1.6x mode, full mode, FHD and 4K Video. All look great. The camera feels comfortable in my hand, operations are very natural, all buttons and dials have a great array of programmable options and this camera will likely replace both my Canon EOS 7DII and the R for wildlife, landscapes and video.
Date published: 2021-01-02T00:00:00-05:00
Rated

5

out of

5
by
Dennis G
from
Incredible camera, not cheap, but incredible.
LIghtning quick autofocus. I'm not a birder, but took some bird shots to try it out using 70-200 F4 EF L on the control ring adapter. Fantastic AF, zeroed in on birds' eyes, jumped to body as they turned, back to eyes when they turned back. Hand-held indoor shots at a museum 1/6 and 1/8 second still tack sharp, fantastic resolution. It's not cheap, but it's a tremendous jump from my 5D MK3.
Date published: 2020-12-31T00:00:00-05:00
Rated

5

out of

5
by
J PK
from
Mde me jump into mirrorless with both feet
Remarkable camera. I have "dabbled" in mirrorless, first with the M and more recently with the RP. But this R5 has made me sell my 5Div, and we know what an incredible camera that was. I pretty much only do still photography so cannot comment on any video aspects. But, the autofocus, the IQ and the DR area l a big step forward. I had worried about going from an OVF to an EVF based on prior experiences. That was an unnecessary worry.
Date published: 2021-01-04T00:00:00-05:00
Rated

5

out of

5
by
ADDLTD
from
What's not to LOVE!
Everything on this camera is awesome. It is fast, accurate, tack sharp and frankly the best camera I have ever owned. The versatility alone is amazing. I bought this for sports and wildlife photography, which is handles in spades. It also shines for portrait as well as landscape photography. All I can say is WOW!
Date published: 2020-10-08T00:00:00-04:00
Rated

5

out of

5
by
Ghaniawala
from
Convenient, fast response.
The backorder was delivered within 10 days; quite impressed. The camera is obviously a dream.
Date published: 2020-12-19T00:00:00-05:00
Rated

5

out of

5
by
Tigereg
from
Major upgrade to my 5d Mark III
I've only had the camera for a few weeks but it is definitely an upgrade from my Canon 5d Mark III. I should have go mirrorless a lot sooner. The auto focus on this camera is amazing. Even with my 85mm 1.2 if has very sharp focus and its quick I love the flip out screen as I am able to see what I am taking pictures of from different angles. Still getting use to tjhe settings but compared to my 5d Mark III this shines.
Date published: 2020-10-07T00:00:00-04:00
Rated

5

out of

5
by
Davey J
from
R5 lives up to the hype.
Very good focus (animal/people/eyes), IBIS, no blackout viewfinder, no crop video, build, and ergonomics. Having trouble getting Lexar V60 SD card to shoot faster than 5fps. Other than that, exceeds expectations.
Date published: 2020-10-19T00:00:00-04:00
Rated

5

out of

5
by
MERL43
from
Good Camera Takes Sharp Photos
I have been using this camera for a few weeks for birding photos. It takes very sharp images with the RF800 lens. I am trying to get used to all of the screens for settings. I would like to easily use the main Q button screen but getting to it and out of it takes clicking the INFO button too many times. Some of the other screens are good but I am used to using a 7D II or 5D MIV. I think a software fix could solve this issue. Press the Q button for this screen and then press the Q button again to get out of the screen. Also, if using the center focus point. If you get too close to the main screen, possibly touching it with your nose the focus point moves. Is there a way center focus could be locked in like on the previous cameras mentioned above? The R5 works well with the lens adapter, and I like the crop mode feature to get the 1.6 multiplier when shooting small birds. You have to get the exposure settings right for a good image, and can see if your setting is too bright or dark on the main screen before the image is taken. Right now it is still taking me much longer to get good settings than with my previous cameras. Maybe over the next 6 months I will get better at this.
Date published: 2020-11-20T00:00:00-05:00
Rated

5

out of

5
by
ratman
from
EOS R5 - bringing back the magic
Still learning to use all the new features - but so far, it's magical! It takes me back to my very earliest days of shooting with an SLR with the feeling that there are many new cool things that can be achieved.
Date published: 2020-10-01T00:00:00-04:00
Rated

5

out of

5
by
Mizzaga
from
10/10 recommend!
Incredible camera. Beautiful resolution. Easy to navigate if familiar with Canon products.
Date published: 2020-11-19T00:00:00-05:00
Rated

5

out of

5
by
KHardy
from
Glad I found this camera!
I just purchased the Canon EOS R5 body along with the Canon 24-70 2.8L lens and Canon battery grip from Berger-Bros. Camera. I must say that was the best purchase I have ever made! I had this camera and accessories on order from another camera store. They were out of the Canon R5 body like a lot of other camera stores. By luck I had read in a review of this camera, a person was in the same dilemma as I and found out that Berger-Bros. Camera had it in stock! So I called Berger-Bros. Camera and actually got to speak with Brad Berger the owner! He told me he has the camera and accessories I wanted in stock. So I cancelled my order and reordered everything from Brad! I received the best service I could ask for, as well as outstanding prices on the camera and accessories. And to top it off, my order was shipped the same day and arrived without delay. I couldn't be happier with my camera purchasing experience that I received from Brad and Berger-Bros. Camera!
Date published: 2020-12-11T00:00:00-05:00
Rated

5

out of

5
by
RossMcK
from
A huge upgrade and an ideal camera for birding photography
I purchased this for photography only. There are two essential points that make it stand out: 1) Focus is incredible, particularly for birds in flight. Birds in the bush requires using two-button back-button focusing, but that works pretty well. Much better than the EOS R. 2) Resolution: I shoot birds, so often I'm extracting a small bird from a large screen. The resolution is incredible, a reflection of the high megapixel count, but combined with precise focus, the effect is incredibly satisfying. Regarding a concern some have - I shot >1000 photos on one battery during a 3 hour birding walk. So the new batteries are quite effective. All in all, a huge improvement over the EOS R, and probably a better birding camera than the 90D, which I used to depend on for its crop-sensor reach.
Date published: 2020-11-22T00:00:00-05:00
Rated

5

out of

5
by
Geoffrey
from
Ergonomic Issues. Suggest you try before you buy.
Ergonomic issues. If this is going to be your only body, and/or you primarily shoot hand holding, please try it before you buy it. Canon, IMHO, fixed something that wasnt broken, the body shape. Make sure you check out the camera grip with your usual lenses while shooting a bit. Canon's new grip will probably not be a hinderance to those using a tripod or video cage. Canon significantly changed the grip portion of the body on both R5 and R6 compared to Canon DSLR full frame bodies. I have an R5 and R6 and they both cause my hand to cramp while shooting. Instead of the grip fitting in my hand as it does on my 5 Canon DSLR bodies, it is necessary to pinch the R5/R6 grip with finger tips to hold onto the body. The new grip shape does not fit into my hand resulting in cramps after a while. This body style change also resulted in the trigger being in a little different, to me awkward, position. As soon as I put these bodies away and continue shooting with DSLR bodies, instant right hand relief. Yes, I did pick up a battery grip in an attempt to make these cameras more comfortable to use. The battery grip does contribute some relief because it is added to the bottom which allows my right hand to twist a little so I am not needing to pinch as much. If you have a small dainty hand, or shorter fingers, the shape of the grip may not be such a problem or if you shoot a very light lens like the nifty fifty. Since I only shoot stills there is no comment on video. Still picture IQ and focusing system makes both the R5 and R6 keepers for me despite the issues with the body, but I do have to bring along a DSLR body for substitution when on longer shoots to give my hand some relief.
Date published: 2020-10-25T00:00:00-04:00
Rated

5

out of

5
by
BDP
from
Best upgrade yet!
I have used every 5d since the Mark II and have been pleased with every upgrade. The R5 is undoubtedly the biggest leap forward yet. As a dedicated back-button focus user, Eye AF has literally changed the way I shoot. I have no regrets whatsoever.
Date published: 2020-10-07T00:00:00-04:00
Rated

5

out of

5
by
Rohan
from
It's a Magic Box!
Imagine "hoping" to get a good shot even in difficult situation but ALWAYS getting it.... Yup this is what R5 does. Amazing camera and magical results. Highly recommend. Spectacular AF and IBS. Not to forget the best user friendly Menu system. Compact lil bad boy.
Date published: 2020-10-04T00:00:00-04:00
Rated

5

out of

5
by
JCamp
from
A revolutionary camera
This is a fantastic camera. The capabilities packed into this camera are remarkable. High density sensor (45MP), great sensitivity and low-light capability, high-speed shutter, IBIS, best in class video capabilities, just to name a few. The DPAF v2 is outstanding and the R system a revolutionary step forward that maintains backwards compatibility with EF lenses. This is a great upgrade for any Canon user and an excellent reason to move to Canon.
Date published: 2021-01-10T00:00:00-05:00
Rated

5

out of

5
by
LB photography
from
New eos R5
I love the image quality and new focus system! I am having a little blip where the camera becomes unresponsive while shooting and i have to turn off and back on, or remove battery at one time. A firmware update issue? But, I LOVE this camera!
Date published: 2020-10-28T00:00:00-04:00
Rated

5

out of

5
by
Mdc
from
A almost perfect camera but...
This is a great photo camera right out of the box. Video is harder to handle would need to spend extra on cf express cards to unlock its true video features but overall I love the camera for what I bought it for.
Date published: 2020-11-18T00:00:00-05:00
Rated

5

out of

5
by
GarlandCary
from
Nearly flawless instrument for still photography
The R5 fixes nearly every gripe I had with previous Canon cameras. It's built exceptionally well, handles intuitively with excellent overall control placement (hurray for three-dial exposure control, the death of the multi-function control bar and the return of the AF joystick!), is hushed in operation, has an excellent (electronic) viewfinder, shoots quickly when needed, colors are romanticized without straying too far from reality, (finally) raw files have enough dynamic range to handle high-contrast lighting situations without resorting to HDR or blending in post and perhaps most welcome of all, debuts Canon's first IBIS system–which was worth the wait, because it works fantastically. It's wonderful to see Canon swing for the fences with this upper mid-tier camera in a way I haven't seen since the EOS 5/A2/A2E. And they essentially hit it out of the park. Complaints are minor: The AF joystick and rear scroll wheel are a stretch for the thumb when shooting; you have to wait for the meter to timeout to engage Auto ISO; and while comprehensive, the vertical grip controls in no way mirror their placement in the standard configuration (I'd rather the grip had been taller/bulkier with consistent control placement). After more than a decade using competing systems, it's great to have a Canon camera suited to my needs again. Well done, Canon!
Date published: 2020-10-05T00:00:00-04:00
Rated

5

out of

5
by
Ed F
from
Best camera I have owned
I have been using the Canon R5 for a couple of months. I have several EF lenses and it works flawlessly with them. In December I purchased the RF 100-500 L lens. What an incredible combination. I do photography only (no video and I can honestly say that this camera impresses me every time I shoot with it. Best camera I have ever owned.
Date published: 2021-01-15T00:00:00-05:00
Rated

5

out of

5
by
Terry58
from
R5 Perfection
I believe that the R5 is the best camera I have ever used. Very near to perfection.
Date published: 2020-09-28T00:00:00-04:00
Rated

5

out of

5
by
ShawnPhoto
from
Almost there!
It works great except for a couple of things. First, it has trouble tracking faces of people wearing masks... I mean, in this day and age we need a camera that can do this. Second, animal eye AF could be a little better when shooting video. For photos it is fine, but with video it really needs to stay on the animals eye or head the whole time the video is recording in order for the video to come out correctly. Otherwise you end up with weird moments where the focus shift from eye to body or what have you.
Date published: 2020-12-03T00:00:00-05:00
Rated

5

out of

5
by
Canonbanion
from
I'm Happy I Took the Dive
The Canon R5 was my first dive into mirrorless and full frame cameras. I was apprehensive at first because of the learning curve coming from a crop sensor camera but I dove in and I'm soooooo happy I did. This camera is a beast and photos with EF glass come out very sharp. I would highly recommend if you can find one. I'm a stills first video second shooter.
Date published: 2020-10-16T00:00:00-04:00
Rated

5

out of

5
by
UDAY
from
Quality control is terrible.
So, i finally got the camera after waiting for 3 months. And after turning on the camera... everything looked fine. Within 5 minutes... Strange sound inside the camera body (I believe IBIS system) and display turned off... the Shutter door is not closing. Took off the battery, waited for 5 minutes... Same issue. I have to return it right away. And Canon does not have stock, so they can not replace it. Dear Canon, please look into QC team's efforts. they are not up-to mark. Big disappointment.
Date published: 2020-10-25T00:00:00-04:00
Rated

5

out of

5
by
Nick863
from
Literally the Greatest Camera On Earth
The R5 is literally the greatest camera on earth at time of writing. But Canon's infrastructure for getting it onto the market was abysmal. I waited 4 months for backorders from Canon Direct, B&H, and Adorama before finally giving up and hunting one down through a small store owner in New York. Shout out to Brad and everyone else at Berger Brother's Camera because they were the only ones throughout this whole process who were able to show results. Canon should be ashamed for the lack of communication and failure to accept responsibility for this clusterfuck. It's one thing to have backorder problems, it's a whole other thing to not address it or provide even so much as an estimated supply date to anyone for months straight. Going back to the camera. Outstanding. Literally crushes every other camera I've ever tried. It's better than the 1DX4, better than the Z7, better than the A7R4, better than the A9. It's just simply better than anything else on the market at time of writing. Don't believe the overheating myths, I can record over an hour of 8K with no breaks on firmware 1.2.0. I get a warning about it but it never stops until the 30 min limit, then it's immediately ready for another 30 minutes. Haven't tried more than that. Dynamic range is fantastic. IBIS is the best on the market. Colors are incredible. Battery life is great using two of the LP-E6NH versions and the BG-R10 grip. All around incredible camera and I have no complaints.
Date published: 2020-12-08T00:00:00-05:00
Rated

5

out of

5
by
JimBo58
from
Best camera I ever owned
I have had this camera for a month now, after a long wait to get it. I am not disappointed. Best camera I ever owned which included the 40D, 7D and the 5D III. For what id do, mostly nature, it is perfect.
Date published: 2021-01-24T00:00:00-05:00
Rated

5

out of

5
by
William in SC
from
Animal and person EYE-AF is fantastic - video is a let down
I waited 5 months to get one due to supply issues. I sold off all my EF mount gear. I am very happy with the camera except one aspect. I can't for the life of me figure out why it still has a 30 min record limit. Finally an AWESOME video camera from Canon and I have lost so much footage in a month because of the 30 min limit, I am frustrated beyond belief. I have gone back to my Go Pros for video and relegated the R5 to stills only duty.
Date published: 2021-01-21T00:00:00-05:00
Rated

5

out of

5
by
RAF
from
So, so good.
So far, so good. Focus is not quite as speedy with my EOS lenses, but still it is much better than my old 5D Mk II. Looking forward to getting my new RF lens in order to maximize its capability.
Date published: 2021-02-18T00:00:00-05:00
Rated

5

out of

5
by
Terryf
from
ALMOST THERE
I love the features, resolution, and image quality of this camera. Using it with the 100-500 In certain scenarios it seems to do a lot of focus hunting. I have noticed it with photographing birds in flight, and also still subjects. There are five handles handles ISO very well and the auto focus is blazing fast. I am hoping the next firmware update will address the focus problems.
Date published: 2021-02-18T00:00:00-05:00
Rated

5

out of

5
by
Hues13
from
Best all round camera ever made.
If you want a reliable, solid, system based all around camera, the Canon R5 is it. Easily the best camera body I have owned and that includes EOS-1 series bodies. Highly recommended.
Date published: 2021-02-21T00:00:00-05:00
Rated

5

out of

5
by
Karthik
from
Excellent Camera and even more Excellent Support
I wanted to get the R5 with kit 24-105 L F4, but that was sold out for a long time. Hence when R5 body and 24-105 lens was available separately I took the plunge and purchased it. I'm upgrading from a Canon Rebel T2i (550D and obviously the full frame mirrorless body was a significant upgrade. Just love the way it grips and the 24-105 F4 is plenty sharp! One issue i faced right off the bat was my battery wouldn't charge! I tired all the permutations and combinations tried several power outlets, tried charging it inverted nothing worked. My charger would always start "Rapid Blinking" and I could never charge it past 60% I contacted Canon Support and they were super helpful. They understood the issue and sent a new battery pack. The new pack arrived today and its charging well so far! Another issue thats not a huge impact to my workflow is "Connecting to Wifi and Cloud". I've never been able to connect to my home wifi. Scouring through the forums , looks like its got an issue where there is a mesh wifi. Living in an Apartment complex I cannot fix other's wifi or switch them off! So hoping that Canon would fix this through a firmware update. Reduced one star as the delivery of the new battery pack was slower than i expected.
Date published: 2021-02-24T00:00:00-05:00
Rated

5

out of

5
by
Emorhardt
from
Absolutely fantastic for wildlife
I use back button focus to turn on animal eye auto-focus, instantly locking onto the subject's eye, even when the animal...usually birds in my case...occupies only a small part of the frame. Then I can shoot at 20 frames a second and get all kinds of behavior I wouldn't otherwise have noticed, all in perfect focus with amazing detail.
Date published: 2021-02-23T00:00:00-05:00
Rated

5

out of

5
by
Mike Briner
from
The Game Changer
Best Camera I have ever used, Love the Eye Focus!!!
Date published: 2021-04-08T00:00:00-04:00
Rated

5

out of

5
by
ksha
from
30 minute record limit
The canon R5 is a great camera no doubt. i want to add my voice to the many asking for the 30minute record limit to be removed. This is hindering the capability of such a great camera. Canon please remove the 30 minute record limit in video
Date published: 2021-04-01T00:00:00-04:00
Rated

5

out of

5
by
CHPhoto
from
Dream Come True!
I used to shoot on Nikon. But when my less than 2 year old D750 started giving me less than great images, I was having doubts about the brand. All of my lenses had soft focus and I was getting visible grain at ISO 800! I tried every trick in the book to figure out what was wrong, but nothing fixed the issues. So I rented an R5 and Fell. In. Love. This camera is AMAZING!! Fast focus, sharp, intuitive and user friendly! The customizable features are such a great addition to an already spectacular camera! Touch and drag focus is a Game Changer!! Although my nose sometimes moves the focal point when it touches the screen. As soon as my rental was up, I purchased the R5 and have been loving it! Now if only the lenses weren't all on back order. ; I definitely recommend this camera!
Date published: 2021-04-25T00:00:00-04:00
Rated

5

out of

5
by
LBPhoto
from
Well Setup Camera
Although there are numerous Menu items, this camera is set up to that it is easy to understand, access and utilize the Menu items. I particularly like the three Custom Shooting setups available, as well as the My Menu items, all of which only make it even easier. Great picture quality.
Date published: 2021-05-07T00:00:00-04:00
Rated

5

out of

5
by
Slingher
from
AF doesn't search
The camera takes great photos. The AF when it works is spot on. However, if you're using a long lens to photograph birds, I am using the 100-500RF lens, the AF will not even search if the bird it's not visible. If it's just a blur, and the AF point is on that blur, the camera will not focus. It doesn't even search, it does nothing. I have to prefocus it on something close to the bird and then focus on the bird. Same thing if I try to focus on a bird in flight. Camera won't even search for focus. I thought something was wrong with my camera, but apparently it's a problem with mirrorless cameras.
Date published: 2021-09-01T00:00:00-04:00
Rated

5

out of

5
by
Bill Sturcke
from
Canon R5 - No Brainer
The R5 is easy to love. The quality of the viewfinder is awesome and negates any fear about sacrificing an optical viewfinder. All aspects of image quality will satisfy you, especially focus speed and accuracy. Well worth the cost.
Date published: 2021-08-10T00:00:00-04:00
Rated

5

out of

5
by
MrWhite
from
Focus actually is terrible
Tried the R6 and upon zooming in, photos are not sharp. Hazy lines. Tested against my 5DSR with exact conditions. Returned the R6 and bought the R5. Same issues. Images look great on the LED screens but once you snap the shot and zoom, details dissappear. Don't try to say its user error or hand holding issues because I tried ALL methods of stabilization and different in camera settings. I even have images samples to prove. CANON please contact me
Date published: 2021-09-25T00:00:00-04:00
Rated

5

out of

5
by
RSharp
from
Awesome Camera
This is by far the most technically advanced camera I have ever used. I love it! I shoot stills primarily, so I can't really comment about the video capabilities or issues. For my work, everything about this camera is absolutely amazing!
Date published: 2021-07-28T00:00:00-04:00
Rated

5

out of

5
by
DJL
from
Amazing Camera - with room for improvement
I have had the EOS R5 for nearly 11 months now, coming from previous "5" series bodies (5D Mark II, Mark III and Mark IV), and I can easily say it's a huge upgrade. Took some time to get comfortable with the new button layout, however I love being able to cycle through the Custom Modes using the M-Fn button -- no need to turn a dial. The increase in auto-focus points from 61 to 1053 (full sensor coverage) with Eye Tracking is great, as well as being able to shoot at 20 FPS with the Electronic Shutter. I love photographing wildlife so these are game changers for me. I was originally concerned about the sensor being 45 MPs, however the Compressed RAW format works well and saves space, with the files being smaller than the 5D Mark IV's (30 MP). The In-body Image Stabilization (IBIS) is another great new feature. It certainly makes shooting with non-IS lenses easier. I don't shoot much video, however I love the 120 FPS mode, which has allowed me to capture hummingbirds in flight, among other things. How about 240 FPS in Full HD, Canon? However, overheating while shooting video is still an issue, even with the updated firmware. An improved heat sink would help to address this, as third-parties have shown. A replacement for ZoomBrowser would be welcome, so you could quickly browse and rate .CR3 files. Also, more custom configuration options would be helpful, as some options can only be applied to certain buttons. And, for Quinton in LA, you can set the "Still Image Aspect Ratio" to a button; I have it set to the SET button. See page 818 in the Manual. In summary, a worthy successor to the 5D Mark IV.
Date published: 2021-08-21T00:00:00-04:00
Rated

5

out of

5
by
Quinton
from
Love the R5 but i need this feature
The R5 is a complete game changer. It's definitely a favorite. However, there's something else I need that I'm sure Canon could make happen with a simple update. I'd love the ability to change to crop 1.6 mode with just one button click while shooting photo. Currently we have to go into the menu to do it and can't remap a button to do that one thing. The closest to making it one button is adding the aspect ratio/crop to a favorite menu, which is still an inconvenience. If we could have one button switching for this mode it would be super helpful for weddings when we are on the move and don't have time to switch lenses or go into the menu. I can imagine it would be super helpful in other cases where photographers need to switch quickly. Thanks in advance.
Date published: 2021-08-18T00:00:00-04:00
Rated

5

out of

5
by
awais
from
Damage by heat
Hi, I bought this camera couple of months ago and it over heated and stopped working after a while. Don't like this product anymore. The hype wasn't worth it.
Date published: 2021-08-26T00:00:00-04:00
Rated

5

out of

5
by
JoeD
from
Amazing Camera
I bought this a little over a month ago and it is a huge step forward from my 5 DS. I took both out on a photo shoot and the R5 won hands down using the new RF 100-400 on the R5 vs the EF 100-400 L on the 5 DS. Quite simply, the performance in still photography is amazing. The 5 DS was my go to camera but now the R% has taken it's place. I am looking to pick up another R5 within the next few months.
Date published: 2021-11-12T00:00:00-05:00
Rated

5

out of

5
by
Quinton
from
Need This software update ASAP
The only thing I need for my R5 to be perfect for photo is the ability to assign the 1.6 crop mode to one button. No menu, no quick menu. Let me go back and forth between full frame and 1.6 with one button click. Not interested in the c1, c2, and c3 modes either. Please do this for me canon.
Date published: 2021-11-27T00:00:00-05:00
Rated

5

out of

5
by
JeffJ
from
Impressed with auto focus and IBIS
Photos are very sharp. Appreciate being able to get sharp photos when hand holding using IBIS and lens IS, even longer exposures such as blurring water falls. Great for hiking when the tripod doesn't make the cut into the pack for weight concerns.
Date published: 2021-11-19T00:00:00-05:00
Rated

5

out of

5
by
Schchag
from
Canon R5 return and exchange
I had to exchange for new one because the one I bought kept freezing. Canon tech support wait it was probably bad circuit board. I do not have new one yet. Despite being Gold CPS member Canon did not expedite the return of my product and they won't ship out replacement until they receive original.
Date published: 2021-12-28T00:00:00-05:00