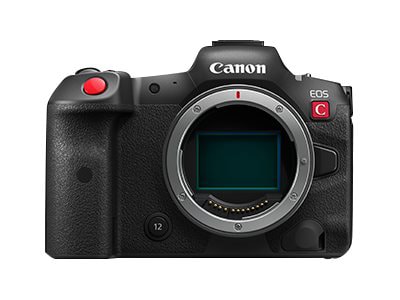 Quick tech specs
Digital camera
45 MP
8K / 60 fps
Wi-Fi
mirrorless
Full Frame
body only
Bluetooth
View All
Know your gear
Shoot incredible 8K movies and capture rich, detailed 45MP stills, all from the beautifully compact EOS R5 C; a camera that combines the best of Cinema EOS with all the advantages of the EOS R-series. It's ready for anything - are you?
Canon EOS R5 C - digital camera - body only
is rated
3.90
out of
5
by
14
.
Rated

5

out of

5
by
M Filmmaker
from
Small form factor professional video quality.
Great quality camera once you work out the quirks of short battery life, not having CLOG2. Some features like 8K 60P is only available in RAW and with a USB-C connected power or with the DR-E6C . I ended up making my own BP-A30 Battery grip, using a DR-E6C which allows 100% access to all the features of the camera. I hope canon is listening as they could create a 9Volt battery grip that can solve so many headaches. Also having 8k 60p in MP4(HVEC) YCC422 10bit would be a great feature to have. Canon continues to support this camera in firmware updates which is encouraging as your investment keeps getting better and better.
Date published: 2023-11-04T00:00:00-04:00
Rated

5

out of

5
by
stevenramon
from
The most capable camera I've ever owned
I shoot with a lot of people and having the ability to provide photoshoots after I capture video is extremely useful. I feel like I bought two cameras for the price of one! My only complaint is the lack of HFR (namely 120fps) autofocus tracking. Really hoping to see this feature released in an update.
Date published: 2022-08-30T00:00:00-04:00
Rated

5

out of

5
by
El Capitan
from
An excellent true hybrid camera
Awesome camera that builds on the already fantastic R5 to allow for unlimited video and a lot more robust video controls. My one hope is that the video firmware gets updated to support the same autofocus capabilities that are available in the stills mode (Dual Pixel CMOS Auto Focus II and tap to follow).
Date published: 2022-05-20T00:00:00-04:00
Rated

5

out of

5
by
DGurney
from
Ruined by this blunder
The "C" is supposed to stand for "cine," since Canon has addressed overheating issues by adding a fan to the R5. That's reasonable. On the other hand, Canon has fielded a camera that's nearly useless for anything approaching "cine" video by crippling it with a micro-HDMI port. Micro-HDMI is essentially a one-time-use port, in that it will destroy itself in only a few connect/disconnect cycles. That means the R5 C has, in essence, no video output. So forget your external recorder, monitor, or viewfinder. Canon's competitors have managed to put a full-sized HDMI port (with strain relief) on their cameras. Canon continues to insult its user base with disposable junk.
Date published: 2022-05-27T00:00:00-04:00
Rated

5

out of

5
by
Mike801
from
Battery Life and AutoFocus
The issue with this camera is the lack of battery power, drains it really fast and the autofocus hunts for other people and not a couple when it comes to the wedding. Not recommended for weddings, until this issue is fixed.
Date published: 2022-05-02T00:00:00-04:00
Rated

5

out of

5
by
Skip148
from
38 Minutes of stress...
Had the camera about a month and used it for corporate and wedding shoots. The battery life is comical. Maxed out, I got about 38 minutes of battery life (in standby mode) and even less when filming. This was at all codecs, frame rates and resolutions. It's a really sweet camera and I'm a huge fan of 95% of it... form factor, weight, menus, but the 10% is the fact that you can't use it without having an external battery is a break for us. It lasted about 2 hours on 6 batteries at our last wedding we filmed and didn't even make it to the ceremony. Just not a practical camera right now and hope Canon can fix this. In the meantime, just head for a C70
Date published: 2022-05-10T00:00:00-04:00
Rated

5

out of

5
by
Adamski
from
The only camera I need
As a former C200 owner, and a photographer moving from Nikon to Canon, I started with the R5. Now that I have the R5C and it's separate photo and video menus I have found the perfect fit for my workflow. As someone who goes back and forth between photography and cinematography work as much as I do this camera check all of the boxes for my work — Allowing me to have one kit best dedicated to both photography and video, instead of buying two different kits. Going to sell the R5 and invest in a second R5C. Thank you Canon.
Date published: 2022-05-06T00:00:00-04:00
Rated

5

out of

5
by
shadowsports
from
R5C - Great Hybrid Camera For Stills And Video
The R5C was not the road I anticipated taking, but I got tired of waiting to move to mirrorless and since this body doesn't overheat, I am more confident about it over the standard R5. Although I am a stills shooter, the Cinema EOS side of the R5C is intriguing. I wanted to explore video. The R5 was a contender until the overheating issue surfaced. This took it out of contention. I looked at the R3, but once again was left short in MP's. They aren't everything, but I wasn't ready to go backwards. The R5C was announced and so began the wait. I got one of the first (2nd batch) released at the end of May. I didn't own any RF glass, so I purchased a control ring for my EF lenses, some extra batteries and new memory cards. I did plenty of research and being a Canon user for over 40 yrs had a good idea what I was getting. The R5C has been an absolute delight. Is it perfect, no, but what camera is. Mirrorless is amazing and the increase in resolution (6D2) 26.2MP > 45MP is exactly what I was looking for. I shoot landscapes and architecture and was looking for new avenues to explore creativity in stills and video. The lack of ibis or ND filters in the R5C is not a shortcoming. Canon was aiming to provide a true hybrid experience in a small form factor. They did it. The addition of the cooling fan solved the overheating issue of the R5. The camera is barely larger than the original R5 and fits nicely in your hand. I've not had any difficulty transitioning from my 6D2 either. There is a slight learning curve, and the Cine menus will take a little longer to become accustomed to if you've never shot on a Canon Cine camera before. Its certainly packed with features and takes most of the best things the R5 and the C70 have to offer and puts them in one small package. I won't ignore the camera's power requirements when shooting 8k 60. You'll need USB-C PD for video. Mine fits in a shirt pocket and I don't even notice it. You can shoot in photo mode all day with 2 standard batteries. At the end of the day, the camera does what I need it to and more. The face and eye detect in photo mode rivals the R5. In Cine mode 4/5 stars and 3x better than the C70. Whats more, Canon has only released 1 FW update since the R5C was released in April. I have no doubt they will continue to improve and refine the camera's useability and performance. Its a fantastic stills camera that can take beautiful video. Its a great video camera that takes beautiful photos. The R5C might not be right for everyone, but its certainly right for me.
Date published: 2022-06-20T00:00:00-04:00
Rated

5

out of

5
by
escargotmycargo
from
Love this camera
Huge upgrade from my 70D. Doesn't overheat, captures beautiful 8k, and really like the cinema menus. It's battery life is short because of the fan and the intensive video modes, but if you are good to work with that, it's a beast.
Date published: 2022-05-11T00:00:00-04:00
Rated

5

out of

5
by
Josh C
from
Great Camera
I have used this camera on several projects already. The camera is becoming my go to camera when working on projects. I am not going to mark the camera down for the battery life as Canon disclosed this up front so I knew what I was buying into when I ordered the camera. I was able to do an 11hr shoot with 4x batteries. I just had the chargers near by and when I swapped out the batteries I put the camera on charger. The boot time on the camera is fairly quick compared to other Cinema cameras, it only takes 4.5 secs to boot up from being off. I just turned the camera off when not actively shooting or preparing for a shot. For my purpose I mounted the camera to a small rig with a V-mount battery which is still light enough to do hand held without issue. The camera is fairly straight forward to learn if you have used a Canon Still or Cinema camera before. For rigs you are able to turn on all the tools to be viewed on the HDMI monitor.
Date published: 2022-05-16T00:00:00-04:00
Rated

5

out of

5
by
The living nexus
from
Fantastic for elevating your creativity
Been using this camera for my YouTube channel and what an experience it has been. The quality and feature set are just great for my needs. The camera side for pictures are also great ??. Battery life is an issue but I generally run it on a rig. In photo mode the battery life is great. Definitely would recommend for anyone that's got the extra money for the extra features over the r5.
Date published: 2023-06-25T00:00:00-04:00
Rated

5

out of

5
by
Just an average Joe
from
Sports enthusiast
This allows me to take fantastic action photos. I like landscape photography & portrait also so I upgraded my camera body to get rid of the burst lag. Definitely worth the investment.
Date published: 2023-03-21T00:00:00-04:00
Rated

5

out of

5
by
Jack95
from
Fantastic camera that needs fixing
Great camera. The footage is *chefs kiss*…but it has its quirks and it feels as though Canon DOES NOT want to help fix it anytime soon with some software updates. For instance, when the camera is hooked up to a DJI RS3 it has a tendency to freeze and not respond. The solution to reset the camera is to pull the battery from it….real nerve racking. There's no way to make 4k RAW a possibility? The battery life can't have any tweaks for some more efficiency? Terrible decision to have a micro HDMI…makes no sense.
Date published: 2023-02-12T00:00:00-05:00
Rated

5

out of

5
by
Aaron Hall
from
Flexible Camera system
Been using this cam for 8 months now and I am completely blown away by its flexibility. It is one of the best hybrid cinema cameras on the market when used correctly.
Date published: 2023-09-13T00:00:00-04:00