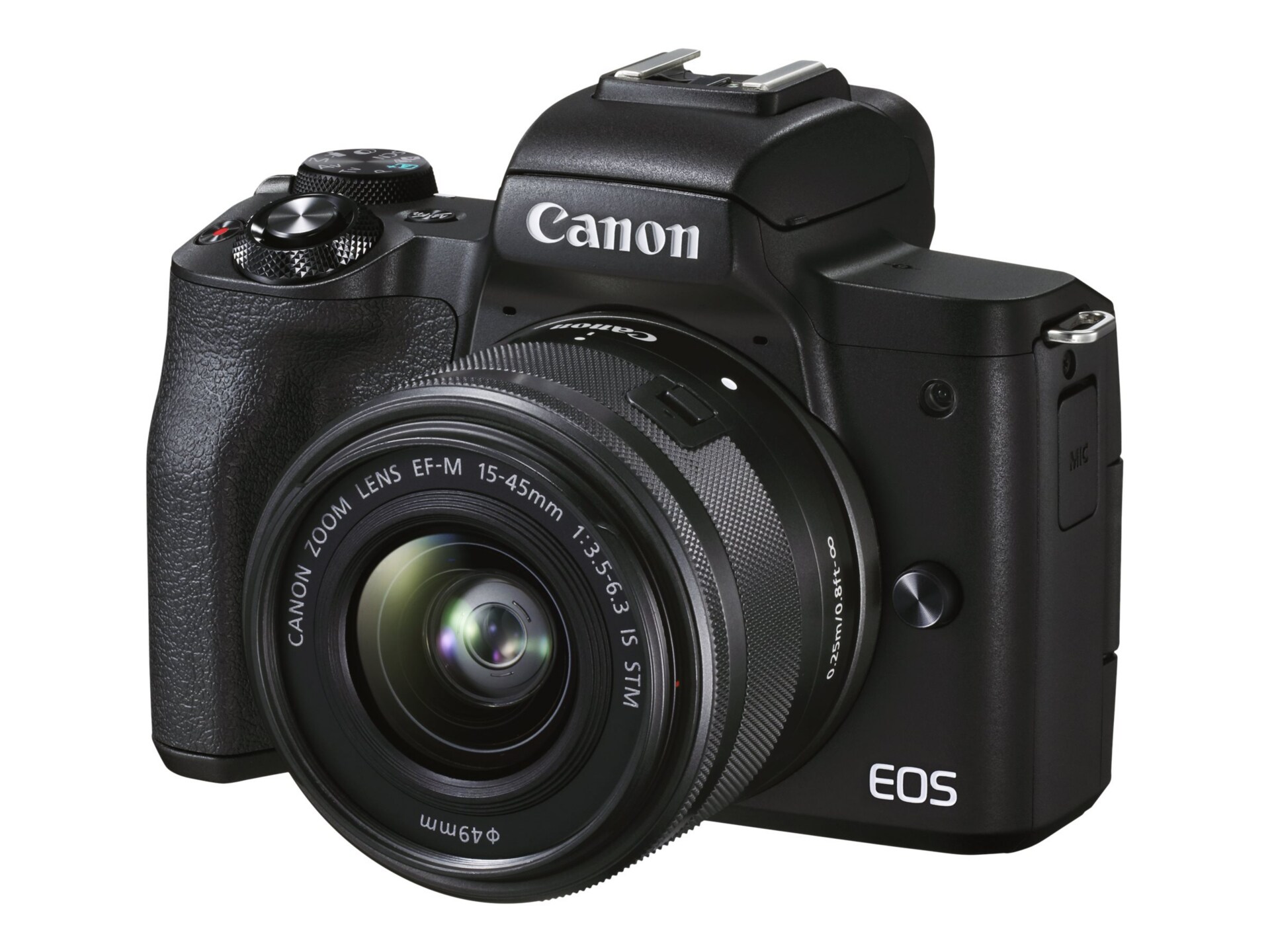 Quick tech specs
Digital camera
24.1 MP
4K / 24 fps
Wi-Fi
black
mirrorless
APS-C
3x optical zoom EF-M 15-45mm IS STM lens
Bluetooth
View All
Know your gear
The EOS M50 Mark II carries and builds on the strong performance of the popular EOS M50 with improvements that will be especially notable for content creators like vloggers and more. You still get the impressive image quality of the 24.1MP CMOS sensor, power of the DIGIC 8 image processor, 4K UHD 24p and HD 120p for slow motion video and more, along with some additional boosts. The autofocus locks onto the subject faster, and Eye Detection is improved so it recognizes the eye and face further away. Eye Detection can now even be used during video with Movie Servo AF, and you can use both Eye and Face Detection during Servo AF. What you get is added versatility and stability to keep the subject(s) in focus and as the center of attention. For content creators, you can use the EOS M50 Mark II to livestream your content with built-in Wi-Fi, and use with EOS Webcam Utility software for an easy webcam alternative. When a different angle is needed, you can shoot vertically in addition to horizontally, and the camera even offers clean HDMI output for high-resolution, high frame-rate streaming. When it comes to content, whether stills or video, the EOS M50 Mark II goes far beyond letting you just scratch the surface of your vision.
Canon EOS M50 Mark II - digital camera EF-M 15-45mm IS STM lens
is rated
4.60
out of
5
by
12
.
Rated

5

out of

5
by
avocoda
from
the best camera
i bought one and it is so great but its broken know i dont have a camera
Date published: 2022-02-13T00:00:00-05:00
Rated

5

out of

5
by
Cynical Stallion
from
Excellent Starter
I needed a camera that was lightweight and relatively inexpensive: the Canon M50 is both. All Canon cameras are easy to use and this one is no exception. When it comes to a beginner camera, the M50 checks all boxes but one. The lens variety is quite limited because they're mirrorless and small. A quick fix to this issue is to purchase an adaptor, which are priced fairly, so that you can use other normal Canon lenses. The Canon M50 is, no doubt, a great beginner camera. One bad thing is that the limits of this camera are reached far too soon. Not a bad starter nonetheless.
Date published: 2022-04-30T00:00:00-04:00
Rated

5

out of

5
by
Sparksfleye
from
A Must Have!
I needed a great quality camera that can match the performance of my 5D Mark IV. In the beginning I didn't do much research on this camera. It initially was a "this camera seems cool" type of thing until I purchased my first one. Right out of the box I learned how to use it quickly. The easy to follow instructions made me like this camera so much I purchased a second one! You will not regret purchasing this friendly, easy to use camera. I find this camera to be a must have for your arsenal.
Date published: 2022-08-13T00:00:00-04:00
Rated

5

out of

5
by
Colin36
from
Soy admirador de la marca CANON
Estimados amigos tengo mi canal de YouTube "Ferchito Aventura" y me hace mucha falta un cámara para hacer mis videos de viajes es por eso que solicito de la manera más comedida me ayuden a adquirir una cámara a un precio módico. De ante mano mil gracias amigos de CANON
Date published: 2022-05-23T00:00:00-04:00
Rated

5

out of

5
by
Marcus B
from
Great camera
Very good camera, high quality, high resolution and very lightweight!
Date published: 2022-05-27T00:00:00-04:00
Rated

5

out of

5
by
DenisD
from
Love this camera
I've had this camera for a couple of months, and really like its size and simplicity. Its my first mirrorless, or DSLR, and am amazed by the quality if its images, build quality and feel. I give it a 4-star rating because of some of the things that Canon could, and should have included in its software. There are too many to go into here. Do a Google search, and you'll get a lot of detail form people far more knowledgeable on this subject than I am The biggest grip that I have is no ability to connect an intervalometer. It does however connect to a smart phone through "Canon Connect". I sometimes need to use the phone for other things and would like the ability to use a dedicated device. This could have been easy for Canon. I get many complements on the image quality when I use the camera as a webcam, even with the kit lens (now that Canon has issued the "Webcam Utility"). I had only one encounter wit their customer service dept. and it was 100% positive, professional, friendly and mostly helpful. All in all, I am very please with the camera.
Date published: 2021-01-25T00:00:00-05:00
Rated

5

out of

5
by
Topchoice166
from
Great
I bought this camera to pursue my YouTube career and it's good
Date published: 2021-08-05T00:00:00-04:00
Rated

5

out of

5
by
Dani_Photos
from
Great
I have had this camera for a couple weeks now and I absolutely love it. It came with no issues and was delivered pretty quickly. Definitely recommend the m50 line
Date published: 2021-10-23T00:00:00-04:00
Rated

5

out of

5
by
teacher2021
from
NOT what I expected
I have used many quality Canon products over the years and am a fan. However, this petit camera makes it hard to add on any accessories. An external flash mounted makes it top-heavy, the buttons on the camera are hard to select (and I have tiny fingers), but the most disappointing design flaw is the connector to hook up the camera to an electric outlet is on the very bottom-- and if it is connected to a tripod, you cannot access it. We rarely get monies to buy technology in my workplace-- and then we invested in these cameras and I am very disappointed.
Date published: 2021-04-22T00:00:00-04:00
Rated

5

out of

5
by
blaze83
from
Great camera
I bought this camera about 2 months ago. I enjoy doing nature photography. It fits a wide variety of lenses with adapter mount. EF, EF-S, and EF-M. Only downside is there is no adapter currently out there for RF lenses (yet.
Date published: 2021-06-04T00:00:00-04:00
Rated

5

out of

5
by
WynP
from
Great starter camera for photo/video
Mark II offers cleaner HDMI and improved autofocus. It still offers great interface and specs of the Mark I. As a beginner personally I really like it! But cost is a concern I would recommend getting Mark I to get discounts.
Date published: 2020-12-11T00:00:00-05:00
Rated

5

out of

5
by
fffffg
from
great feature
i bought this a month ago im so happy that i bought it.
Date published: 2020-12-07T00:00:00-05:00