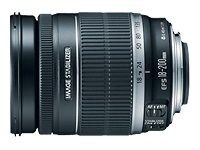 Quick tech specs
S
18 mm
f/3.5-5.6 IS
for EOS 1000
450
500
Kiss F
Kiss X3
Rebel XS
Zoom lens
200 mm
Canon EF/EF-S
40
50
7D
Kiss X2
Rebel T1i
Rebel XSi
View All
Know your gear
Compact, lightweight and a wide magnification range - this standard zoom lens features a wide focal length range from normal to telephoto equivalent to 29-320mm in the 35mm format. It features an Optical Image Stabilizer for up to 4-stops of effective correction even at full zoom. Since Canon's optical image stabilization system is in the lens, not in the camera, you can see the stabilized, steadier images through the viewfinder. And the circular aperture can give beautiful background blur effects. This wide zoom ratio EF-S lens delivers excellent high-speed performance at an affordable price.
Contact Sales Assistance
(800) 800-4239
,
Monday-Friday 7am-7:30pm CT
Canon EF-S zoom lens - 18 mm - 200 mm
is rated
4.13
out of
5
by
60
.
Rated

5

out of

5
by
naldoguy57
from
Far to close
Easy to switch out and really brings those things far away to right in front of you.
Date published: 2011-12-21T00:00:00-05:00
Rated

5

out of

5
by
masmele2
from
Fantastic lens
Wonderful lens, takes great pictures. I don't have to switch lenes any more from short distance to telephoto, rearrange to focus. Con: Heavy, a bit uncomfortable when taking closeup pictures. Needs a mono/tripod.
Date published: 2012-05-31T00:00:00-04:00
Rated

5

out of

5
by
Bill4432
from
My Travel Companion Lens!
I purchased over 5 yrs. ago never had any issues takes Great Shots, never have to fumble around with different lenses especially when traveling. Never miss any shots due to the fact that my handy travel companion is always ready. When compared to having to carry 2 or more lenses on a trip it save space and weight.
Date published: 2020-05-30T00:00:00-04:00
Rated

5

out of

5
by
Bud
from
null
We have use this lens alot it is avery good all around lens, its the one that stays on our camera most of the time.
Date published: 2009-11-10T00:00:00-05:00
Rated

5

out of

5
by
Shutterbug
from
Great Zoom Lens
Bought this lens with a 60D camera 18 months ago. Wanted something that would work for most shooting situations. Do not like switching lenses. This is a great lens for anyone that wants to use just one lens to shoot in almost every situation they encounter. Has worked out great. Have taken over 2000 pictures so far. Could not be more satisfied. Yes the lens does creep. Yes it is a little heavy. So far these have not been major problems. Would recommend this for anyone who wants to take great photos.
Date published: 2013-11-11T00:00:00-05:00
Rated

5

out of

5
by
Richard
from
Lock pin broke- Lens now stuck
I loved this lens until I used the lock. The lens will extend under its own weight so they provided a lock to hold it. I found this feature after about 6 months when I read the manual. I turned the lock on and it broke immediately. There was a rattle in the lens and soon the lens stuck. This is just what happened to another reviewer. Too bad. I used to love this lens but the lock feature was defective.
Date published: 2009-07-28T00:00:00-04:00
Rated

5

out of

5
by
shaker
from
Excellent Features
Very easy to use and quality product. I highly recommend this lens.
Date published: 2018-12-28T00:00:00-05:00
Rated

5

out of

5
by
Doug A
from
Great general purpose lens
I bought this lens in Oct, 2008 to replace the Canon 28-135. I like the longer focal length so I do not have to change lenses. Less chance of getting dust on the sensor. After 5 1/2 yrs of using it, I have had no problems to speak of. Barrel is still very tight, very very few specks of dust in the lens. I and my wife travel extensively and the lens is always used. Auto focus is as fast as with the lens with the USM. Some people complain about chromatic abberation, however I have not had any problems with that even with enlargements. Yes, there is lens creep but then if you know that up front, which a person should from looking at the lens prior to buying it, then it is not a problem. Quality wise it is not an L lens but then neither is the price. If people take care of their equipment and don't abuse it, then the lens should last a long long time or until Canon comes out with an upgrade you would want. I have used this lens with the T1i, T2i, 60D, and now the 70D.
Date published: 2014-06-17T00:00:00-04:00
Rated

5

out of

5
by
Iron
from
All rounder
An amazing choice for an all purpose lens. This was my first lens along with the 60D model, and I found it to be very versatile and took all kinds of photos. Being a nature lover, I also enjoyed taking wide angle sharp images, without having to spend that much for an L series. Overall, its a good lens for general use, and it has a good zoom @ 200mm. The images are of good quality, I would recommend it for beginners till advanced amateurs level.
Date published: 2012-01-16T00:00:00-05:00
Rated

5

out of

5
by
Ken
from
Excellent Lens for budget.
At this price you can't beat the performance of this lens. It can be from Ultra wide angle to 200 mm zoom. Light weight for a zoom lens best for Crop body camera like 60D & 70D. It is sharp lens with lock to hold the zoom mechanisms. Many people complain about the weight of the lens until they hold on 70-200 mm F2.8 II. I never bought canon lens without red ring but this lens is got my attention when I went out shooting with my friend and he introduced me with this lens. The performance quite please me. The only issue is that the aperture doesn't stay when zoom in and out but that is not a large issue. The lens came with image stabilizer which is is a big plus. Other then that I would give this lens a red ring category.
Date published: 2015-12-26T00:00:00-05:00
Rated

5

out of

5
by
Canon User since 1997
from
Good Lens Overall, Quality Problems
Good travel lens, no problems with image quality. Quite heavy. This lens has a creeping problem. Plastic zoom lock, (intended to lock the lens to prevent creeping) got broken very soon, causing lens locked and not operable.
Date published: 2009-10-08T00:00:00-04:00
Rated

5

out of

5
by
jrphoto
from
Versatile For Out Door Shooting
I don't use flash so I rely on ambient light. For shooting Portraits, this lense is very versatila for out door shooting when the sun is up and when the sun is an hour away from setting. But because of the f/3.5 to f/5.6, this is not a lense for shooting portraits indoors. It has also been a great lens for city scape photography at night using a tripod.
Date published: 2009-06-13T00:00:00-04:00
Rated

5

out of

5
by
Rex
from
decent kit lense
I recently bought a 60D in Malaysia, replacing my Rebel XT(350D) that my son now owns.. The kit lense that came with it is the EF-S 18-200mm f/3.5-5.6 IS. For your average user, this lense will be all that they need, but with 5 years of owning Canon products under my belt and 4 SLR lenses so far, I need to step up to a L class lense to get the quality that I'm looking for in my photos.. it's true, that the lenses can make or break the quality of your photos...
Date published: 2010-10-26T00:00:00-04:00
Rated

5

out of

5
by
Tony
from
An average lens
I bought this lens so that I need not have to carry both my 18-55 and 55-250 while I travel. In a way it serves the purpose but I've noticed the following cons 1. it is too heavy 2. The lens zooms out by it's own due to the weight which makes it difficult to keep focus when you shoot something vertically down. 3. it is too risky to hang it on your shoulder or neck as it is too likely to get hit and damaged. Canon provides a lock on the lens which can prevent it from zooming out but I dont trust that lock as I doubt whether it could hold such a heavy lens. Also a lot of people have complained about broken locks. 4. It has a strong barrel effect while shooting at low focal lengths. To mention the pros 1. It takes good quality pictures (ignoring the barrel effect at lower focal lengths 2. A good multipurpose lens.
Date published: 2014-12-28T00:00:00-05:00
Rated

5

out of

5
by
Bebba
from
Really
I recently purchased this lens and I absolutely love it! I am an advanced amateur photographer and I really love travel and I travel alot. This lens fulfilled all my needs for everyday use and for all purposes (mostly street photography & portraits). Honestly, it performs much better than I expected and I would definitely recommend it for anyone who wants an all-purposes lens and who loves travel. This lens also features an awesome focal length range. I only wish it had USM and was lighter (it's kinda heavy).
Date published: 2011-03-17T00:00:00-04:00
Rated

5

out of

5
by
njphoto
from
Decent every day lens. Not very durable
I have owned this lens for about 6 months now. The lens is quite heavy so there is a zoom lock to keep the lens from extending. After a few months, this switch didn't work so well and the lens would extend on its own once in a while. Eventually something broke inside the lens and now it doesn't zoom out all the way. I can hear plastic rattling inside the lens. The optics were ok for the price. Definitely not the sharpest. I've decided to cut my losses with this lens and upgrade to a 24-105mm F/4L
Date published: 2009-06-03T00:00:00-04:00
Rated

5

out of

5
by
Wizard
from
Nice Lens for a Beginner
The lens came with a 50D kit that I bought as an upgrade from an XTi with a 17-85mm. While the previous lens was an excellent lens, I was often disappointed with the lack of reach. The 18-200 works very well for close ups as well as mid range but lacks a little quality for the distant photos that don't seem to be quite as sharp as expected. As I gain more digital experience, I may think about trading up to an L lens.
Date published: 2009-06-07T00:00:00-04:00
Rated

5

out of

5
by
CA Retired
from
Chrome ring is falling off.
The Chrome ring around the lens is a cheap tape and peeling off. Low quality material used to make it look sturdy.
Date published: 2012-08-03T00:00:00-04:00
Rated

5

out of

5
by
Kay
from
Love the lens, hate the creep
This is a great walkaround lens. It takes suitably clear and sharp photos and can go from sem-wide angle to a good zoom quickly with quick focus. So I like the lens. What I don't like is the lens creep. I've put up with it because I don't have the warranty card (don't know if I EVER had one!. Don't know what lens creep is? You know how you walk around taking shots, with the camera over your shoulder, and the lens creeps out to its max zoom if you don't have it on lock? Or, using the Canon 60D with its vari-angle LCD monitor that you can twist around so you can focus on your target while holding your camera up over the target - but you can't do that because the lens creeps down to full zoom when you want it to stay at 50mm? I've read this on other reviews so have sort of let it go. I have an EF 70-300mm f/4-5.6 IS USM that I've never had this problem with. Trouble is, Canon doesn't have any other lenses with this versatility other than the 18-200 that I'm complaining about now. So wake up, Canon! If you can do a superb EF 70-300mm, why not do a superb EF 18-100mm?
Date published: 2012-11-11T00:00:00-05:00
Rated

5

out of

5
by
roundkat
from
Lens might be faulty
I bought this as a package with my 50D. The issue is when the lens is extended just a little and I am shooting something below me the lens extends fully.. so I have to hold the lens from extending.. It must be defective..
Date published: 2008-12-24T00:00:00-05:00
Rated

5

out of

5
by
BigJon46
from
EF-S 18 - 200
I have had this lend since it was first introduced. I rarely use any other. I only have to carry one lens. True the lens creep can be aggravating, but the lock is there for a reason and has never failed. My only complaint is that Canon, instead of improving on this lens, stopped making it. Now you have to buy 2 and carry 2... I would love to see Canon make an 18 - 300 lens.
Date published: 2017-09-12T00:00:00-04:00
Rated

5

out of

5
by
Senior
from
A MUST HAVE FOR YOUR BAG
This lens is by far the most veristal lens your could buy. At 18mm focal range it is amazing how wide the field of view is. The zoom at 200 is well worth the extra money compared to the 28-135. This is a must have for every body that needs a wide range without the headache of switching lenses back and forth. This one is an A++++++.
Date published: 2010-02-21T00:00:00-05:00
Rated

5

out of

5
by
Morris mania
from
Best lens
This lens has very good zoom lite and each kind of zoom in it is very good. 18 is very good WIDE and 200 is very good TELLE.
Date published: 2012-11-30T00:00:00-05:00
Rated

5

out of

5
by
scotth
from
not to bad
So I'm not quite sure how to rate this. I bought it solely so I didn't have to take my professional quality L lenses on vacation to the mountains camping, or just out when we go see family and that. I feel more comfortable leaving the big $$ lenses at home. So I knew when i ordered it I wasn't going to have the same quality. I knew that going in. So here are my thoughts. I found the auto focus to be quick and quiet. It focused where I wanted it to. Now, I manual focus probably 95% of the time, but when I got it, i played around with the auto focus just to see how it reacted, and I was rather pleased. As far as the quality of image, I have found that when i am shooting distance the images turn out sharp. The closer I get, the softer the images become. Again, I knew I wouldn't be shooting with an L quality lens, but I was a little disappointed with the softness that it is providing. But, it's not so bad that it is going to ruin a family picture. You aren't going to be entering a major competition with the results. You can get some pretty good "macro" style shots. Always remember you can crop as close as you want, and depending on what camera you are using, you can probably crop even closer than others. So, for the money, i would like it to be a little sharper on the closer shots, but like i say, it isn't a deal breaker. Over all it's a fun lens. I don't have a need for any other lens when i take it out to use it for my purposes. For a professional lens, i would say save your money and get an L series. Always get the best lens as you'll be getting one eventually. I have a 28-135 that provides a much sharper image, but this is still a very nice entry level lens.
Date published: 2011-04-19T00:00:00-04:00
Rated

5

out of

5
by
D314
from
Very convenient lens
I bought this lens after having been to Mt. Rainier and been frustrated by having to switch back and forth constantly between the two kit lenses (18-55 and 55-250). It might be a little less sharp than those two lenses, but it's good and convenient. The 18-200 lens is the one that will be on my camera 90 percent of the time.
Date published: 2012-10-13T00:00:00-04:00
Rated

5

out of

5
by
ken
from
Good replacement for 18-55 kit lens
I am an amateur photographer who prints mainly 4x6 images of family events. I use this lens on a Canon T2i dslr. Compared to the Canon 18-55mm kit lens, this one is heavy. The kit lens weighs about 7 ounces as compared to 21.5 ounces for this lens. This 18-200 lens is about an inch longer than the kit lens, for me, that makes it easier to use as my hand fits under it better. When mounted, it fits in my camera bag so I no longer need to fret about not carrying my 75-300 EF lens. I'm not sure I would want to carry this around mounted with a neck strap all day, it is a bit too heavy for that. For my 'grab and go' camera bag use it is perfect. The image quality, to me is good. I took some hand held shots of a full moon this morning, against a dark sky, with the kit lens and this one. I used various 18-55mm zoom settings, 1/60 - 1/750 s, at various f #s and ISO settings. No matter how I processed the raw images, this 18-200 was always clearer than the 18-55 kit lens. Although not very scientific, that was the only test I needed to convince me about the image quality. It even out performed my lower priced Canon 75-300mm, f4-5.6, EF lens, no surprise. I think the '-S' made the difference with that test. Conclusion: Although a big expense, for me, I am totally happy with this 18-200 lens. My 18-55 kit lens will only now be used when weight is of importance, as in a day long trip to Disney Land. Even in that case, it would be a hard choice not to carry this lens. :)
Date published: 2011-01-19T00:00:00-05:00
Rated

5

out of

5
by
SuperV18
from
Very nice & sharp image
just got it 2 days ago with 50D, totally satisfied with it. For those who travel a lot having a light kit like this lens is nice. This will eliminate the hassle of bringing several lenses when traveling and changing lenses in the of an uncontrolled.
Date published: 2008-11-07T00:00:00-05:00
Rated

5

out of

5
by
Bando
from
Great All Around lense
This is a great all around lense to keep on the camera where medium light and zoom might be necessary. I've taken this on many trips because of the versatility and relatively compactness all in one lense. Takes great photos and the 200 zoom is very handy for my needs. I have used this for sports and does relatively well in bright lighting but use the 70 - 200 2.8 lense for all other important low light , fast sports photography shots as this lense suffers for fast low light. The lenses after 2 months creeps and won't stay in place but for the overall versatiitly and compactness I just use the lock for the lense when not in use.
Date published: 2009-10-25T00:00:00-04:00
Rated

5

out of

5
by
Larry
from
Lens lock
This is a nice lens but the locking mechanism for zoom is fragile. Mechanism will soon wear out and this will make it impossible to keep the lens in the retracted position while carrying the camera from place to place.
Date published: 2011-08-22T00:00:00-04:00
Rated

5

out of

5
by
Camera Fun
from
Worth the wait
We have had our Canon Digital Rebel XT for over 3 years now and we have been waiting for a lens like this since then. We initially bought the 17-85mm IS lens, which was a great lens. This lens has not disappointed. It's great to have the extra range so that we don't have to carry 2 lenses like we used to (had the 75-300mm lens as well.
Date published: 2009-02-15T00:00:00-05:00
Rated

5

out of

5
by
Brian
from
Good all around len
I am pleased with the len to an extent. It is a heavy lens and the weight causes it to slide by itself. Auto focus is slow and inaccurate at times. Its nice to have so you do not have to keep changing lens. However, already looking for a new len to replace this one
Date published: 2013-04-20T00:00:00-04:00
Rated

5

out of

5
by
cameraman
from
good enough
this lens came with my camera package from Costco. It does take great photos but I dislike the fact that when taking close ups at 18mm there is a shadow at the bottom of the picture. I also extremely dislike the weight and the fact that the lens will not stay at the zoom I am at if I tip the camera forward.
Date published: 2013-02-14T00:00:00-05:00
Rated

5

out of

5
by
Shayne
from
My 18-200 Review
Many great things about this lens, zoom, speed of focus, compact size verses zoom. Once in a while the auto focus get's confused on trickier shots, but the manual override can fix that when necessary. It's a heavy lens and the zoom slides out when pointed down if you don't have it locked, which wouldn't be terrible but the zoom lock is very poorly designed and cumbersome to use. Apparently a screw came out inside my lens, which I learned is a known issue. Canon will be repairing it at no cost to me. If all is well following the repair, I would rate this lens as a must have for the casual to semi serious photographer. It's a "one-lens" solution for me.
Date published: 2011-11-01T00:00:00-04:00
Rated

5

out of

5
by
JTIII in Houston
from
Excellent walkaround lens
I haven't had this lens off my camera since I bought it. This is a terrific lens that does excellent telephoto and close up shots.
Date published: 2009-06-09T00:00:00-04:00
Rated

5

out of

5
by
Architect
from
Professional allrounder
This is a good lens for my general use as a professional architect. The weight gives balance to steady freehand shots. Substantial lens creep is the only drawback as there is not allways a time for using the lock.
Date published: 2013-06-23T00:00:00-04:00
Rated

5

out of

5
by
rudeboy
from
beginner lens
The lens is big and heavy but feels good and balanced on my 60D.......but my tripod wasn't strong enough to hold it up while i was shooting video of a model. The thing attracts dust like crazy and the 200 side isn't long enough. Autofocus is not bad and images are sharp but not great.
Date published: 2011-08-24T00:00:00-04:00
Rated

5

out of

5
by
Vinny
from
Best Lens
It takes great pics even in low light, and it's wide range and the fantastic quality of the images. In all a great picture taking and all around lens. Great lens that I'm happy. Nice features: High quality optics 4-stop Image Stabilizer No flare or ghosting
Date published: 2008-12-27T00:00:00-05:00
Rated

5

out of

5
by
Keoni
from
18-200mm IS Lens as a 50 D package
Great lens that I'm happy I decided to get. It'll be my most used walk around lens until Canon comes out with something better.
Date published: 2008-12-14T00:00:00-05:00
Rated

5

out of

5
by
Nj shooter
from
A very good all rounder lens
Buying this lens will save you a lot of $$$$ and the hassle of switching lenses. This lens is just a perfect lens for me .. Earlier I used to to carry two lenses the 18-55mm and the 75-250mm but realized I never used the 75-250mm zoom lens in the same trip as it was painful to switch lenses. With this 18-200 I am so happy that i get the zoom that I need without the news to switch lenses. What I don't like about the lens is the weight, the basis design flaw where the lens creeps out due to its own weight and the slow / inaccurate focus speed. Having said that even with all these flaws it is a superb lens and I just love it.
Date published: 2013-02-25T00:00:00-05:00
Rated

5

out of

5
by
Keoni
from
Wary when first offered as a 50D kit lens
Hello, When I went to pick up my 50D our dealer informed us of two kit lens available, the 28-135mm IS and the new 18-200mm IS. Since I already own a 28-135mm IS,16-35mm L, 28-70mm L, 28-300mm IS L, 70-300mm IS, 70-200mm IS 2.8L, 100-400mm IS 4.5L, 50mm 1.4 lens, and an 800mm IS 5.6L, my wife purchased as a surprise birthday gift, I was pondering whether to also purchase the new 18-200mm IS. Fortunately, I decided to take the 50D with the 18-200mm IS lens package. Upon getting home I anxiously put the lens on and took hundreds of shots along the beach fronting our yard. I have no regrets with the lens option and it seems as if it'll be my most used walk around lens. Off the subject, my wife and daughter also got me the new 5D II with the 24-105mm IS 4L package last week and that lens on the 5D seems like the combination was made for each other. Both are excellent walk around lens with their low weight, sharpness, quick focusing, and their IS properties. Of course, for specialized photo situations our other Canon lens are better suited when I need the zoom power, special situations, or for indoor portraits. My only and biggest gripe with Canon is they don't allow access to where we can purchase their proprietary apparel especially for men, such a shirts, windbreakers, caps, visors, product decals, etc. other wise I'd rate them a lot higher. Keoni
Date published: 2008-12-14T00:00:00-05:00
Rated

5

out of

5
by
Michaelangelo
from
Poor quality zoom.
The lens is very versatile, but if you plan to use the zoom in the 200 range the quality of pictures are poor, pictures are not sharp. In the short range or portraits I had some really good pictures. I will definitely go with the L as soon as I can afford it.
Date published: 2009-09-06T00:00:00-04:00
Rated

5

out of

5
by
Dj
from
Good at everything, but not great at any one thing
When looking at the Canon EF-S 18-200mm f/3.5-5.6 IS Standard Zoom Lens you see a lens that does a pretty good job at a lot of things, but is not perfect at any of them. It has a very nice zoom range, its wide angle ability is respectable, and its macro ability is adequate. All in all this lens does it all well and is the ideal first lens for any photographer. Then if you require a more task specific lens you may pursue at a later date. The AF is fairly fast, but a tad noisy. (it's not a USM motor, hence the noise) It handles low-light focusing well and the image stabilizer is very good. The lens lock ensures the lens won't be sliding down as it's slung over your shoulder provided you remember to lock it. All in all this is the ideal first lens for anyone. It works very well across the spectrum without any real problems.
Date published: 2011-02-13T00:00:00-05:00
Rated

5

out of

5
by
rebel xsi shooter
from
decent all-in-one, when it's working
i use this as my standard lens because it works well in just about any situation but the lens has locked up on me twice and had to be repaired.
Date published: 2010-10-11T00:00:00-04:00
Rated

5

out of

5
by
Roamer
from
Great for travel and everyday use
Bought this lens on the advice of the salesman. Was concerned about the weight, but that has not been a problem. I keep this lens on the camera all the time and rarely take it off. Great for taking shots in a car while on the road. Never use the flash indoors and it takes great natural light portraits at family reunions, functions, etc. Have even used it indoors in museums where flash is not permitted and gotten great shots. I have even gotten great wedding pictures without any camera distraction! Best sales advice ever and glad I bought it!
Date published: 2016-08-03T00:00:00-04:00
Rated

5

out of

5
by
M.J.
from
Great Perchase
This lens has become my favorite to use. I use it for a bit of everything from landscape to weddings and everything in between. though I dislike the fact that the lens will not stay at the zoom I am at if I tip the camera forward even slightly.
Date published: 2014-03-07T00:00:00-05:00
Rated

5

out of

5
by
Retired User
from
Does a Nice Job
I haven't used this lens much, but so far I have been very pleased with it. It seems a little heavy, but I need just a single lens to carry on travels. So far I have nothing bad to say about the lens.
Date published: 2015-01-31T00:00:00-05:00
Rated

5

out of

5
by
evanger371
from
My most used lens
I have been using this lens over a year now and it has an intimate relationship with my XSi (soon to be T2i). At 18-30mm this lens is extremely useful for crowded places and where space is tight. At 50-80mm It has resulted in some of the best people pics I've taken and is also great for architecture, landscape and local critters. And for those times (think zoo, outdoor parties, beyond fences & walls) the 200mm reaches places that I cannot actually touch. The stabilization is a fantastic feature for these long shots as well and when coupled with a 1.4x teleconverter you've got even more capabilities. Given the resolution of most of the EOS line, cropping the image after the fact can result in some really dramatic pictures. The lens does have a tendency to walk (move by itself) when tilted at more than a 30-45 degree angle. If you are hand-holding your camera then this is less of an issue. However, if you are using a tripod and shooting up (birds, two-row panoramas, moon) or down with a remote shutter release or the timer then you'll need to be more mindful. Like I said at the beginning, this is the lens that spends most of the time on my camera. It is what I had hoped for when I bought it and it has fulfilled it's promise of versatility, quality, and all-around value.
Date published: 2010-04-08T00:00:00-04:00
Rated

5

out of

5
by
mousepotato
from
most fun lens you can leave on your camera
Sure, the fisheye is probably more fun, but you can't leave it on the camera all the time. This lens can be put on the camera at least 90% of the time unless you need super big aperature. I am not a pro, but do print about 10 photos a year at 30x40 inches. I have shot weddings, vacations, street art and landscapes with it. And I used to have a 5D+24-105 combo. That being said, looking back at thousands of shots, the 24-105 has more eyepopping shots due to it's slightly better contrast, but overall, the T2i+18-200 can get more acceptable shots total with less dust, better color balance, more effective stabilization, and the ability to snag the long shot is like having an ace in your pocket. Both lenses have terrible widest angle distortion, so no good for pure architecture. How useful is it? Well, everytime I slap on the 50 or 28 prime, I end up taking it off within the day for lack actual usefulness. The primes may be technically better, but we arent shooting for magazines here. Except for the absolute wide app blur, this is a great wedding lens. Great indoors, great outdoors. On a side note, I just went to Disneyland and got the dreaded loose screw problem. Good thing the Canon service center was within a 20 minute drive. I can't wait to get that lens back!
Date published: 2011-06-02T00:00:00-04:00
Rated

5

out of

5
by
DrNSHAW
from
Good Lens with Average Sharpness
I got this as a kit lens with my 60D. On an APS C body, 18mm is about 29mm (28.8 and 200mm is 320mm equivalent (mm x 1.6 crop factor) so the range is equivalent to Canon's 28-300mm for full frame bodies. Unlike others who see this as their primary lens, I mostly use my Sigma 100-500mm (birds, deer, etc.), my Canon 100mm Macro (for tiny things), or my Sigma 18-35mm Art lens (which is my 29-56mm). I have two others in addition to my Canon 18-200mm. The lens is a good lens for the range it has and, thus, it is an excellent all-around lens. It is light and the lock mechanism works well but can be overridden easily. IS is super - it's quick and gives 2-3 stops. I say 2-3 because I'm an old guy and my hands are not that steady. You can see the image stabilize as soon as you depress the fire button. Now the bad - image quality. Do not use this lens with any filter - quality drops significantly. I have several lenses but my sharpest are my Sigma 18-35mm Art and my Canon 100mm f/2.8 macro. In numerous tests with all my lenses, with or without a B+W filter, quality degradation is not noticeable but with the 18-200mm, image quality drops significantly. So I do not use a filter, ever, with this lens. That means no polarizer which I like. f/3.5 is not fast and indoor shots do require a tripod or flash.
Date published: 2017-08-15T00:00:00-04:00
Rated

5

out of

5
by
Zark
from
Great focus but too much vignetting
I've had this lens for about six months now and it has certainly been my primary lens during that time. While I have other lenses, I really only use this or the 24-70 f/2.8. If I expect not to need the extra wide angle of the 18 or the telephoto beyond 70, then I definitely use the 24-70. But, of course, I often want the larger range. Using this lens is a pleasure. It focuses very fast and the IS is very good. The only real usability issue I have with it is that the zoom creeps quite a bit with gravity. The results, on the other hand, can be less than stellar. Not surprisingly, it can be a bit soft at full zoom, particularly since I'm often shooting action if I'm using full zoom, so I usually have the lens fairly wide open to keep the shutter speed high. The bigger problem I've had, though, is the fairly severe vignetting that occurs both at 18mm and at 200mm. While the vignetting is usually trivial to correct in post-processing (or even to crop away, as I often would do anyway), it still bothers me about the lens. When I purchased this lens, it was meant to be a vacation lens for when I didn't want to carry any other lenses. It fills that role very well, but a couple of months later I bought the Canon SX200 IS, which fills that need better. I expect to eventually get the 70-200 f/2.8 (IS or not) and I'm not sure what my usage pattern will become at that point.
Date published: 2009-07-21T00:00:00-04:00
Rated

5

out of

5
by
JohnHW
from
Excellent Lens
My wife gave me this lens for Christmas 5 yrs ago to go with my recently purchased Rebel t2i. Since receiving this lens I rarely use any other lens. I shoot indoors and outdoor. Landscapes and people; stills and action. I love this lens. I am planning on purchasing a 7D and will carry this lens with me. I wish Canon would continue to make this 18-200 or 18-300 range lens in an up graded lens, fixing the lens creep.
Date published: 2016-02-09T00:00:00-05:00
Rated

5

out of

5
by
YoungAtHeart
from
Great Lens!
I got this lens when I upgraded to the 50D camera. I really didn't want another lens since I already have 6 ranging from a 10mm to a 400mm but since it came with the camera I decided to give it a try. In the 6 weeks that I have had this lens I have used it more than all my other lens put together! I find myself reaching for this lens instead of my other "specialty lens" when I'm going on a shoot because of it's wide range and the fantastic quality of the images I get. My only regret is that I didn't get this lens sooner!
Date published: 2008-12-02T00:00:00-05:00
Rated

5

out of

5
by
JTIII in Houston
from
Excellent walkaround lens
Excellent lens for everyday purposes. Only lens I took on a recent trip-great versatility, excellent close-ups and great landscapes. Many compliments on photos.
Date published: 2009-05-27T00:00:00-04:00
Rated

5

out of

5
by
bouldy
from
Good all-around lens
I've taken many amazing pics with this lens and others not so much. The auto focus is spot on about 95% of the time, but at other times I switch to manual just to make sure. Auto focus is very quick and works well with rapid fire shots. I have no complaints about the image quality. The lens is pretty heavy and large, but if I'm only taking one lens with me it has to be this one. It is very shock resistant. I'm a mountaineer and have taken this up many peaks while banging it against rocks (on accident of course). The picture quality has not suffered in the least. Excellent lens for anyone who wants to own just one.
Date published: 2011-08-17T00:00:00-04:00
Rated

5

out of

5
by
saravanan
from
Faulty lens sold
If you are not ready to post the review in your site then I will make a video of the faulty lens which was sold by canon e store with bill and details in YouTube and let people new the truth.
Date published: 2017-02-21T00:00:00-05:00
Rated

5

out of

5
by
Bri
from
great lens
Bought this lens because I got sick of kit lenses. Images are sharp and clear throught the range. Took pics of fireworks from a half mile away and they were outstanding in clarity and quality. I really like the lens lock feature as it does not allow the lense to move when not in use and it takes only a second to unlock it and focus. I put a UV filter on it and I'm stunned by the images I get now.
Date published: 2012-07-07T00:00:00-04:00
Rated

5

out of

5
by
RXTravel
from
good for vacations
This is a good lense to have while on a vacation when you do not want to mess around with changing lenses. The images can be a little soft but you get what you paid for and for the price you really cannot complain. The major issue would be the slow auto-focus on this model. I would like to see this lense with USM, current auto focus is very slow and inaccurate.
Date published: 2011-03-29T00:00:00-04:00
Rated

5

out of

5
by
ecar
from
superb value , maximum coverage
My first DSLR was the Canon kit which included the 60D w/ the 18-200 Lens. I still own the lens, but not the camera. I've read all of the reviews, and would like to say that the cons on this lens are not a big deal, and easy to live with, considering what this lens does, especially for the money!! And YES, if you take care of your things, it makes all the difference in the world. This lens may not take the abuse that other more expensive lenses do. I don't consider this lens a poor build at all, it's just not an "L" lens, which causes some to rate it down. I now use it on my 7d and love it. I also own a 5d mrk III. The lenses I own are: (all Canon) EF-S 15-85 / 18-135 / 18-200 EF "L" 16-35 @ F-2.8 "L" 24-70 @ F-2.8 "L" 24-105 @ F-4
Date published: 2014-07-29T00:00:00-04:00
Rated

5

out of

5
by
suv
from
200mm is NOT 200mm
I can live with all other shortcomings of the lens (distortion, vignetting, lack of sharpness etc) for the sake of the huge 18-200mm zooming range. But, I did some testing, and found that the zooming range is not a true 18-200mm. For example, I set the lens at 200mm, and took pictures focusing at a series of distances (4 ft, 5 ft, 10 ft, 20ft). When focusing 4 ft away, the 200mm focal length was found to be actually only 110mm. Similarly, the 200mm is actually 115mm (at 5 ft), 136mm (at 10 ft) and 159mm (at 20 ft). Sorry for the disappointment if you think you have a 200mm lens, Also, the zoom range is not 11x as it is commonly called. Just shot an object at 4 ft away with your lens set at 18mm and 200mm, and compare the two sizes. You will find the size ratio is only about 7x, NOT 11x. People who are reading this, you don't have to believe me; just do it yourself, or compare the lens with any other lens (for example Canon 55-250mm).
Date published: 2010-12-16T00:00:00-05:00
Rated

5

out of

5
by
hola!
from
super zoom not up to par with canon optics quality
this lens is bulit well but its sharpness and optics arent what i expected terrible quality pictures buy a shorter range zoom you will regret buying this lense
Date published: 2009-03-22T00:00:00-04:00