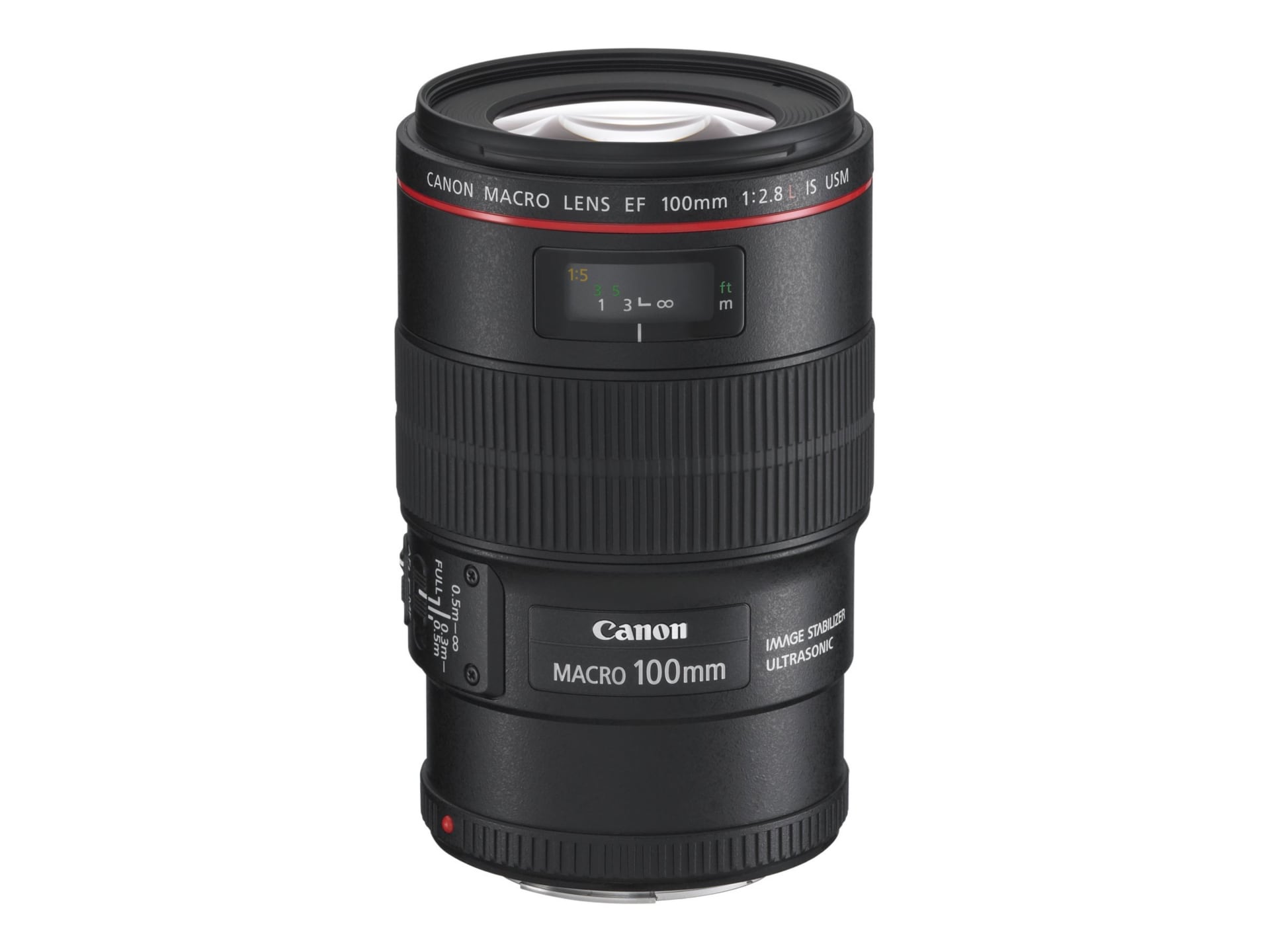 Quick tech specs
View All
Know your gear
Canon's "L" series lens is its first mid-telephoto macro lens to include Canon's sophisticated image stabilization. With the highest quality optics available, combined with near-silent ultrasonic focusing and life-size close-up capabilities without an adapter, the EF 100mm f/2.8L Macro IS USM is simply unrivaled.

This is the first lens on the market to incorporate Canon's Hybrid Image Stabilization technology. Hybrid IS effectively compensates for both angular and shift camera shake during close-up shooting. The lens was developed to expand users' photographing range and allow a wider range of users to easily enjoy macro photography.


Canon EF macro lens
is rated
4.50
out of
5
by
109
.
Rated

5

out of

5
by
Foxlion
from
Outstanding
Superb lens, all in it is outstanding. High quality images, impressive contrast, fast and accurate auto focus. Works as well as a macro as a multipurpose lens. The construccion is solid, following the Canon modern trend in their last lenses, it is not plastic, it is much more strong than a simple plastic. I love this lens.
Date published: 2016-07-30T00:00:00-04:00
Rated

5

out of

5
by
felixm
from
Not completly satisfied with value of this lens
Bought this lens after selling my 10m macro 2.8 non-IS. When properly switched it focuses faster but when incorrectly switched may sometimes not find the proper focus and give up which is not improved from the prior non-IS version. The build quality is not as well built as the previous version and the body on this unit is plastic and flexes when slight pressure is applied which did not happen in the previous version. Front element is about the same size as the previous version but the body makes the front bigger. IS seems to work really well in both close-up and far subject shooting. Overall quality of image is the same as with the previous version although this lens is technically "L". if you currently own the older 100mm macro dont go out of your way to make this upgrade. I use this lens on my canon 5d2 for high fashion, commercial, product, macro, and video.
Date published: 2009-10-25T00:00:00-04:00
Rated

5

out of

5
by
PJC
from
Plastic, plastic, plastic!
Having owned many Canon lenses (25+) over the past 30 years, this lens is by far the one that uses the lowest grade of materials at this price. The plastic is so thin that if you pinch the focus ring while manual focusing, it sticks! Even the lens barrel flexes! Very cheesy! Does it really deserve the 'L" series designation? You be the judge. If fact, when my lens arrived new in the box, the image stabilization elements were "floating" around loose inside the lens. I found out later that this is caused by removing the lens from a camera before the IS motors have shut off. QC problem from Canon? Did a lens to lens test against my superbly built 70-200 f/2.8L IS II lens, and found the zoom to be better at all settings except macro, of course. So, don't buy this if you don't need it much for macro. Consider the supurb 100mm f/2, at less than half the price if you just do portraits and such.
Date published: 2013-01-02T00:00:00-05:00
Rated

5

out of

5
by
Mikey42
from
Love This Lens!
This is one of my favorite lenses. I use this not only for macro work, but for portraiture as well. It provides great bokeh and sharpness.
Date published: 2014-09-27T00:00:00-04:00
Rated

5

out of

5
by
Michael
from
Excellent Lens
This is such a versatile lens. It is sharp to the edges and very bright. I am very happy I purchased it.
Date published: 2014-02-07T00:00:00-05:00
Rated

5

out of

5
by
Nate
from
WOW
THIS WAS MY SECOND "L" LENS THAT I HAVE PURCHASED FROM CANON. I CHOSE TO UPGRADE TO THIS MACRO LENS FROM EXTENSION TUBES, BECAU I REALLY WAS STARTING TO REALIZE THE LIMITING FACTORS WITH EXTENSIONS TUBES BECAUSE THEY -CANCEL THE LENS' ABILITY TO FOCUS TO INFINITY -LOSE HUGE AMOUNTS OF LIGHT -DIFFICULT AF -LOSS OF DEPTH OF FIELD REALIZING THESE FACTORS THAT WERE LIMITING MY CREATIVITY I THEN DECIDED TO MAKE THE STEP. MY FIRST CHOICE WAS THE 60MM MACRO FROM CANON. ALTHOUGH GREAT OPTICS AND SMALL SIZE APPEALED TO ME... YOU HAVE TO GET VERY CLOSE TO THE SUBJECT FOR MACRO PERFORMANCE WHICH CAN SCARE BUGS OFF OR CREATE SHADOWS. mY NEXT OPTION WAS THE 100MM MACRO NON IS. I HAD USED THIS LENS MANY TIMES BEFORE AT MY SCHOOL IN THEIR STUDIO AND IT PROVIDED ME WITH SOME GORGEOUS IMAGES. HOWEVER, IN LOW LIGHT THIS LENS WOULD HUNT THROUGH ITS ENTIRE FOCUS RANGE (ALL LENSES HUNT THAT WAY). I WAS FINE THAT IT WAS HUNTING FOR FOCUS, BUT IT WENT PAINFULLY SLOW AND THE FOCUS BREATHING WAS MAKING COMPOSITION HARD. MY NEXT AND MOST IMPULSIVE CHOICE WAS THE 100MM MACRO L. AFTER MAKING THE CHOICE TO PURCHASE THIS LENS I WAS NOT DISAPPOINTED. THIS LENS HAS A REALLY GOOD LOOKING, MODERN APPEARANCE, AND SOME OF THE FASTEST AUTO-FOCUSING I HAVE EVER USED. NOT TO MENTION THE AMAZING OPTICS. WITH MY OTHER TWO LENSES (85 1.8 + 17-40 L) THEY GET VERY VERY SOFT AT F/22 (THEIR SMALLEST APERTURE. WELL NOT THE 100MM MACRO, DUE TO ITS MINIMUM F-STOP OF F/32, F/22 IS THEN EXTREMELY SHARP. THIS LENS ALSO HAS SOME AMAZING CONTRAST (EVEN WITH THE THE RAM IMAGES). WHERE DID ALL OF THAT CONTRAST COME FROM. THE MACRO PERFORMANCE OF THIS LENS IS STELLAR. WITH A SLIGHTLY LESS THAN 1 FOOT MINIMUM FOCUS DISTANCE YOU CAN MIND YOUR DISTANCE AROUND INSECTS AND INCREASE BACKROUND BLUR WHEN SHOOTING OBJECTS SUCH AS FLOWERS AS THE SUBJECT AND WEEDS, DIRT, AND GRASS AS THE BACKGROUNG (FOREGROUND). MY ONLY GRUDGE OF THIS LENS IS THE LOUD IS. IF HELD POINTING DOWN, THE IS CAN OCCASIONALY MAKE AN ODD CRUNCHIING NOISE AS IT TURNS. IT MAY JUST BE MY COPY. OTHER THAN THAT THIS LENS IS ONE OF THE BEST LENSES I HAVE EVER USED... BUY IT NOW!!!
Date published: 2010-07-13T00:00:00-04:00
Rated

5

out of

5
by
Gary C
from
Fantastic upgrade
The addition and slight redesign to an already great lense has made it even better. Image Stabilization has provided me the ability to do Macro on the move without being bound to a tripod. This is a fantastic lense, the image quality is crystal clear and focusing is virtually instant. This lense compliment's my 85mm 1.8 Portrait lense. If you are walking have this 100mm macro on your camera and you won't go far wrong
Date published: 2009-11-25T00:00:00-05:00
Rated

5

out of

5
by
Vman
from
FINALLY
This is the answer to many many prayers by Canon users: When are we going to get IS on a macro lens???? This lens has blown my 70-200mm f/2.8L IS away on the first day engagement shoot. I've shot two couples with this lens and 70-200 (together with my wife) at first she was sceptical about using a prime MACRO for portraits, but very shortly I couldn't get it back in my hands. We compared the shots side by side, and the verdict is: Superior sharpness, EXCELLENT contrast (yes, it surprisingly outperformed 70-200 in terms of contrast) Perfect bokeh (contrary to popular belief that macro lenses don't provide great bokeh for portraits- 9 blade aperture says it all). I am more than impressed with this lens, it's quickly becoming my favorite. The downside mentioned by some other users of the lens hunting while focusing is very deceiving: there are 3 modes on the lens: Full, macro, and portrait focal ranges- if you are lazy to switch to the proper mode don't be surprised that it takes time to focus from 10 inches to 15 feet :) Side by side comparison to 100mm f/2.8 macro quickly reveal the presence of the L in this lens' name. WAY TO GO CANON!!!!!
Date published: 2009-10-27T00:00:00-04:00
Rated

5

out of

5
by
pnl1948
from
Amazing
I just bought this lens based on reviews from FM and other good reputation sites. They are all correct, this is an amazing lens, fast AF, very easy to use and what a quality of picture. A little bit heavy, but when you see the pictures, it makes it more acceptable. Great lens
Date published: 2011-06-05T00:00:00-04:00
Rated

5

out of

5
by
Marty K
from
Great Lens
This lens takes fantasic close-up images. It replaces my 100mm Canon lens without image stabilization (IS). The IS allows for more hand held shots. The resolution is excellent. I use it on a Canon 5D Mark III (full frame), which allows me to crop the images significantly. I would have liked to see less plastic used, but it does not seem to take away from the quality images. The benefit is a lighter lens. It also is a great portrait lens.
Date published: 2012-04-05T00:00:00-04:00
Rated

5

out of

5
by
VonTrango
from
Believe the hype
This is my first macro lens, and my third L series lens. So far I am blown away, even compared to my beloved 70-200. Have not used it for portrait yet so no comments there. I primarily shoot landscape so this is a big departure for me, but just what I was looking for in trying to expand my photo skills. I am attaching literally the 5th and 15th photos I have taken with this lens so far, and am very excited about the potential. I have a lot to learn on macro, especially at 1:1 where the DOF is like 1mm but so far am having fun.
Date published: 2018-11-06T00:00:00-05:00
Rated

5

out of

5
by
Indy
from
Awesome Lens!
I am surprised at some of the recent reviews of this lens. I think the lens itself is near perfect as a carry-every-day close-up/macro lens. While using this in the field, it is light weight for its reach and aperture, a perfect focal length for working distance and portability, and the AF and IS are both excellent. Very sharp images and excellent bokeh, rivaling that of the excellent (but less field flexible) 180mm macro. Sometimes I go hiking with my kids, and they have no patience for time-consuming tripod set-ups. No worries! The IS on this lens is so good, you can get a high keeper rate hand-holding – just be a little discerning with what you are taking. Handholding, you might not get that true 1:1 macro head shot of a snail, but you can get awesome close-up, frame-filling shots you won't get without an IS macro lens. On days without the kids, I carry along a macro-oriented tripod, switch off the AF, and get super tack sharp images in all sorts of lighting conditions. Some have commented on the use of plastic on this lens. True, but the plastic here is of a much higher quality than a standard lens, it has a great feel to it, and adds to the lenses ease of use through lighter weight. I have found everything about it's construction to be top notch. I have but one complaint and one warning. The lens does NOT come with a tripod collar, which is a huge shortcoming for any serious tripod-based macro photography. You will have to buy the tripod collar separately. And if you plan to use one of Canon's excellent macro ring lighting systems, you will need a step-down adapter, as the macro ring and the barrel diameter of this lens are not the same. Canon makes a solution for both, but really – no excuse for not including the tripod collar. The lens itself, however, is simply fantastic – thumbs way up!
Date published: 2013-05-08T00:00:00-04:00
Rated

5

out of

5
by
Stonewall
from
My favorite lens!!!
I had wanted to buy a dedicated macro lens, and after debating this versus the non-L version I make the leap and purchased this lens. Within a month, this has become my absolute favorite lens! If I could only keep one lens this would be it. In addition to its macro capabilities, which are great (especially if you add a Canon 25mm extender), the optics and bokeh on this lens are superb!!! The level of detail it captures, even at f/2.8, is simply amazing. Portraits, hummingbirds, dragonflies, you name it. This lens has the clarity and speed to do so much more than just macro. If you are thinking about it, just get it. You won't regret it!
Date published: 2013-07-06T00:00:00-04:00
Rated

5

out of

5
by
Moeski3
from
Great for detail images!
Purchased this just before Christmas and I am very happy that I finally added this to my lens lineup. Looking forward to putting it to use this spring as the weather begins to warm up.
Date published: 2019-01-15T00:00:00-05:00
Rated

5

out of

5
by
toyman9600
from
Great Macro Lens Super Sharp
I had been using an EF-S lens for Macro photography in the past. The images from this new lens just blows my old pictures away. Super sharp images.
Date published: 2019-01-03T00:00:00-05:00
Rated

5

out of

5
by
laserguy007
from
Great Buy
Great lens and great value. Super sharp even when using for a portrait lens.
Date published: 2012-08-24T00:00:00-04:00
Rated

5

out of

5
by
Rusti24
from
Mr. Versatile
I'm really digging this lens in the short amount of time I've been using it. My initial reason to buy this was for the obvious reason - macro photography, particularly with water. I love taking pictures of the ocean and this lens will help me capture water in the purest of forms. But secondly, I've been finding it as the perfect portrait lens. I really love primes for the fact they make you work for the shot and this lens is no different. This lens is crispy sharp and feels quite lightweight and compact in my hands mounted on my 5D4.
Date published: 2018-12-11T00:00:00-05:00
Rated

5

out of

5
by
KrisC
from
Incredible Lens
Very versatile lens. I use this lens extensively for portraits and macro (flowers, bugs, bees etc.). A bit heavy but nicely balanced when paired with Canon 5D Mark II. Outstanding sharpness, shallow depth-of-field and with incredible bokeh effect!
Date published: 2009-11-26T00:00:00-05:00
Rated

5

out of

5
by
gordone
from
Save up and buy this one
I was taking a course on macro photography and did research and picked this one to mate with my 60D. This is the most amazing lens you could ever get your hands on. The focus is fast and sharp, even when hand-holding and focusing on the eye of a fly. I have taken several thousand pictures including macro, portrait, scenery, wildlife, weddings, you name it. The IS is absolutely amazing. I also have a 24-70L series, but if I want real sharp photos, I always grab the 100 macro.
Date published: 2011-12-21T00:00:00-05:00
Rated

5

out of

5
by
Corgiman
from
Finally an IS Macro
Bought this lense about a month ago. Could hardly wait to get my hands on it. Haven't had a chance to photograph flowers and insects yet as it's approaching winter. Have took numerous handheld photos of polished agates at 1:1 magnification. They turned out excellent with the IS turned on. Going to try it out as a portrait lense tomorrow. Was slightly disappointed to learn that it offers only 2 stops of IS at 1:1. But it is much better than trying to handhold my old 100mm macro at 1:1 with no IS. Camera used is an EOS Rebel T1i. Love the lense none the less and would recommend it to fellow macro shooters.
Date published: 2009-12-01T00:00:00-05:00
Rated

5

out of

5
by
BobbyD
from
First "L" lens
This is my first L series lens but I have used others and I must say that this one is my favorite! The sharpness of the images is amazing and I love it. And I have gotten many complements about how sharp the images look. It's a very good portrait lens so you're getting 2-for-1, awesome macro and portrait. BUY THIS LENS! and I think this is my lucky lens. Ever since I got it I did one photoshoot with it and put the images online and since then I have gotten MANY requests for photoshoots haha
Date published: 2011-02-15T00:00:00-05:00
Rated

5

out of

5
by
Mike
from
Solid Macro
I think the great thing about this lens is the versatility. While it does take absolutely breathtaking macro shots you can still use it for a great prime Portrait lens.
Date published: 2011-03-04T00:00:00-05:00
Rated

5

out of

5
by
Mike
from
Fantastic
Have had this lens for about 2 years and find it a great addition. I rarely use a tripod and am amazed at the sharpness. It quickly became one of my favorite lenses. Will admit there are times I wish I could actually get closer to the subject. It also makes a very nice walk around lens.
Date published: 2012-11-02T00:00:00-04:00
Rated

5

out of

5
by
macman
from
Better than expected!
I was trying to decide the first lens I wanted to purchase to go with the Canon EOS-1V I picked up used a while back. I knew I was going to buy a L series lens. I had rented the 24-70mm f/2.8L and really liked that but the close-up shots that I like to take just weren't close enough. I had a 100mm f/4 FD that I really liked with my former AE1 Program. I did quite a bit of research on this lens before I purchased it. I added a Hoya UV filter to protect the front element. This lens balances very well with the 1V even when I have the PB-E2 Power Booster on. Actually better with the Booster on. The combined weight doesn't bother me, it gives me confidence in the quality. I also like the moisture/dust seal to match the 1V. I just got my first 6 rolls of slide film developed and the sharpness on film is excellent. Not all my shots were perfect but that is definitely user error and not a fault of the lens. I shoot nature better than people usually and this lens has improved my people shots. This lens takes beautiful portrait shots. If you know your focus distance and set the correct range the AF works quite well. I shot a lot of Macro shots hand held and was amazed at how sharp the pictures came out. A function of the IS I'm sure. Bottom line? If you're into Macro photography professionally or as an advanced amateur you won't go wrong here. Excellence as a portrait lens is a bonus.
Date published: 2012-01-30T00:00:00-05:00
Rated

5

out of

5
by
PJ
from
Excellent piece of glass
I just love this lens it is an Excellent piece of glass.
Date published: 2009-10-07T00:00:00-04:00
Rated

5

out of

5
by
Canon Enthusiast
from
Everything you might expect, IS behaves well
I wasn't certain this lens would be a good value or choice for an APS-C camera. Having recently purchased a 7D, I felt the focal length might be too long, but didn't want the EF-S 60mm macro, when I expect to purchase a body with a full-frame sensor in a couple years. For anyone considering a 100mm Macro, I'm 6x6" tall, and was able to squeeze in an 8x11" sheet of paper on the floor, while standing with my 20D. I evaluated the EF 100mm Macro and this lens side-by-side. The older 100mm Macro has a great reputation. From the specifications, you'll see that the new lens is slightly longer, and weighs more. The build quality is excellent and consistent with an L lens. Optics are precise. Color and Bokeh are outstanding, as review samples attest. Auto focus and manual focus are smooth and deliberate. As with other Macros, the focus is precise, but moves slower than a standard telephoto lens of the same focal length. It takes approximately 2.5 seconds to focus from infinity to .3m. It takes approximately 3.0 seconds to focus from .3m to infinity, as the mechanism delays .5 seconds when autofocus is initiated. The focusing limiter selector switch functions well, eliminating the time to focus, if you know your subject will be between .3m to .5m, or .5m to infinity. The ranges offer a good compromise between focusing element travel and practical subject distances. .3m to .5m represents a 180 degree turn of the focusing ring, and .5m to infinity represents about a 150 degree turn of the focusing ring. I purchased this lens over the older 100mm Macro for the image stabilization. The image stabilization allows the hand held use of the lens under brighter lighting conditions. The image stabilization certainly behaves differently from other L lenses at 100mm. Telephoto IS may allow you to pan, this lens does not. Better shots will be obtained with IS on while tracking a moving subject; however, IS on this lens is no substitute for a telephoto with panning IS ability. The new IS technology does seem better suited for macro shots than earlier IS techonlogy. The subject seems to "stick" on this lens, as compared with images that seem to "float" with other IS lenses. IS compensates for movement quite well, but I will shoot low-light subjects on a tripod. With IS on and and shooting at 2.8, the depth of field is extremely shallow. Any movement toward or away from the subject will result in an out-of-focus image. My 1.6 sensor certainly exacerbates the problem. If you need to obtain a more adequate depth of field, you must shoot at 8.0 or above, which will require longer shutter times under low lighting. Outdoors, this lens will provide unique opportunities in allowing one to complete hand-held shots of bright-lit subjects, especially if you have a full-frame sensor.
Date published: 2009-10-08T00:00:00-04:00
Rated

5

out of

5
by
eyeCAN
from
Glorious macro shots
I also have the 50mm macro and this I like much more, really works well in the studio when I need to get into tight shots, great low light ability and falloff at 2.8
Date published: 2009-11-29T00:00:00-05:00
Rated

5

out of

5
by
JC
from
Plastic lens barrel
The lens does everything they claim it will do but in my opinion lenses with L designation and price should never be made of plastic. Lens barrel flexes if you grip firmly. Focus is smooth but has slight amount of play. I'm kind of disappointed. No plastic!
Date published: 2009-11-03T00:00:00-05:00
Rated

5

out of

5
by
david
from
Macro heaven, flawless!
I have been using the 100mm L lens for the past 3 months in tropical forest conditions in Indonesia. From the first shot of ants crawling to my recent shot of a moving centipede, the lens performed incredibly well. The IS feature combined with the lens speed, combines to create a really smooth and satisfying action. Using a 5D Mark II, I am able to produce the most pin sharp images I have ever seen. The price of this lens is a reflection of the robust design and the quality materials used in the build. When required to get as-close-as possible, the lens gave me exceptional leverage in achieving x1 magnification and no cropping afterwards. Overall, any cons people have about this lens would result from their in-experience or impatience to understand its true potential. I would recommend this lens to anyone with the money and passion to achieve excellence.
Date published: 2011-09-08T00:00:00-04:00
Rated

5

out of

5
by
callaesthetics
from
It's wonderful!
This lens is awesome. I've used it to shoot bugs and people and it's a very sharp lens. The bokeh and sharpness is so nice ill prob use this lens to shoot portraits more often. Color and contrast is very good. The lens is made of plastic and is no bother to me at all. I wouldn't be surprise if this plastic is stronger than metal. Being plastic prob helps with the weight also, which is important for keeping it stable. Feels very sturdy. Im not used to this type of quality, this is my first L lens.
Date published: 2010-08-19T00:00:00-04:00
Rated

5

out of

5
by
btboogie
from
Fantastic lens
This is one of my favorite lenses. I used this lens to photograph young wrestlers at a tournament. The shots were still, posed photographs for poster sales, and the quality was outstanding. Each shot was crystal-clear.
Date published: 2010-03-09T00:00:00-05:00
Rated

5

out of

5
by
John234
from
Just... WOW
An essential lens for any photographer! Absolutely stunning and sharp images! Made me feel like a kid that just got the best toy on the market. Here's a quick snap... why?... Because its a CANon, not CANnot!!
Date published: 2018-08-14T00:00:00-04:00
Rated

5

out of

5
by
jimmy
from
my new lover
I have just bought this great lens for less a week,but frankly speaking this is a super macro lens,which in some respects is better than another sharp L lens 180 3.5, though the latter one is more expensive and widely used. I am a enthusiast, and loves taking insects and flowers pictures. The famous L macro 180 3.5 indeed is sharp,but itis weakness is obvious--you can not get photos you are really satisfied with without a tripod. I have to say a lot of good oppotunities flew away ,making me feel annoyed. In trems of taking commercial photos of stationary objects, 180 3.5 is a good choice, but if you reaaly want to enjoy the beauty of the nature and catch some astonishing pictures, just buy the new launched 100 .28 L, which will show you a spectacular macro world. When it comes to the quality, in my perspective, compared with the old mode 100 2.8,the new one looks nice and the pictures are better. Besides, the new-designed focusing system is good. Just like many users,I also think the shell should have been made by metal alloy.
Date published: 2009-11-23T00:00:00-05:00
Rated

5

out of

5
by
PHOTO BOY
from
THIS IS ONE BEST LENS I HAVE
THIS LENS IS EXTREMELY SHARP AND A GREAT MACRO LENS BUT THIS IS THE BEST SPORTS I HAVE. I HAVE 8 L LENSES. IF I WOULD START OVER THIS WOULD BE MY ONE THE 1st I BUY. ONE OF THE BEST LENS EVER
Date published: 2010-09-24T00:00:00-04:00
Rated

5

out of

5
by
Iowagirl
from
This lens is magic
I've been wanting this lens for quite awhile and finally splurged. I'm so glad I did. So in love with this lens. I can get fantastic handheld macro shots and Canon's magic means something is always in focus. I really anticipated more blurry, wasted shots than what I am getting, considering I'm not even using a tripod. Love this lens!
Date published: 2017-04-25T00:00:00-04:00
Rated

5

out of

5
by
Peji
from
Excellent lens
Excellent work of art, I just love this Lens. I use this camera with a 5D Mark II. Super sharp, fast and the pictures are incredible. This is a must have lens and worth every penny. Every time I take a pic with this lens, I fall more in love with it.
Date published: 2009-10-13T00:00:00-04:00
Rated

5

out of

5
by
Jin
from
nice and sharp, but doesn't feel a L lens
this lens is very nice an very sharp! the IS and weathe sealing is very handy. I have no complain about this but expect one. which is the built material. not the built quality but the Material. I think Canon is cutting down the material with this L lens. with the price around $1050 I expect it to be built with metal. not high quality (engineering plastic)! It might save some weight but I'm already used to with big camera and big L lenses so this little weight won't help much. And this is the only reason stopping me to keep it. I keep the 100mm f/2.8 macro instead. Great lens! but I hope canon doesn't make any more "engineering" plastic L lens anymore =/
Date published: 2011-03-29T00:00:00-04:00
Rated

5

out of

5
by
Iron
from
Amazing
Where can I start, I have been having dreams about buying this lens, and finally I went ahead and spent major bucks, but it was worth it. From the very first picture I had taken, I fell in love instantly and I try to use this lens as much as possible. Even @ 100mm focal length, its still my first choice lens for portrait photography. Not forgetting the main purpose of this lens is to take close up photos, I can assure you that you will be amazed on how close you can get to the subject, plus the fine details this lens can pick up. Overall, if you have the money then don't even think twice, a must for macro and portrait photography.
Date published: 2012-01-16T00:00:00-05:00
Rated

5

out of

5
by
Opa M
from
Exquisite lens!
I just received this lens for a birthday and I immediately attached it to my 5DMarkII and started shooting. Let me say that as a long time macro devotee I have owned all Canon macro lenses, FD and EF. This one is clearly the best. I purchased the tripod mount as most macro nuts would, and tested all f-stops at several ISO levels. My overall impression so far is that this is going to be my favorite lens, even against my four other L lenses. My test strategy so far: A. shoot objects close for near 1:1 magnif, compare image with one shot not so close but enlarged using the magnify button. My wife, a published photographer herself, and I were truly surprised - couldn't tell the difference. B. Use different color backgrounds to see how the metering system's algorithms handle exposure - I am shooting orchids in bloom. Again, the exposures were spot on, seemingly picking the central object and not the background. More strategies being tested. My advice: If you have a recent model Canon DSLR and have not yet bought this baby, I say get going. It will add new dimensions.
Date published: 2011-01-21T00:00:00-05:00
Rated

5

out of

5
by
HD741
from
Very Nice Lens
Super-sharp images, Superior build quality, Fast auto-focus I use this lens with a 5D Mark II, and also own the cannon 180mm L Macro. I pre-ordered this lens, and started using it the day it arrived. I bought it with the hope the IS would help with hand held shots on very small subjects, such as butterflies and insects. This is how it compares to the 180mm L, all these comparisons are based on shooting very small subjects as close as possible Back ground blur, the 180mm is allot better, the 100mm does have a fair amount of bokeh but it's not as good as you get with the 180mm Auto focus is allot quicker on the 100mm. I was even able to use the auto focus for some shots that turned out with really good detail hand held. To get real close, you end up focusing 3 to 4" away from the end of your lens hood on the 100mm. The 180mm has an advantage here in that you are probably twice that distance with your minimum focusing distance. You really have to get in a bugs face to get a close up with the 100mm. Both lenses are extremely sharp. I have several grasshopper and dragonfly pictures from the 100mm that I cropped and printed on 13 x 19 and even cropped they had excellent detail. The IS isn't a substitute for a tripod. But it did seem to help. An added bonus to this lens is that it is a very good telephoto lens as well, very sharp and if you're not going from extreme close up to long range the auto focus is fast. I have been leaving this on the camera as a walk around lens. To sum up, if I am using my tripod I am going to use the 180mm it will give better results. If I am trying to catch up to a butterfly that won't sit still very long. I am going to stalk it with the 100mm.
Date published: 2009-10-20T00:00:00-04:00
Rated

5

out of

5
by
pathdoc
from
Incredible Macro Lens
Being a nature macro-photographer,I wanted a dedicated macro lens.When I read the glowing reviews of this new Canon,f 2.8, IS 100mm macro lens, I purchased one this week. I shot quite a few photos in the yard of flowers, butterflies, and scenes with this lens and my reliable 6 year old EOS 10D camera. The results were very good, but not as good as I wanted; as it became obvious that overall clarity was being limited by the 10D's 6.3 MP sensor. I had anticipated such would be the case before the lens purchase. The post-production cropping was limited by the sensor size too.. I switched to AI servo mode on the camera, as the directions with the lens suggested, and this helped somewhat with the clarity of images. Even with the IS on, extreme closeups would likely be helped by using a monopod or tripod. Overall, I am delighted with this lens's quality , but to use it to its full potential means that I'm now going to purchase a Canon EOS 7D body. This should be superb combo for me for years to come.
Date published: 2010-05-30T00:00:00-04:00
Rated

5

out of

5
by
b4noesis
from
Faulty Focus
Repeatedly the salesperson tried to reset my camera settings for all Auto. I explained I shoot in Manual Mode and preset the camera for each shoot. After clearing most Custom Settings, he handed the camera to me in frustration. After using this new purchase, I understand his frustration. There is little-to-no control in Manual focus mode. Each shoot requires an exposure/focus lock-up or the lens slips out of focus. This lens is heavy, the subject depth of field near irrelevant, and the focal length frustratingly impossible for clean, sharp lines. Lens action requires swift zoom x5, x10 in viewfinder to assure clarity after locking drive. Restart process if not clear. Too much work!
Date published: 2013-03-28T00:00:00-04:00
Rated

5

out of

5
by
Jman
from
Exceptional Lens
Extremely sharp lens with very fast AF and outstanding IS. The build quality is solid, despite the plastic barrel, built to very tight tolerances. To the reviewer below who doesn't think Ls should be plastic: I hope you realize that there are a LOT of plastic Ls, including the 135L, 50L, 35L, 24L II, 17-40L and a few more. Anyway, bokeh is very nice, with beautiful color and contrast, with no loss of contrast wide open. Extreme corners on full frame are slightly soft wide open (though more than usable) and quite sharp by f/4. Center 90% of frame is absolutely tack sharp straight from f/2.8. Perhaps the highest resolving lens I have ever used, including the 85L, 135L and several other macro lenses.
Date published: 2009-11-04T00:00:00-05:00
Rated

5

out of

5
by
Bogenman
from
Amazing clarity, great Portrait lens as well!
This is an amazing lens that I thoroughly enjoy using. I set up a home studio for this shot. This is an great Portrait lens as well with incredible Bokeh!
Date published: 2019-03-14T00:00:00-04:00
Rated

5

out of

5
by
Canon Fanboi
from
Locked up my R5
I used to own the original non L version and I was very happy with it on my 5D II and 6D. But then sold it as I lost interest in photography. I am back now with a R5 and a RF 85 f1.2. Now I am slowly buying lenses again, and this EF 100 Macro tempted me due to it's price and I already have the Canon EF to RF adapter that I use 9n my EF 50 f1.4 and EF 16-35 F4 L without any issue. Upon inspecting the 100 macro lens, I see a dust spec under the front element, but I just tried to ignore it. 5 minutes after mounting this pens to my R5, the camera froze up, even turning the on/off switch didn't do a thing. I had to pull the battery out. This might be a one off, or will be a nightmare and I don't have time to deal with this issue, so I am returning the lens. I was told they will send me an RMA and a pre paid slip, but I still have not received the pre paid slip yet. I also have a video of it locking up, I will upload on youtube tonight when I get home from work ot maybe the next day. Another observation is the IS makes a lot of noise and drains my battery quickly unless I turn it off on the lens.
Date published: 2023-02-02T00:00:00-05:00
Rated

5

out of

5
by
Thomas T
from
New to Macro, Let's Go!
Purchased this Macro lens to capture more close-ups photos. Just starting to explore the settings, lighting, etc. to capture clear photos, better to use a tripod to omit any blur.
Date published: 2021-11-08T00:00:00-05:00
Rated

5

out of

5
by
Vihkram
from
Good
Good One the features are as i expected and the quality and its user friendly feature helped me alot
Date published: 2019-07-09T00:00:00-04:00
Rated

5

out of

5
by
T6i
from
WHAT THE !!!
Why did this lens go up 500.00 in just day's????. that's not right.
Date published: 2020-10-09T00:00:00-04:00
Rated

5

out of

5
by
noo
from
hogh price for avg plastic build
does the new version come with a metal construction for 1299 oh wait it is the same 2009 plastic model just more expensive bcz we have more cost
Date published: 2021-01-10T00:00:00-05:00
Rated

5

out of

5
by
seg
from
$1299.00 !? Really?
A price hike by almost 50%? Yesterday it was 'out of stock' at $899, today it is 'in stock' at $1299. Wow! Kinda makes you want to look at Tamron or Sigma. Doesn't it?
Date published: 2020-10-02T00:00:00-04:00
Rated

5

out of

5
by
GregPaul
from
Why the price hike??
First off, I do not own this lens. And won't. I'm a bit miffed as are others about this price hike on this lens. Hoped it would be a Christmas present but the price hike has taken it out of my range. If there was a reason for the hike, please tell us what it is!
Date published: 2020-11-27T00:00:00-05:00
Rated

5

out of

5
by
MikeC67
from
Price Is Ridiculous
Hey, anyone looking to buy this lens. Any comments you read about this being worth the money that are from before October 2020 were written before they inflated the price over 33%. Not sure about you, but I'm not ok with paying an extra $300 for 7 year old technology for no reason. @CanonUSA, I was excited to buy this as a gift for my partner who is also a photographer. Be reasonable and change the price back or I'll go with another less ridiculous option, Canon.
Date published: 2020-10-14T00:00:00-04:00
Rated

5

out of

5
by
Bbland
from
Canon 100mm f2.8 lens
I bought this lens about a year ago. This is my go to lens the photo is very clear. I use the lens for my Portraits, night sky, and macro
Date published: 2020-12-09T00:00:00-05:00
Rated

5

out of

5
by
GGH
from
Not cool, Canon...
I had been eyeballing this lens for some time and I was shocked to see the price inflate like this.
Date published: 2020-10-28T00:00:00-04:00
Rated

5

out of

5
by
5thAve
from
Starving for money!!!
Really Canon? $500 more? Why? Did the quarantine hit you hard?
Date published: 2020-10-27T00:00:00-04:00
Rated

5

out of

5
by
Pollyanna
from
What the heck????
So I thought I'd buy this lens today...until I saw the price hike. What's with the increase in price?!?
Date published: 2020-12-04T00:00:00-05:00
Rated

5

out of

5
by
paws
from
macro + standard capability
great macro as well as standard 100mm capability. Sharp and fast
Date published: 2019-11-13T00:00:00-05:00
Rated

5

out of

5
by
Mahjong
from
Nice affordable fixed lens
Great Macro lens, and not just for Macro photos! Kinda multipupose in the right light / background. The focus is very fast and precise. The lens itself is quite heavy though.
Date published: 2020-01-02T00:00:00-05:00
Rated

5

out of

5
by
San Jose Photo Nut
from
Lens upgrade
Thought about whether I should or should not purchase this lens since I already had the EF-S 60mm 2.8 macro. Based on several factors I couldn't let this one get away. Took a short time to get familiar with the features of the lens. Use on Canon T5-i, the crop factor of the camera gives me a focal length of 160 mm. Still in the try out phase of the lens, happy so far as to the results I have gotten. If you're considering buying this lens don't wait to long as the sale will be gone soon!
Date published: 2020-01-09T00:00:00-05:00
Rated

5

out of

5
by
Tad
from
Outstanding Lens!!!
Love this lens. Smooth and Razor sharp auto focus in fraction of seconds.
Date published: 2020-01-19T00:00:00-05:00
Rated

5

out of

5
by
Bee girl
from
EF 100mm f/2.8L Macro IS USM lens
I am a beginner, and this macro lens is going to work for me.
Date published: 2019-08-05T00:00:00-04:00
Rated

5

out of

5
by
Photo by ray
from
THIS IS ONE BEST LENS I HAVE
THIS LENS IS EXTREMELY SHARP AND A GREAT MACRO LENS BUT THIS IS THE BEST SPORTS I HAVE. I HAVE 8 L LENSES. IF I WOULD START OVER THIS WOULD BE MY ONE THE 1st I BUY. ONE OF THE BEST LENS EVER
Date published: 2010-09-24T00:00:00-04:00
Rated

5

out of

5
by
RBL
from
Fantastic lens!
I have used this lens for over 2 years now, with both crop frame and full frame DSLR's (T3i/5d,6d) - it is one of the best pieces of Canon glass that I own, if not the best. If you do a lot of outdoor macro/closeup work, as I do, I would heartily recommend that you have one of these mounted as your first choice. On the rare occasions where I've done portrait work, it excels at that, too. The colors are sharp, and the bokeh is amazing!!!!!
Date published: 2014-04-22T00:00:00-04:00
Rated

5

out of

5
by
DougM24
from
Worth every penny!!!
Thought I would branch off and go more into macro photography, and after purchasing this beauty... I am very impressed!! I'll let my attached pictures speak for themselves and you decide for yourself-
Date published: 2021-08-30T00:00:00-04:00
Rated

5

out of

5
by
ChristianG
from
Challenge, but Worth it!
This lens was a gift from my wife for our 29th Anniversary. I have always had a fascination with macro related subjects and now I can finally try it out. Challenging, but very rewarding using something of this quality. After the first couple of shots, the price tag was easily dismissed.
Date published: 2021-09-24T00:00:00-04:00
Rated

5

out of

5
by
B3TT3NCOURT
from
I'm Flabbergasted!
The amount of detail this lens picks up is absolutely amazing. And, if the 1:1 sensor is this good on the 100mm 2.8, I cannot fathom what the 65mm 5x macro lens can do. It's also great for portraits, producing beautiful creamy skin tones with nice background blur. I'm impressed and now I know why they call these "Luxury" series lenses. Will never go back to regular EF and EF-S after this amazing experience.
Date published: 2019-09-05T00:00:00-04:00
Rated

5

out of

5
by
E Dentist
from
Great lens for dental photography
I bought this lens to take intra-oral photos and have been very satisfied with my purchase. highly recommend it.
Date published: 2019-09-24T00:00:00-04:00
Rated

5

out of

5
by
gicufly
from
Super good
An amazing lens for marco shors ! I do wedding photography snd this lens is killing the ring shors ! Good for head shots as well !
Date published: 2019-09-30T00:00:00-04:00
Rated

5

out of

5
by
alr
from
Great Lens
Just bougt this lens about a week ago. I didn't have a lot of chance to use it yet but the little bit i did it is an awesome lens. I love the quality. i have been using it already for other things besides macro photography. one downside the Auto Focus is a bit slower than what i expected but since macro shots are always manual focused anyway...it doesn't really matter. And using it where you are not shooting closeups it really doesn't do too bad at focusing. Great lens! Highly recommend it.
Date published: 2020-07-18T00:00:00-04:00
Rated

5

out of

5
by
George Lepp EOL
from
Getting it sharp and getting close!
I've had this lens since it came out and the previous 100mm macro before that. Been with Canon for 40 years +. This is the perfect lens for doing "focus bracketing" on the EOS RP and EOS 90D. It can also be used with extension tubes and either of the EF extenders.
Date published: 2020-05-13T00:00:00-04:00
Rated

5

out of

5
by
JDMedia
from
Fantastically Sharp lens with super fast focusing
I bought this lens to do some small macro photography projects a couple years ago. It wasn't super great to use on my crop body as it was very difficult to get far enough away from my subject and still be able to keep everything in the frame. After I upgraded to the EOS R this past christmas, I found that it is one of my favorite lenses now. It is great for portrait work and have used it for some automotive photography as well. It's great for detail shots and for really separating the subject from the background. Definitely glad I purchased this lens.
Date published: 2020-06-12T00:00:00-04:00
Rated

5

out of

5
by
Jesse Boucher
from
Hide review form EF 100mm f/2.8L Macro IS USM
Awesome lens! I'm just getting into photography but this is my favorite lens so far. Was recommended to me by someone I know. Very impressed with it!
Date published: 2020-04-26T00:00:00-04:00
Rated

5

out of

5
by
sunnysuzanne
from
Super sharp images!
I usually shoot landscapes but with all that is going on in Florida I decided to invest in a macro lens two months ago. I am very happy with the lens as you'll see in my attached photos.
Date published: 2020-08-01T00:00:00-04:00
Rated

5

out of

5
by
dszig
from
Awesome
Have had this lens for many years now and I love how sharp it is...
Date published: 2022-11-01T00:00:00-04:00
Rated

5

out of

5
by
Daniel D
from
Learning experience
Just started using this lense but works very good. Still learning some things about it. Have a 70-210 macro lense for my Minolta 202 slr that I love. The canon lense is just as good.
Date published: 2022-12-06T00:00:00-05:00
Rated

5

out of

5
by
TomH DFW
from
Super sharp lens.
This Canon EF 100mm 2.8 L portrait lens is exceptionally sharp. Because of its wide focusing range in take a little time to lock focus but in not a problem. It is an excellent close up lens and a great portrait lens as well. It's fairly compact but does sport a super large lens hood that can be annoying. The new RF version is excellent as well but it is not compatible if you shoot say an R5 and 5D.
Date published: 2023-04-07T00:00:00-04:00
Rated

5

out of

5
by
Go Photos
from
Ultra Versatile Lens
I have used this lens for more than intended. I have shot sports, outdoor location photos, blacklight situations and even some macro stuff. It is a very versatile lens. The depth of field make you focus on your subject an makes stunning life size photos for sports and glamour photos. This lens really brings out the details in subjects. I generally shoot with a monopod and have some really cool sports pictures. I think it is one of canons best priced lenses and a true value.
Date published: 2012-09-11T00:00:00-04:00
Rated

5

out of

5
by
J Me
from
Excellent Macro Lens
This lens is spectacular. It lives up to the "L" quality. Shooting macro at full life-size is very difficult because when you're that close, the point of focus changes drastically - but with the hybrid IS, I find it much easier to get the shot right. I buy lenses that I intend to use for the long run & I am very satisfied with this lens. I haven't stopped using it since I got it a couple days ago & it still amazes me. If you're looking for a Macro lens & you don't know what to get - this is a great choice if you're committed to it.
Date published: 2010-01-08T00:00:00-05:00
Rated

5

out of

5
by
SanFranciscoSimon
from
Sharp images
I got this a few years ago and have really got some great results from it. Very sharp images, quick focus, and not overly heavy.
Date published: 2019-01-31T00:00:00-05:00
Rated

5

out of

5
by
Drjohn08318
from
Outstanding Lens
I had previously purchased the non-L 100mm Macro lens from Canon. It was a fantastic lens, and resulted in many awesome pics; however, the majority of my shots are taken hand-held. So the IS was really needed if I wanted more "keepers". Decided to trade up to the L lens. All I can really say is "wow". I am still amazed at how incredibly beautiful my pictures turn out now. So many more "keepers". And this is a great portrait lens as well. It is by far my favorite and most-frequently used lens. Just can't say enough about how much I love this glass. I routinely recommend it to those who marvel at my pictures.
Date published: 2012-08-26T00:00:00-04:00
Rated

5

out of

5
by
panright2
from
Wow And Wom
I seldom write lens reviews but I have to say this lens blows me away. The sharpness is incredible. Not only is it an excellent macro lens, it is superb for automobile product shots and general photography. I would highly recommend this lens. The build is excellent and the auto-focus is fast and consistent. Well worth the cost.
Date published: 2014-05-07T00:00:00-04:00
Rated

5

out of

5
by
jcabney
from
Awewsome Lens at an awesome price
I bought this lens about 6 months ago and can tell you I've put it through the works. From macro photography to portrait work this lens just keeps on surprising me. The focus is a bit slow but not terrible. Works great in low light situations and is super quite. The low aperture is great for portrait work and it's produces super sharp images. It's a bit heavy because its a macro lens but, not by much. Still easy to use without a tripod. I never write reviews but, I'm so happy with this lens I thought I'd share.
Date published: 2017-01-05T00:00:00-05:00
Rated

5

out of

5
by
SnookieSam
from
Cheap case
Decent lens, overpriced, extremely cheap and flimsy case. Would not recommend.
Date published: 2012-12-03T00:00:00-05:00
Rated

5

out of

5
by
Marlana
from
Blew me away
Being a hobbiest photographer that mainly shoots macro...I've known about this lens for a looong time. I got the 60mm macro first because it was cheap and didn't upgrade sooner because comparisons showed it as similar in image quality...it is NOT! This lens just blows me away. I expected good IS and tack sharp images and upgraded for image stabilization. But man the colors and contrast constantly blow me away! I get the PERFECT images with little to no post processing. They just aren't comparable at all to the photos from the 60mm. Plus they aren't even close to as sharp like I was lead to believe. If you're struggling between the two...don't waste years with the 60mm. This lens is well worth the extra cash. And this is coming from someone that saved up for months for this lens. I kick myself for waiting to buy this lens. It's so much more than IS and sharp images!
Date published: 2019-01-06T00:00:00-05:00
Rated

5

out of

5
by
Boulder Photog
from
Macro
Excited about the capability to photograph small objects, close ups and portraits. Limited usage promises great results. Thank you.
Date published: 2015-02-10T00:00:00-05:00
Rated

5

out of

5
by
dcr
from
exceptional
I bought this to replace my 50 mm macro, initially to be able to back off some product-like subjects and be able to stay out of the way of my lighting. I am also finding myself using it a lot outdoors for small wildlife subjects. I have particularly been using it to photograph butterflies and am getting fantastic results. The focus is fast enough to get the subject before it moves on, and the photographs are incredibly sharp. I am so very glad I made this purchase.
Date published: 2012-08-10T00:00:00-04:00
Rated

5

out of

5
by
solosport
from
Best lens so far
I am an art director, graphic designer so I needed a lens that could be used for small product shots for clients as well as have a extremely sharp photo. I waited and waited because of the price and decided that the Image Stabilization was necessary for some macro shots I would be doing also for fun. I notice that handheld the focus is very critical to make or break a shot. I would shoot my dog (handheld) but since the eyes where not in focus and he was slightly moving the shot was nixed. When I shot a bee on a spectacular flower at the getty center, because I didn't have the bee in perfect focus but the stamin in focus the shot was not as spectacular. So I guess handheld you really have to practice what you are focusing on first. I can't believe the professional looking color and sharpness of this lens. I had to email my friends my new shots they were so nice. This lens did not work at my family christmas party for obvious reasons (too cropped at 100mm). I also couldn't believe how much fun I had at the Getty Center LA taking indoor closeups of Monet, Van Gogh paintings, sculptures and then the beautiful gardens there. I could get paint stroke details handheld in low light by playing around with exposures. My professional photographer friend recommended this lens for the sharpest studio product photos. Can't wait for that opportunity.
Date published: 2009-12-30T00:00:00-05:00
Rated

5

out of

5
by
joeokura
from
my new macro lens
just bought the 100mm is l lens macro its every thing its supposed to be and then some. as a macro its sharp fast on focus and with a tweak manual override finish's the job as a normal 100mm lens on a crop body it also dose wonders . I can do nice head photos landscapes a 160mm view of angle a really good all-around lens . this replaces my 60mmef-s lens as I am moving to the 5d3 very soon good work canon
Date published: 2015-10-06T00:00:00-04:00
Rated

5

out of

5
by
C
from
Cant take it off my camera.
This lens puts all my others to shame. Its fast, extremely sharp and color and contrast are amazing. It also is a great lens for more than just macro work. I just shot a gaduation with it and the pictures turned out amazing. This is hands down an awesome lens and I cant take it off my camera it is so fun to use.
Date published: 2010-05-17T00:00:00-04:00
Rated

5

out of

5
by
Sunny USA
from
Awesome lens for Everything
I was able to take best pictures from this lens for Macro and portrait
Date published: 2018-07-01T00:00:00-04:00
Rated

5

out of

5
by
Snapping Turtle
from
A major welcome
The EF 100mm f/2.8 macro USM was the standard workhorse for me and it performed supreme. But IS was always a feature I pondered since camera shake is a huge enemy to close up work, making the use of a flash mandatory if your not under ideal lighting. Now that this lens has arrived, it provides a great improvement. Now I can manage close ups with shutter speeds as low as 1/50th of a second. It also improves upon my wedding work when photographing jewelry. With the previous lens, I tried not to use the flash due to the risk of spoiling the natural room lighting, but always found it necessary. Now with this lens, I can shoot comfortably without a flash and increase the f/stop accordingly to bring out the precious details. Weather sealed construction is also welcomed. Close up often requires me to go out into the woods and near wetlands to capture the subjects. This lens seems more readily built for such work. Also note that like its non IS cousin, this lens can double duty as a portrait lens due to its medium telephoto focal length and good aperture. I see this as my best fixed focal length portrait lens; second only to the impressive EF 85mm f/1.2L.
Date published: 2009-11-03T00:00:00-05:00
Rated

5

out of

5
by
Bugsy
from
Truely Outstanding Lens
I have had this lens for 6 months and have shot a range of subjects from tree moss to car shows and could not be happier with the performance. The images snap with color and contrast. The auto focus is clean and fast and the photos are sharp. It took me a while to get the nerve to pony up the bucks for this lens, but it was well worth it in my opinion.
Date published: 2012-12-28T00:00:00-05:00
Rated

5

out of

5
by
res
from
Tack Sharp - Even for an Amatuer Like Me!
First, I am a enthusiast photographer and purchased directly from Canon since I can get a nice discount through work. All I can say about this lens is OMG! Fantastically sharp and fun to play with! This is my first "L" lens and definitely worth the price to treat myself. Even sharp for only having the lens for a short time. Just need to ensure the distance is set correctly to your subject. Very nice portrait lens as well! Highly recommend and the best macro lens out there – IMHO! Example: I bought this a month ago and am so happy that I did...
Date published: 2018-07-16T00:00:00-04:00
Rated

5

out of

5
by
Wetsch
from
Great addition to my bag!
Love the ones. Fast shipping from Canon. Backed by their warranty
Date published: 2019-01-21T00:00:00-05:00
Rated

5

out of

5
by
natureboy
from
Sweet lens
Have used this lens for photographing flowers in my dining room tabletop studio. The captures have been remarkable. Crisp, with great detail, some of which I didn't see until I was working in Photoshop and could maginify well past 100%. Waiting for the rotating tripod collar ring to complete this lens. So far, have only used in manual focus mode, which has been a treat given my vision issues. And the focus has been dead on. I am truly glad that I added this lens to my gear as it has allowed me to capture images I haven't been able to up to now. I had been using a 300mm F/4.0 for macro work, which is a great lens out in the field, but indoors the 100 rocks.
Date published: 2010-04-07T00:00:00-04:00
Rated

5

out of

5
by
RavenEdge
from
Love it
Haven't used it a lot yet but when I have I've loved the results.
Date published: 2018-06-05T00:00:00-04:00
Rated

5

out of

5
by
shooter
from
great macro lens
Had this lens now for a year, All I can say is WOW, super sharp fast and steady, I have no problem with (engineered plastic, I use a tri pod collar no problem with the funtion of the lens, My favorite Canon Lens so far
Date published: 2011-10-29T00:00:00-04:00
Rated

5

out of

5
by
Alimak
from
Wonderful
High Quality and wonderful performance, it is the declaration of a new user. Its sharpness is one of the powerful enablers.
Date published: 2010-03-26T00:00:00-04:00
Rated

5

out of

5
by
Roger
from
Excellent Lens
Red Line Lenses are good quality and macro makes this lens outstanding.
Date published: 2015-04-09T00:00:00-04:00
Rated

5

out of

5
by
Hirez
from
best lens in Macro, it just is.
Had this for over a year now, it is Canon's best all around workhorse lens, without any doubt. Portraits, human, animal, bug, you name it it does it. This is my second version, of this lens, on my third body. this body (5DS R with this body and this lens combo I can and do boost (in Photoshop) up to 15,000px horizontal a 855MGB file with NO loss in precision, see the dragon fly head.
Date published: 2018-06-18T00:00:00-04:00
Rated

5

out of

5
by
OsKy6116
from
Superb lens
At first I thought it was a little pricey but then I was like OMG best macro lens ever invented!!! The best part it that it has IS and USM totally worth it
Date published: 2012-02-17T00:00:00-05:00
Rated

5

out of

5
by
Easybaydoc
from
Excellent product
Overall this is an excellent lens. It shows great details and expresses full potential as a macro L lens. Job well done, Canon! Although it's slightly pricey, it's worth every penny. It occasionally focuses on an undesired area of the object on auto mode, but by switching to manual mode will fix the problem. It's also good for portrait shooting as well.
Date published: 2013-06-08T00:00:00-04:00
Rated

5

out of

5
by
LisaatTheCreek
from
One of My Top Favorite Canon Lenses
This lens is in my top two to decide between when leaving the house to obtain excellent portraits and get great candid shots, etc...you may want to watch the review on YouTube: Canon 100mm f/2.8L vs 135mm f/2L - These are both my absolute favorite lenses EVER! I have plenty more Canon lenses, a ton! that is all I buy, Canon only however, I keep going back to these two lenses!
Date published: 2017-04-08T00:00:00-04:00
Rated

5

out of

5
by
PG
from
Love it
I just got and with the little time I have had it, I love it. The image stabilization with the MACRO make makes it worth the money. This is my new favorite lens.
Date published: 2009-10-01T00:00:00-04:00
Rated

5

out of

5
by
Hazyerbak
from
Wonderful quality. Decent build. No regrets.
I bought this lens because I wanted to explore a different type of photography than I was used to. Macro photography unlocks an entire universe of different material this lens was my gateway. Typically, prime lenses perform better at their static focal lengths than zoom lenses do when dialed into the same length and I believe this lens is no different. The picture quality is on par with Canon's finest and it does double duty as a wonderful portrait lens. Many of the reviews here say how wonderful the AF is on this lens though I would differ in some regards. The AF *is* fast but it isn't unerringly accurate. It definitely struggles in low-light and aside from the speed, feels pretty average for this tier of lenses. The upside to this is the satisfyingly smooth manual focus ring that feels perfectly tuned to ones sense of touch and sight. This really makes the lens shine since manual focusing is absolutely necessary and a critical part of macro photography, especially at wider apertures. I may have become pampered with the unrivaled AF capabilities of the Canon 24-70mm 2.8 II but it's where I draw my comparison. The IS engineered into this lens is what really brings all the pieces together. Macro photography by nature is literally, very touchy. When the smallest hand shake makes the difference between a viable shot and a waste of card memory, the IS is invaluable and lets you spend more time off the tripod and more time shooting.
Date published: 2017-01-27T00:00:00-05:00
Rated

5

out of

5
by
garlec
from
none sharper
I replaced my Canon 100mm with this IS L macro. The triple focal length adjustment is wonderful. AF works pretty well but of course with macro, MF is a little sharper. Sometimes I'm just lazy and shoot a bunch with the AF, culling the ones that aren't sharp. the IS works great and the L lens is crystal sharp even at f/2.8. AF "hunts" till you figure out how to use it. Worth the money. Also useful for portraits as the lens doesn't intimidate the subject but allows full face shots at a respectable working distance
Date published: 2011-02-10T00:00:00-05:00
Rated

5

out of

5
by
BigDave
from
One of the best?
For those seeking a lens to help them capture images of objects as small as a dime, this is the lens for you! Here are a few bullet points: -It can focus on an object less than a foot away. -Objects as small as a Quarter (dollar will fill the frame. -Very shallow depth of field even at small apertures (ex. f/22). We are talking fractions of a millimeter. -Very sharp images. -The lens is versatile as well able to stand in as a portrait lens in a pinch. -The Image Stabilizer will function properly when used vertically on a copy stand. The images are sharper when the IS is turned on. I have done tests. Make sure you read the manual and set it appropriately. I use this lens and the MP-E 65 mm f/2.8 1-5x almost exclusively. If you are trying to decide between the two, keep in mind that the MP-E is designed to shoot subject matter as large as a US Dime (1x) and as small as a grain of rice (5x). The MP-E also needs to be no further than a few inches away from the subject matter in most cases. Hope this helps answer some questions!
Date published: 2016-10-07T00:00:00-04:00
Rated

5

out of

5
by
Mindcontrol
from
Compelled to write a review
I also own the Tamron 90mm macro. Wow this Canon is lightyears ahead of the competition. In fact this lens has no competitor. It is super sharp, very fast, and the IS is flawless. I've recently been increasing my L lens lineup and I couldn't recommend this one enough. Very satisfied customer.
Date published: 2018-07-19T00:00:00-04:00
Rated

5

out of

5
by
SteveRG
from
EF 100mm F/2.8L Macro is a great lens
I bought this lens a couple of days ago. This is my first true macro lens. To get to know the lens I have taken dozens of test photos with my EOS 6D. I setup a tripod and took photos of some small nick-nacks with the 100mm F/2.8L and then attached the 24-105mm F/4L for comparison. The 100mm definitely blew me away with the detail and magnification at the closest distance that the 24-105mm is capable of. This is about 1.5 feet. I took photos of landscape objects about 60 feet away. Again comparing both lenses. The 100mm is at least the equal of the 24-105mm at those distances. In fact I prefer the 100mm because of its f/2.8 aperture. Its bokah is as good as advertised. The 100mm F/2.8L macro has become my base lens. I will be using the 24-100mm F/4L only when I need a wider field of view than the 100mm can provide. A great lens.
Date published: 2016-02-15T00:00:00-05:00