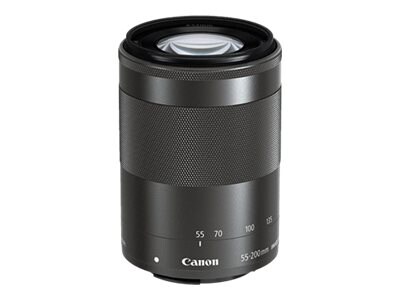 Quick tech specs
M
55 mm
f/4.5-6.3 IS STM
for EOS Kiss M
M
M100
M3
M50
M6
Telephoto zoom lens
200 mm
Canon EF-M
Kiss M2
M10
M2
M5
M50 Mark II
M6 Mark II
View All
Know your gear
Getting you closer to the action, the EF-M 55-200 mm f/4.5-6.3 IS STM is designed exclusively for EOS-M cameras. It's the perfect companion for the Canon EF-M 18-55 mm f/3.5-5.6 IS STM, allowing you to bring distant subjects closer - ideal for wildlife, sports and travel photography.

To help maintain sharpness, the EF-M 55-200 mm f/4.5-6.3 IS STM features an image stabilizer that protects against the blur caused by accidental movement while shooting - known as camera shake. Shutter speeds up to 3.5 stops slower than usual can be used, enabling hand-held photography in low-light conditions.

Stepping motor (STM) technology delivers focusing that is fast and accurate when taking photos and smooth and near-silent when shooting video. Because STM movements are so smooth and quiet, video clips are free from unwanted focusing noise and distracting changes in focus.
Canon EF-M telephoto zoom lens - 55 mm - 200 mm
is rated
4.80
out of
5
by
12
.
Rated

5

out of

5
by
thetechhimself
from
Short but sweet
Great IS Good AF for entry level telephoto zoom (vs USM or non-USM EF-S Canon offerings Small footprint to focal length ratio As sharp as other EF-S telephoto zooms For what it is, it's great, but, you may wish to wait for the EOS M4 first for dual pixel AF for soccer/baseball mom usage (IE fast AF on the field). Also this doesn't cover higher end telephoto usage IE 120mm or 135mm @ F4 (35mm equivalent) or faster for telephoto portraiture or indoor telephoto usage.
Date published: 2015-09-27T00:00:00-04:00
Rated

5

out of

5
by
Mich 2018
from
Fantastic lens
Absolutely a wonderful lens for E mount cameras. Don't hesitate to purchase this one. Tack sharp. Did a comparison shoot with my 70-300L. Shot the same bird and couldn't tell the difference. Asked my photography friends to see if they could tell the difference and they all chose the 55-200
Date published: 2018-06-13T00:00:00-04:00
Rated

5

out of

5
by
jeepcherokee
from
Better than I Expected
I bought this for my M50. It's my first (canon lens besides my kit lens. The STM motor is absolutely silent and the image stabilization is absolutely amazing. Even though the lens is refurbished, I absolutely can not tell that it is. It looks completely perfect, the zoom is smooth, focus is crisp. I've shot test photos both indoors and out and they are great
Date published: 2018-12-20T00:00:00-05:00
Rated

5

out of

5
by
drjoey
from
Truly amazing
I bought this with my M50 as part of the kit which included this 55-200 and the 15-45mm lens. Both are excellent, but the 55-200mm is my favorite. I love wildlife and landscape photography and have been really surprised by this lens over the last few weeks. Auto focus is very fast and accurate and I am getting much clearer pictures than from my previous setup. The clarity, features, and lightweight make this so easy to carry for longer excursions that I find myself leaving this one on more than the 15-45 in most situations I'm in. I even tried some photos of the moon last week with it and although small because of the lack of reach, they did come out extremely clear and bright once I found the correct settings for my location and the atmosphere. Taking my kids to the japanese gardens last weekend also produced perfectly focussed pictures. I'm honestly a bit shocked canon has been able to get this kind of clarity and quality from plastic bodied lenses that are so small and relatively affordable. I'm extremely happy with my entire setup now, and highly recommend the 55-200mm.
Date published: 2018-07-03T00:00:00-04:00
Rated

5

out of

5
by
SnapShot
from
Bordering on excellent
The compact size requirements of lenses dedicated to the EOS M series of cameras mean large aperture, super speed lenses just aren't in the recipe. Despite this short-coming, my EF-M 55-200mm f/4.5-6.3 IS STM knocks my socks off! Tack-sharp and beautiful color rendition. Just hold it rock steady ...
Date published: 2017-02-16T00:00:00-05:00
Rated

5

out of

5
by
Mickey54
from
Great purchase!
Purchased a Canon ESO M50 recently and wanted a zoom lens. Found one here refurbished and love it. Great pics of a family of bald eagles way off in their nest was my best catch yet.
Date published: 2018-12-08T00:00:00-05:00
Rated

5

out of

5
by
le petit grimpeur
from
Remarkable lens for its size & weight. So sharp!
I got this lens with the new M50 kit. I used it to shoot photos and 4K video footages during a 4 day escapade in Yosemite. The results were quite impressive, actually. Its light weight and small/compact size are definitely a plus if you are used to carry heavy cameras and lenses. The pictures and footages were incredibly sharp and the lens seems to be an excellent match/fit for the new M50.
Date published: 2018-05-19T00:00:00-04:00
Rated

5

out of

5
by
DVippy
from
Good quality for price
Just got this lens but right off the bat I am impressed! The picture quality I'm able to get is great and for the price you can't beat it! It's very compact as it is native to the mirrorless body, perfect for travel and gives some extra reach which is great! Can't wait to break it in a little more.
Date published: 2020-01-10T00:00:00-05:00
Rated

5

out of

5
by
Charity
from
Excellent lens!
This lens looks brand new. I used it on a recent trip to Hawaii and it worked exactly as I had hoped. A great addition to my camera!
Date published: 2019-03-14T00:00:00-04:00
Rated

5

out of

5
by
Jon W
from
EF M lens
I purchased this 55-200mm a few weeks ago, and it is working out just fine. Good choice.
Date published: 2018-12-10T00:00:00-05:00
Rated

5

out of

5
by
Leo 3
from
Perfect photos!
I bought this lens a few months back and each photo is perfect!! The colors are outstanding and the focus is absolutely perfect! My photos have never been this clear and colorful! Of coarse my EOS M50 is excellent!
Date published: 2023-01-12T00:00:00-05:00
Rated

5

out of

5
by
MLFlood
from
EOS M50 camera and EF-M 55-200mm lens
I bought the EOS M50 a few weeks ago and ordered the EF-M 55-200 lens and had to wait for it was back ordered. I now have had both for about a week now and am learning to use them. I am very pleased with this camera and lens. What I like the most is the size and weight, which makes it easier to carry. I do a lot of walking and hiking and this camera gives me excellent pictures in a small easy to carry package. I love it.
Date published: 2021-05-04T00:00:00-04:00