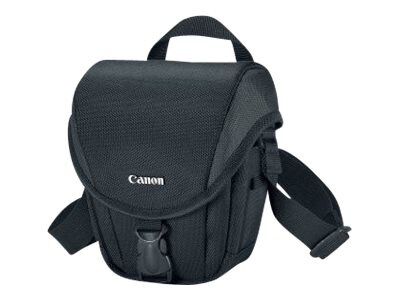 Quick tech specs
4200
for PowerShot SX1
SX20
SX40
SX520
SX540
SX70
Case for camera
SX10
SX30
SX50
SX530
SX60
View All
Know your gear
This specially designed soft carrying case provides stylish protection to your PowerShot camera while on the go, or for storage.
Canon Deluxe PSC-4200 - case for camera
is rated
4.00
out of
5
by
10
.
Rated

5

out of

5
by
ksb1
from
soft case for SX70HS
I like that the case has a clip instead of a zipper, it allows for fast opening for wildlife photography. But I wish is had extra zippered pockets for storage of extra batteries, memory cards, etc.
Date published: 2019-09-29T00:00:00-04:00
Rated

5

out of

5
by
S A Smith
from
It does its job to protect my camera
This case is nicely padded and made to accommodate my camera, but I don't like that I have to place my camera lens down into it. I would prefer a case where I can set my camera straight down with the lens facing forward, but apparently they don't make that for my model of camera. The case has a small pocket at the front of the case where I can store my extra battery, but while the pocket is wide I can't really put anything thick in there like the operating manual or the battery charger. I have to store those separately.
Date published: 2020-05-07T00:00:00-04:00
Rated

5

out of

5
by
Marian in MT
from
Well Made
Perhaps it's because it's so new but this is rather a tight fit for the camera. And there isn't much room for anything else. Still, it's well made and I'll keep it.
Date published: 2019-01-20T00:00:00-05:00
Rated

5

out of

5
by
Billy 500
from
Ir fits my camera
It is exact as advertised. It protects the camera very well.
Date published: 2018-12-07T00:00:00-05:00
Rated

5

out of

5
by
Wolflover1202
from
Great case
This case fits my camera perfectly and has a pocket for extras batteries or memory cards.
Date published: 2019-01-03T00:00:00-05:00
Rated

5

out of

5
by
Spaghetti
from
Well fitted to camera
The perfect fit helps reduce the bulk of carrying it. But not easy to quickly pull out for an unexpected shot. Very nice.
Date published: 2019-06-02T00:00:00-04:00
Rated

5

out of

5
by
BlueJean3
from
Nice case for the price
This is a nice case, especially for the price. There is a little room, when you place the camera within, to put something on top of it--my mini tripod just fits--as long as it's not too heavy. There is a pocket in the front, but I haven't really used it yet. I would say it would hold extra memory cards and maybe an extra battery, but that would be the extent. There is also some question on how the camera is supposed to fit in it, at least on my very inexperienced part. I put it in, with the lens facing downward, because of the U-shape of the case. My daughter thought that wasn't correct and put the lens up, but I didn't feel it fit as well. My sister put the camera in sideways, and, honestly, that seemed to be the most sensible thing and even left a little space beside the camera for stuff. But to each their own. I think this case is excellent for me, precisely because the space is limited. I'm a hobbyist, not even an amateur, and this will keep me from sticking other things, like Kleenex and lip gloss in the case (lol, leaving it fairly light and easy to carry and organize.
Date published: 2019-05-09T00:00:00-04:00
Rated

5

out of

5
by
nanc
from
Case is to compact
I am not happy with this case. The camera is the only thing that will fit in the case.
Date published: 2019-02-12T00:00:00-05:00
Rated

5

out of

5
by
Strat101
from
Canon bag
Good quality bag. I could take this any where now on vacation
Date published: 2018-12-30T00:00:00-05:00
Rated

5

out of

5
by
Darell
from
Canaon Powershot Carrying Case
Case is well-made and fits the camera perfectly. Also has room to hold a backup battery, extra memory card, and the handbook that came with the camera. Strap opens long enough to sling over my head and still allow the bag to hang at belt line.
Date published: 2020-01-18T00:00:00-05:00