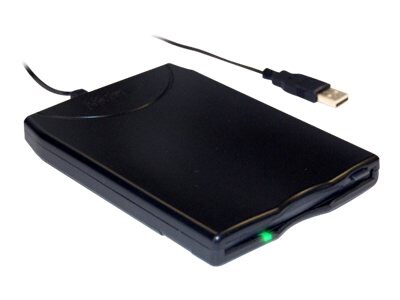 Quick tech specs
View All
Know your gear
BT-144 is a slim USB external floppy disk drive.


Bytecc BT-144 Floppy Disk Drive
is rated
2.30
out of
5
by
10
.
Rated

5

out of

5
by
Lojoqua
from
Need more time for use.
I've only used it one time. Had some Errors but worked around them. It was probably my fault. Not sure at this time. I would probably given it 5 stars had I worked more with it. Please give me more time.
Date published: 2020-02-28T00:00:00-05:00
Rated

5

out of

5
by
Ken
from
Bad description
Was advertised as a 5.25" (which was the form factor floppy drive, but it was a 3.5".
Date published: 2019-11-29T00:00:00-05:00
Rated

5

out of

5
by
PCarson
from
Works Well with any computer
I always like the floppy disk and the external works well. I am still old school,
Date published: 2020-02-19T00:00:00-05:00
Rated

5

out of

5
by
WD
from
Floppy drive defective
My floppy disk drive failed on my computer HP Pavilion. Took device to friends computer Dell. Didn't work there either. Finally took it to a computer shop. It failed there as well. They were able to convert my floppy disk s onto a thumb drive. That worked. Need to return defective product.
Date published: 2019-12-10T00:00:00-05:00
Rated

5

out of

5
by
MRAdmn
from
First one was DOA... waiting for second
First one was dead on arrival. Hoping the second one works!
Date published: 2019-02-15T00:00:00-05:00
Rated

5

out of

5
by
CharlieK
from
Frustrating but it works
I needed to get data off some old floppy disks so I purchased this product. The first time I plugged it in, it took about 3 minutes for drivers to install and even then it did not work. I unplugged it and tried again several times and finally it started working. Another problem is that when changing floppy disks, the drive will not refresh. So for every new disk, the drive must be unplugged and then plugged in again - several times! I would recommend this product for emergency use only.
Date published: 2015-12-08T00:00:00-05:00
Rated

5

out of

5
by
Chancellor
from
Almost non-functional
Won't eject disks, won't read most disks (1 out of 10 for me), keeps asking to format disks, often won't stop trying to read even if there is no disk in the device.
Date published: 2018-11-21T00:00:00-05:00
Rated

5

out of

5
by
josephus60
from
can't use it
I bought a BTECC BT-144 floppy diskette drive and it won't work
Date published: 2013-02-08T00:00:00-05:00
Rated

5

out of

5
by
Mike
from
Does not support Low Density Floppies
For this price I was shocked that my employee's reported they could not read their low density floppies. With further research I found other reviews where this was discovered as well. Do not buy! There are other options on the market that provide you more compatibility for about 5$ more. Price is too high for such limited capabilities. Thanks, - Mike
Date published: 2014-10-28T00:00:00-04:00
Rated

5

out of

5
by
JamesMarhover
from
Not compatible of 720k format
Bought the drive and found out that I needed one that did 720k ability. This drive does not support that ability.
Date published: 2019-07-25T00:00:00-04:00