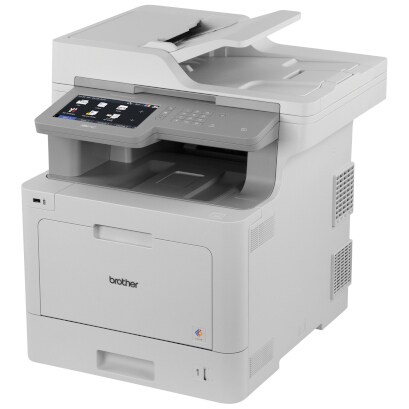 Quick tech specs
MFC-L9570CDW printer
50,000-page drum
Includes setup guide,power cord and telephone cord
Consumes 600 watts
Black,cyan,magenta and yellow cartridge
Waste toner collector
Uses AC 120 V power adapter
Touchscreen LCD
View All
Know your gear
Enjoy increased versatility using the Brother® MFCL9570CDW All-in-One Printer. It comes with print, copy, scan and fax capabilities, which help increase enterprise productivity. With a maximum monthly duty cycle rating of 80,000 printed pages, it supports use in intensive business applications. This multifunctional printer has print speeds of up to 33 pages per minute (ppm) that helps save time. Each package includes black, cyan, magenta and yellow cartridges with a 6,500-page yield for convenience. The Brother MFC-L9570CDW printer comes with consumables such as a 50,000-page drum and waste toner collector to ensure peak performance. Since its 250-sheet capacity paper tray is adjustable, it can accommodate various paper sizes like legal and letter.

This MFP has a Gigabit Ethernet interface for swift integration into your business network. Use built-in Wi-Fi® 802.11b/g/n technology for wireless connectivity to reduce cord clutter. The Brother color printer MFC-L9570CDW provides a 7-inch color touchscreen LCD for easy task configuration. It uses an AC 120 V power adapter and consumes 600 watts at operational status.
Brother MFC-L9570CDW - Multifunction Printer - Color
is rated
3.70
out of
5
by
22
.
Rated

5

out of

5
by
Lynda K
from
Pretty good printer!
So far, so good. It's been 3 weeks and I've put this baby thru a gambit of applications. Its very fast; even faster than the HP I replaced. It was a little confusing to set up as a network printer. Even my IT guy had a few issues and wound up putting the sans into my email (which I don't particularly like. I'd like to change the labels on the multi-trays and have not been able to yet. So far it says to contact my Admin which is just silly.
Date published: 2020-07-06T00:00:00-04:00
Rated

5

out of

5
by
JZ Allstate agent
from
It works!
Double sided printing, fast scanning, double sided copying and even color when you need it. What's not to like? No connectivity issues even though it's connected to our wireless network. Great machine.
Date published: 2020-02-11T00:00:00-05:00
Rated

5

out of

5
by
sisutt
from
good
we are a small company of 3 people but adding more on. we like it a lot but wish it would print faster and not stop after 3 pages and then continue 15 sec later. the scanner is super fast which we absolutely love.
Date published: 2020-09-15T00:00:00-04:00
Rated

5

out of

5
by
natz
from
Works Great!
I haven't used this printer/copier very long, but I have been happy with it so far. I was pleasantly surprised to find that I could install the printer driver and software on WinXP computers, even though that was not listed in the specs.
Date published: 2020-10-02T00:00:00-04:00
Rated

5

out of

5
by
Scott in AZ
from
Power draw on warm up is huge problem
Power surge when the unit warms up or turns on causes havoc on the circuit. My network server and switch are on the same power circuit and it goes off line every time a job is sent to this printer. It's a disaster.
Date published: 2023-06-11T00:00:00-04:00
Rated

5

out of

5
by
Abdin Law
from
DO NOT BUY!
Worst purchase made in my entire life. Worst customer service you will ever receive. I bought this printer for my law firm and have had nothing but problems and terrible customer service. Everything from delivering this product to operating it has been the worst experience and biggest mistake I have bought. Our firm paid for the product and servicing and not a penny was worth it. Worse than the product itself is when you call the so called customer service and get a different answer from 7 different representatives and keep getting transferred then after hours they promise to call you back and that doesn't happen either. Getting ink for this product was another issue. They tell you one thing and charge you another, luckily we keep everything in writing for proof. I would buy a type writer next time rather than ever buy a product from this company!
Date published: 2022-12-18T00:00:00-05:00
Rated

5

out of

5
by
Printemps
from
Printer
Nicest printer I have ever owned, so many features and fast!
Date published: 2022-03-04T00:00:00-05:00
Rated

5

out of

5
by
Kevin
from
Great printer for office automation
Excellent multi-function in our office, especially useful is the soft keys to automate tasks to scan to folder and scan to email. Also very hand was the high-capacity cartridges available to use. Overall, a great addition to our office automation.
Date published: 2022-05-17T00:00:00-04:00
Rated

5

out of

5
by
Candice
from
Terrible for our needs
Do NOT buy this printer if you need to print envelopes on a regular basis. Our IT department ordered this printer, with an additional tray that was intended for envelopes. You cannot use the trays for envelopes. You can only use the MP feeder which is a production to say the least. We have to leave "doors" open on the front and back due to the frequency that we print envelopes. Which means that everything else we print goes to the MP feeder output that is on the back of the device. The device has to remain turned sideways which is an eye sore. I cannot fathom why they would make paper trays not capable of printing envelopes from.
Date published: 2021-10-06T00:00:00-04:00
Rated

5

out of

5
by
Laura D
from
LOUD AND SLOW
Our small office purchased this printer about a year ago, and we've had to call for help and/or service many times. Frustratingly slow to print, and VERY LOUD. Bangs a LOT.
Date published: 2022-05-15T00:00:00-04:00
Rated

5

out of

5
by
Mark H
from
Yellow LCD screen "Receive Error"
Newly purchased in use about 1 month. Only problem is LCD screen comes on by itself displaying a yellow-colored error screen "Receive Error". Have to press "Cancel" to dismiss it. No one using printer when it happens and can appear even when printer is in Sleep Mode. Unlike the normal LCD display, this error stays lit permanently until you press "Cancel", so it's burning in the screen unnecessarily.
Date published: 2023-01-06T00:00:00-05:00
Rated

5

out of

5
by
Diane
from
Love it!
I absolutely love my new Brother printer/fax/copier. I have always had a cheap printer and it always used so much ink. This one is easy on the ink but has great quality.
Date published: 2020-11-18T00:00:00-05:00
Rated

5

out of

5
by
null
from
Definitely a good printer!
We've had this printer for a while now and it has been great. The quality of the prints and speed of the printer is much better than my old printer and we are very happy with the performance. The toner seems to be lasting so we expect our toner costs to go down. I would recommend this printer!
Date published: 2021-06-24T08:51:46-04:00
Rated

5

out of

5
by
Angela66
from
Good Features - Some set-up difficult
Like the price and features above our other copy machine, but the document handler is not as good. I don't know if there are additional settings or adjustments, but the papers must be fed perfectly, or they will be twisted and damaged when scanned. Our former scanner was more forgiving. This machine was easy to set up with my computer to copy, but I have yet to simplify scanning to my computer. The instructions provided were difficult to follow, and some were outdated and appeared to be written for an older operating system. I don't have time to search for further/updated instructions and may have to hire an IT person just so I can scan to my computer easily. I like the features but want to be able to use them.
Date published: 2021-04-08T00:00:00-04:00
Rated

5

out of

5
by
Veterans
from
I <3 two-sided scanning!
This printer is so easy to use! Scanning directly to my computer takes seconds using the keypad. The 2-sided scanning/printing option is a huge cost savings; no more having to copy 2-sided to 1-sided before scanning a document. Faxes both send and come through with excellent contrast and clarity.
Date published: 2021-03-10T00:00:00-05:00
Rated

5

out of

5
by
MajorBS
from
MFCL9570CDW All in One Printer
Fails to maintain WiFi connection. Does not scan easily from scan icon on PC app.
Date published: 2021-02-16T00:00:00-05:00
Rated

5

out of

5
by
LEWB55
from
GREAT MACHINE
VERY GOOD PRINT AND COLOR AND LITTLE SLOW STARING OFF ON WI FI THEN IT PRINT THEN TO GATHER MORE INFO THEN FINISH PRINTING BUT IT OK WISH ALITTLE BIT FAST MY SAMSUNG TAKE I MIN TO START BUT ONCE IT START IS DO NOT STOP TILL FINISH PRINTING ALL PAPER
Date published: 2021-06-08T00:00:00-04:00
Rated

5

out of

5
by
Daniel
from
Great Product!!!T
The printer is easy to setup, works fantastic, and has good driver support! The ADF, two sided scanning, and two sided printing are solid with very few issues often found on other models.
Date published: 2021-03-17T00:00:00-04:00
Rated

5

out of

5
by
Brad Mower Man
from
FAST
Big Heavy Machine, but easy set-up and works great with the Brother iPrint & Scan Phone App. We haven't begun to use this machine to its full extent, but we are constantly impressed by its speed compared to our thirteen year old Brother machine, that it is replacing. Love the large, easy menu, touch screen. If I had to complain about anything it would be that the scanner door (including the multi sheet feeder) is a little heavy for its support and it sometimes doesn't stay up well while you are positioning the original on the glass underneath. The Ultra high yield Toner Cartridge option is great too.
Date published: 2020-11-24T00:00:00-05:00
Rated

5

out of

5
by
FredK
from
Powerful workgroup printer
While this printer is designed for much more printing that I will put it through in a month, that is exactly why I wanted it. I had no problems setting it up (two people to lift it into place is recommended and running the installation software on the 12 computers we have. The print quality is very good - both print and images. The document feeder for scanning is excellent. Very fast - on par with our dedicated ScanSnap scanners. The control center software is one of my favorites among all the brands. We do not have it hooked up as our fax, so that functionality I cannot comment upon. Long and short, we purchased two new business class printers in the past month and both have been Brother printers. This is an easy recommend.
Date published: 2021-03-23T00:00:00-04:00
Rated

5

out of

5
by
rp2021
from
HORRIBLE
We have not had a great experience with this machine. I regret leasing it and now I'm trying to get out of it and find a new printer
Date published: 2021-01-07T00:00:00-05:00
Rated

5

out of

5
by
Thomson
from
2 units came damaged, at the point to give up
Seems like great machine, both shipments arrived damaged! Poor quality unfortunately not sure if caused by shipping company. But brother support team has been good so far :)
Date published: 2023-03-24T00:00:00-04:00