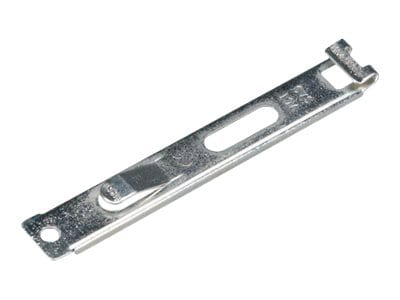 Know your gear
Features

Ideal for use with our Premier Aluminum Distribution Racks (sold separately).
Special safety edge protects installers from sharp wires and keeps cables from fraying.
Choose from several joining methods including bolt-free splices.
Convenient 78" (198.1 cm) trays are compact enough to ship through UPS® and fit onto an elevator.

The BasketPAC Cable Tray system is the tough cable management solution that's easy to install. Simplified hardware means cable tray sections go together quickly and easily.

Even the best cable management solution is useless if it's too large to transport to the job site. BasketPAC Cable Tray Sections are 78" (198.1-cm) long, rather than the 118" length standard of older cable tray systems, making them easier to move and manage. You can ship Cable Tray Sections by common carrier without resorting to a freight service. Elevators and narrow stairwells are no barrier.

Cable Tray Sections come in 4", 6", 8", and 12" widths. All are shipped in packs of four. One pack reaches up to 26 feet (7.9 m). Order the Offset Tray Cutter to cut Cable Tray Sections to size for installation.

Each package of Cable Tray Sections includes Fast Splices, which enable you to quickly and easily connect sections without using bolts. For alternative splicing methods, you may also order a Splice Washer Kit or Snap-In Splices. Choose from a variety of tray support methods to run Cable Tray Sections along walls, under floors, or suspended from the ceiling. Install the Snap-in Cable Radius to protect cable by maintaining minimum bend radius.

The Cable Roller Kit is used for pulling cables. It mounts on the side or center of the rack. The top opens to release cables. A carrying case is included.


Contact Sales Assistance
(800) 800-4239
,
Monday-Friday 7am-7:30pm CT