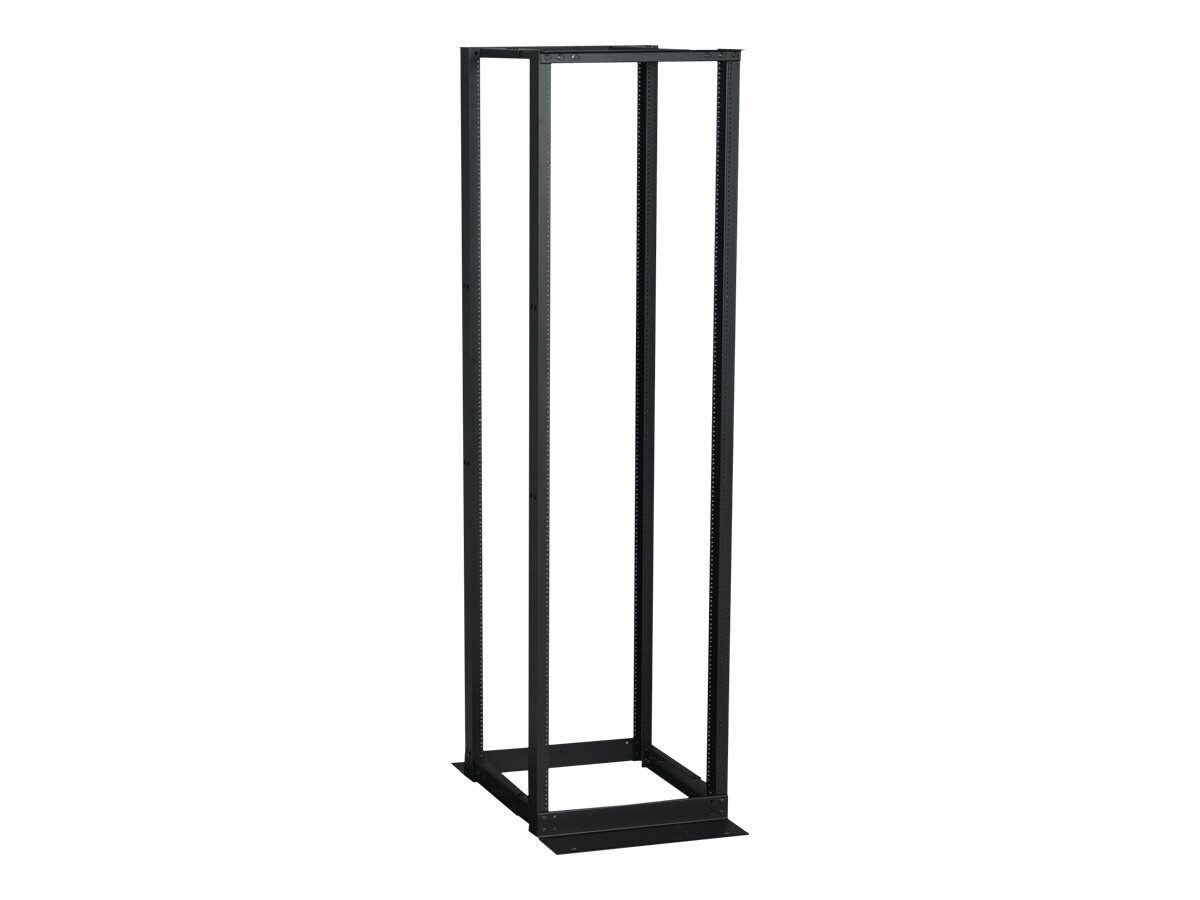 Quick tech specs
View All
Know your gear
Features:

• A flexible four-post rack with a depth you can customize for specific types of equipment. The depth is adjustable in 1" increments from 17" to more than 41".

• UL® 1863 Listed and guaranteed for life!

• Combines the economy of a rack with the mounting capacity and shape of a cabinet.

• Open design provides you with access to all sides of mounted equipment and cables when troubleshooting. Cross-connects aren't hindered by cabinet walls.

• Strong enough to hold heavy servers and equipment—features a maximum load of 2500 pounds (1134 kg).

• Comes with 12-24 (tapped hole) rails.

• 12-24 rack comes in 72"H (38U).

• Holds 19" wide servers, panels, and other components. The 5/8", 5/8", 1/2" spaced 12-24 tapped-hole pattern meets EIA standards.

• Uprights on 12-24 models constructed of lightweight 6063-T6 alloy extruded aluminum, so setup or relocation isn't a back-breaking job.

• Top and bottom angles on all racks are made of extruded aluminum.

• Predrilled mounting holes at the base enable you to anchor the rack to the floor for a safe and secure installation.

• Link multiple racks side-to-side with the joining kit (order separately).

• Ships to you unassembled, allowing for easy transport to a job site.

• Smooth black polyester powder paint finish.

• Add the shelf or shelves you need:

– 19" Depth Adjustable Shelf (RM083), which is a 1U, vented 14-gauge steel shelf that mounts to the front surface of front and back angles, and can be adjusted to fit multiple depths or rack angle placement. Maximum load rating: 150 pounds (68 kg).

– 19" Adjustable Vented Shelf (RM085), which is a 2U, vented steel shelf that's adjustable front to back in approximately 1" increments and mounts to either the front or rear flange of a rack. Maximum load rating: 60 pounds (27.2 kg).

– Keyboard Shelf with Mouse Tray (RM448), which is a stationary tray that provides solid support for your keyboard and mouse.

– 19" Sliding, Pivoting Keyboard Tray with Mouse Tray (RM385) slides a keyboard in sideways for storage, then pulls out up to 19" when you need to access your keyboard. It holds a keyboard up to 20.5" (52 cm) wide and features a cushioned wrist rest.

• Guaranteed for life!