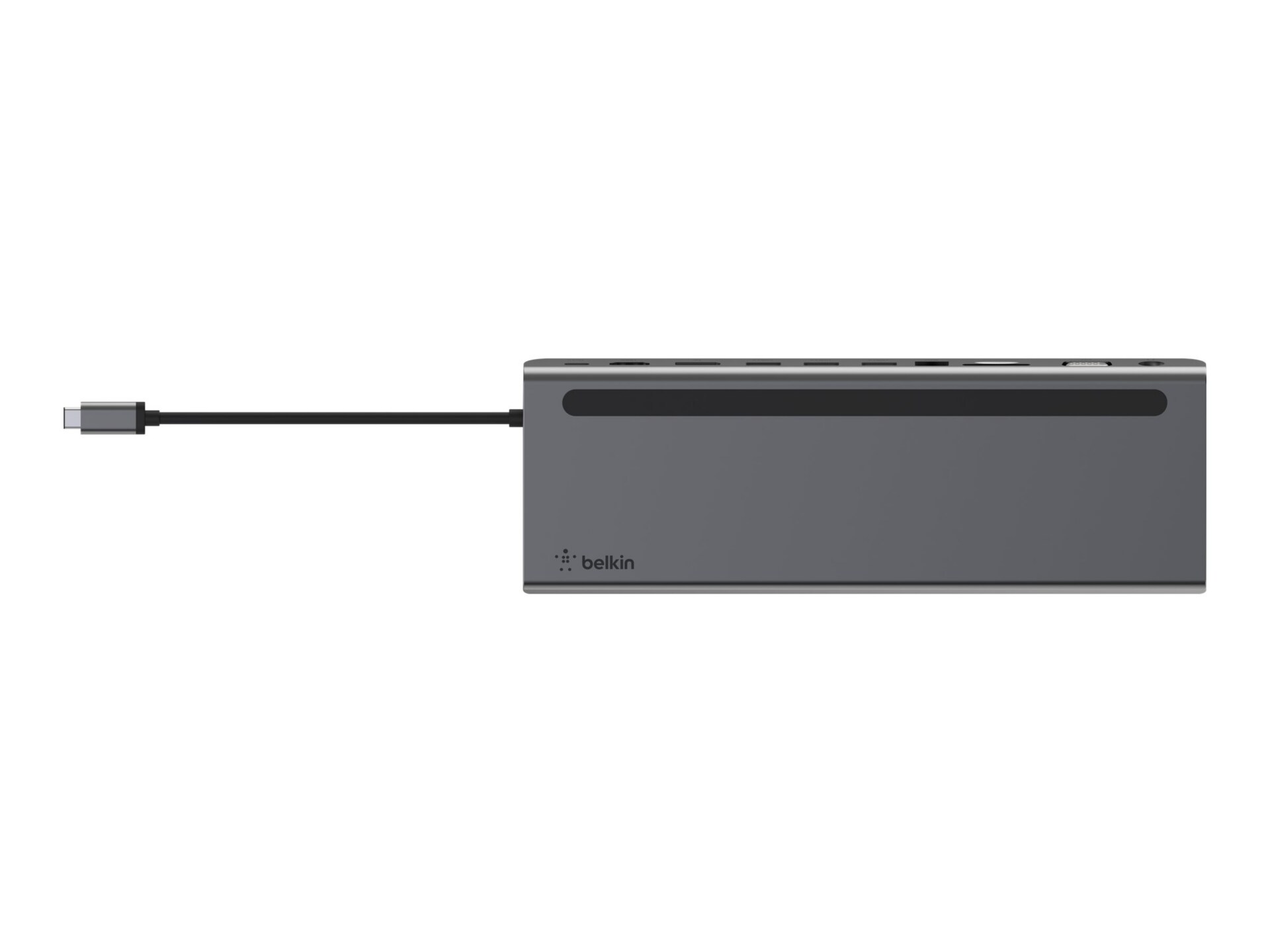 Quick tech specs
Supplies multimedia and Ethernet ports that have been eliminated from the latest Apple and PC laptops
Pass-through charging of up to 100W
Connects USB-C devices to projectors,monitors,SD cards,and thumb drives
Features HDMI,DisplayPort,VGA video options and supports high-definition display resolutions up to 4K
View All
Know your gear
THE ULTIMATE WORKSPACE SOLUTION
Turn your USB-C laptop into the ultimate workstation with our USB-C 11-in-1 Multiport Dock. This all-in-one solution gives you access to ports that newer laptops have eliminated in the recent years,allowing you to connect to monitors,SD cards,thumb drives,and more through its USB-C port. It supports pass-through charging up to 100W so you don't have to choose between port expansion and power. This docking station gives you up to 5 Gbps of bandwidth between connected devices and your laptop while supporting high-definition display resolutions up to 4K through HDMI,DisplayPort,and VGA video ports. Plus,with its Gigabit Ethernet port,you'll always have a safe and secure internet connection.
100W PASS-THROUGH POWER
Supports pass-through charging up to 100W,minus 15W for the dock's operation*. Power your laptop without sacrificing power for port expansion.
PORTS
3.5mm audio in/out
VGA port
SD 3.0 card reader
MicroSD 3.0 card reader
Gigabit Ethernet port
USB-A 3.0 BC1.2 ports
USB-A 2.0 port
4K DisplayPort 1.2
4K HDMI 1.4
USB-C PD port
Belkin USB-C 11-in-1 Multiport Docking Station - HDMI DP VGA 100W PD
is rated
4.30
out of
5
by
52
.
Rated

5

out of

5
by
Ralph FourDock
from
Easy and effective laptop dock
Very easy to setup and use. I swap out several laptops and they operate with a large curved monitor, mouse, keyboard & a 68 watt usbC charger that has worked flawlessly from my first connection.
Date published: 2021-11-04T00:00:00-04:00
Rated

5

out of

5
by
Bryan M
from
Essential Accessory
This is a well-designed piece of hardware, both functionally and aesthetically. It adds essential connections (as laptops are unfortunately moving toward fewer ports), and acts as a convenient laptop stand and cable organizer. It's a must-have accessory when you're buying a new laptop.
Date published: 2021-12-04T00:00:00-05:00
Rated

5

out of

5
by
Jose L
from
Non tech savvy person here
Easy set up, worked as advertised! We use this dock station to use out home and work laptops. Both are Dells and it works well with either of our laptops
Date published: 2022-02-27T00:00:00-05:00
Rated

5

out of

5
by
Pepp
from
Good Product, Left vs Right...
Works great! Only issue is the power line connects to the right side of my computer and and not the left. Wish there was an option to buy left vs. right since I now have to use it upside down which slips around my desk.
Date published: 2022-03-09T00:00:00-05:00
Rated

5

out of

5
by
Red40
from
Nice Package but some issues
The good: Compact unit, fits neatly under laptop PC, has good assortment of inputs and outputs. The minor not so good: Short USB-C connection cord could be a half a foot longer. No screw sockets for VGA making easy for VGA cable to disconnect. When booting up with Mouse connected the its operation is erratic, connecting Mouse after booting up corrects issue. During video calls (Zoom, Microsoft Team, Google meet, etc.) Internet connection disconnects, this is the most serious issue as I have to de-dock from Belkin dock and reboot my PC to reconnect to the meeting without using the Belkin Multiport Dock.
Date published: 2022-03-20T00:00:00-04:00
Rated

5

out of

5
by
Anon6
from
The best USB-C dock I can find
Works really well and probably the most useful and functional dock on the market. It feels well-made and is sturdy. And somehow much cheaper than almost anything else.
Date published: 2022-03-28T00:00:00-04:00
Rated

5

out of

5
by
JohnMaz
from
Basic USB Dock
I bought this for my HP Laptop and for the most part it functions as advertised. I got a USB-C 1.5' extension cable as the Laptop port was on the opposite side and all seems to function properly. The HDMI port does not power my HP external monitor as the monitor displays the no signal message. I know the cable is not at fault as I plugged the cable into the laptop and the monitor has full signal and is a mirror of my laptop screen. Not sure if this is a design issue or a fault of the Dock I have. I would like to have additional USB-C ports on the Hub, but we cannot have everything we want.
Date published: 2021-07-21T00:00:00-04:00
Rated

5

out of

5
by
Alfred Kukitz
from
Computer Dock
Like a breeze passing by your face. The simplicity will feel like an old friend.
Date published: 2022-09-22T00:00:00-04:00
Rated

5

out of

5
by
DHSmith
from
Multiport dock is a great device for laptops
Great devices when you have multiple monitors, speakers, mouse and other devices connected to a laptop. Only draw-back is that the advertisement should specify that an external power source is necessary to power the unit. This really should be included with the purchase of the product or given the option to purchase an external power source.
Date published: 2022-07-21T00:00:00-04:00
Rated

5

out of

5
by
lionnheadd
from
Gets the job done…sometimes
I originally purchased this dock from a BestBuy store when I realized my work laptop had no Ethernet port. I went on to use it for both a Mac and a Windows PC. A few months later, the device was no longer syncing with my wireless mouse and keyboard. I received a warranty replacement from Belkin and the new device "syncs when it wants to".
Date published: 2022-07-19T00:00:00-04:00
Rated

5

out of

5
by
ithinktfiam
from
Working nicely -- now
I bought it last year for a laptop a company sent me. It worked ok, but there were some monitor issues. A stopped working with that client and the device has sat on the shelf for more than six months. I bought a new laptop. Well, two. The first was an Asus, and it wasn't recognizing the monitor connected through the station. Research showed that was a known problem with Asus. Returned that and got a Lenova. The docking station is now plugged in and an interface between the laptop and a kvm. The mouse/keyboard USB connection is into the docking station, as is a direct hdmi link to a second monitor, and I've used the station for sneaker netting software via USB drive. Everything seems to be working as expected.
Date published: 2022-07-07T00:00:00-04:00
Rated

5

out of

5
by
Jiminy Cricket
from
Did Not Work with My Laptop
This did not work on my new HP laptop, so I promptly returned it. The unit appears to be well made and has many ports for external devices. The 90-day return policy is excellent, but I had to pay the shipping costs :-(.
Date published: 2022-08-13T00:00:00-04:00
Rated

5

out of

5
by
Chockbblock
from
A little piece of mind to ease your USB-C needs
This product is amazing. It can support two monitors, SD, SD w/adaptors, USB uhubs, USB devises - at the same time. There is even VGA if you need it. This is cheap at twice the price.
Date published: 2022-04-24T00:00:00-04:00
Rated

5

out of

5
by
Nottobenamed
from
Makes my SD card crash
Great for everything else but SD cards. Lost 60G of footage and RAW pictures because it kept badly ejecting my SD card. Had to reformat the card multiple times because of it.
Date published: 2022-12-19T00:00:00-05:00
Rated

5

out of

5
by
dleu
from
Convert your laptop into a desktop/workstation
This Multiport Dock connects to your laptop through only the USB C port that most of us only use to charge our computer. Its adds functionality in the form of these additional ports: USB x 3 (2 x 3.0, 1 x 2.0) Video ports x 3 (VGA, HDMI, DisplayPort) 2 card readers (SD and micro SD) 3.5mm headphone jack Ethernet I connected it to my ASUS C302C Chromebook which has a micro SD card slot, a 3.5mm headphone jack, and left and right USB C ports. Here are the things I like about it: 1. Connecting it is easy. Just plug it into the USB port and it works. 2. I can use an external mouse, which I plan on doing. 3. The position of the computer is slightly more comfortable with the device under the Chromebook. 4. I connected it to my TV via the HDMI port and the Chromebook has a multitude of settings for orienting the Chromebook screen and the HDMI connected screen. For example, you can mirror, left, right, up down, diagonal, etc. I could also adjust the size of the font in the Chromebook settings. Unfortunately there were no audio settings that I could find, so I had the stay with the speakers on the Chromebook. 5. I can connect an SD card to the Chromebook, at least while it is plugged in. My Chromebook only has a micro SD slot. Here are the things I think are (or might be) limitations: 1. Would be difficult to connect to a laptop/Chromebook/Macbook that has only a right-sided USB C connection. Could this be fixed by having a cable on the Multiport Dock that could be moved to either side? 2. For me it got warm. I don't know if it was hotter outside or under heavy use it might get very hot. It did not get very hot for me under light use and in 50 degree weather. 3. Audio didn't work with HDMI. This is probably a limitation of the Chromebook more than with the Multiport Dock, but either way audio wasn't working through HDMI. This could probably be solved with an inexpensive 3.5mm audio cable if your monitor has that input. 4. It's kind of expensive compared to the price of my Chromebook, which was between $200 and $300. For someone using a MacBook, the price seems less significant. In summary, I like the improved positioning of the keyboard and the ability to add USB devices such as a mouse. For someone who wanted to create a workstation and who frequently wanted to disconnect their laptop and take it somewhere else, it would be ideal as you would only need to disconnect the USB C. Just remember to have a 3.5mm audio cable if you're connecting a display via HDMI.
Date published: 2021-04-07T00:00:00-04:00
Rated

5

out of

5
by
ASny
from
Solid product!
Extremely pleased with this product. Well built and full featured. Has greatly simplified my connections! I would highly recommend this to anyone who is looking for a docking solution. All I can say is wow!
Date published: 2021-04-09T00:00:00-04:00
Rated

5

out of

5
by
WeberB
from
Good Features!
This is a really nice dock. It is a but tough to get to all the ports in the back, but it does the job. Most of the ports are wired so getting to them is not hard. But the SD card readers are a bit of a pain. I like that it has pass through power and that raises my Macbook up for air flow. I do wish it had more USB-C ports.
Date published: 2021-04-08T00:00:00-04:00
Rated

5

out of

5
by
Rick M
from
Great product
The USB multiport doc is an incredible addition to my home office. With Covid keeping all of us home -with limited space- this device has streamlined everything about my desk. Super sleek and convenient- a must for any home office!!
Date published: 2021-04-09T00:00:00-04:00
Rated

5

out of

5
by
EddieK
from
All in one Awesomeness !!
Plugged this very Stylish multiport Dock in and it just flew ! What a great concept and well executed. Looks as great as it works!!! The Thumbwheel, USB memory stick, headphones, network, etc. all worked great ! I'm actually using it on my desktop with a cable extension !! All the pports are right in front of me on my desk !
Date published: 2021-04-09T00:00:00-04:00
Rated

5

out of

5
by
fozzy
from
just about perfect
Works great with my macbook pro. While plugging an external monitor into the dock only mirrors the laptop display, there's a very easy way around this. Use one usb-c port for your external monitor, and the other for the belkin dock. The Belkin dock will charge your laptop and allow you to plug in peripherals like a keyboard, etc. I've tried other docks that don't offer this ability. it's perfect for my work from home setup.
Date published: 2021-04-09T00:00:00-04:00
Rated

5

out of

5
by
T0nyT
from
Great dock for USB-C laptop
My laptop has 2 USB-C ports, this dock allows me to use my older pc accessories and charge the laptop when needed. The form raises the computer to a more comfortable typing position.
Date published: 2021-04-01T00:00:00-04:00
Rated

5

out of

5
by
bc3tech
from
Hope your USB-C is on the left
If your USB-C port is on the right-hand side of your laptop, good luck!
Date published: 2021-02-09T00:00:00-05:00
Rated

5

out of

5
by
Duane Jones
from
An excellent connectivity boost for my laptop
An excellent dock with excellent connections and positions.
Date published: 2021-02-25T00:00:00-05:00
Rated

5

out of

5
by
teeno
from
doesn't work if both monitors are not 4k.
If you have a 4k monitor and a 1080p this will not work.
Date published: 2021-02-12T00:00:00-05:00
Rated

5

out of

5
by
JCK Chen
from
Over ten years MacBook Pro user.
I have a MacBook Pro 15" laptop. I have to flip the Multiport dock over to receive charging from my laptop. The Gigabit Ethernet, the charging cable from the outlet work as to should be. The USA-A(s) do not seem to work. Have not tested the SD 3.0, VGA, and the 4K DisplayPort 1.2. I do like the laptop stand. I can type better with the inclined plane.
Date published: 2021-02-24T00:00:00-05:00
Rated

5

out of

5
by
Doug62
from
One stop shop for all your peripherals!
I purchased a MacBook Air a couple of years ago and have been struggling with a way to connect my various peripherals. I have purchased multiple connectors but always have a hard time locating them when needed. This docking station is a great way to add much needed ports to my MacBook all in one convenient location. The sleek look and finish paired well with my MacBook Air and fit neatly in my laptop bag. There is a non-slip grip on the top of the dock which allowed the laptop to stay in place providing an optimal position and angle for typing. On the bottom of the dock there were adhesive strips that could be used to adhere the dock to the laptop if so desired. The dock get hot when fully loaded and offers all of the basic ports one might need (3.5 mm audio headphones/microphone/audio recording, VGA, MicroSD 3.0, SD Card 3.0, Gigabit Ethernet (RJ45), USB 3.0 (BC1.2)/USB 3.0/USB 2.0, 4K DisplayPort/4K HDMI, 100W PD 3.0 (no data). The wired internet port is a must for a fast and stable internet connection. It doesn't charge your laptop but it charges your connected devices such as a cellphone or tablet. The one thing I would change would be the length of the connector cord for the USB C. The short cord makes it hard to connect and keep the laptop positioned on the dock. Once in place, the laptop will stay in place. I recommend this product as it provides ample peripheral connections, is durable and provides the quality that is expected from the Belkin name.
Date published: 2021-04-16T00:00:00-04:00
Rated

5

out of

5
by
ablang
from
This provides more ports that your laptop doesn't!
There are 11 ports on the back side of the dock. They are (in order from left to right): 01. 3.5mm audio in/out 02. VGA out 03. SD memory card reader 04. microSD memory card reader 05. Ethernet RJ45 Gigabit 06. USB-A 3.0 07. USB-A 3.0 (BC 1.2) 08. USB-A 2.0 09. DisplayPort 4k 10. HDMI 4k 11. PD 3.0 (Power Delivery, no data) 01. I tested this port using wired earbuds. This worked w/o a hitch and was recognized very quickly (within seconds). I didn't test it w/ a microphone but I have no reason to believe it wouldn't work. 02. I tried testing this w/ an old 15" flat panel monitor but Windows 10 failed to detect the monitor. It doesn't matter much since I don't really plan to connect my laptop to an old VGA monitor. 03. This worked well although I should mention the SD memory card doesn't insert very deep. There is no satisfying click when inserted (you just push in and pull out). Windows automatically assigns it a drive letter. 04. This worked well although I should mention that the microSD memory card needs to be inserted w/ the label side down (as in upside down). There is no satisfying click when inserted (you just push in and pull out). Windows automatically assigns it a drive letter. 05. not tested but I think this would work for hotel rooms that didn't offer any wifi but only had an ethernet wall jack to provide wired internet. Naturally, you would have to bring an ethernet cable to use their internet. 06. This worked well. 07. This worked well but I didn't test the BC 1.2 portion (BC = battery charging). 08. This worked well but files transferred at a lower speed. 09. I didn't test this since I don't have a DP cable. 10. I tried testing this feature by connecting to my 27" 1440p monitor w/ the included HDMI cable but Windows 10 failed to detect the monitor. This probably requires reading the manual or asking a question on the forums. I wouldn't be using this feature much anyway. 11. So when the DOCK is connected to your (presumably) only USB-C port on the laptop, you would take your laptop's charging cable and AC adapter and plug it into this port to charge up your laptop. This seemed to charge my laptop about as well as it would w/o having the DOCK involved. Although I couldn't get the DOCK to connect to a monitor (ports 02 or 10) it's important to note that for all the other ports, they worked just fine. And that's reasons enough for me to want to keep using this product (since my laptop doesn't provide enough ports on its own).
Date published: 2021-04-26T00:00:00-04:00
Rated

5

out of

5
by
jvlJosh
from
Perfect dock for any laptop
This dock is great! Perfect for home or office, PC or Mac. It has the ports you need to keep you productive! The aluminum body is timeless and works with all modern devices. A must have for a power user!
Date published: 2021-04-10T00:00:00-04:00
Rated

5

out of

5
by
Lani A
from
Good hub
Great form factor and port selection. Originally bought this to connect our Valve Index
Date published: 2021-05-04T00:00:00-04:00
Rated

5

out of

5
by
EdL0352
from
Versatile and Convenient
The Belkin USB-C 11-in-1 Multiport Dock is portable that I can travel with it in my Timbuk2 over the shoulder bag along with my 13" MacBook Pro and my 12.9" iPad Pro. The USB-C cable provides single cable connection for expansion and the pass-through power is convenient for charging my devices. I was able to connect several peripherals into their respective ports with no issues while using my MacBook Pro. My devices while resting on the dock are propped up nicely while typing, and my cables are nicely organized while connected to the dock. Altogether the dock allows for versatility and portability when expanding your laptop to a functional workstation, which is great for traveling. *One word of caution though. If you plan to purchase this dock for your iPad, only the USB-C port will function for power pass-through. You cannot connect additional peripherals into the dock, such as a USB-A drive, as it will not be read by the iPad. I would recommend this dock if you are looking to expand your laptop to function as a workstation, while also seeking USB-C compatibility and portability for travel.
Date published: 2021-04-13T00:00:00-04:00
Rated

5

out of

5
by
walkenrules
from
Solid product, very happy with it.
Been teleworking a lot lately and using my MacBook Pro 2020 at home. I needed something to make it easy to connect to my external monitor and other peripherals and this is perfect for that. Did have a few minor issues that were resolved with the latest Apple update. Since then running flawlessly. A+
Date published: 2021-04-19T00:00:00-04:00
Rated

5

out of

5
by
ChillinQuillen
from
Everything that was Missing!
This belkin 11 in 1 dock is everything I needed for my USBC MacBook Pro. It's not huge and perfect for packing up to travel. I just use mine at home with everything always plugged in. All I have to do is just plug into one of the 2 ports on computer and I'm good to go. I like being hardwired in for my internet connection. I can also use my yeti mic that is an old school usb. Never understood why Apple removed SD slots but who cares now that I have this dock. Only complaint is the micro SD is underneath the SD slot. Makes a little tricky if using at same time. That tends to be a rare event though. This dock will pay for itself if you consider all the dongles you would have to buy just to connect these accessories. This dock turns your laptop into the real Pro device. Highly recommended.
Date published: 2021-04-08T00:00:00-04:00
Rated

5

out of

5
by
a2cents
from
Flexible & useful
The rugged, metal wedge design is a handy laptop support with rear-facing ports to reduce clutter, but I find front-facing is nice for frequent port access... the cable length allows both. The selection of display ports is inclusive but unfortunately i need a new adapter as I have mini DP. Thanks to the card slots, my card reader is no longer. necessary. VGA and audio ports provide flexibility. The one downside I see is the 100w PD 3.0 port is power only (100w), no data... a USB-c (data) port would be useful. Overall, a well made convenient product.
Date published: 2021-04-24T00:00:00-04:00
Rated

5

out of

5
by
Tim Cccc
from
Turns Off
Sporadically turns off monitor for a few seconds at a time. VERY annoying.
Date published: 2021-04-19T00:00:00-04:00
Rated

5

out of

5
by
TinyIsland
from
Perfect for downloading media
It arrived as expected, nicely boxed and was simple to unwrap and set up. Within a few minutes I had the Belkin multiport connected to my smartphone and downloaded all my documents and photos to a flash drive that I plugged into the dock. It worked quickly and of course didn't use any cell data to backup my files. It also worked on an older tablet that did not have a data plan. We downloaded 110 mb of video and saved it to a flash drive for future use. The multiport was easy and intuitive to use, plug and play at its best.
Date published: 2021-04-12T00:00:00-04:00
Rated

5

out of

5
by
cweiler52
from
Very handy little device!
I was surprised a how small this 11-in-1 Multiport Dock is. I was afraid it would be hanging out from the sides of my laptop, but if fits nicely under. The rubberized pads on both the bottom and top where the laptop sits are really nice too ... no sliding around. Otherwise this dock is great and works as advertised.
Date published: 2021-04-12T00:00:00-04:00
Rated

5

out of

5
by
Guruka
from
The only dock you'll need
If you have a USB-C connector you're all set. I used this with my laptop and my desktop computers. It fits nicely under the back of the laptop and gives eleven rearward facing ports. I missed having an LED on the dock to indicate that it's powered up, but that's about the only thing missing. Having a passthrough USB-C port to full power charge my iPhone while working is great. I hooked up an external monitor using the HDMI port on the dock and it synced up immediately. With two USB-3 ports, a USB-2 port and the passthrough USB-C port, you're never without a handy USB port. With three video ports (HDMI, DisplayPort and VGA you can easily add multiple monitors. The icing on the cake is the handy SD and microSD card slots and a network connector. I used the network connector to hook the laptop up to wired ethernet CAT6 connection and it worked fine. This is a solidly built aluminum dock with rubber non-slip pads on both the top and bottom. It's quite elegantly and sturdily designed. Well, until there's another new-fangled port on the scene, this dock will take care of all my needs.
Date published: 2021-04-15T00:00:00-04:00
Rated

5

out of

5
by
BIGDinNJ
from
Good Dock
Good little portable dock for my MacBook. Works well to extend my monitor into a duel monitor set up. Love having extra ports (USB) Not sure why apple continues to downgrade ports on laptops. So its good to have a dock that has extra ports to plug stuff in. Great dock to use to take along to plug into presentation situation too.
Date published: 2021-04-18T00:00:00-04:00
Rated

5

out of

5
by
Paul70
from
All the ports you would ever need and more.
I really needed extra ports for my laptop as it had only two so I got this multiport dock. This gives me all the ports I needed from a HDMI, 3 USB ( 2 type 3), VGA, display port, Ethernet, micro SD and SD as well as a headphone jack port. I have used so that I can backup photos from my phone and tablet to the laptop or a portable drive. It enables me now to work on my laptop with multiple devices at the same time instead of having to connect and disconnect them from the laptop. I can also power the laptop using the USB-C cable.
Date published: 2021-04-20T00:00:00-04:00
Rated

5

out of

5
by
Charla29
from
Nice addition to my laptop
The multiport dock is a great addition to my laptop, offering two USB-C ports and a standard USB port. There is also a PD 3.0 port, which makes charging more efficient. The dock doesn't come with the recommended charger, which both charges the dock as well as providing up to 50W pass through charge for attached devices, however I used the dock hooked into my laptop. It powered multiple devices without any reduction in the operating speed of the laptop or the attached devices. I did not attach a monitor although there is a VGA port to attach one, as well as an HDMI port. There is also SD and micro SD ports to upload pictures.
Date published: 2021-05-17T00:00:00-04:00
Rated

5

out of

5
by
D0ugv
from
Very convenient
Wasn't sure I had a need for this but once I recieved it I realized I did. With my new laptop not having my port options this filled that void. The design of it is great u forget that it's there conveniently hiding under the laptop. The options of different ports is definitely a plus feature.
Date published: 2021-04-19T00:00:00-04:00
Rated

5

out of

5
by
rmcx
from
Pretty Good!
I'm running this on a 3-year old home-built PC. On the downside, it won't run my Dell 27" 4K monitor through either the DisplayPort or the HDMI plugs. On the upside, though, everything else works just fine. In fact, it reads my UHS-II SD cards about 60% faster than my previous reader. That's pretty important to me.
Date published: 2021-04-08T00:00:00-04:00
Rated

5

out of

5
by
KrisL
from
Great dock
I haven't had this item for a few weeks and I love it. It fits in my laptop bag easily and doesn't weigh much. There are a variety of different port types that fit all my needs. I'd definitely recommend to a friend.
Date published: 2021-04-22T00:00:00-04:00
Rated

5

out of

5
by
JamesDC
from
Compact and Perfect for WFH
This relatively compact dock made my work from home laptop setup fantastic. I hooked it up to both my Thinkpad X1 Carbon, as well as my MacBook Air, and it worked for both laptops well. For my Windows machine, it extended my laptop display, giving me 2 screens. This was the most important feature for me. The USB-C port provided enough power for all my devices, and the DP and HDMI ports were more than I needed to hook up my screens. The extra USB 2.0 and 3.0 ports are nice to have and both my laptops automatically recognized everything like they were built in to the computers. I pulled out an old SD card to test that out and that worked well, and I can see using this for viewing files from cameras or other devices, but I think I could get a huge SD card and use it as a local backup for pictures, etc. I didn't have any need for the VGA port, but if you need a legacy port, this has it. No parallel port for those of us with older printers lying around - that would have been an interesting feature. It also has an ethernet port which I think is very useful, with laptops requiring dongles these days for wired internet. I didn't notice any faster internet from being wired vs. my wireless connection, but I may see if my connection is more stable over time. Design-wise, the wedge shape is obviously designed to place your laptop on for a better typing angle. I didn't really care about this feature as I hooked up a wireless keyboard with all the extra USB ports that the 11-1 dock had given me. The only time I felt restricted was with the short connecting cable to my laptops, which for most people will help keep their workspace tidy. This is definitely a great little dock, with almost every port you will need, and instantly compatible with both Windows and Mac laptops! It makes WFH better and I can switch my workspace from my work laptop to my personal laptop very easily.
Date published: 2021-04-10T00:00:00-04:00
Rated

5

out of

5
by
Dice
from
Well made dock for computers with multiple USB-C
Well made dock for computers with multiple USB-C Ports. For those who have more than one free USB-C port, this dock is fantastic. It's very sturdy and has all the ports you could wish for, except more USB-C ports. If you have 2 or more, this dock works brilliantly. I especially like that an Ethernet port is included for prolonged desktop use and faster and more consistent connections. The non-slip rubber pads on both the top and bottom are helpful in stabilizing the laptop above, and the solid aluminum construction gives you confidence in its durability. Personally, if this dock had one less USB-A port and another USB-C port, it would be perfect. While we're at it, since I have a Macbook Pro with Thunderbolt 3, an upgraded version supporting TB3 would be ideal. As it is, this is a great addition to any mobile worker, or for someone wishing to leave a single plug dock at home for quick and easy docking and undocking. I like that the dock is also device agnostic, so it can be used for a long time, even as your devices may change. I intend to see how this works with an iPad Pro in the future as it becomes more capable.
Date published: 2021-04-22T00:00:00-04:00
Rated

5

out of

5
by
AC man
from
Well built dock
Received the dock, first thoughts were it was well thought out. The unit is solid and has all the connectors you could ask for. The male USB-C connector could be maybe a little bit longer, but otherwise unit is complete and covers all connections.
Date published: 2021-04-12T00:00:00-04:00
Rated

5

out of

5
by
Sono2323
from
wonderful accessory to own!
I received this item to review. I know with newer computers/laptops there are hardly any ports to plug multiple wires in. This is that solution! It has all the necessary ports for you to use. Pros: it's light, multiple ports, keeps charging while plugged in to use accessories. Cons: wish it was a little more thicker to angle it more. There is only non slip grip on top of the dock, wish there were another on the bottom near the front edge, cause if the laptop isn't setting on the top non slip bump, the laptop slides forward. Other than that it is a perfect thing to have on hand while using.
Date published: 2021-04-24T00:00:00-04:00
Rated

5

out of

5
by
Dad in NC
from
Lots of Features
This dock feels substantial. It works well. I have tried all ports except ethernet and they work as expected and advertised. My only two suggestions would to make the USC-C connection cord longer and to make it wall-mountable for easier "time-of-need" availability. I purchased a USB-C extension cable that works great with this unit BUT YOU MUST select a cable that SUPPORTS DATA and not just charging.
Date published: 2021-04-12T00:00:00-04:00
Rated

5

out of

5
by
EddieSC
from
Essential WFH device
Exactly what I had been looking for and important asset for the Work From Home time: it expanded not just the USB ports but also extended screens w/HDMI, Displayport and VGA. Some features I have not fully utilized yet like the card reader and Ethernet - this is why I could not rate the full performance yet. With the USB-C adapter on the left side of my notebook it is also good to use it as an angled stand. Overall - very happy with the quality and technical features and definitely will use it back in the office as well. I am glad I did not just expanded the USB port but also have now a full docking station.
Date published: 2021-04-23T00:00:00-04:00
Rated

5

out of

5
by
DJ5115
from
Works great!
I'm using the dock with a Macbook Pro 16" for about two weeks. I have an external monitor connected to it. I haven't had any issues the the dock. I charge my MacBook through the dock. The USB ports is nice because my MacBook doesn't have any. But the best feature I like is the stand. I can rest my Macbook on it and brings up the keyboard to a comfortable position. Overall I would recommend Multiport Dock.
Date published: 2021-04-28T00:00:00-04:00
Rated

5

out of

5
by
Aspec
from
Great Product
Plugged it in to my Surface laptop, all the ports work flawlessly. I was able to have all my gadgets charging in one place. Love the convenience. The only fault would be the length of the cord to plug into my Surface. I would recommend this product, but only if you are using desk
Date published: 2021-04-19T00:00:00-04:00
Rated

5

out of

5
by
Zhac
from
Great product
Great product. Like the way it works. Allows me to connect my iPad to monitor.
Date published: 2023-11-05T00:00:00-04:00