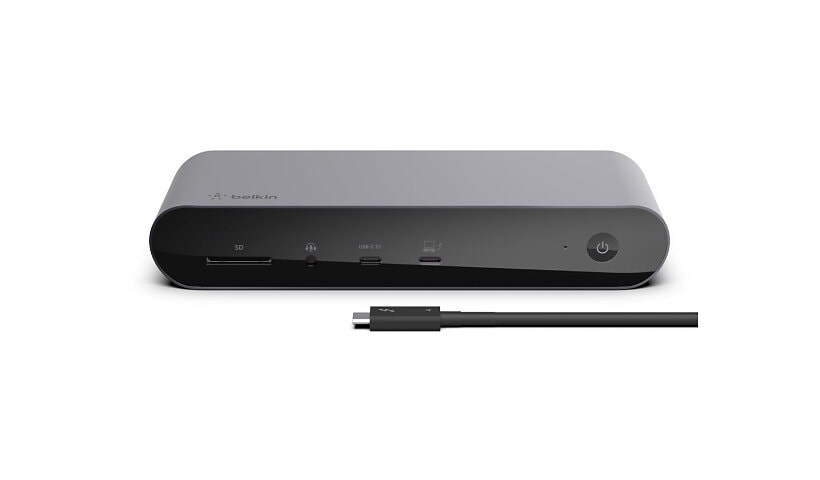 Quick tech specs
Support Triple monitor up to 8K@30Hz
Thunderbolt 4 Certified and USB4 Compliant
5x USB-A ports for convenient extended connectivity for additional devices
12-in-1 universal dock offers multiport connections for power/ data/ and video
Power Delivery up to 90W for charging connected device
View All
Know your gear
THUNDERBOLT 4 DOCK


Full-Featured Thunderbolt 4 Dock offers 12 ports for any environment and users to connect their PC and Mac computers to multiple devices for data, video, ethernet and power all through a single cable connection.


Provides power delivery up to 90W to charge your connected device and can enable fast and consistent transfer rates up to 40Gbps – that's 8x faster than USB 3.0!


This dock allows for dual video display even on Apple M1 Macbooks.


It offers Quick Charge 4.0 as well as Intel's DMC (Dock Management Controller).


Belkin Thunderbolt 4 Docking Station Triple Display USB4
is rated
4.58
out of
5
by
33
.
Rated

5

out of

5
by
Katelyn
from
Great piece of technology!
Wow! All I can say is wow. This dock has made it SO much easier to do multiple things on my laptop at the same time. I can have so many things going on and plugged in while I'm streaming. Honestly, this piece of technology has changed the way I do things.
Date published: 2022-04-07T00:00:00-04:00
Rated

5

out of

5
by
Lindl90
from
Professional Appearance with Amazing Quality!
Acquired this device a few weeks back after looking for a solution to assist with my new work from home life and let me tell you, this docking station can do it all! It's extremely portable to take and connect on the go, and has a very professional style/appearance to go with it. With multiple USB ports, 2 HDMI's, audio in/out, and even an SD card reader.. this docking station makes it more than easy to connect any and all devices seamlessly. The USB-C provides for long lasting fast charging as well which is a huge plus. If you are like me and have a workstation with multiple monitors, dual audio outputs needed, etc.. then this product is the one for you! 10/10 would recommend to anyone on the market for a high quality docking station!
Date published: 2022-04-05T00:00:00-04:00
Rated

5

out of

5
by
NN2109
from
Multi-Functional Unit
Pro Thunderbolt 4 Dock is perfect for my office! It definitely keeps the work area clean and less busy! Keeps all the wires organized! Unit is sleek and compact. Does not take up much surface area. Easily fits with any decor.
Date published: 2022-04-05T00:00:00-04:00
Rated

5

out of

5
by
queeneelizabethanne
from
Kaboom!
If you are the kind of tech pro that I am, with three monitors, two separate audio outputs, and need ports for all your accessories, look no further than the Pro Thunderbolt 4 Dock. It will hold everything and power it all with a single cable. I am extremely impressed because, at the price point, I thought that the data transfer would suffer minimally, but it held strong. It even has an ethernet port and fast charging capabilities. I was quite pleased, and I find it to feel well made and sturdy as well. Excellent product! The screens on all three monitors were crisp and clear as well! Spot on Belkin!
Date published: 2022-04-05T00:00:00-04:00
Rated

5

out of

5
by
LuckyG
from
Sleek and compact
This Thunderbolt Doc is on point! I love the sleek and compact design. With dual HDMI, I can use my 2 older monitors for work. Its 12 ports are so useful to reduce clutter and need for multiple outlets. My phone and smart watch are able to quickly charge directly connected to my laptop, thats connected to the Doc.
Date published: 2022-04-05T00:00:00-04:00
Rated

5

out of

5
by
cosburn
from
Versatile!
This dock has everything! With 12 different ports you can connect most anything you need for a great computing station. It is easy to set up and has fast connectivity. For me the SD Card reader is a bonus as many other docks don't have that feature.
Date published: 2022-04-04T00:00:00-04:00
Rated

5

out of

5
by
paulawat
from
Wonderful
I love the Pro Thunderbolt 4 Dock. It is very convenient for all of my electronic needs. the voltage is wonderful and it charges every thing that I need whether I am at work or home or on the go. It is a perfect size and very convenient
Date published: 2022-04-04T00:00:00-04:00
Rated

5

out of

5
by
Sharon
from
Great dock
I got Belkin Pro Thunderbolt 4 Dock. It works great. It is very easy to connect and hook up.It works with mac05 and Windows. It is fast and has 40Gpbs of data. It can charge and connect all of your devices.
Date published: 2022-04-04T00:00:00-04:00
Rated

5

out of

5
by
Wolfee
from
Neat device
I mainly got this for data transfer to but it's cool because I can hook my TV and other monitors. It would be an ideal thing if you run a business at home. you can even charge devices ind plug headphones to it.
Date published: 2022-04-04T00:00:00-04:00
Rated

5

out of

5
by
jj1194
from
Great dock!
This dock has a small profile but is extremely powerful. It is thunderbolt and USB c compatible and allows a quick connect to external monitors. This enables my mobile laptop to come home to a full desktop setup. Highly recommend!
Date published: 2022-04-04T00:00:00-04:00
Rated

5

out of

5
by
Melo7
from
Not sure
This is not what I thought it was, I'm still on the learning curve with this. Currently have my laptop, phone and iPad attached to it, Planning next to attached it to the TV. Have not used the card reader yet.
Date published: 2022-04-06T00:00:00-04:00
Rated

5

out of

5
by
bcloutier
from
Couldn't get it to work
We couldn't get the HDMI ports to work. It may take some troubleshooting if you are tech savvy enough to play around with it. Unit seemed kind of heavy, but was compact enough to tuck it away on your desk.
Date published: 2022-03-31T00:00:00-04:00
Rated

5

out of

5
by
JedProBolt
from
Great product!
Product is easy to use and set up. I like having a "station" instead of all the cords and plug-ins around my desk. This product makes all my electronics more organized and easier to use. I like that it has the SD card, headset and multiple USB options.
Date published: 2022-03-31T00:00:00-04:00
Rated

5

out of

5
by
Chrisarpin8912
from
Thunderbolt giving the best connections.
The Pro thunderbolt 4 is exactly what my workstation was missing. The thunderbolt gives me the capability to connect my desktop to multiple devices all at the same time. The data transfer on it is super fast and very efficient. It not only connects, but allows me to charge my devices. I love it is compatible with older generations like the thunderbolt 3 etc. The resolution it allows is breathtaking 8k. I can't express how efficient this has made my workspace and environment, and I do highly recommend this to everyone. Belkin hit a homerun with this one.
Date published: 2022-03-30T00:00:00-04:00
Rated

5

out of

5
by
Skuba1
from
Robust Thunderbolt 4 Dock
The Belkin Pro Thunderbolt 4 Dock is the latest in a very long lineup from Belkin. The dock comes with a very handy connectivity card that details each port that is on the dock and is easy to setup. There are 12 ports on the dock including USB-C 3.1 Gen 2 with PD, 2-HDMI, Thunderbolt 4 and more. The dock had no problems with connectivity to dual 1080p monitors powered by an HP Zbook. However, connectivity to a MacBook can be a little confusing as you have to use one HDMI and the Thunderbolt 4 port. I would suggest visiting the website where they layout the connectivity options (I'm not sure why this isn't included on the included instructions card). It can support up to three 4k monitors (PC) as well as a single 8k monitor. The dock is backwards compatible with Thunderbolt 3 and USB-C so you shouldn't have any issues across multiple platforms. Connecting a 32" curved gaming monitor @ 240hz refresh rate, the gaming experience is very smooth. The form factor/aesthetics of the dock are pleasing compared to competitors. Overall, the Belkin Pro Thunderbolt 4 Dock is a nice high end docking station that will offer hassle free connectivity.
Date published: 2022-04-01T00:00:00-04:00
Rated

5

out of

5
by
RickandRoll
from
One connection to rule them all
There are a bunch of connections you can make with this from a single thunderbolt cable. The dock is sturdy and I like that none of the cords are permanently attached to it. I had no issues passing HDMI and it's nice to have an Ethernet connection available when my laptop doesn't have one. Direct connection to a printer without fussing with wireless is great as well
Date published: 2022-04-03T00:00:00-04:00
Rated

5

out of

5
by
Lolo81
from
Great tech
The Belkin - Pro Thunderbolt 4 Dock is a great addition to the family office it has made a quick place to charge and made it faster with our file sharing of course it took my son coming home to hook it all up but once he got it plugged in and going I can't complain it works like a dream.
Date published: 2022-03-30T00:00:00-04:00
Rated

5

out of

5
by
msn608
from
Experience the difference!
I'd previously utilized an older dock that consistently experienced issues with connecting, disconnecting, then reconnecting, etc. This new dock has been a lifesaver - it's extremely quick, easy to use, and has all the ports I need for my devices. Highly recommend!
Date published: 2022-04-01T00:00:00-04:00
Rated

5

out of

5
by
Springles
from
Great dock for computing
I have a Microsoft Surface and love it because of the portability of it. It's my work computer but I take it with me. But it only has 1 USB port and not too many other ports. I got the thunderbolt dock to be able to connect more USB devices and other things to my computer. It has a lot of ports including HDMI ports and others. It also charges my computer while also has a phone charger port. It's not light so I don't think it's great for portability but I am leaving it in my office and it's fantastic. Recommend this to all.
Date published: 2022-04-03T00:00:00-04:00
Rated

5

out of

5
by
Megs8
from
Great dock station
It is a great dock station. It is easy to install and hookup for all electronics. We have been using this for about a month and had no problems at all. It fits nicely on our desk. I highly recommend!!
Date published: 2022-04-03T00:00:00-04:00
Rated

5

out of

5
by
Stoopy
from
Feature rich packed Dock!!
Prior to Covid I have been a Corporate Professional that has been in the office full time. When I worked from home, just the laptop itself was sufficient based on how infrequent "home work" was for me. Fast forward to current day, my employer like many have gone to full time remote work. I had to beef up my home office to accommodate the luxuries I was used to in the office. Being able to use my 34" monitor with both my laptop and desktop was a must have for me. When I saw this Belkin Pro Thunderbolt 4 Dock available I just had to have it! After using it for some time I'm extremely happy with this dock and am not sure I could function without it! The 40gb/sec transfer speed is absolutely smokin fast when transferring files back and forth on my home network! The fact it has 2 HDMI ports is fantastic, never had this before on any previous dock. The power capability on this device is awesome as well. It powers my laptop, phone and Ipad all day long with no problems. For the robust capabilities with this Dock I'm most impressed at how slim and sleek this device is. It looks classy sitting on my desktop where with previous docks I made sure to hide due to their bulky and ugly appearance. Overall I would suggest you try this dock if you are in the market, you will NOT be disapointed!!
Date published: 2022-04-11T00:00:00-04:00
Rated

5

out of

5
by
Chucktate
from
Saves my ports from wearing out.
I often unplug my laptop from my desk. I have a couple USB ports, a HDMI , Power, wired USB mouse and USB printer, that I utilize on my laptop. Each time I want to move my laptop to another area of my home, I have to unplug everything. At some point I fear that the ports will wear out as I do this often. I got this Thunderbird 4 Dock so I could plug each of my devices into it and only have to unplug 2 cables. My power and Lightning cable. My laptop doesn't charge via the USB C port. But that is ok. My laptop is also only wifi. No ethernet built in. I took all the devices that I plug into my laptop and plug them into my dock. I even plug in the ethernet from my wall. Everything works great! All devices were recognized. There is no lag or noticeable issues when I have all the devices running. The dock is very cool looking too. I have used docks where I push my laptop down on it. I never was a fan of those. I enjoy using the USB C connector. So much more simple. My router is across the house. So my internet has been flaky. Now that I use the ethernet in the dock, it is much more stable and much faster. I am a licensed Amateur Radio Operator (ham). I feared that this device would cause interference. I ran some tests with it and there is zero interference from this device. I am very pleased with this dock.
Date published: 2022-04-20T00:00:00-04:00
Rated

5

out of

5
by
Ian516
from
Great extra port option
This is a god send for working from home. You don't realize how few ports a new ultra portable laptops have. Then you realize how many you need. Plus the option of linking two displays that have up to 4k resolution a piece. This is a no brainer if your switching to remote or hybrid work. I have no complaints.
Date published: 2022-04-19T00:00:00-04:00
Rated

5

out of

5
by
honda
from
great modern docking station
This a great docking station with HDMI, ThunderBolt, and plenty of USB ports. great for two or three monitor setups. Compact size will fit on small desks and is small enough to take with you on trips or traveling between remote work sites. Only limitation would be lack of DVI / DisplayPort connections for some older monitors.
Date published: 2022-04-24T00:00:00-04:00
Rated

5

out of

5
by
SMM444
from
Great Functionality!
The Thunder Bolt 4 Docking station has so much to offer. I just recently switched jobs and had to go through the process of reconfiguring my work from home setup due to all new equipment. The Thunderbolt Dock makes life so much easier to be able to move from the office to home seamlessly. With any new technology it takes some time to set up and figure out all the nuances, but I now that everything is up and running I couldn't be happier. I had no issues with dual monitors. I know it is on the pricer side but having owned 3 different docking stations, this one really is a must have.
Date published: 2022-04-14T00:00:00-04:00
Rated

5

out of

5
by
WVGurl81
from
I am loving it
This little dock will help me out in so many ways when I work on my projects here at home. I love that you can hook so many things up to it and that it runs fast and smooth without hesitation. I like the two screens because it helps me do multiple tasks at once. My son also will love it so he can use it to game on and hook the screen up together. I have multiple external hard drives and they work great with it. Still learning how to use other things but I'm sure it will be easy to learn.
Date published: 2022-04-17T00:00:00-04:00
Rated

5

out of

5
by
Zach
from
Recommend, but...
When I am working from home, having the right setup can make your home office look and feel organized especially if you have multiple peripheral devices such as two monitors, webcam, USB headset, speakers, cell phone charging station, and etc… With the ability to plug in all those devices to your laptop through a single cable makes the shift from In the Office to work from home easy as plug and play. I was able to test both Windows and Mac setups. According to Belkin's website. The dock should work for both. But it depends on the hardware and year of PC or Macbook and cables will determine what setup the dock supports. My PC setup is a Lenovo Yoga X1 3rd Gen (2018) model running Windows 11 with Thunderbolt 3. Everything works fine except you get an annoying popup that the device is not certified for PC use. Unfortunately, I couldn't get the Macbook to work with the dock. I had a Intel-i7 2019 Macbook Pro running 10.15.7 MacOS Catalina. I just didn't have the right cables or adapters to connect my monitors to the dock. Overall I would recommend buying this dock you have a PC (2021 or newer) with thunderbolt 4. Unless you want to get an annoying popup every time you plugin your dock. This seemed to be the simplest setup and easiest to accommodate. If you are a Macbook owner this would depend on which model you own. If you have the newer M1 chip there are dual display limitations. My suggestion is to plan your setup. From the number and types of monitors, connectors, cables, KVM, peripherals, all the way down to your hardware model of your laptop and operating system. Not having everything in order will not get you the setup that you want.
Date published: 2022-04-13T00:00:00-04:00
Rated

5

out of

5
by
loli44
from
Good product but...
This is a good piece of equipment, but, it is confusing to use and a bit over priced in my opinion. The functionality is food, in theory, but when the unit is finicky on cables or specific computer models, that makes the point of owning it moot. I feel as though it sounds beefy in boasting three USB-C ports, however, there is really only one usable one. The quality of the unit itself seems to be good. While it has plastic faceplates, it seems sturdy enough. I am not a computer expert, so I think this product goes over my head a bit, since I thought it would be plug-and-play. Not so much... I see how the functionality is promising, but not for the less-than-techy individual. While I could see recommending this to people who are more tech-minded, I couldn't see recommending to a friend, as they are all less-than-tech-minded, like me.
Date published: 2022-04-13T00:00:00-04:00
Rated

5

out of

5
by
Candace I
from
Works great!
This Belkin dock works great! It's exactly what I needed for my workstation and gaming needs. I love that it was so easy to set up. I can plug everything that I need into this dock. I highly recommend this product!
Date published: 2022-04-15T00:00:00-04:00
Rated

5

out of

5
by
number67
from
Great docking station for Mac
Excellent small docking station for my Macbook Pro. Instantly connected my laptop to dual high-def monitors, mouse and mechanical keyboard. Connection was fast and frictionless, and everything worked seamlessly with absolutely no lag. Dock takes up next to no room on my desk. Very happy with the setup. Out of curiousity, I hooked up the same setup using a 2020 Windows laptop using HDMI and ran into some issues with power supply to my keyboard and mouse that did not exist with the a newer Mac connected with Thunderbolt 4 and was not able to troubleshoot why on my own, or easily find an answer online.
Date published: 2022-04-09T00:00:00-04:00
Rated

5

out of

5
by
KD17
from
Lots of connections, but issues
Lots of connections, but issues. All ports work as required however with external mouse and keyboard plugged into it there is a consistent skip or pause when typing or moving the mouse - every minute or so.... No updates to try to fix have been found.
Date published: 2022-05-03T00:00:00-04:00
Rated

5

out of

5
by
Nicolelco
from
Great Dock!
The Belkin Pro Thunderbolt 4 Dock is a great, reliable product. We use it to connect my laptop to my monitor quickly and easily, and to also charge the device. A little pricey for the function, but gets the job done.
Date published: 2022-05-04T00:00:00-04:00
Rated

5

out of

5
by
dbaxter3
from
Must have for the at home worker.
First thing I can say is that I am extremely pleased with this dock! I have been looking at similar items but they didn't have all the options I desired. I have been loving this with Mac and Windows systems, for business and pleasure. Some features worked easily with my MacBook, the external SD card slot has allowed me to put all of my pics on my laptop. I have been using it for work to run 2 4k screens, it can support a triple screen but I don't have much use for that feature. I have found it friendlier to use with my windows computer than my Mac. Of course it can be used as a charging dock for all your devices as well. The quality of the device itself is awesome. Not too heavy in the event you'd need to travel with it. Sleek and modern looking. The power cord is a huge 3-prong brick though, I was very surprised by that and that's really the big negative that I can mention about this device. This thunderbolt dock can be incredibly helpful depending on your needs.
Date published: 2022-05-04T00:00:00-04:00