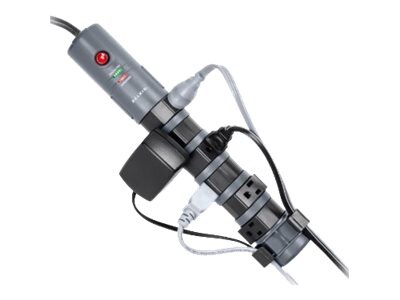 Quick tech specs
8 rotating surge-protected outlets offer flexibility
1800-joule energy rating provides maximum protection from surges and spikes
Advanced power conditioning for optimal performance
6-foot heavy-duty power cord
Rotating outlets provide extra room for large AC adapter plugs
Provides cable and telephone/fax line protection
View All
Know your gear
SURGE PROTECTION FOR UP TO EIGHT DEVICES

- Protect your sensitive electronic devices from surges and spikes with the 8-Outlet Pivot-Plug Surge Protector. This 1800-joule surge suppressor features eight surge-protected outlets that provide powerful protection for your professional workstations, laser printers, broadband modems, home theater systems and everyday household electronics.

- Protects Against Spikes and Fluctuations

- With the 8-Outlet Pivot-Plug Surge Protector, you never have to worry about power spikes, storms, voltage fluctuations or transient electricity damaging your valuable devices. Intelligent built-in voltage sensing circuitry detects and responds to your device's power needs, while safety features, such as thermal fuses that power off your system in the event of a severe occurrence, ensure your devices are protected.

- REDUCES ELECTROMAGNETIC INTERFERENCE

- This surge protector also reduces electromagnetic interference (EMI) and radio frequency interference (RFI) to block unwanted line noise up to 40 dB, ensuring better performance of connected equipment. It also helps prevent equipment lockup.