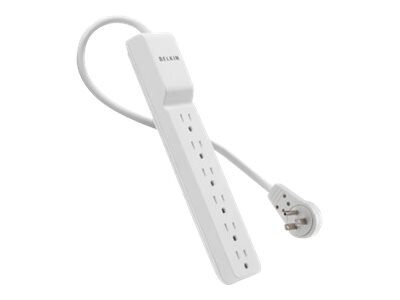 Quick tech specs
Six surge-protected outlets with 720-Joule energy rating
AC Rating: 15A/125V/1875W
8ft heavy-duty power cord – Right angle rotating plug rotates 360 degrees
View All
Know your gear
SURGE PROTECTION FOR UP TO SIX DEVICES


The Belkin 6-Outlet Surge Protector protects your electronic devices from surges and spikes. This 720-Joule surge protector features a rotating plug that swivels 360 degrees and six surge-protected outlets to provide powerful protection for your general household electronics including entry-level computers, printers and ADSL modems. Simply plug the power surge protector into any AC wall outlet and connect your device to keep it safe from surges, lightning strikes and AC contamination.


PROTECTS HOME ELECTRONICS AGAINST SPIKES AND FLUCTUATIONS


With the Belkin 6-Outlet Surge Protector with rotating plug you never have to worry about things like power spikes or storms damaging your valuable devices. Intelligent circuitry with built-in voltage sensing detects and responds to your device's power needs, while safety features ensure that your devices are protected.


SPACE-SAVING DESIGN WITH ROTATING PLUG


Ideal for a home office, entertainment center or any room with multiple electronic devices, the Belkin 6-Outlet Surge Protector with rotating plug has a slender, space-saving design. The low-profile rotating plug swivels 360 degrees to fit easily into tight spaces and behind furniture. The outlets are well-spaced so this Belkin Surge Protector can accommodate larger power adapters -- like oversized printer and charger plugs -- without blocking the other outlets.


POWER FILTRATION AND MOVs FOR SUPERIOR PROTECTION


For additional peace of mind, this 6-outlet surge protector features advanced power filtration and oversized Metal Oxide Varistors (MOVs) to absorb excess electricity. Damage-resistant housing protects circuits from fire, impact and rust while preventing dents and scratches.