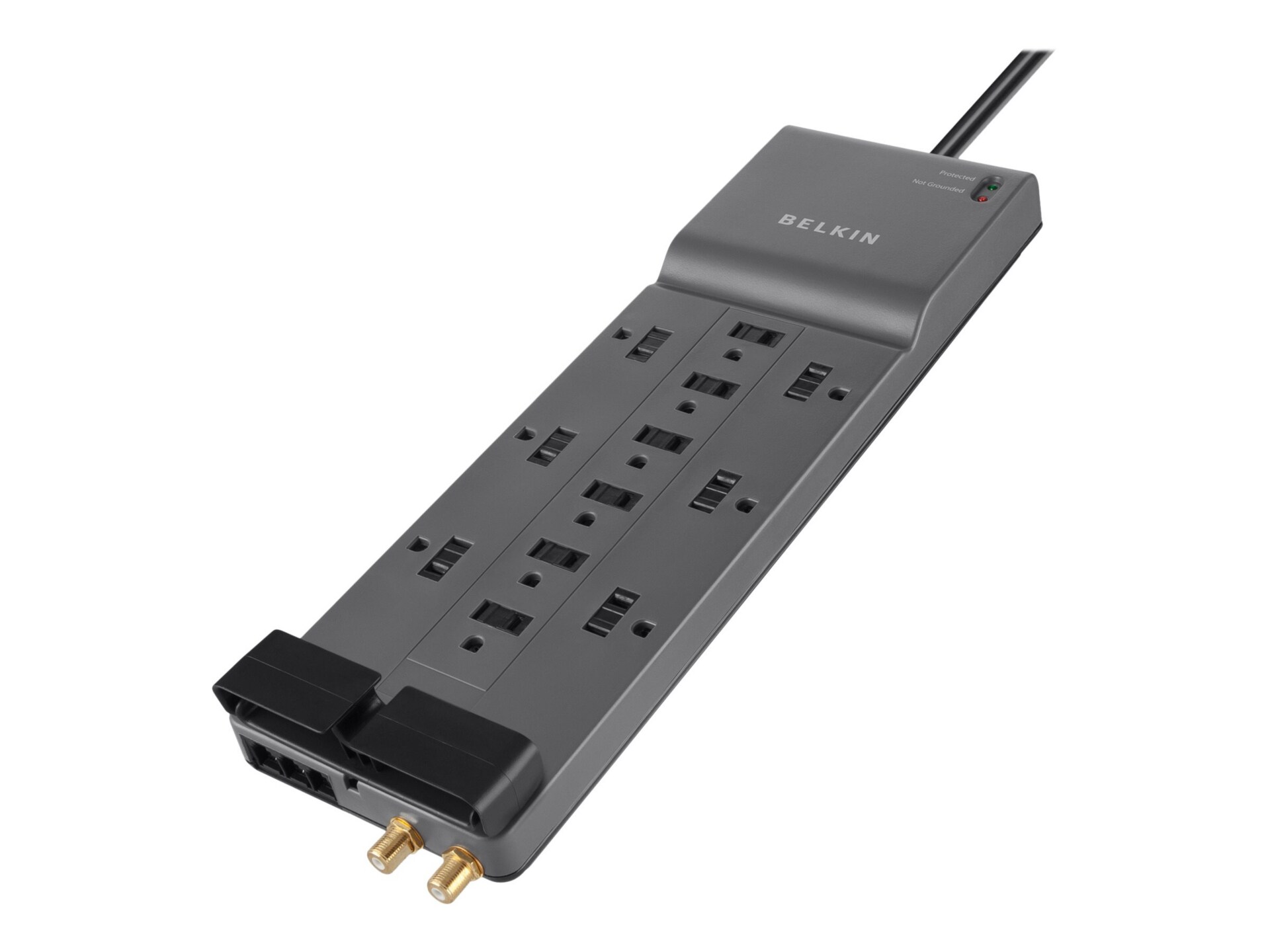 Quick tech specs
12 surge-protected outlets with 3940-Joule energy rating
Six BlockSpace outlets
Eight-foot (8ft) heavy-duty power cord
Phone line protection ensures open and continuous phone line connections
View All
Know your gear
SURGE PROTECTION FOR UP TO 12 DEVICES


The Belkin 12-Outlet Surge Protector safeguards your electronic devices from power surges and spikes. This 3940-Joule surge protector features 12 surge-protected outlets with sliding safety covers that provide reliable protection for your workstations, printers, broadband modems, home theater systems, and everyday household electronics. Simply plug the surge protector into any AC wall outlet and connect your device to keep it safe from surges, lightning strikes, and AC contamination.


PROTECTS AGAINST SPIKES AND FLUCTUATIONS


With the Belkin 12-Outlet Surge Protector, you never have to worry about things like power spikes or storms damaging your valuable devices. Intelligent circuitry with built-in voltage sensing detects and responds to your device's power needs, while safety features ensure that your devices are protected.


REDUCED ELECTROMAGNETIC INTERFERENCE


The essential power filtration on this surge protector reduces electromagnetic interference (EMI) and radio frequency interference (RFI) to block unwanted line noise, ensuring better performance of protected equipment. It also helps prevent equipment lockup.


PROTECTION FOR CABLE BOX/SATELLITE AND TELEPHONE/FAX


The Belkin 12-Outlet Surge Protector power strip features coaxial cable protection to safeguard cable box/satellite connections, and 1-in, 2-out RJ11 telephone/fax protection. Oversized Metal Oxide Varistors (MOVs) absorb excess electricity, and damage-resistant housing protects circuits from fire, impact, and rust while preventing dents and scratches.