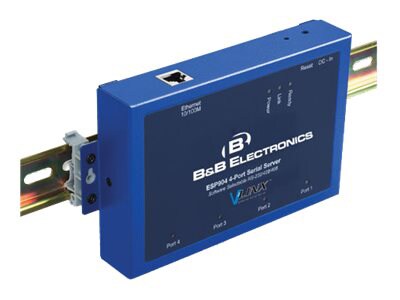 Quick tech specs
Device server
100Mb LAN
RS-422
rail mountable
View All
Know your gear
Now you can Ethernet enable any serial device. Use B&B's Vlinx Serial Server technology to put your serial ports to work for you. Imagine the ability to communicate with every piece of equipment from any networked PC. Eliminate site visits just to find a need to make a minor configuration change. Reduce service calls and increase productivity by knowing what your equipment is doing before you get a trouble-report. Spend more time doing the work you're paid to do instead of chasing down nuisance problems with remotely located equipment.

Do you have equipment with serial ports that you have left unconnected? Much of today's high-tech equipment ships with a serial port for programming, monitoring or diagnostics. 80% of these serial ports are left unconnected, often because a person travels to the port to make the connection or a permanent PC is not desirable. With B&B's Vlinx Serial Servers, you can put all of those ports to work for you.

Simply connect the Vlinx server to the equipment's serial port, and connect the Vlinx Ethernet port to your LAN. Your equipment is now online. It will appear as a local COM port on any networked PC running B&B's Virtual serial port software. No software customization required, just run the appropriate software for your equipment.