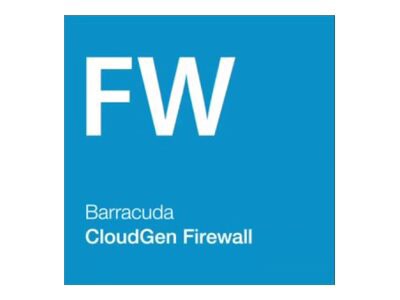 Software Details
View Tech Specs
Know your gear
Today, network firewalls must do more than just secure your network. They must also ensure you have uninterrupted network availability and robust access to cloud-hosted applications. Barracuda CloudGen Firewall is a family of physical, virtual, and cloud-based appliances that protect and enhance your dispersed network infrastructure. Scalable centralized management and an advanced security analytics platform help you reduce administrative overhead while defining and enforcing granular policies across your entire WAN. Barracuda CloudGen Firewall is the ideal security and connectivity solution for multi-site enterprises, managed service providers, and other organizations with complex, dispersed network infrastructures.
Terms and Conditions
These services are considered Third Party Services, and this purchase is subject to CDW's Third Party Cloud Services Terms and Conditions, unless you have a written agreement with CDW covering your purchase of products and services, in which case this purchase is subject to such other written agreement.
The third-party Service Provider will provide these services directly to you pursuant to the Service Provider's standard terms and conditions or such other terms as agreed upon directly between you and the Service Provider. The Service Provider, not CDW, will be responsible to you for delivery and performance of these services. Except as otherwise set forth in the Service Provider's agreement, these services are non-cancellable, and all fees are non-refundable.