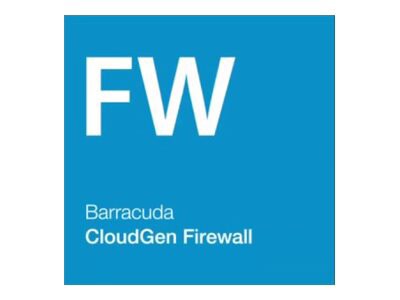 Software Details
View Tech Specs
Know your gear
Protect your digital assets in Amazon Web Services.

Barracuda CloudGen Firewall images for Amazon Web Services combine a complete, next-generation security stack with the connectivity, optimization, and cost savings of a full SD-WAN solution. Get up and running quickly and easily, thanks to deep integration with Amazon's native cloud features and APIs, as well as simple, automated deployment, configuration, and management. Barracuda CloudGen Firewall is purpose-built for the public cloud and hybrid environments and comes with cloud-ready consumption models.
Terms and Conditions
These services are considered Third Party Services, and this purchase is subject to CDW's Third Party Cloud Services Terms and Conditions, unless you have a written agreement with CDW covering your purchase of products and services, in which case this purchase is subject to such other written agreement.
The third-party Service Provider will provide these services directly to you pursuant to the Service Provider's standard terms and conditions or such other terms as agreed upon directly between you and the Service Provider. The Service Provider, not CDW, will be responsible to you for delivery and performance of these services. Except as otherwise set forth in the Service Provider's agreement, these services are non-cancellable, and all fees are non-refundable.