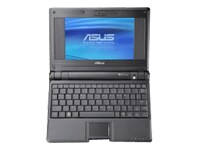 Quick tech specs
ASUS EEE PC 4G Surf Galaxy Black 7" Wide VGA 800x480
512MB DDR2
2lbs
2.8 Hours Battery life
Recovery CD
Drivers Included)
Intel Mobile CPU – GMA900
4GB SSD
802.11 b/g
1 Year Warranty
Linux OS (XP Compatible
View All
Know your gear
Weighs only 2lbs Equipped with Solid State Drive for durability, shock proof performance, and fast start up time Wireless connectivity 1 Year Warranty(6 months for battery, Zero Bright Dot Guaranteed)
Share photos of your travels without waiting till you get home. Shop the world wide web without attaching any lines or wires. Learn through the latest technology without a technical manual. Play, relax, and entertain on the go with shock-proof design. Connect with friends and family with just a few clicks.

Mobility & Reliability
At 7" and weighing only 2lbs, you can take the Eee PC anywhere.

Bumps and shocks are no longer issues. With a dependable solid-state disk, you get unparalleled shock-protection and reliability.

Power-efficient design provides longer operating time when on the go.

Ease & Technology
With a rapid start-up time, the Eee PC is always ready to get into action.

No technical manual required with the specially designed, user-friendly and intuitive graphic interface.

Work & Connectivity
You're always connected with built-in WiFi 802.11 b/g that automatically detects and connects to the Internet at any hotspot.

The Eee PC includes the documents and the e-mails software, and a suite of other productivity software to help keep you on track.

Upload photos and videos and share them instantly on Flickr or YouTube without waiting till you get home.

Media & Entertainment
Enjoy music and videos with extensive support for a wide range of digital multimedia.

Log on to Skype or other network, and you can connect with friends anywhere, anytime.

Clear up wire clutter with the built-in card reader, speakers and microphone.