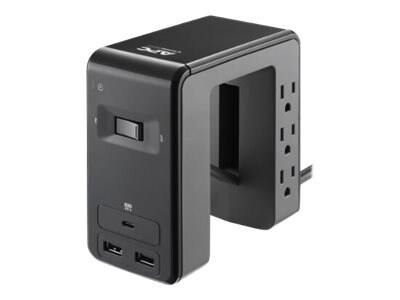 Quick tech specs
Surge protector
output connectors: 6
black
View All
Know your gear
Basic Protection Against Power Surges for Computers and Electronics.
APC SurgeArrest Essential PE6U21 - surge protector
is rated
4.47
out of
5
by
19
.
Rated

5

out of

5
by
Chris S.
from
Perfect for any office
I switched to an open, standing desk in my home office and this surge protector is perfect for the application. It sits on the edge of the desk and stays put. You have access to 1 USB-C and 2 USB-A ports for charging and the power switch at desk level.
Date published: 2019-11-22T00:00:00-05:00
Rated

5

out of

5
by
osudk3329094d
from
quality and design
This is just a surge protector, I guess, but it's worth a review because of its elegant design. Two USB chargers and 11 outlets in such a small space! Also, the flat-against-the-wall outlet and 8-foot (2.43-meter) cord make this extremely useful.
Date published: 2019-09-28T00:00:00-04:00
Rated

5

out of

5
by
CRAFTY
from
THIS HAS TO BE AN INGENIOUS DESIGN
FIRST, THE DESIGN IS IMPECCABLE AS THIS IS FOR COLLEGE KIDS EASY, BUT HOME AND OFFICE DESK USE AS WELL. 6 OUTLETS COULD USE A LITTLE MORE SPACING DUE TO POWER BRICK BUT STILL NOT AN ISSUE. THE CLASP THAT ALLOWS IT TO LATCH ONTO THE SIDE OF A DESK OR TABLE IS JUST PERFECTION!!!! AND IT HAS AN ON OFF SWITCH!!!! THIS THING IS A BEAST IN A TINY PACKAGE. HIGHLY HIGHLY RECOMMEND THIS FOR REALLY ANYONE
Date published: 2019-11-25T00:00:00-05:00
Rated

5

out of

5
by
DEFinley
from
Interesting look, and very useful.
Very useful device, I have this attached to a table in my TV Room, making charging of phones and tablets much easier, with all the USB ports. Also holds power cords underneath the table, making plugging and unplugging easier. I can also see this being very useful in office environments, for cubicles.
Date published: 2019-12-01T00:00:00-05:00
Rated

5

out of

5
by
Rich D
from
Pretty slick and almost perfect! 4.5 stars
I love the flexibility with this SurgeArrest. The clamp that clips it to a desk or cubicle is helpful and prevents slipping (it's automatically sprung out, it just grips whatever you affix it to. It's somewhat bulky so I don't see it being too portable but the mounting options are slick (cubicle wall, desk, under monitor, etc). The outlet options are spaced well and provide ample power for most devices. The only thing I wish was that there was more power in the USB-C port to power a MacBook faster. It still charges but a slower speed than a MacBook power brick. Other than that, this is a very slick device!
Date published: 2019-11-19T00:00:00-05:00
Rated

5

out of

5
by
JethroT
from
Daring design
This thng is about the shape. The surge protection includes 6 sockets with an on/off switch. The addition of USB for charging is especially nice. This will fit where straight line products will not. I installed it on the stalk of one of my dual monitors; it handles the 3 power plugs and provides charging, all neatly behind the monitor. You can get creative with where this is installed.
Date published: 2019-11-30T00:00:00-05:00
Rated

5

out of

5
by
Maximus
from
very unique design
This unit has a very different design than similar products. It can be used in many different ways; but what I liked was the fact that I use it off the floor. I clipped my unit to the back of my TV stand. This works out nice for me as I have to ocassionally unplug my cable box to reset it. Now I do not have to get down and reach behind the TV to unplug it. This is much easier. Any application where an elevated plug would be more convienient; this unit may work as the design allows numerous configerations. I can easily see using this on an end table or any application where you need easy access to a plug.
Date published: 2019-11-27T00:00:00-05:00
Rated

5

out of

5
by
Allen
from
Not your Father's power strip!
While many would say this product is merely a surge protector or a power strip, I would beg to differ. True, you won't find popular features like battery backup or high end joule protection, but this is far from your simple power strip. Uniquely shaped like the letter 'C', this product can be used off the floor. I attached mine to the side of the desk in my home office. What a delightful surprise! No more reaching for the floor to plug and unplug my power cords and chargers. There is a self-adjusting clamp that keeps the item quite steady on the desk. I suspect the APC PE6U21 is designed to be used with a desk or cubicle, but of course you can certainly use it the old-fashioned way (e.g., off the floor. Another great APC product!
Date published: 2019-12-01T00:00:00-05:00
Rated

5

out of

5
by
dukeswampy
from
Excellent Product
I got this approximately a month ago, and during a lightning storm I installed it on one of my computers to a UPS backup, because the computer kept shutting off when the power intermittently kept having breaks. It solved that problem and I am really glad that I had it to use in this time of need.
Date published: 2019-11-25T00:00:00-05:00
Rated

5

out of

5
by
Deep
from
A must have for any desk.
Great way to cleanup the wire on the floor and have quick access to the charging ports..
Date published: 2022-01-25T00:00:00-05:00
Rated

5

out of

5
by
Jon T
from
Power on your desk - top!
Great way to have power supply and surge protection and keep it off the floor! No need to get under the desk anymore to swap plugs! Having USB A and USB C ports for charging is great additio.
Date published: 2020-12-31T00:00:00-05:00
Rated

5

out of

5
by
Dan
from
Arrived Broken
Product would be great but arrived with the USB C plug damaged and non functional. Dell Customer support transferred me around when trying to get it replaced and never did send a replacement.
Date published: 2021-02-13T00:00:00-05:00
Rated

5

out of

5
by
Izzy
from
Clean & Functional Design
I purchased this particular unit for it function, clean design, and the APC dedication to producing excellent products. This unit has clean lines, high functionality and truly compliments my Ändern pneumatic standing desk. I will be ordering another unit which confirms my satisfaction and my recommendation for anyone looking for an high end solution to their surge protection and power distribution needs.
Date published: 2022-02-21T00:00:00-05:00
Rated

5

out of

5
by
Jermaine
from
Great Power block
Very handy outlet piece that save a lot of space.
Date published: 2021-04-08T00:00:00-04:00
Rated

5

out of

5
by
KCubs
from
Unique design
Has a very unique design. The clamping function is just a small, spring loaded lever. Works best with a desk with at least 1" thickness. Great way to clean up power cables and keep them off the floor. The 2 USB ports (2-A, 1-C on top are also a nice touch, although they are a little underpowered.
Date published: 2022-02-21T00:00:00-05:00
Rated

5

out of

5
by
kevin10504
from
Pleasant surprise
I didn't know this existed, but very helpful for my glass desk
Date published: 2021-04-14T00:00:00-04:00
Rated

5

out of

5
by
Newport Beach
from
EXTREME DISAPPOINTMENT SERVICE
WORST CUSTOMER SUPPORT-UNRESOLVED QUESTIONS- SUPERVISORS FAILURE TO ATTEMPT TO FOLLOW THROUGH
Date published: 2020-09-02T00:00:00-04:00
Rated

5

out of

5
by
No thanks
from
Good size.
Nifty corner desk. Sits on desk. Like the prong for charging
Date published: 2021-02-26T00:00:00-05:00
Rated

5

out of

5
by
Yogi
from
Good
Works perfect as indicated
Date published: 2020-09-11T00:00:00-04:00