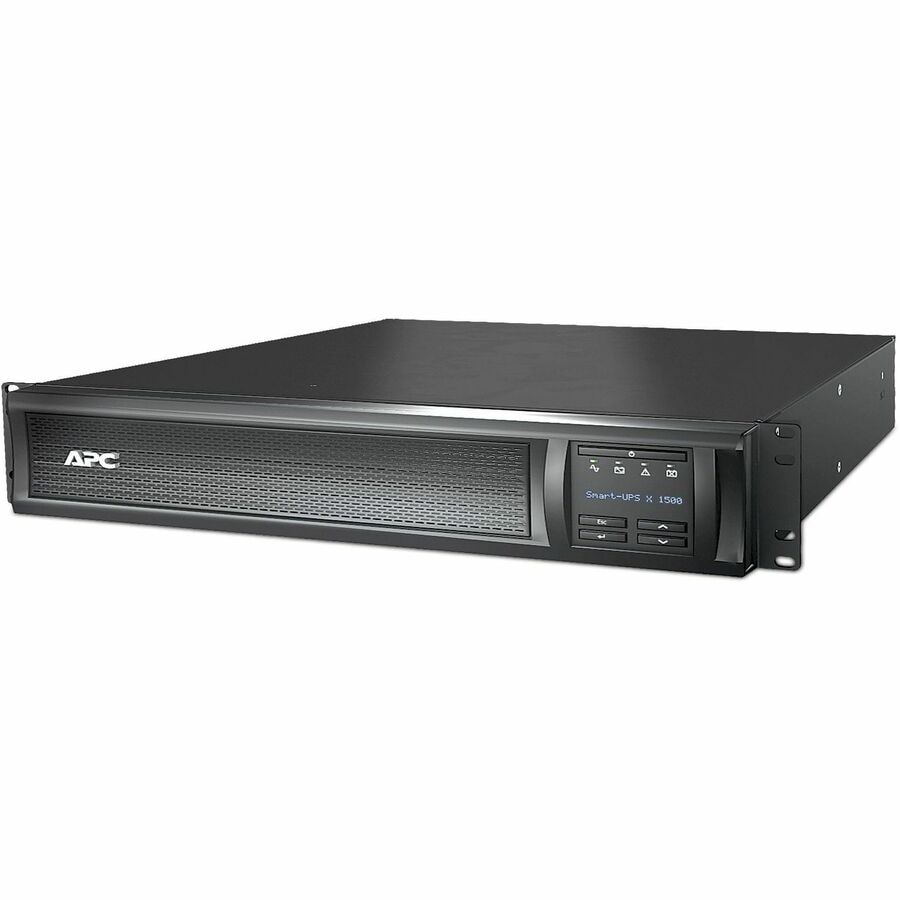 Quick tech specs
Premium and reliable sine wave battery backup with extended runtime option
1500VA / 1350W capacity
LCD and AVR
Cloud monitoring via secure web portal or EcoStruxure IT
Convertible to tower (accessory sold separately)
$150,000 lifetime equipment protection policy
120V UPS for server,router or switch
8 outlets,3 switched outlet groups
EcoStruxure Ready Smart-UPS Portal and Network Management Card (model AP9641) included
2U rackmount
3-year UPS,2-year battery APC warranty
View All
Know your gear
Trusted Protection. Simplified Management. Perfect for distributed IT.
Protect servers, switches, networking devices, and point-of-sale equipment with the APC Smart-UPS X 1500VA. APC Smart-UPS provide backup battery power during power outages and continuously safeguard devices from fluctuating power conditions and surges. With premium protection and simplified management, the 1500VA UPS ensures consistent and reliable connectivity at the most critical moments.
Scalable Battery Runtime for Power Outages
With 8 outlets and a compatibility with external battery packs, this server UPS provides uninterrupted and scalable battery power to connected electronics. Connect up to 5 of the SMX48RMBP2U external battery packs to increase the amount of time the UPS can provide battery power to devices (battery packs sold separately).
Monitoring Flexibility; EcoStruxure™ Ready
Monitor your Smart-UPS from anywhere at any time via two options; cloud-based secure web portal with automated, customizable alerts regarding the health of your UPS or EcoStruxure IT software and services for larger scale or highly distributed IT infrastructures. Connect to either monitoring software using the Port on the back of the device.
Network Management Cart Included
This UPS includes a pre-installed Network Management Card (model AP9641) via the SmartSlot, to remotely monitor and control the UPS by connecting it directly to the network. A temperature sensor is included to monitor changes in temperature of your devices.
PowerChute Network Shutdown Software Included
Remotely manage your IT infrastructure during prolonged power disturbances with PowerChute software included with purchase of model. Unattended, graceful shutdown of your physical servers and virtual machines reduces business risk and protects real-time data. Integration support with Hyperconverged infrastructure leaders; Cisco HyperFlex, HPE SimpliVity, Nutanix, and VMware.
Alternate Monitoring and Management Options
Use the intuitive LCD interface and PowerChute Business software to configure settings and monitor usage. Audible alarms also provide notification of changing utility power and UPS conditions.
Convenient Installation
The SMX1500RM2UCNC converts from a tower or stand-alone UPS to a rack mount UPS, offering flexibility in various installations.
High Efficiency
This 1350 watt UPS offers an green mode to ensure you are operating at the highest level of efficiency while it's smart battery management maximizes performance. Automatic Voltage Regulation (AVR) adjusts voltages ensuring reliable power while preserving battery life.
Additional Specifications
Predictive battery management provides an estimated date of when battery replacement is recommended.
Package Includes
Cat 5 Ethernet cable, Installation guide, Rack mounting hardware, Rack mounting support rails, Removable support feet, Smart UPS signalling RS-232 cable, USB cable
APC Smart-UPS X 1500VA SmartConnect Port Rackmount Network Card, LCD, 120V
is rated
5.00
out of
5
by
10
.
Rated

5

out of

5
by
Shrukh
from
Love it
APC Smart-UPS X, Line Interactive, 1500VA, Rack/tower convertible 2U, 120V, 8x 5-15R NEMA, SmartConnect port+NMC, Extended runtime is very efficient. It is very easy to install and does it job fairly well
Date published: 2023-06-05T00:00:00-04:00
Rated

5

out of

5
by
ajthebosnian
from
great product overall
got this, plugged it in, let it charge up, then plugged in our electronics and it just works. It has worked flawlessly for a year now. Hooked up lots of my electronics to it and it's amazing. It's also sleek in design and easy to setup. totally recommend
Date published: 2023-06-05T00:00:00-04:00
Rated

5

out of

5
by
James628
from
Helpful
I had the opportunity to try out the APC Smart-UPS X, and I must say, it exceeded my expectations. This uninterruptible power supply (UPS) system is a game-changer when it comes to protecting your valuable electronic devices. One of the standout features of the Smart-UPS X is its online double-conversion topology. Living in an area with unreliable power, I often experienced sudden power outages and voltage fluctuations that could potentially damage my equipment. However, with the Smart-UPS X, I no longer have to worry about such issues. Its online double-conversion technology ensures a constant and clean power supply, shielding my devices from power surges, spikes, and frequency variations.
Date published: 2023-06-12T00:00:00-04:00
Rated

5

out of

5
by
tb2345
from
Excellent quality
I have a home server rack and this UPS is a great fit for all my power backup needs. My area experiences power outages regularly so having a UPS is critical to ensure uptime of all my critical devices. This allows me and my spouse to continue working uninterrupted during a workday and ensure everything continues running smoothly. This was straightforward to set up and get it running.
Date published: 2023-05-30T00:00:00-04:00
Rated

5

out of

5
by
Robbel
from
Great UPS option
This is a very nice UPS that can be either rack mountable or just be an external standalone unit depending on your needs or space. It has an input voltage of 120 volts AC and a power capacity of 1350 watts and 1500 volt amps. It has Ethernet and USB interfaces so you can have network and computer connectivity. You are able to do remote management, monitoring, and configurations of it. It also serves as a battery backup incase there are any power outages or fluctuations. Not only does it give you battery when there is no power but also helps protect equipment from damage and data loss. It has automatic voltage regulation to stabilize the output voltage and protects connected devices from voltage sags and surges. The LCD display provides real time information about the status including input/output voltage, load levels, battery status, etc... With the software you can configure settings, receive notifications, and perform remote shutdowns. If you need to reliable power protection for critical equipment with features such as network connectivity, battery backup, and automatic voltage regulation then look no further.
Date published: 2023-06-05T00:00:00-04:00
Rated

5

out of

5
by
Jt523
from
Good Reliable Tower
This NEMA tower offers the reliability I was looking for at a reasonable price. It is pretty straightforward to install permitting you have the necessary set up/ tools. Using it as a back up for lighting.
Date published: 2023-06-16T00:00:00-04:00
Rated

5

out of

5
by
Felix
from
Reliability in a box
The APC Smart-UPS X is the perfect solution to safe guard your network. It's reliable and ease of use will ensure that your network will remain up and running when you need it most. This APC unit is certainly a robust option for small business and is designed to be rack mounted, but offers the option to be setup as a tower vertically (bracket stands are included). APC makes setup as simple as plug and play, however it's a rather heavy piece of hardware so you may want a second pair of helping hands if rack mounting the unit. It's hefty so its not something you want to drop! Once the unit is plugged in, it will prompt you with an easy walkthrough for setup and it will self-test to ensure the battery is operating as expected. Once its complete, the unit is up and running and all set to work on demand! One thing to keep in mind, battery may not be at full charge out of the box, mine was pretty close at 98%. This particular UPS unit comes preinstalled with a Network Management Card which allows for network-based monitoring and management. It also has plenty of NEMA outlets (8 total) to protect your network hardware, so no need for additional surge protectors. This system is also scalable, so should you need more power you can certainly add an additional APC Smart-UPS X-Series External Battery Pack. I also like how simple it is to replace the battery when needed as it's easily accessible. I've had my unit installed for the past couple of weeks and it's already saved me a few times. I live in an area where we have frequent power outages, so having APC Smart-UPS X is the perfect solution! If you want to provide high quality protection, reliability, and stability against power fluctuation and/or loss, then I would highly recommend adding the APC Smart-UPS X system in your network. It's simply an excellent piece of hardware backed by unparallel custom support!
Date published: 2023-08-11T00:00:00-04:00
Rated

5

out of

5
by
lonestar042
from
Sturdy and powerful
The APC Smart-UPS X 1500VA Rack/Tower UPS is a game-changer in power protection. With its impressive 1500VA power capacity, it offers reliable and clean power to safeguard critical equipment from surges, sags, and outages. The rack/tower convertible design provides flexibility in deployment, while the 2U form factor optimizes space utilization. With eight outlets, it offers ample connectivity options without the need for additional power strips. The SmartConnect port and NMC enable remote monitoring and management, ensuring proactive control and convenient access to UPS status and alerts. The extended runtime feature, with optional external battery packs, provides additional power during outages. Built with advanced Line Interactive technology, it efficiently conditions power and regulates voltage. APC's excellent customer support adds value to an already exceptional UPS. In conclusion, the APC Smart-UPS X 1500VA Rack/Tower UPS is a standout power protection solution. Its powerful capacity, flexible design, advanced features, and reliable performance make it a top-tier choice. With its ability to provide clean and consistent power, along with remote monitoring and extended runtime capabilities, this UPS offers peace of mind for critical equipment. Built with robust construction and backed by APC's excellent customer support, it is a solid investment for those seeking unrivaled power protection.
Date published: 2023-07-05T00:00:00-04:00
Rated

5

out of

5
by
SanjuR
from
Excellent product
I have brought this product a month ago and as soon we instructed charged for 24 hrs and used to it. It is a perfect backup ups for any device that has been connected. We had wind storm last week due to which there was power list couple of times a day and with the help of smart ups I'm able to be connected all time do my job as usual. It helps to provide backup for multiple devices at once. I'm very very happy with the product and its benefits. It was so easy to connect and can use either horizon or vertical. I liked the product and would recommend friends as well.
Date published: 2023-07-03T00:00:00-04:00
Rated

5

out of

5
by
MRL123
from
Works great!
X1500 ups is a bit overkill for my setup but has been tested by flipping power breakers and was able to maintain power without an issue. The interface is easy to read to get quick updates on the device and the network connectivity to manage power is a bonus. The initial setup basically consisted of plugging it in and confirming a few basic settings. Came with plenty of adapters to allow you to mount the UPS in a server rack or with the provided stands.
Date published: 2023-06-22T00:00:00-04:00