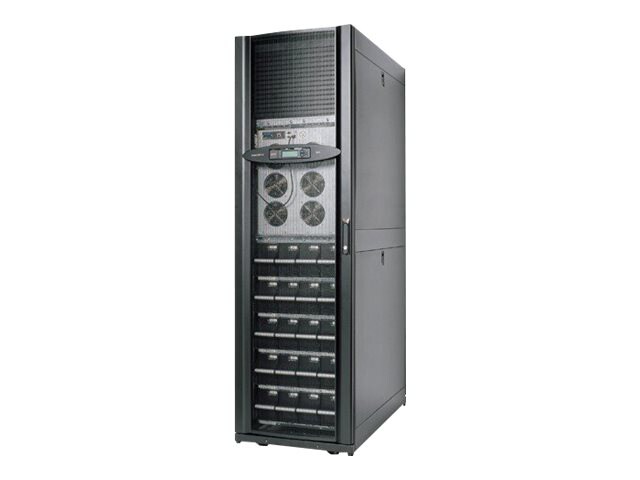 Know your gear
APC Smart-UPS VT rack mounted 30 kVA 208V w/4 battery modules exp. to 5, w/PDU and startup.


APC Smart-UPS VT 30kVA with 4 Battery Modules Expandable to 5
is rated
4.00
out of
5
by
2
.
Rated

5

out of

5
by
Michel Salamon
from
Easy to manage, reliable, and worth the price
What is our primary use case? This solution protects a security system and managing camera, which the ethernet provides. The purpose of that UPS is to protect that particular part of the network. What is most valuable? As long as we have electricity, we don't use it as it's transparent. However, I have other APC Smart systems and find that all of them are working perfectly. We like that we can manage it via the network. The product is very easy. The product has been very reliable. You can scale it by adding batteries. What needs improvement? The duration of the batteries could be much better. After two or three years, we always have to change the batteries. If there is any solution in the future that could have longer-life batteries, it would be ideal. For how long have I used the solution? I've been using the solution for one month. What do I think about the stability of the solution? The solution is stable. It's reliable. The performance has been good. What do I think about the scalability of the solution? The solution can scale well. You can just add more batteries. We do not have plans to increase usage at this time. How was the initial setup? The solution is very simple and straightforward to implement. It's easy to set up. We do need two people to maintain the product. It is very heavy. What's my experience with pricing, setup cost, and licensing? APC is not the cheapest option. For example, Eaton was half of the price. That said, we preferred a more solid solution and were willing to pay to ensure that. While I knew it was a huge difference in price tags, I cannot remember the exact costs. Which other solutions did I evaluate? We did look into other options, however, in the end, we chose APC. The main competitor we looked at was Eaton. This product ultimately was more stable. What other advice do I have? We are end-users and customers. We do not have a partnership with Schneider Electric. We have different systems. I'd advise potential users to consider the long-term visibility and not just the price. You should be ready to pay more to get a better solution. I'd rate the solution an eight out of ten. Which deployment model are you using for this solution? Private Cloud Disclaimer: I am a real user, and this review is based on my own experience and opinions.
Date published: 2022-08-16T00:00:00-04:00
Rated

5

out of

5
by
ALEJANDRO MONTES DE OCA TORRES
from
Reasonably priced, simple to install, and responsive technical support
What is our primary use case? We use Schneider Electric-APC Smart-UPS VT to backup the energy in my data center. We use a Dell, an HP, and a Lenovo. My data center has four servers and one server. We have switches and NAS, and we need them to be operational at all times. What is most valuable? I like it because we don't have any problems. And we expect to increase our usage, in the coming year as we purchase more equipment. Because we're going to hire 150 new employees and need to expand our server capacity. As a result, we need to expand my backup energy solution. What needs improvement? Mexico's situation is too difficult. While there may be many complaints, many projects may be canceled because funds are not currently available. I want to improve a lot of things, but the main point is money. The vendor could be better, but the point is that we don't have the right vendor in Guadalajara. Guadalajara is a small town in Mexico, and there are no expert engineers in that field here. We need to hire people from Monterey, and from Mexico, which is why the solution may be expensive. We don't want to buy a cheaper solution because cheaper isn't always better. We have no desire to save money, we would like a solution. Schneider's vendor, I believe, needs to be more involved with the customer. We have to constantly look for them because they don't come to me. I have to go there, and I don't want to. I don't want to waste time looking for a vendor. We require immediate attention. It should be easier to contact technical support. For how long have I used the solution? I have been working with Schneider Electric-APC Smart-UPS VT for five years. I was already working, but we want to change because the volume of equipment in my data center has increased. We use a large UPS with a capacity of 10kVA. We have four servers, three network attached storage (NAS), and five switches. Because the energy in Guadalajara is unstable, we require a comprehensive solution. The energy in Guadalajara is unstable. We acquired or purchased a large energy solution because we need my entire data center established, we need communication all the time, and we need information all the time because my work is cloud-based. That is the point because we are concerned. Guadalajara's government is currently not investing in energy. We do not have high energy quality. Many companies are investing money in large backup energy solutions in Mexico right now. What do I think about the stability of the solution? Schneider Electric-APC Smart-UPS VT is very stable. What do I think about the scalability of the solution? Schneider Electric-APC Smart-UPS VT is a scalable product. We have approximately 40 people in our company who are using this solution. How are customer service and support? We like Schneider Electric-APC Smart-UPS VT because the service is good. If we have a problem, they respond very quickly. In Mexico, there are a lot of engineers. They are, in my opinion, good. When compared with Tripplite, they are good. Tripplite is cheaper, but the service is not as good. Technical support is helpful. They respond quickly, and they replace the equipment within 24 hours. How was the initial setup? It is very easy to set up. What's my experience with pricing, setup cost, and licensing? It's cheaper. It is not expensive. Which other solutions did I evaluate? Schneider is a good solution, but we have started to communicate with Toshiba and Aton. We will analyze the solution and what they provide. If they have a good solution and a reasonable price, we might change. What other advice do I have? We evaluated other options. I would recommend this solution to others who are interested in using it. I would rate Schneider Electric-APC Smart-UPS VT an eight out of ten. Disclaimer: I am a real user, and this review is based on my own experience and opinions.Customer
Date published: 2022-08-17T00:00:00-04:00