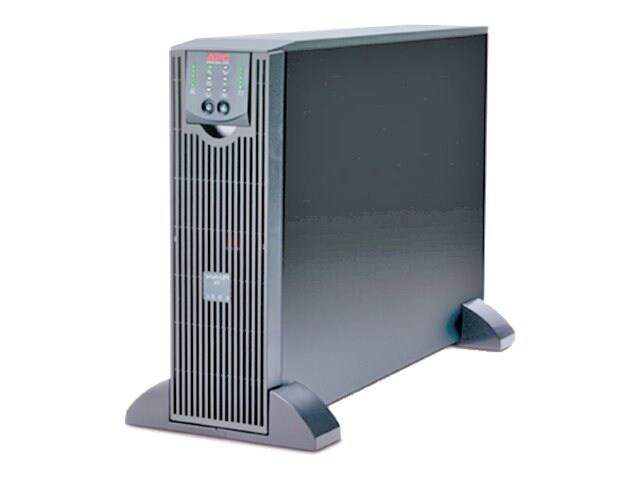 Quick tech specs
15R and (2) NEMA 5-20R outlets with NEMA L5-30P input plug
View All
Know your gear
APC Smart-UPS RT is a high-density, performance UPS for voice and data networks, medical labs, and light industrial applications. Featuring double conversion on-line topology, the Smart-UPS RT protects your data by supplying reliable, network-grade power. An unlimited number of matching battery packs can be added to comply with aggressive runtime demands of "always on" business-critical systems. Rack-optimized model is an ideal choice for space constrained environments. With capacity up to 10kVA in a convenient rack-mountable 6U form, users can support power hungry blade servers or heavily loaded equipment racks. Customers looking for extremely tight voltage and frequency regulation, internal bypass, and input power factor correction will find them in the Smart-UPS RT.



Features:

Audible alarms

Automatic internal bypass

Automatic restart of loads after UPS shutdown

Automatic self-test

Cold-start capable

Disconnected battery notification

Flash-upgradeable firmware

Frequency and voltage regulation

Generator compatible

Hot-swappable batteries

InfraStruXure Manager compatible

Input power factor correction

Intelligent battery management

LED status indicators

Network manageable

Plug-and-Play external batteries

Power conditioning

Predictive failure notification

Rack/Tower convertible

Resettable circuit breakers

Safety-agency approved

Scalable runtime

Serial Connectivity

SmartSlot

User-replaceable batteries



Includes:

CD with software

Smart UPS signalling RS-232 cable

User Manual

Needs special outlet. Please check with electrician.