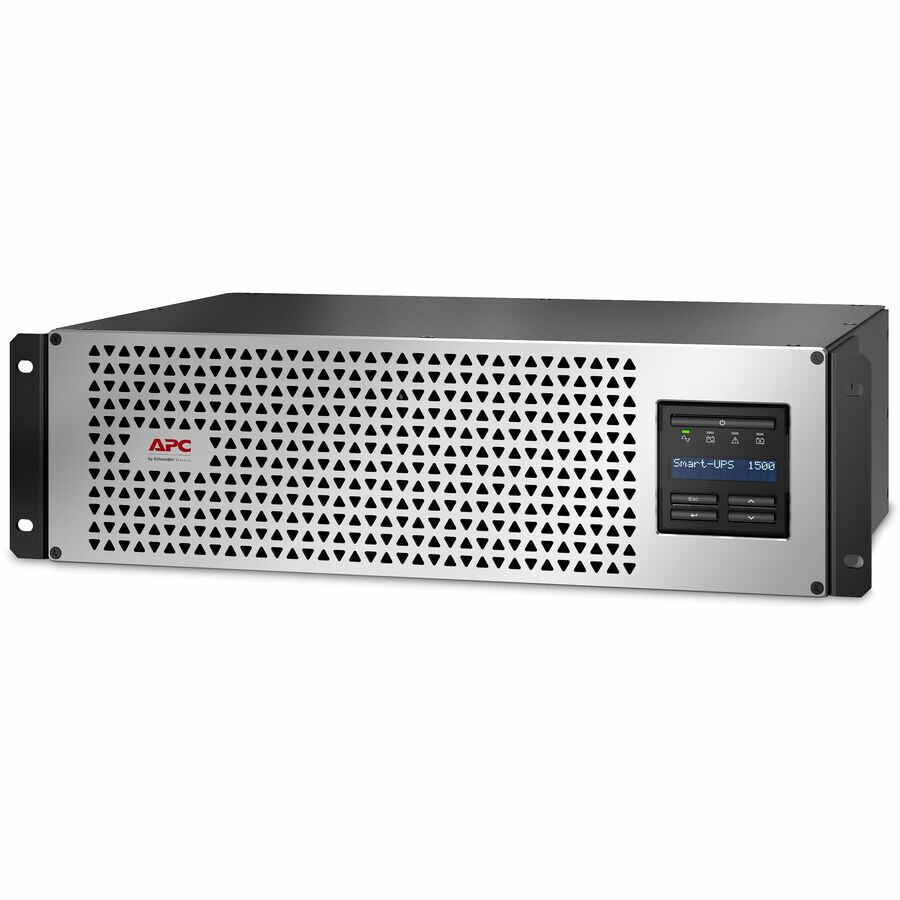 Quick tech specs
Premium and reliable sinewave Lithium-ion battery backup
2x the battery life and lighter compared to VRLA UPS
6 outlets
EcoStruxure™ Ready Smart-UPS Portal included (formerly SmartConnect)
3U rackmount
$150,000 lifetime equipment protection policy
120V Lithium-ion UPS for server,router or switch
1500VA/ 1350W capacity
Network card pre-installed (model AP9641)
Monitoring flexibility; Cloud monitoring via secure web portal or EcoStruxure IT
5-year APC warranty
View All
Know your gear
Trusted Protection. Simplified Management. Perfect for distributed IT.
Protect servers, switches, networking devices, and point-of-sale equipment with the APC Smart-UPS Lithium-ion 1500VA. APC Smart-UPS provide backup battery power during power outages and continuously safeguard devices from fluctuating power conditions and surges. With premium protection and simplified management, the 1500VA Lithium-ion UPS ensures consistent and reliable connectivity at the most critical moments.
Double the Battery Life with Lithium-ion
This efficient UPS offers 2x the UPS battery life compared to Lead Acid VRLA batteries. The Lithium-ion battery lifecycle is 8 to 10 years, compared to traditional batteries with 3 to 5 years.
Faster Installation and Perfect for Tight Spaces
Lithium-ion batteries are up to 61% lighter than VRLA, making installation simple. At just 12" deep, this short-depth UPS fits conveniently into wall-mount racks and small closets.
High Quality Performance
APC Lithium-ion UPS offer better battery performance at ambient temperatures, up to 104°F/40°C. The intelligent battery management system monitors batteries at an individual cell level to manage voltage and temperatures of the set of cells.
Consistent and Reliable Connectivity
With 6 outlets and 1 switched outlet group, this server and network Lithium-ion rack UPS provides uninterrupted battery power to connected electronics.
Monitoring Flexibility; EcoStruxureTM Ready
Monitor your Smart-UPS from anywhere at any time via two options; cloud-based secure web portal with automated, customizable alerts regarding the health of your UPS or EcoStruxure IT software and services for larger scale or highly distributed IT infrastructures. Connect to either monitoring software using the Port on the back of the device.
Network Management Cart Included
This UPS includes a pre-installed Network Management Card (model AP9641) via the SmartSlot, to remotely monitor and control the UPS by connecting it directly to the network. A temperature sensor is included to monitor changes in temperature of your devices.
PowerChute Network Shutdown Software Included
Remotely manage your IT infrastructure during prolonged power disturbances with PowerChute software included with purchase of model. Unattended, graceful shutdown of your physical servers and virtual machines reduces business risk and protects real-time data.
Alternate Monitoring and Management Options
Use the intuitive LCD interface and PowerChute software to configure settings and monitor usage. Audible alarms provide notification of changing utility power and UPS conditions.
High Efficiency
This 1350 watt UPS offers a green mode to ensure you are operating at the highest level of efficiency while it's smart battery management maximizes performance. Automatic Voltage Regulation (AVR) adjusts voltages ensuring reliable power while preserving battery life. The built-in energy meter measures energy use and displays UPS efficiency in various modes of operation for easy energy tracking.
Additional Specifications
One switchable outlet group is included for individual load management. Predictive battery management provides an estimated date of when battery replacement is recommended.