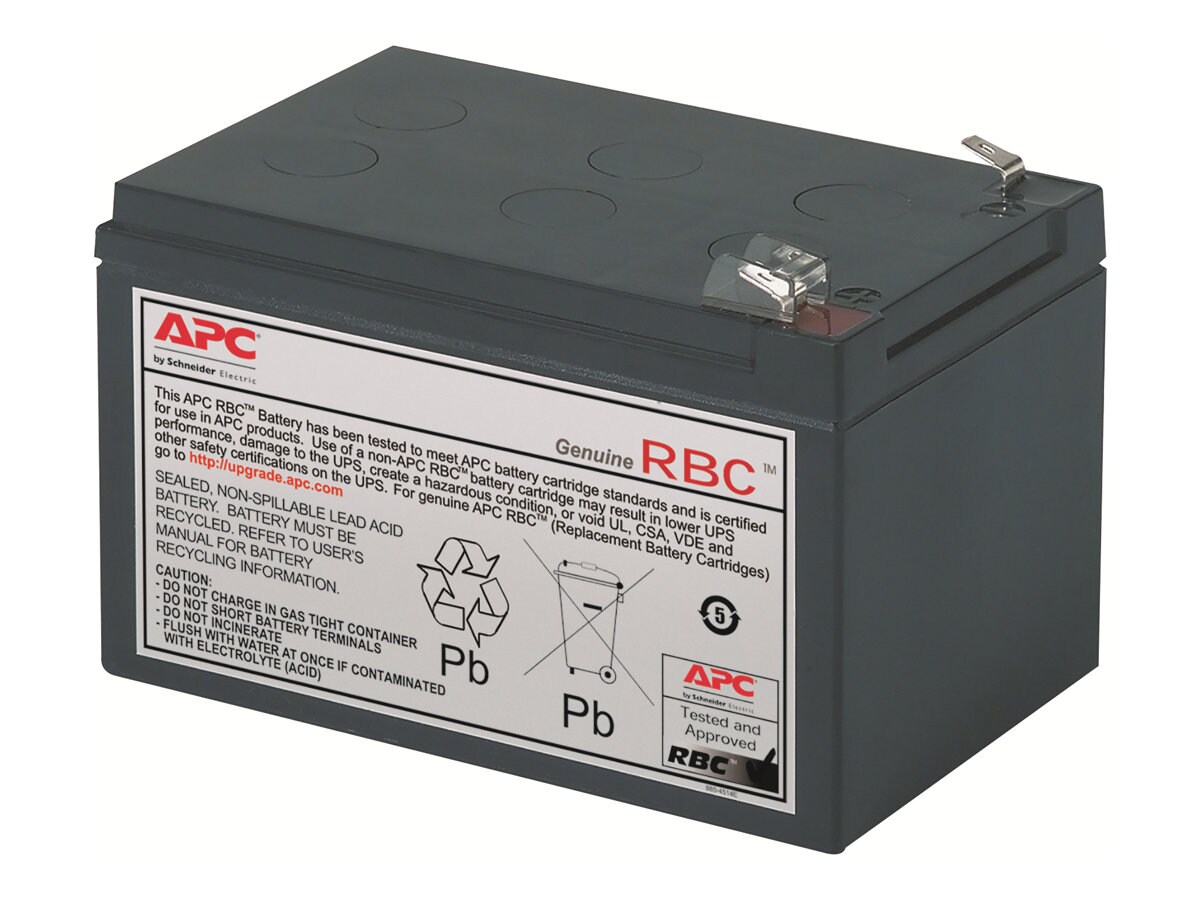 Know your gear
Over time UPS batteries wear out. This leads to a loss of power capacity and runtime. Here are four reasons why you should only use genuine APC RBCs in your APC UPS:



Use of a non-APC battery will void APC's Equipment Protection Policy



APC recycles used batteries and almost 100% of the battery lead content is reused, protecting the environment. With each purchase of a genuine APC replacement battery, you get free freight back to APC for proper disposal of your old batteries (currently available in USA only.)



APC provides a 1-year warranty on each Replacement Battery Cartridge.



APC supplies the appropriate instructions for your UPS, along with any needed wires and connectors. All connections are made with high current gas-tight crimps for high reliability.



RBC4 only works with APC UPS Models BK650MUS, BK650X06, BE750BB, BE750-CN, BE750BB, BP500JPNP, BP650PNP, BP650S, BP650SC, BP650SUS, SU620NET, SUVS650, SC620.
APC RBC4 Replacement Battery Cartridge
is rated
5.00
out of
5
by
8
.
Rated

5

out of

5
by
GaryFT
from
No supprises installing
The fit is tight and cables short, but put it on a tabletop and all will go well. UPS had no issues with finding the new battery. Having the prepaid label to dispose of the old battery made things tidy.
Date published: 2015-01-02T00:00:00-05:00
Rated

5

out of

5
by
AGumbus
from
Close to 20 years with APC
I am a US Navy veteran, and ever since I left the service in 1992, I have always used APC UPS equipment to protect my home electronics, specifically my computing equipment. I have never had a problem with equipment operation, their UPS devices have always exceed their rated time before needing to change batteries, and their battery recycling service shows an excellent sense of responsibility on the part of the company to protect our environment. This particular battery replacement was for the UPS for my wife's computer. The UPS was able to notify us in advance that the old batteries failed their self-test (after close to 6 years of continuous use), and that battery replacement was required. Nonetheless, it was still able to sustain operation until the replacement batteries could be obtained and replaced. Replacement was straightforward, and the device has been operating continuously and incident-free since the replacement took place. I might be getting spoiled by APC's excellent customer service and quality products, but I don't see myself switching to a different brand of UPS any time in the near future, if ever. I always highly recommend APC products to my friends and peers in the IT industry. Kudos for excellent product quality and outstanding customer service!
Date published: 2009-12-20T00:00:00-05:00
Rated

5

out of

5
by
Magrew
from
Everythings alright now
Replacement battery fit just as the old one did ,easy to remove and reinstall.I have only good things to say about APC products,We have frequent power outages where I live from storms and such my power supply has always worked to keep my computer running when something happens.
Date published: 2015-11-05T00:00:00-05:00
Rated

5

out of

5
by
tony
from
easy battery change
Easy purchase and great instructions on changing the battery. Very simple.
Date published: 2009-11-19T00:00:00-05:00
Rated

5

out of

5
by
reviewapc
from
Easy to install!
The APC replacement battery was easy to install and we haven't had any issues. I advise going with APC vs a third party. APC is more reliable.
Date published: 2018-04-26T00:00:00-04:00
Rated

5

out of

5
by
Chris
from
On-Line Battery Replacement
We have had APC backup for our home/small business offices for the past 10 years. When a battery needs to be replaced we just go onlline to order one. Only improvement we would like to see is timed/power sensitive message to alert the user when the battery should/needs to be replaced. That way the user never has to worry about being "exposed" if the battery has outlived it's useful life.
Date published: 2011-04-21T00:00:00-04:00
Rated

5

out of

5
by
Artemus
from
Excellent Experience
I'll add my two cents worth to the other reviews. We've been fans of APC for a number of years. I'm always delighted at the ease with which I can bring my unit up to date when needed. The price is reasonable and the service is great. The replacement battery cartridge arrived earlier than anticipated. The only complaint I might make is the difficulty in installing the replacement cartridge. It is a little tricky but not impossible. It seems the wiring could be changed in the unit to make the reach to the cartridge terminals easier and more intutive. Other than that - great product.
Date published: 2011-08-03T00:00:00-04:00
Rated

5

out of

5
by
Critter
from
RBC4 replacement battery
Battery arrived fast and well packed, instructions were perfect. The only problem I had was that I couldn't print the return label for the old battery to be recycled using the link in the instructions.I called the APC help line and was emailed a link to a site from which I was able to print a label. The APC help was great.I certainly recommend APC and would buy from them again when i need another UPS or replacement battery.
Date published: 2013-05-20T00:00:00-04:00
Rated

5

out of

5
by
JAR
from
Good deal for needed product
I have had my Pro 650 battery backup for several years & just bought the replacement. The price was fair with free shipping and recycle return of the old part.I am on the coast in a windy area so power is often flickering. This battery keeps me running without a power failure.
Date published: 2011-02-24T00:00:00-05:00
Rated

5

out of

5
by
Doorbuster
from
Great batteries
Ordered 2 batteries for my UPS. Came quickly and worked great.
Date published: 2012-03-02T00:00:00-05:00