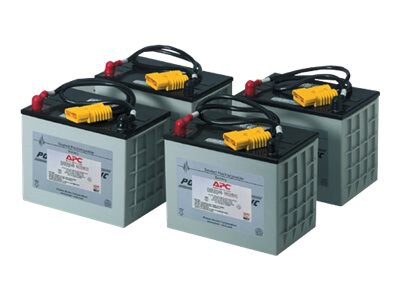 Quick tech specs
View All
Know your gear
Over time UPS batteries wear out. This leads to a loss of power capacity and runtime. Here are four reasons why you should only use genuine APC RBCs in your APC UPS:



Use of a non-APC battery will void APC's Equipment Protection Policy



APC recycles used batteries and almost 100% of the battery lead content is reused, protecting the environment.

APC provides a 1-year warranty on each Replacement Battery Cartridge.



APC supplies the appropriate instructions for your UPS, along with any needed wires and connectors. All connections are made with high current gas-tight crimps for high reliability.



Internal Replacement Battery Cartridge for SMARTCELLXR



This is a 4 battery set.

RBC14 only works with APC UPS Models MX3000XR, MX3000RW, MX500XR, MX5000XRW. Battery Disposal Not Included.