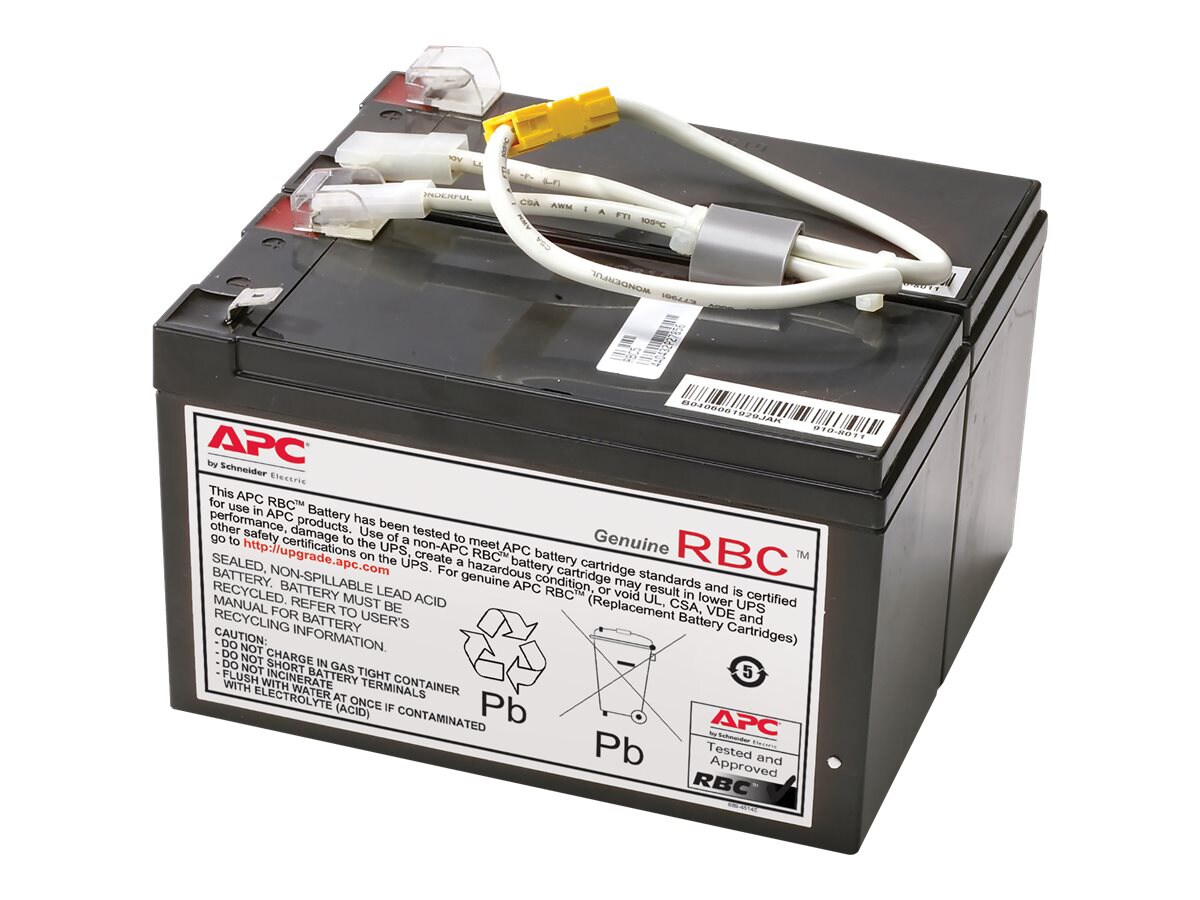 Quick tech specs
1 x lead acid
for P/N: BN1250LCD
BR1300LCD
BR1500LCDI
charcoal
BR1200LCDI
BR1500LCD
View All
Know your gear
This hot-swappable battery ensures clean, uninterrupted power to protected equipment while battery is being replaced. It offers plug-and-play installation.


APC RBC109 Replacement Battery Cartridge
is rated
4.92
out of
5
by
12
.
Rated

5

out of

5
by
MB
from
Easy...Quick...
I ordered this to replace the dead battery in my 7 year old UPS. The package arrived promptly and the installation was straightforward. After the installation, the UPS is back to peak performance. Disposal of the old battery was just as easy with the return to APC.
Date published: 2015-07-18T00:00:00-04:00
Rated

5

out of

5
by
TedG
from
Battery is fine
The battery is fine. Delivery was fast. Installation was easy. Only complaint is that it took a customer support request to get a pre-paid mailer of the dead battery. Written informaton in the package regarding mail-back lead me to a dead website.
Date published: 2011-04-22T00:00:00-04:00
Rated

5

out of

5
by
Florida Guy
from
Florida guy
Great customer service and products. Ordered a battery, installed, and sent old battery back. Will stay with the professionals when I need a battery replacement or new products.
Date published: 2009-11-19T00:00:00-05:00
Rated

5

out of

5
by
Ralph
from
Battery Replacement
Quick delivery, well packaged, idiot proof instructions and installation….and it solved the problem
Date published: 2013-11-05T00:00:00-05:00
Rated

5

out of

5
by
dlk
from
Good Service
I received a notice when the battery was near the end of it's service life. I ordered the replacement and installed the new battery within a few days, with no loss of service. I was able to recycle the old battery with a return postage. A value to anyone that needs continuity.
Date published: 2011-07-10T00:00:00-04:00
Rated

5

out of

5
by
Pat
from
Battery replacement
I use a total of four APC ups units. Three are small and one is a 1500. I usually buy new (trade-in) for the small 350 units, but it is far more cost effective to replace the battery in the 1500. The recycle option is appreciated and works. Unlike the other reviews I just read, I am completely satisfied with the last two replacement batteries. This most recent one arrived 100% charged and installed providing full capability and showing twenty minutes battery time remaining. Since I have a full backup generator in the event of power failure, I need only 30-40 seconds power backup from the ups, but the battery and surge protection provided has saved me more times than I can count. I live in NW Florida, one of the lightening centers of the country.
Date published: 2010-10-01T00:00:00-04:00
Rated

5

out of

5
by
rasman
from
Item ordered DOA
I ordered the item on the web and came in in less than a week but did not work and upon consulting with customer service it was pronounced DOA and replaced after approx 1 additional week (mostly freight). The customer support service although prompted for all sorts of tests and checks which included reinstalling the old bat pack a few times, sorted the issue correctly and was courteous and efficient. As a side note, one of the batteries in the the DOA bat pack looked worn out and read approx 8.9V vs more than 12V expected.
Date published: 2012-07-08T00:00:00-04:00
Rated

5

out of

5
by
Rose
from
does what it should
I've had a BR1500LCDI backup for several years, and it recently started having the fan running a lot and making buzzing noises. It turns out the original battery was still in the backup after 6 years, with an expected lifespan of 3. Replaced the battery in about 5 minutes and the UPS is working as normal. I hope next time I'll remember to change it before it starts to fail!
Date published: 2015-11-30T00:00:00-05:00
Rated

5

out of

5
by
SDR
from
4+ years from previous battery, new one ex install
The original equipment battery lasted over 4 years, with over 80 cycles longer than 3 seconds. The replacement battery was in stock, arrived promptly, and works as advertised.
Date published: 2014-09-19T00:00:00-04:00
Rated

5

out of

5
by
Marine 4
from
APC Replacement Battery
Opened the battery compartment slid out the old battery connected the new battery and slid it back in. Plugged the unit back in and the battery charged and the UPS was back in service.
Date published: 2015-06-04T00:00:00-04:00