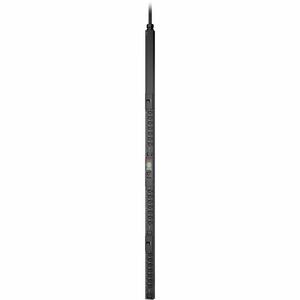 Quick tech specs
Next generation Switched APC PDU offers remote monitoring and individual outlet control of connected load
Input L6-30P
Individual outlet control,power sequencing,outlet grouping
Network management capable
10' cord
High temperature performance,secure power cord,precise metering,gigabit ethernet port and enhanced digital security
Outlets (21) C13/C15 and (3) C19/C21
Active power measurements
EcoStruxure IT Ready- Interactive LCD display- 0U
3-year APC warranty
View All
Know your gear
APC Next Generation Reliable Rack Power Distribution with Individual Outlet On/Off Control
APC Switched Rack PDUs distribute reliable rack power distribution via a single input with multiple output receptacles. Individual outlet control provides advanced load management. Real-time remote monitoring and user-defined alarms help prevent potential circuit overloads that can cause accidental power loss to critical equipment.
Switched Power Distribution
This Switched PDU from APC provides (21) C13/C15 & (3) C19/C21 outlets to supply power to rack equipment.
Remote Individual Outlet Control
Remotely manage outlets so users can turn outlets off that are not in use or recycle power to locked-up equipment (minimize costly downtime and avoid travel time to equipment).
Outlet Power Sequencing
Allows users to configure the sequence in which power is turned on or off for each outlet. This helps avoid in-rushes at start-up, which can cause overloaded circuits and dropped loads. Sequencing also allows users to predetermine which piece of equipment is turned on first so other equipment dependent on that unit will function properly.
Wireless Connectivity Compatible
Connect to this next generation PDU wirelessly with the APC USB Wi-Fi Device (sold separately, item: AP9834).
Interactive Color LCD Display and Temperature Port
Display details current, power, and voltage measurements and offers local user access. An environmental monitoring port for external temperature/humidity monitoring is available (sensor sold separately: model AP9335T or AP9335TH).
60°C (140°F) Operating Temperature
This datacenter PDU has the ability to operate in a maximum ambient air temperature of 60°C (140°F) at full load increasing reliability and availability even in today's high-density deployments. Other models allow up to 45°C (113°F).
1% Metering Accuracy
Providing the same level of accuracy as a utility company meter by adhering to IEC 62053-21 class 1, 1% metering accuracy provides peace of mind to use these PDUs to bill based on power usage. In addition, the higher level of accuracy provides more precision for capacity planning and threshold alarm monitoring.
Gigabit Ethernet Connectivity
Provides Gigabit Ethernet to enhance and standardize network connectivity across all assets in the data center.
Active Power Measurements
Volts, amps, real power (kW), and energy (kWh) data is provided to support energy management. An embedded log memory to reports historic metered data.
Conveniently Power Rack-Mount Equipment
Easily mount this vertical PDU in racks or enclosures. It occupies zero U of valuable rack space, which allows space for more equipment in the rack.
Toolless Rack Mounting Capability
This vertical PDU does not require additional tools to mount into APC NetShelter Enclosures.
Package Includes
PDU, Installation guide, Rack mounting brackets, Safety guide, Serial configuration cable