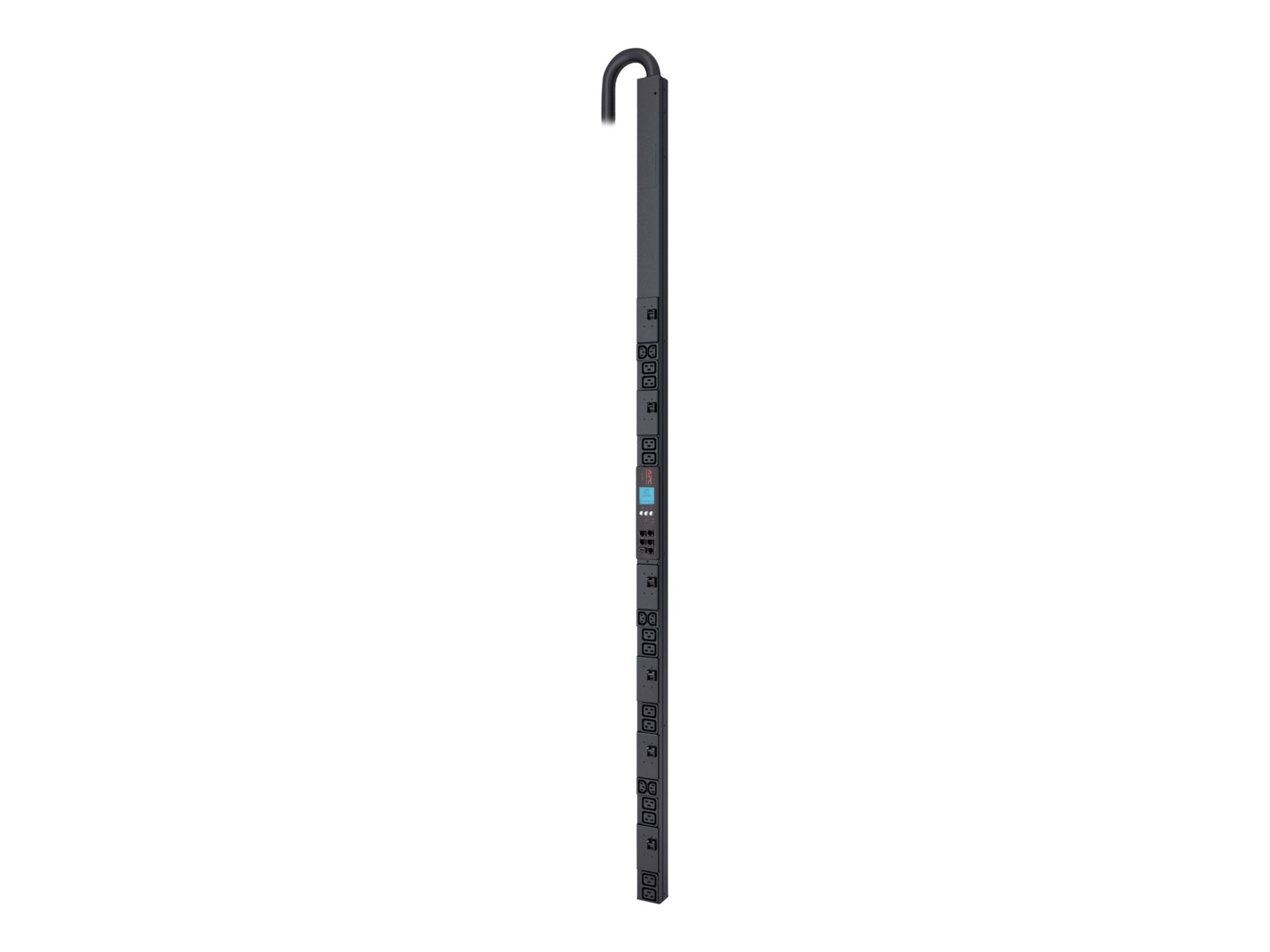 Quick tech specs
Metered APC PDU offers real time remote monitoring of connected load
Input: IEC 60309 60 A 3P + PE
Full-featured network management capability
Active power measurements (volts,amps,kW,kWh)
Locking IEC receptacles compatible
2-year APC warranty
Vertical Metered PDU to power servers,switches and network devices
Outlets: (6) IEC 60320 C13,(12) IEC 60320 C19
Interactive LCD display
Embedded log memory
6.0' power cord
View All
Know your gear
Reliable Rack Power Distribution with Real-time Monitoring
APC Metered Rack PDUs distribute reliable rack power distribution via a single input with multiple output receptacles. Real-time remote monitoring and user-defined alarms help prevent potential circuit overloads that can cause accidental power loss to critical equipment.
Remote Management Capabilities
Easily access, configure, and manage this metered PDU from remote locations. A network management interface provides standards-based management via Web, SNMP, and Command Line Interface.
Metered Power Distribution
This Metered PDU from APC provides (6) IEC 60320 C13, (12) IEC 60320 C19 outlets to supply power to rack equipment. Locking IEC receptacles enable locking power cord compatibility to reduce the probability of accidentally disconnecting cords and dropping loads.
Active Power Measurements
Volts, amps, real power (kW), and energy (kWh) data is provided to support energy management. An embedded log memory to reports historic metered data.
Interactive LCD Display and Temperature Port
Display details current, power, and voltage measurements and offers local user access. An environmental monitoring port for external temperature/humidity monitoring is available (sensor sold separately: model AP9335T or AP9335TH).
Conveniently Power Rack-Mount Equipment
Easily mount this vertical PDU in racks or enclosures. It occupies zero U of valuable rack space, which allows space for more equipment in the rack.
Toolless Rack Mounting Capability
This vertical PDU does not require additional tools to mount into APC NetShelter Enclosures.
Resettable Circuit Breakers
Enables a quick recovery from overload events and breakers are ultra low profile.



Package Includes
PDU, Installation guide, Rack mounting brackets, Safety guide, Serial configuration cable