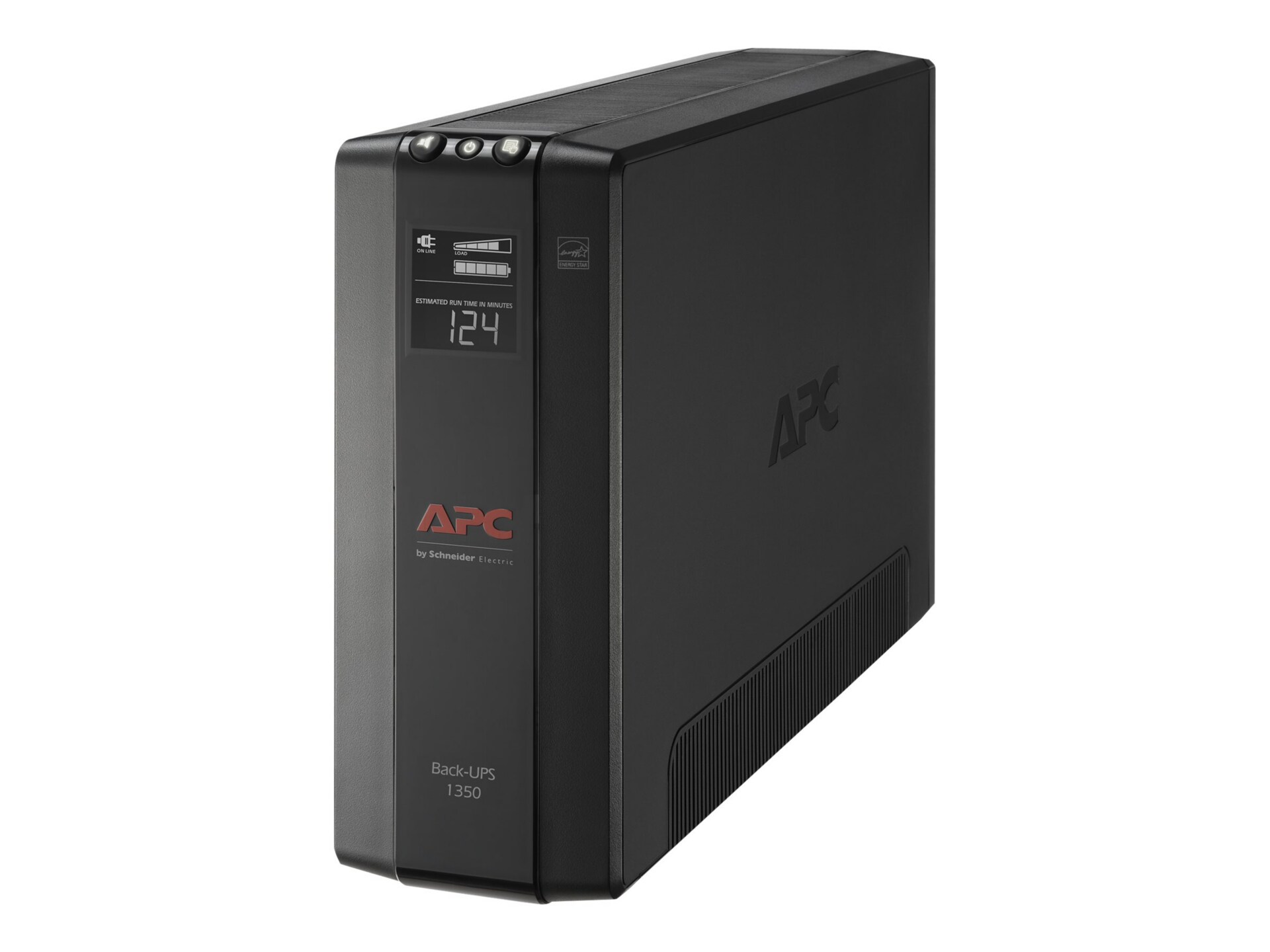 APC Back-UPS Pro BX1350M - UPS - 810 Watt - 1350 VA
Mfg.Part: BX1350M | CDW Part: 4920935 | UNSPSC: 26111701
APC Back-UPS Pro BX1350M - UPS - 810 Watt - 1350 VA
Product Overview
Main Features
UPS Pro BX1350M
UPS
AC 120 V
810 Watt
1350 VA
USB
output connectors: 10
APC Back-UPS Pro BX1350M - UPS - 810 Watt - 1350 VA is rated5.00 out of5 by2.
Rated 5 out of 5
by
Cont4gioN
from
Slim Tower Backup
I love the slim design of this APC. The LCD is awesome and even let's you know when there's wiring issues. Never had one of these fail me. Reliable and awesome.
Date published: 2017-08-27T00:00:00-04:00
Rated 5 out of 5
by
TechGeekFL904
from
Great small UPS that's really smart
I've been a loyal APC customer for years. Again, the APC Back UPS Pro BX1350M did not disappoint. Living in Florida we have our share of power outages and disruptions, a good inexpensive UPS is a must have. For a 1350VA unit it's quite small and the display size is perfect. I highly recommend!
Date published: 2018-05-22T00:00:00-04:00
Rated 5 out of 5
by
APCUser
from
APC Back UPS Pro Compact Tower (Awesome Unit)
Don't waste any more time trying to get by with a lesser UPS or one from a company that won't back up the UPS with it's own version of insurance protection. You owe it to yourself to protect all of your equipment, all of the time, given how much a decent and/or custom system and peripherals would cost to replace.This UPS carries our main PC, with 850-watt EVGA PSU, Asus M/B with 32 GBs RAM, 4 HDDs, and EVGA video card, dual-Corsair liquid CPU cooler over an AMD FX-8350, 8-140mm fans in push-pull-positive pressure vent-config, an 4K monitor and a dual USB 3.0 dock; the APC UPS never breaks a sweat.When you configure the UPS, turn the sensitivity all the way up in Power Chute, and remember to check it once a month. If you're in an area with storms, AC power issues (under/over voltage or outages), you really must get one of these. We've never been without a UPS, but it's never nice to tempt fate as we are using the UPS for TV/AV/router/firewall/LAN/modem.
Date published: 2018-05-15T00:00:00-04:00
Rated 5 out of 5
by
retired
from
Great battery backup unit
APC has a great product line. This 1350 unit is relatively light weight and easy to carry. It has the same great features that other APC units have. It has decent run time. It is the perfect size for newer computers that have a lower power draw and smaller power supply than older computers.
Date published: 2018-05-08T00:00:00-04:00
Rated 5 out of 5
by
TSD1968
from
More than I expected
I have been using my APC Back UPS Pro BX1350M to provide protection for my small home office. Last night I was able to run my Dell OptiPlex 3050 Micro i5, Cable Modem and 20" monitor for about 1:40 minutes on backup battery power alone. This is more than adequate for my needs,. This unit is designed quite nicely for functionality. I like the number of outlets available and the amount of backup power available. I especially like the master control system that allows one outlet to be the master and control some of the other outlets. When the equipment powered by the master is shut down, all of the outlets controlled by the master are then shut off. This is a quick and energy efficient way to manage your equipment. Think of your computer as the master; when it is powered down, your monitor(s), and printer(s) will automatically shut down too.
Date published: 2018-05-15T00:00:00-04:00
Rated 5 out of 5
by
ABC1
from
BX1500M
I received my BackUps in perfect condition, and the packaging was excellent. The instructions were easy to read and follow. Once connected the display showed the batteries to be fully charged. The procedure to connect the PowerChute application (monitoring) was exact and allowed the setup in minimal time. This is a product that I am pleased to own and have protecting my sensitive equipment. I highly recommend APC products for their quality and customer service.
Date published: 2018-06-13T00:00:00-04:00
Rated 5 out of 5
by
reviewapc
from
Great SMB solution!
Again, another solid tower solution by APC. Have used in a few deployments with success.
Date published: 2017-08-17T00:00:00-04:00
Rated 5 out of 5
by
Jimmy
from
APC simply the best
I have used APC UPS for many years to protect not only my computers but also my alarm system and electronics.I specifically like the design of the BX1650M being slim and the LCD readout is helpful. I know I can rely on APC for quality UPS products.
Date published: 2018-05-17T00:00:00-04:00
Rated 5 out of 5
by
Larry
from
EXCELlent Product
This product really doe's EXCEL at protecting my desktop computer equipment from Line Surges and allowing me to shut down the equipment in an orderly fashion, so all the equipment doesn;t shut down at once and possibly causing a power surge and damaging some sensitive equipment. Also I have used APC UPS's for about 25 years now and have never had one have a failure other than eventually needing a new battery. Really can't say enough about APC products.
Date published: 2019-05-24T00:00:00-04:00
Rated 5 out of 5
by
dbluf
from
Perfect for home!
Designed for electronics in your home or office, such as computers and related equipment, network devices (modem/router), televisions and video game consoles. Like all APC products it comes with a strong warranty and a data protection guarantee. I highly recommend this machine for your home office needs.
Date published: 2017-04-30T00:00:00-04:00