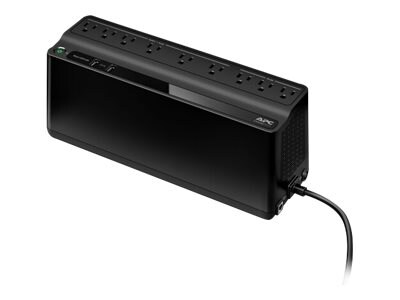 Quick tech specs
Reliable battery backup and surge protection for computers,wireless networking devices,gaming consoles,TVs and security devices
850VA / 450W power capacity
2 USB charging ports (1.5A)
Wall-mountable for flexible installations
$75,000 lifetime equipment protection policy
Powers home Wi-Fi during utility outage so you can stay connected and productive
9 Outlets (6 Battery Backup,3 Surge Protection only)
5' cord
Configure settings with included software
3-year APC warranty
View All
Know your gear
Stay Connected and Productive with APC Back-UPS
Protect computers, wireless routers, IOT devices, and security systems with the APC Back-UPS 850VA. APC Back-UPS provide backup battery power during power outages and continuously safeguard devices from fluctuating power conditions and surges..
Consistent and Reliable Connectivity
With 9 outlets and 2 USB charging ports, this desktop UPS (uninterruptible power supply) provides seamless battery power to connected electronics. The 450w capacity is ideal for workstations, keeping you connected and productive during power fluctuations.
Stay Connected to Wi-Fi During Power Outages
This battery backup is designed to power wireless home networking devices (router and modem) for hours during utility outages so you can stay connected and productive.
Easily Charge Mobile Devices
Connect and charge mobile devices via the 2 USB port provides a maximum of 1.5A . The USB port will provide power when the UPS is both on utility and battery power.
Guaranteed Surge Protection
This computer backup offers lifetime guaranteed surge protection with a $75,000 equipment protection policy.
Flexible Installation Options
The side of this 850VA UPS includes 2 keyhole sockets to easily mount the battery backup on a wall in hard to reach installations.
Outlets Spaced for Transformer Blocks
The outlets are arranged with spaces to accommodate both average sized power plugs and transformer block power plugs.
Easily Configure Settings
Use the included PowerChute software to configure settings and set up automatic graceful shutdown of a connected PC in the event of an extended power outage. Audible alarms provide notification of changing utility power and UPS conditions. Audible alarms can be muted.
Package Contains
Battery backup & surge protector, USB cable and user manual