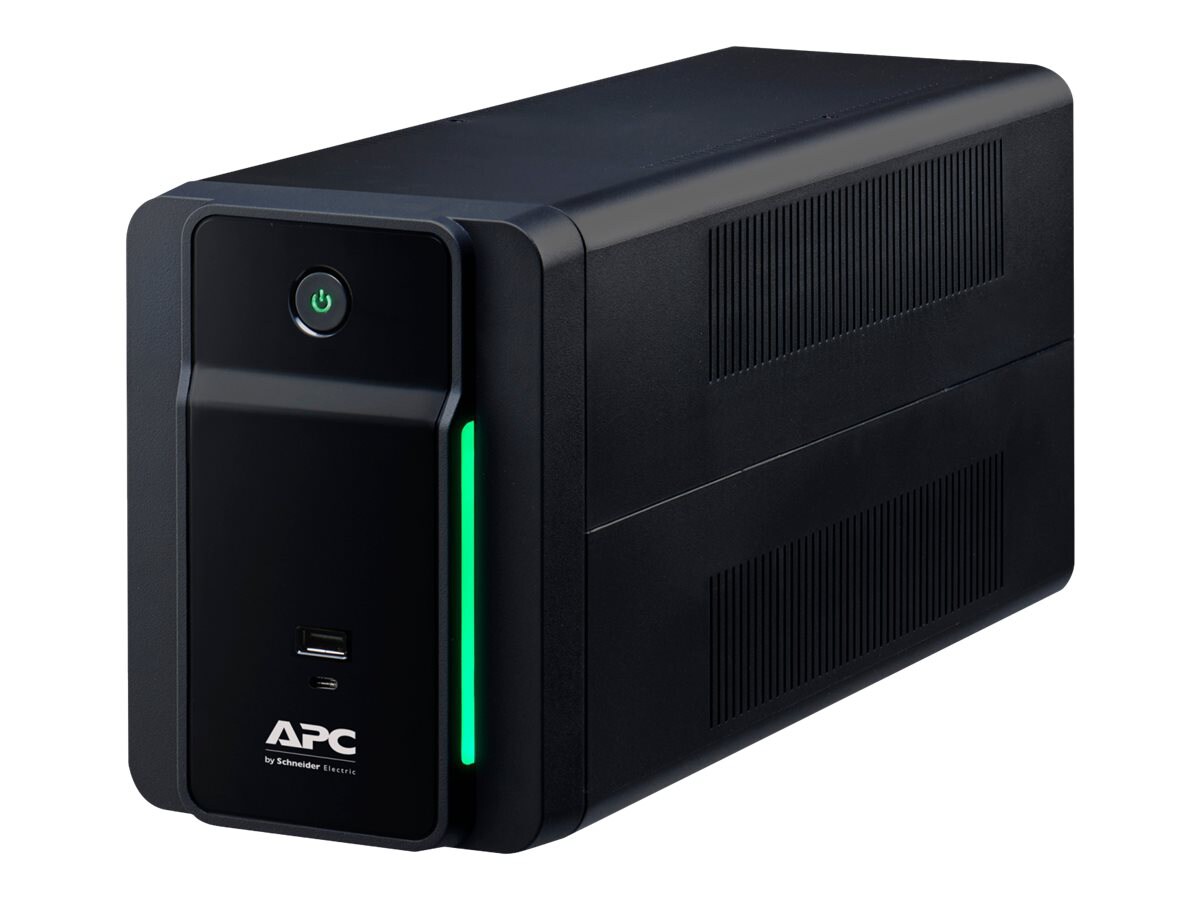 Quick tech specs
Reliable battery backup and surge protection for electronics
4 Outlets with battery backup and surge protection
1 Type C)
3-year APC warranty
750VA / 410W power capacity
2 USB charging ports (1 Type A
350J Surge energy rating
View All
Know your gear
Essential Power Protection
APC Back-UPS BVK series is a cost effective power protection solution for home and home office environments. The electronic devices you rely on for communication, security and entertainment depend on a stable network connection. Ensure reliable uptime and clean power for your essential devices.
Ideal power protection for your home office, home entertainment, or smart home.
Connect your modem, router, PC computer and accessories, TV, streaming devices, smart speaker, and home security devices.
Battery Backup and Surge Protection
Plug electronics into the outlets in the back of the UPS for reliable battery backup during power outages and protection from power surges and strikes.
Built-In Automatic Voltage Regulation (AVR)
Instantly corrects low and high voltage fluctuations from utility power to provide clean power to your devices.
USB Type A & C Charging Ports (5V 2Amp shared)
Conveniently charge your mobile devices via 2 USB (Type A & C) charging ports.
1GB Network Protection
Safeguards your equipment from potential surges traveling along data lines without sacrificing internet speed.
Quick Mute
Temporarily mute audible alarms such as On Battery with a short press of the Power button. A short double beep will confirm that Quick Mute has been activated.
LED Brightness Setting
Control the brightness of LED with a short press of the Power button during On Line mode.
APC Back-UPS 750VA 4-Outlet/2-USB Battery Back-Up and Surge Protector
is rated
4.90
out of
5
by
19
.
Rated

5

out of

5
by
TreMan
from
Great protection for any level of backups required
I live in an old house with important electronics and the landlord won't install GFCI's so I've been looking for a high quality backup tower to prevent electrical issues. I am a developer and run a local server and have a couple expensive workstations routed from the same power area. This tower gives adequate protection from my weak outlets while allowing for the splitting of required power for server and workstations. The unit I received works great and should have enough power to solve for any blackout issues that I need to bring down my systems safely. The APC software is great if you're looking for advanced configurations depending on your voltage requirements. I haven't played with that portion but it looks simple and extensive! ?I also love the battery displays that come with it
Date published: 2023-06-27T00:00:00-04:00
Rated

5

out of

5
by
twinkletoes
from
Does the job
This has worked really well for me. I have it at work since I have no need for it at home. With all the thunderstorms we have been getting I'm happy to have a backup just in case the power goes out, and am confident that this will perform. It was easy to setup and has had no glitches.
Date published: 2023-06-06T00:00:00-04:00
Rated

5

out of

5
by
ShawnM
from
Great Protection for electronics.
I have been using the APC Back UPS, 750VA/410W, Tower, for a week now and so far I have been extremely impressed by the consistent power that has been supplied to my PC and peripherals. The product is extremely easy to use and install and I have had absolutely no issues. I live in an area where power can be a little inconsistent and this ensures that my PC is protected from the power surges and brownouts that we see on a regular basis. The UPS has for regular plugs that are located on the back, my only complaint about the product is the spacing of the plugs. The outlets are placed far too close together, which means that for plugs that are large (my monitor for one), it is impossible to plug in without causing issues when plugging in other plugs. To resolve this issue, I had to use a regular extension cord, which is not ideal. The box also has a usb and usb c, outlet on the front, which is perfect to charge phones, headphones etc., without worrying about power surge's ruining your items. The product is made from high quality materials and I like that it comes with a three year warranty, which hopefully means that it will last for at least this long. Overall this is a great product that I do recommend to others, my only complaint is small and is a common feature with other UPS's, but I do wish companies would take the issue into consideration. Overall the product works as intended and does a fantastic job of protecting my expensive electronics.
Date published: 2023-06-07T00:00:00-04:00
Rated

5

out of

5
by
jenypher5
from
Compact
I have been working with computers and UPS for almost 20 years and they sure have come a long way. This UPS is the smallest UPS i've owned and I truly appreciate the more compact size. We have had some crazy weather here lately and I am truly grateful to have the backup for my computers.
Date published: 2023-06-14T00:00:00-04:00
Rated

5

out of

5
by
Styrchn
from
Solid, good size, peace of mind
This is a good looking and and solid APC. While on, it glows green on the front. It's quite small for a battery backup which I like, it fits well under a desk without being obnoxisouly big. It has a 3ft cable and feels very sturdy. It only has 4 regular grounded electrical plugs on the back, but all of them are surge protected and on battery backup. The amount of time the battery will last depends on how power heavy the things you have plugged into it are. It also includes 2 USB charging ports and an ethernet port in/out for surge protection on your network cable if needed. Note that this battery is not huge, it's not meant to support a full gaming computer through an extended outage. Plug in only the things that are mission critical and shut them down if you lose power. There is software (PC Only) you can install to see your current power usage and approximate battery life. I run a small business and I use this in my home office, and this suits my needs as a good surge protector and keeps my router and modem from rebooting through quick power outages.
Date published: 2023-06-25T00:00:00-04:00
Rated

5

out of

5
by
Ap2011
from
So grateful
So grateful to have this. Our area has started doing rolling blackouts to conserve energy and we have a saltwater tank and fish tank. This gives us significant peace of mind knowing if something happens we're covered!
Date published: 2023-06-08T00:00:00-04:00
Rated

5

out of

5
by
Scroll427
from
Works great for my computer
This UPS is great for my work from home setup. It's good to know that my computer is protected from outages when I'm working. It has plenty of ports on it and it looks sleek. It doesn't take up too much space either. Overall, it's good to know my computer and my work is protected, especially since my area is prone to blackouts
Date published: 2023-05-30T00:00:00-04:00
Rated

5

out of

5
by
tjackett
from
Awesome features
I love that we have less to worry about with power outages now. The size is nice, not to pig and easily fits in out set up! the set up instructions were easy. Plenty of outlets in back plus USB ports in the fron are so handy! Peace of mind during storm season!
Date published: 2023-06-05T00:00:00-04:00
Rated

5

out of

5
by
FelAnnRod
from
Great Product
The APC Back UPS, 750VA/410W, Tower, 120V, 4x NEMA 5-15R outlets, USB Type A + C Ports, User Replaceable Battery is a great product built by a great company. I feel safe when using this product for a backup unit.
Date published: 2023-06-13T00:00:00-04:00
Rated

5

out of

5
by
ATXBH
from
Great outlet options
Got this the other day and installed it in my closet where my main router, mesh router, back NAS and camera hub is and it is great. The form factor is about the size of a case of soda but a little skinner and taller. It has plenty of outlets for my needs and I do like the option of the usb a and C on the front of the unit if the power goes out. My only issue is the cord length was short so where I had to put it meant either the four things it backing up are tight or it has to sit on in front of everything. It is about 3 ft which could work for most but I did want it a bit more out of sight so like 6 in longer would have been awesome. Having a couple more outlets would have really sealed the deal for me but this really could get the job done for most home office setups.this is my third APC UPS and they have saved me multiple times due to crappy power management in my part of the neighborhood so I would recommend.
Date published: 2023-05-31T00:00:00-04:00
Rated

5

out of

5
by
Deecostas
from
Awesome APC Back UPS
This APC back up is very helpful especially when your powers goes out for a short period of time, with this batter back up I am able to close and shut down laptop and tablet with losing any data. I was so happy to see the time length on back up, was able to properly shut down both laptop and tablet with time to spare. This time worked great , all the other blackouts I lost recently put in data cause it wasn't show down properly. I count my blessings cause with last black out I was confident that all was shut down properly , no data lost , which is an awesome time saving,!this time my data was saved properly. All of that wonder benefits and I could also change phone on it, cause it does have 2 USB ports a type A and type B. I even had customers support help me install the pice a equipment, they were very understanding and walked me through the whole process. This APC Back UPS, 750VA/410W, Tower even has a 2-year warranty. I wish I had this years ago it would of save me from having all that agervation with black outs I highly recommend this to all my friends and family.
Date published: 2023-06-21T00:00:00-04:00
Rated

5

out of

5
by
krisyx0928
from
Great
Easy to put together, instructions are incredibly straight forward, works absolutely great. unexpectedly works flawlessly with a truenaz core workbox. very very happy with this product. love love love it!
Date published: 2023-06-09T00:00:00-04:00
Rated

5

out of

5
by
Pre202
from
Excellent product for every household!
We were looking for a battery backup to keep our laptop phone and internet charged in case of any power failure. 750W ups here suites our need perfectly. We were able to charge our laptops and also keep the internet running for hours after power loss . As an IT resource who work from home our family requires constant charging and keeping up which can be accomplished with this. Smart link is very Simple and cloud comes as standard which is very handy for cloud monitoring. With close to 6 power outlet that can be charged simultaneously, it does solve all our family Needs at one shot. It is indeed one of the Best Buy for our family.
Date published: 2023-07-03T00:00:00-04:00
Rated

5

out of

5
by
Zwire313
from
Nice
I love the acp back up it is a nice unit first of all it is so small and compact it fits in my small compact gaming set up and it is so easy to use and set up so I recommend this to anybody that wants to protect there sensitive electronics
Date published: 2023-05-30T00:00:00-04:00
Rated

5

out of

5
by
Wirewalker25
from
Nice residential UPS
This thing is great for beside the desk. I use mine to support one desktop computer with 4 monitors. I have my cable internet and router tied to it also. This unit is really just to get you through a power spike and give you enough time to gracefully power down after you save your work. You will not run 5 computers for a full days work off of this.
Date published: 2023-06-22T00:00:00-04:00
Rated

5

out of

5
by
Stlguy72
from
Easy installation!
The APC Back UPS, 750VA/410W, is a reliable and efficient power backup solution for both home and office use. With its 750VA/410W capacity, it provides ample power to keep your essential electronics running during outages or fluctuations in the power supply. The UPS features a compact design that easily fits in any space, and its battery backup outlets offer protection against power surges and spikes. The automatic voltage regulation (AVR) ensures stable and consistent power delivery, safeguarding your devices from potential damage.
Date published: 2023-06-24T00:00:00-04:00
Rated

5

out of

5
by
DerekSting24
from
Nice generator
This is a portable back up generator. This device is great for camping or on the go in your car for emergencies. It works as its supposed to however the battery life is not good for large items. Use for charging phones and small devices
Date published: 2023-06-27T00:00:00-04:00
Rated

5

out of

5
by
ElGuapo77
from
Great Peace of Mind
I'm using this UPS on my internet router/fiber box. During storms and power outages that are common in my area, it's annoying to have to wait for the internet to reset, even when the power goes out just for a second. (During one storm, I used an extension cord from my van to the router to work!) And if there is a surge, I don't have to worry about losing internet until a tech comes out to the house. Thankfully I haven't lost power since installing this, but this already has given great peace of mind that a power spike won't bring my internet down for days (I work from home). Setting this up was super easy, and will easily give me internet for a while should the power go down for a bit. I'm happy with it!
Date published: 2023-06-01T00:00:00-04:00
Rated

5

out of

5
by
CV21
from
Works very well
We have bern using this ups to power up our home theater. It needs to be charged 24 hours before use and then it works as expected. It has usb a and c ports and can charge or power multiple devices. We are really happy we got this and have been using for few weeks now. Highly recommend it for computer or any other electronica at home.
Date published: 2023-06-18T00:00:00-04:00