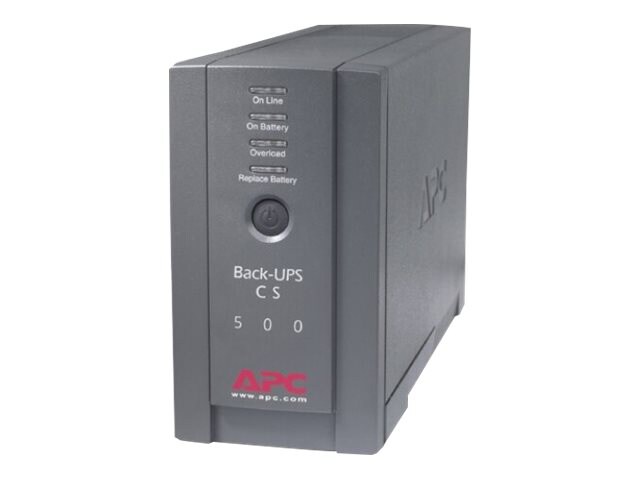 Quick tech specs
Reliable battery backup and surge protection for computers,wireless networking devices,gaming consoles,TVs and security devices
500VA / 300W power capacity
6' power cord
Color: Black
3-year APC warranty
Powers home Wi-Fi during utility outage so you can stay connected and productive
6 Outlets (3 Battery Backup,3 Surge Protection only)
Configure settings with included software
$100,000 lifetime equipment protection policy
View All
Know your gear
Stay Connected and Productive with APC Back-UPS
Protect computers, wireless routers, IOT devices, and security systems with the APC Back-UPS BK 500VA. APC Back-UPS provide backup battery power during power outages and continuously safeguard devices from fluctuating power conditions and surges.
Consistent and Reliable Connectivity
With 6 outlets, this tower UPS (uninterruptible power supply) provides seamless battery power to connected electronics. The 300w capacity is ideal for workstations, keeping you connected and productive during power fluctuations.
Guaranteed Surge Protection
This computer backup offers lifetime guaranteed surge protection with a $100,000 equipment protection policy.
Easily Configure Settings
Use the included PowerChute software to configure settings and set up automatic graceful shutdown of a connected PC in the event of an extended power outage. Audible alarms provide notification of changing utility power and UPS conditions. Audible alarms can be muted.
Package Contains
UPS, CD with software, Cord management straps, USB cable, User manual
APC Back-UPS 500VA 6-Outlet Back-Up and Surge Protector, Black
is rated
4.80
out of
5
by
20
.
Rated

5

out of

5
by
Rams23
from
Great features
I bought this a month ago it awesome product , worth buy
Date published: 2022-03-24T00:00:00-04:00
Rated

5

out of

5
by
Casual
from
Great little UPS for workstations
We use these on our company workstations. Very dependable and great battery life. Simple insurance against power failures and brownouts which we seem to have too frequently.
Date published: 2017-04-11T00:00:00-04:00
Rated

5

out of

5
by
Justin
from
Desktop UPS
Great for my home office. I would buy another anyday.
Date published: 2017-06-20T00:00:00-04:00
Rated

5

out of

5
by
Splattered23
from
One of the best!
These are the one of the very BEST desktop UPS models you can buy! Super dependable with plenty of juice. Highly recommended!
Date published: 2017-05-07T00:00:00-04:00
Rated

5

out of

5
by
vaazul
from
Completely reliable, great product
I've been working with this Back-up for a little while now, and my experience has been consistently excellent. As with other APC products I have owned, the craftsmanship is very high-quality and it gives me a high degree of confidence in the product.
Date published: 2010-03-31T00:00:00-04:00
Rated

5

out of

5
by
FuzzyBird
from
APC backs up their back ups!
Had and issue with run time with the first unit I recieved. Called APC service and within 10 min I had a tracking # and p/u tag for the old one. Received the replacement in 4 days. What can I say...APC backs up their back ups! I have found that this product does what it specs out to do! Only issue I have is that the cooling fan is a bit noisy, but the good thing it doesn't stay on for long.
Date published: 2011-01-20T00:00:00-05:00
Rated

5

out of

5
by
Stew
from
Best equipment.
I have been using APC products for 16 years. They have never let me down and even when they are outdated. Easy to in stall and manage. I wish more products where built with the same time, concern, and quality as APC.
Date published: 2010-02-12T00:00:00-05:00
Rated

5

out of

5
by
BWD
from
Once Again!
Once again, this product is just what I need! Replacing the old one was simple, and the fact that I could recycle the old one so easily was wonderful! Thank you!
Date published: 2014-07-21T00:00:00-04:00
Rated

5

out of

5
by
john b
from
BK500BLK
We buy APC products for their reliability. However they have changed from using right angle plug to straight plugs. Now I have more trouble with bad connections at the outlet than power failures because it is too easy to accidentally knock the plug out.
Date published: 2015-02-23T00:00:00-05:00
Rated

5

out of

5
by
mickey
from
great purchase
Easy to install, works without a problem. I always order from APC because I can depend on the quality.
Date published: 2010-07-06T00:00:00-04:00
Rated

5

out of

5
by
MT2020
from
Very Nice!
I have customers with several of these backups and after trying other backups over the years, these are the ones that last the longest.
Date published: 2017-04-11T00:00:00-04:00
Rated

5

out of

5
by
Bernie
from
Excellent UPS
This is a nice compact unit. I like having the outlets on the back of the unit. One of my UPS units has the outlets on the top and they get dusty. I will replace it with one of these when the battery fails.
Date published: 2012-10-25T00:00:00-04:00
Rated

5

out of

5
by
jose
from
APC Back-UPS 500 (black)
great product works as advertised and easy to set up ,
Date published: 2017-06-21T00:00:00-04:00
Rated

5

out of

5
by
BMWPaul
from
Latest in a long line
This is my 5th APC UPS. The last one stopped working after 10 years of dependable service. Nothing to do but replace it with something I know I can depend on.
Date published: 2011-01-19T00:00:00-05:00
Rated

5

out of

5
by
Graham Toys
from
Trust No Other
I have used APC Back-UPS for over 10 years with various home computers. The batteries do need to be changed at some point around 3-4 years. APC is up front about this. My current Back-UPS CS 500 sits next to my Dell Inspiron quad PC, filters line problems, self-tests, powers after commercial power is removed, and even shuts down my PC gracefully via supplied USP cable according to the params that I set. A PC application lets you initiate a test, review the test log, review power levels and more. It's well worth the price to protect an expensive PC like the one I use.
Date published: 2011-01-29T00:00:00-05:00
Rated

5

out of

5
by
LOL95963
from
Summer 2018 working great...
Works Great and no issues so far since beginning of Summer 2018.
Date published: 2018-07-18T00:00:00-04:00
Rated

5

out of

5
by
DataDave
from
Great Battery backup
APC makes great products. We have 70 some of this battery backup. We use one on each one of our cash registers at our stores. We have had many for four years or more and have only had to replace a few batteries. They have protected our registers and kept them running in power outages. We have experienced no electrical problems with any of our registers while using these batteries. I recommend APC and use their devices on my electronics at home as well. APC is quality.
Date published: 2018-02-08T00:00:00-05:00
Rated

5

out of

5
by
citizenscientist
from
Originally good, but batteries have short lives
The first battery I received with the unit lasted nearly 2 years. However replacement batteries have been dying in months, the most recent one only two. I am changing brands, even though I purchased a spare backup battery.
Date published: 2021-01-11T00:00:00-05:00
Rated

5

out of

5
by
RogerDoger
from
Great deice
This is the 2nd one of these I have purchased. They work great and are reliable.
Date published: 2020-02-10T00:00:00-05:00
Rated

5

out of

5
by
Kyle Butler
from
Largely positive review
The unit is very sturdy and looks nice on my desk. I've also installed the PowerChute software and connected the unit via USB to my computer, which has a nice dashboard that allows me to monitor the system and change the configuration. My only criticism of the unit is that it's a bit loud -- it makes a constant humming sound. You don't really notice it if you have other audio going on, but in a quiet room it's definitely noticeable.
Date published: 2019-12-04T00:00:00-05:00