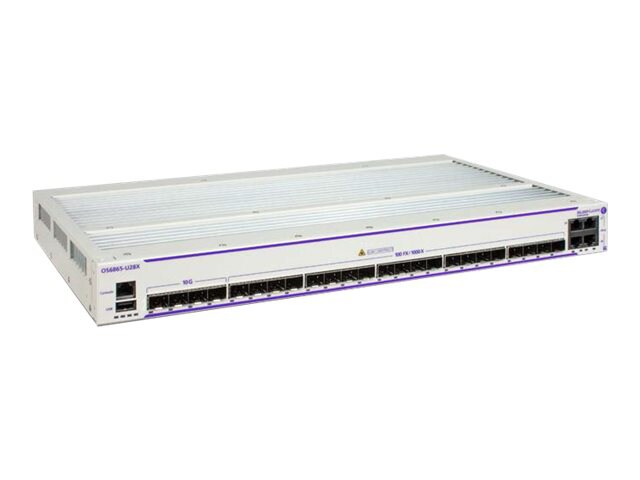 Quick tech specs
L3
20 x Gigabit SFP + 4 x 10 Gigabit SFP+ + 4 x 10/100/1000 (PoE+) + 2 x 20 Gigabit (stacking)
High PoE / PoE+ (280 W)
View All
Know your gear
Experience superior performance with the Alcatel-Lucent OmniSwitch 6865 Ethernet Switch. This Hardened Ethernet LAN Switches offers an ideal solution for mission-critical applications that need to operate at extreme temperatures and meet stringent EMC/EMI requirements. A high-performance rugged switch that can be stacked to form a virtual chassis, it is designed to be deployed in transportation and traffic control systems, power utilities, video surveillance and other outdoor installations. Features such as SPB support and intelligent auto-provisioning ensure a fast, scalable and cost-efficient way of rolling out services at the edge.
Advanced industrial PoE capabilities with support for HPoE for seamless connectivity
IEEE 1588v2 PTP capabilities for precise, sub-microsecond timing requirements
Alcatel-Lucent OmniSwitch 6865-U28X - switch - 28 ports - managed - rack-mo
is rated
5.00
out of
5
by
2
.
Rated

5

out of

5
by
Kannan Venkatraman
from
Elements that are suited for the hospitality industry, easy to configure and has good technical support
What is our primary use case? We use, and provide these switches to our customers. We use Alcatel-Lucent OmniSwitch LAN Switches in the hospitality industry, and we have hospitality clients. We used to sell to hospitality customers, who are SMBs, and enterprises. We have been selling for eight or ten years, and the customer is satisfied, and the entire Qatar army project is powered by the Alcatel-Lucent network. What is most valuable? Alcatel-Lucent OmniSwitch LAN Switches have elements that are suited for the hospitality industry. For example, they want a phone, switches, routers, and WiFi, all from one vendor. As a result, they can provide all solutions. They don't want to approach different vendors, for support, maintenance, or any other activities. From a single vendor, or they can view the entire IT solution from any office, at any infrastructure setup. If you go with any other third-party, you would have to rely on different vendors and setups for each manufacturer. With Alcatel-Lucent OmniSwitch LAN Switches everything comes from one vendor. It operates very smoothly. What needs improvement? If the integration is not available, we look for a third-party solution. I would like to see better third-party integration with third-party systems. For how long have I used the solution? I have been working with Alcatel-Lucent OmniSwitch LAN Switches for 12 or 13 years. What do I think about the stability of the solution? Alcatel-Lucent OmniSwitch LAN Switches are stable. What do I think about the scalability of the solution? Alcatel-Lucent OmniSwitch LAN Switches are scalable. For example, if you go to telephone systems, depending on how many they want, you have to add licenses and access points. When it comes to the switches, it's the same thing. If they prefer switches, we can simply add them. We have approximately 530 users. We have 12 engineers, and we have two project managers and one support manager. We have no issues with scalability. They have 30 locations, with each using Alcatel-Lucent. They have approximately 40,000 users. Hubs and telephones systems are made easy using Alcatel switches, otherwise, we could not use them for major projects. How are customer service and support? We are very satisfied with the technical support. Which solution did I use previously and why did I switch? We are using the Alcatel-Lucent system, as well as various products that are suited for small, medium, and large enterprise companies. It is based on what is required from the customer. Everything is available; the only thing left to do is to explain to the customer what is required. I need to switch to the other brand because if something isn't available, we access what the customers are looking for, and then I can switch to the other brand. How was the initial setup? The initial setup was simple, straightforward, and easy to configure. If it is well planned, it is very simple. The time it takes to deploy, varies from project to project. One switch will take half an hour. If you want to change a core switch, it is dependent on the configuration, what is required, and whether or not we need to meet with the customer. Each solution is unique, as is each country, in terms of determining how many hours it will take. We must customize based on our understanding of the customer's requirements. We have no idea how long it will take you to configure. The IT customization solution is not the right approach. That's what I believe. What's my experience with pricing, setup cost, and licensing? The license is purchased one time only, it is a perpetual license with no renewal. If they wish, they may purchase at the time of recruitment. For example, if they require 100-user telephones, they must purchase the 100-user license at the time of purchase. It is a one-time license purchase. Then, if they want, they can buy the license for the access points as well. It depends upon the number of users, but the license is a one-time purchase. What other advice do I have? We are business partners. We are only selling Alcatel. I would recommend this solution to others who are interested in using it. I would rate Alcatel-Lucent OmniSwitch LAN Switches a ten out of ten. Which deployment model are you using for this solution? On-premises Disclaimer: I am a real user, and this review is based on my own experience and opinions.
Date published: 2022-03-31T00:00:00-04:00
Rated

5

out of

5
by
Nihal Dhiman
from
High performing and easily scalable
What needs improvement? There are some issues with the network firmware being deleted from the switches. For how long have I used the solution? I've been using OmniSwitch LAN Switches for around a year. What do I think about the stability of the solution? OmniSwitch LAN Switches' performance is very good. What do I think about the scalability of the solution? OmniSwitch LAN Switches are easy to scale. How are customer service and support? Alcatel-Lucent's technical support is very good. What's my experience with pricing, setup cost, and licensing? OmniSwitch LAN Switches are cheaper than Cisco's switches. What other advice do I have? I would rate OmniSwitch LAN Switches nine out of ten. Disclaimer: My company has a business relationship with this vendor other than being a customer:Partner
Date published: 2022-10-12T00:00:00-04:00