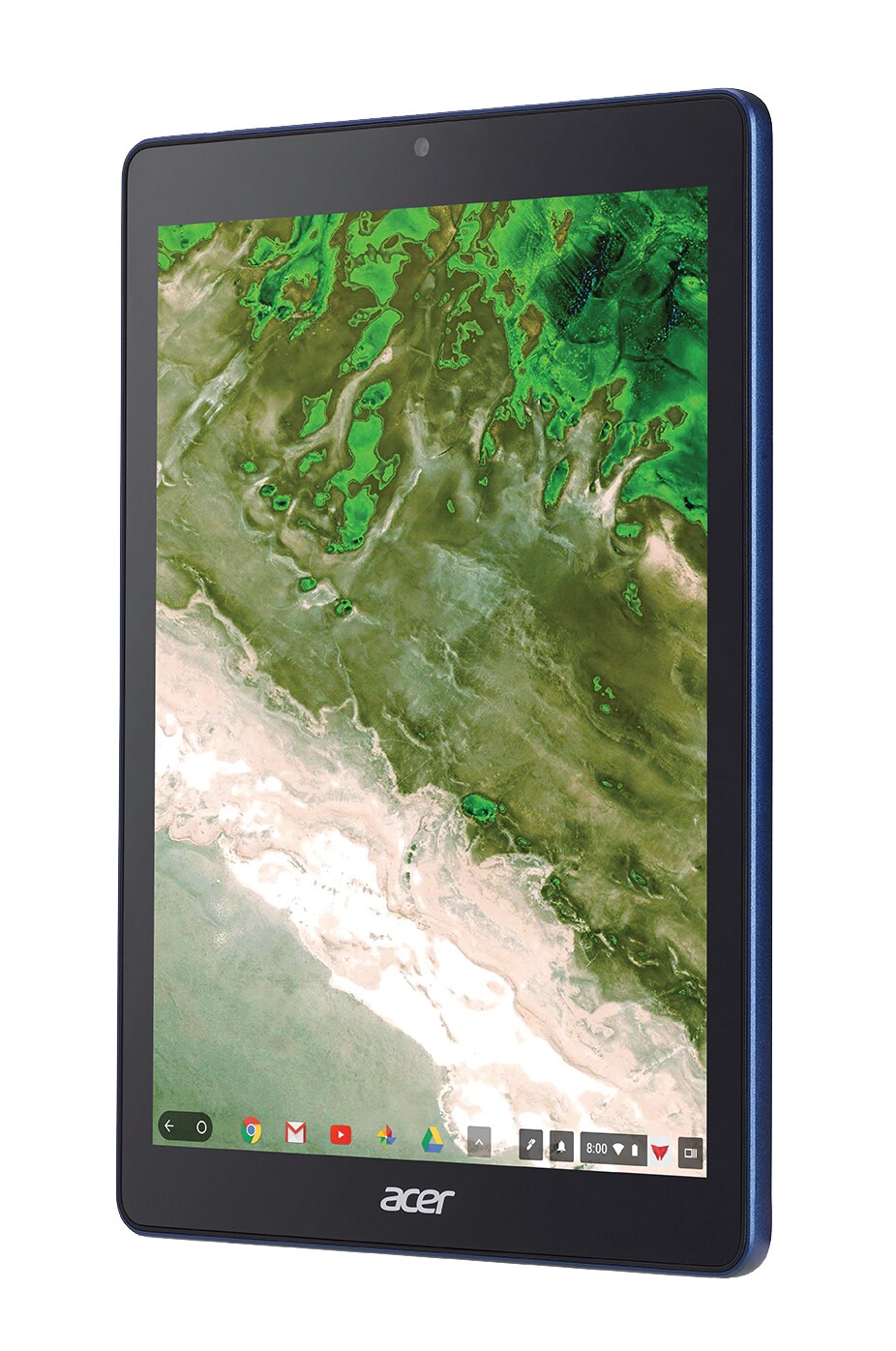 Quick tech specs
USB Type-C® power adapter and Wacom® EMR pen
4GB RAM
120/230V AC power adapter
1-year Acer limited warranty
Six-core processor
4500 mAh lithium-ion battery
9.7-inch LED-backlit LCD
View All
Know your gear
Stay on top of your school projects with this Acer® Chromebook Tab 10. It has a six-core processor with a speed of 2GHz to load your applications fast. Equipped with 4GB of RAM, this Acer Chrome OS (operating system) tablet lets you run multiple programs at the same time. The tablet includes 32GB of memory for your apps and files. A microSD™ card slot lets you expand the storage space. This Chromebook has a 9.7-inch LED-backlit touchscreen display for brilliant visuals. IPS tech provides wide viewing angles, so the tablet delivers consistent imagery across the entire face of the screen.

An integrated Arm® Mali™ T864 graphics accelerator provides fluid videos and games. With 5-megapixel rear and 2-megapixel front-facing cameras, this Chromebook D651N tablet lets you capture high-quality photos and videos. It runs on Chrome OS for speedy web browsing. This unit has an education-optimized design, so it's suitable for use in K-12 classrooms. An included electromagnetic resonance (EMR™) technology stylus supports drawing and annotation. The tablet has a 4500 mAh lithium-ion battery that runs for up to 9 hours on a single charge for all-day use.
Acer Chromebook Tab 10 - 9.7" Chrome OS Tablet
is rated
3.40
out of
5
by
5
.
Rated

5

out of

5
by
caitlin
from
Ergonomicaally Great - Linux support not there yet.
The ergonomics of the Acer Chromebook Tab 10 are everything you would hope for. It's light. The grip is great. The bezels are large enough so that it can be used as a tablet. It can also use it's USB C port to dock very efficiently. Ethernet and USB input devices are supported with multi-port hubs. It can mirror displays, and not theoretically let yu run a second display. But the software doesn't give you anyway to drag a window to the second display yet. Linux via crostini is available on the Dev channel, and it works flawlessly for the most part. But it totally trashes performance, especially for Android apps. This is clearly a bug, so don't buy this for Linux support at least until the bugs are fixed. The stylus works very welll for taking notes and drawing diagrams. It doesn't feel sensitive enough for doing real art, but I can't draw real art no matter how ood the stylus is. The cubby-hole stores the stylus very well. This form factor only makes sense if you want to do note taking on something bigger than a phone but want it to weigh less than the better convertible Chromebooks (1.2 lbs versus about 2.5 lbs). So far I've found that niche works for me, even if the Dev channel bugs are atrocious.
Date published: 2018-07-05T00:00:00-04:00
Rated

5

out of

5
by
V493
from
Great for its purpose
Got this for my 10 year old that wanted to replace her iPad with a computer. Add a Bluetooth keyboard and it's exactly what she wanted...a tablet and a computer. There are some minor glitches using Android apps, but it's not a deal breaker by far and I'm sure they'll get it worked out. The big thing I'd like them to fix is the fact you can't fully use this with the new Google Family Link app because you can't yet use the Google Play app and you can't download apps when activated. You also, while using Family Link, can only logon/unlock using a full password, as opposed to a PIN, which is annoying if you have a decent password. Those may be Chrome OS issues that are not specific to this Chromebook, but considering this was designed with school age children in mind, you'd think they would have addressed those issues before release. But if you don't mind using with a standard Google account (you can still lock down settings, but you don't get the perks of Family Link), you can avoid those issues. The camera is crappy, but I don't think you're buying this to take pics like you would with your phone. Good for video chat. And it's weird, but when you take a photo, I can't find where the photos are stored and the photos app can't find them either. A native file explorer would be nice, but you'll have to download one. The weight and size is perfect. Sometimes the battery heats up a lot, so they may need to work on the compatibility between Chrome OS and Android. You can charge it with just a regular phone/tablet charger if you don't want to use the supplied charger, but it takes A LOT longer, which would be my only other major critique. Overall, I believe it does exactly what they intended and in the price range you'd pay for a device for children/teens or someone who doesn't need high-end specs. I can see the promise in future devices in this category, but for a first generation product, I think they got a lot right. And you can see with future updates, because a lot of the complaints are minor and seem to be fixable with software updates, a lot of the issues people have brought up will be resolved. If you want a Chromebook in tablet form, want to also run Android apps, don't need high specs, don't want to pay a lot of money, this is probably the best option right now. You won't be disappointed.
Date published: 2018-07-18T00:00:00-04:00
Rated

5

out of

5
by
FryGuy42
from
A great start
I was looking for a replacement for my wife's Nexus 9 tablet and my son's chromebook, so I bought 2 of these. What I like: * Having a full featured Chrome browser on a tablet * USB C charging / connectivity * Good size / form factor * Android apps work well - my son has been playing PUBG on it constantly * Long battery life * Stylus comes with it and fits into the body of the tablet What needs work: * Chrome OS's touch interface feels clunky * Underpowered, but my wife and son don't do much multi-tasking, so they haven't noticed - and at the price point, I can't complain too much about it. Overall, I'm very pleased with the purchase and it has completed our conversion to Chrome OS (Desktop, Laptop and 2 tablets). After years of troubleshooting Windows, Linux and Mac computers, I couldn't be happier!
Date published: 2018-08-08T00:00:00-04:00
Rated

5

out of

5
by
Jeanie158
from
happy with it most of the time once I got used to it,
I find it pretty easy to use most of the time. It frustrates me by locking up from time to time but seems to be mostly quite reliable and does everything I need it to do. This is my only device, and so far I see no need for a smartphone or computer.
Date published: 2018-08-02T00:00:00-04:00
Rated

5

out of

5
by
Raizurhand
from
Well, It's Like This . . .
CDW requires a signature. My summer job status changed and I suddenly had to work days, not evenings, hence, not around for signature. It went back to CDW. I called them for help and have heard nothing. They must still think I have the tablet since they asked for a review of it. I don't know what it is like. It might be great.
Date published: 2018-08-10T00:00:00-04:00