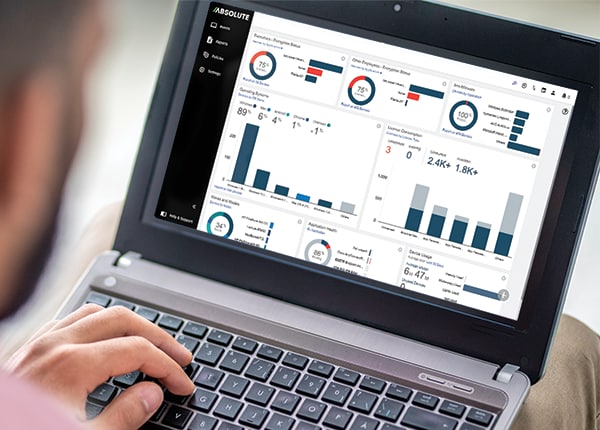 Know your gear
With the industry's only firmware embedded endpoint visibility and control solution, Absolute helps IT exponentially improve existing security controls and automate self-healing. Absolute's endpoint security solutions are resilient in the face of tampering or attack, ensuring that IT is always protected in today's digital, hyperconnected world. Explore our portfolio of always-on endpoint security and management solutions to protect devices, data, applications and users - on or off the network.
Editions
Absolute Visibility® - See all devices, on and off the network, and collect hundreds of hardware, software, security, usage, and geolocation data points automatically, with 365 days of historical logs.
Absolute Control®- Go beyond device tracking, with the ability to take remote action to remediate endpoint risks immediately.
Absolute Resilience® - Establish resilient security by ensuring critical third-party apps remain active at all times. Remotely identify and protect sensitive data, gather precise insights or remediate endpoint vulnerabilities.
Absolute Home and Office® - Gives you control over your device and everything it contains by remotely locking out unauthorized users, or deleting sensitive data.
Contact Sales Assistance
(800) 800-4239
,
Monday-Friday 7am-7:30pm CT
Software Details
Enable your remote workforce with confidence
Zero-touch Self-Healing
Proven Compliance
Remediate devices remotely and at scale
Deploy easily and manage from anywhere
View Tech Specs