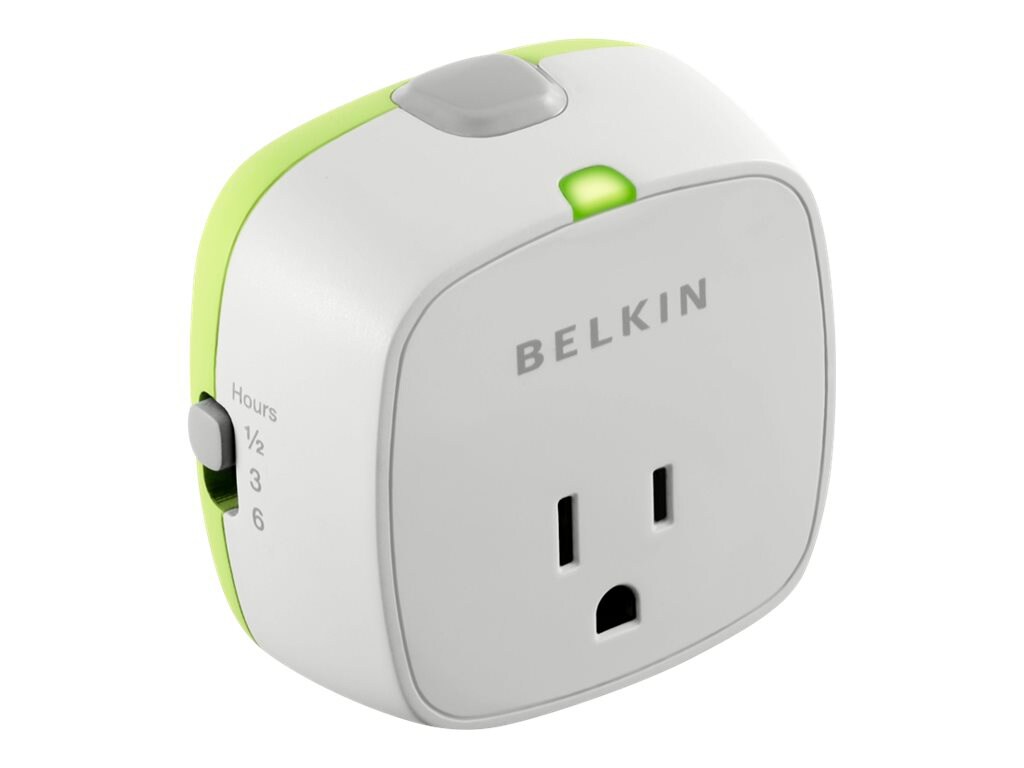 Belkin Conserve Socket - power adapter
Mfg.Part: F7C009Q | CDW Part: 2880676 | UNSPSC: 39121006 span >
Belkin Conserve Socket - power adapter
Product Overview
Main Features
Power adapter
1800 Watt
15 A (NEMA 5-15)
United States
Belkin Conserve Socket - power adapter is rated out of 5 by 9.
Rated 3 out of 5
by
DaveT
from
Great but short expected life
Being a connected family, we have many devices to charge. I used this device in line with a surge protector populated with several USB chargers. It worked great not having to deal with unplugging all of the USB chargers or shutting the surge protector off/on since it sat in an inconvenient location.Several months ago I had a handful of experiences where the Conserve Socket did not shut off. It required me to pull it out of the wall outlet. I suspect the switch was stuck and with a couple of cycles of pushing the switch, unplug it and plugging it back in, the Conserve Socket would start in its' off state. Today this is no longer the case. The switch remains in the on state and does not time out.Overall, I feel my energy savings is lower than the cost of the Conserve Switch due to the shorter than expected life of the device. This is only a feeling being that I have not calculated the energy saving. I owned this device for 2.5 years.
Date published: 2017-03-02
Rated 5 out of 5
by
jdixon1974
from
I use them for home safety
I have 4 of these in my house, but I don't use them for energy savings. I use them on things like the clothes iron, curling iron etc. My wife has a bad habit of leaving the curling iron on, and this little device alleviates any concerns I have about her burning down the house. Also, if you plug this into the lower socket, it covers up the first one, so there is no chance of accidentally or purposely plugging into the wall.
Date published: 2017-01-12
Rated 4 out of 5
by
alli
from
great for phones!
My phone used to die quickly throughout the day because I'd charge it all night when I sleep. So I use it so I don't over-charge my phone. Battery life lasts longer.
Date published: 2016-10-13
Rated 5 out of 5
by
RDUDE
from
Works as advertised...simple device, but useful
Works as advertised...simple device, but useful product
Date published: 2016-09-15
Rated 4 out of 5
by
adoorbel_gel
from
Happy with my purchase
It seems as if my battery life is better, perhaps because with the help of the Conserve Socket, I avoid overcharging my phone. My only gripe is that you have to unplug the unit if you want to stop the charge. I wish there was some kind of "off" mechanism. Otherwise, it's a great product at a reasonable price.
Date published: 2016-09-02
Rated 5 out of 5
by
pdxgoat
from
Ideal for the forgetful
Got these more for the piece of mind in knowing an appliance was turned off versus their energy savings. Using them on the morning coffee maker or space heater means that when I leave for work I don't ever worry about "Did I turn off the..?". These little guys work great especially for the neurotic personality types like me.
Date published: 2016-07-02
Rated 4 out of 5
by
Rene
from
Anything that saves energy and battery life is all
I like it but sometimes I have to recharge by pushing the button again because the iPad is not fully charged.
Date published: 2016-07-01
Rated 5 out of 5
by
benjis friend
from
everbody should have these
this is a great gadget for timed usage. I have a rechargeable vacuum cleaner. This keeps from overcharging (and ruining) the battery. Also plugged into a boot dryer so it cuts off automatically.
Date published: 2016-06-23