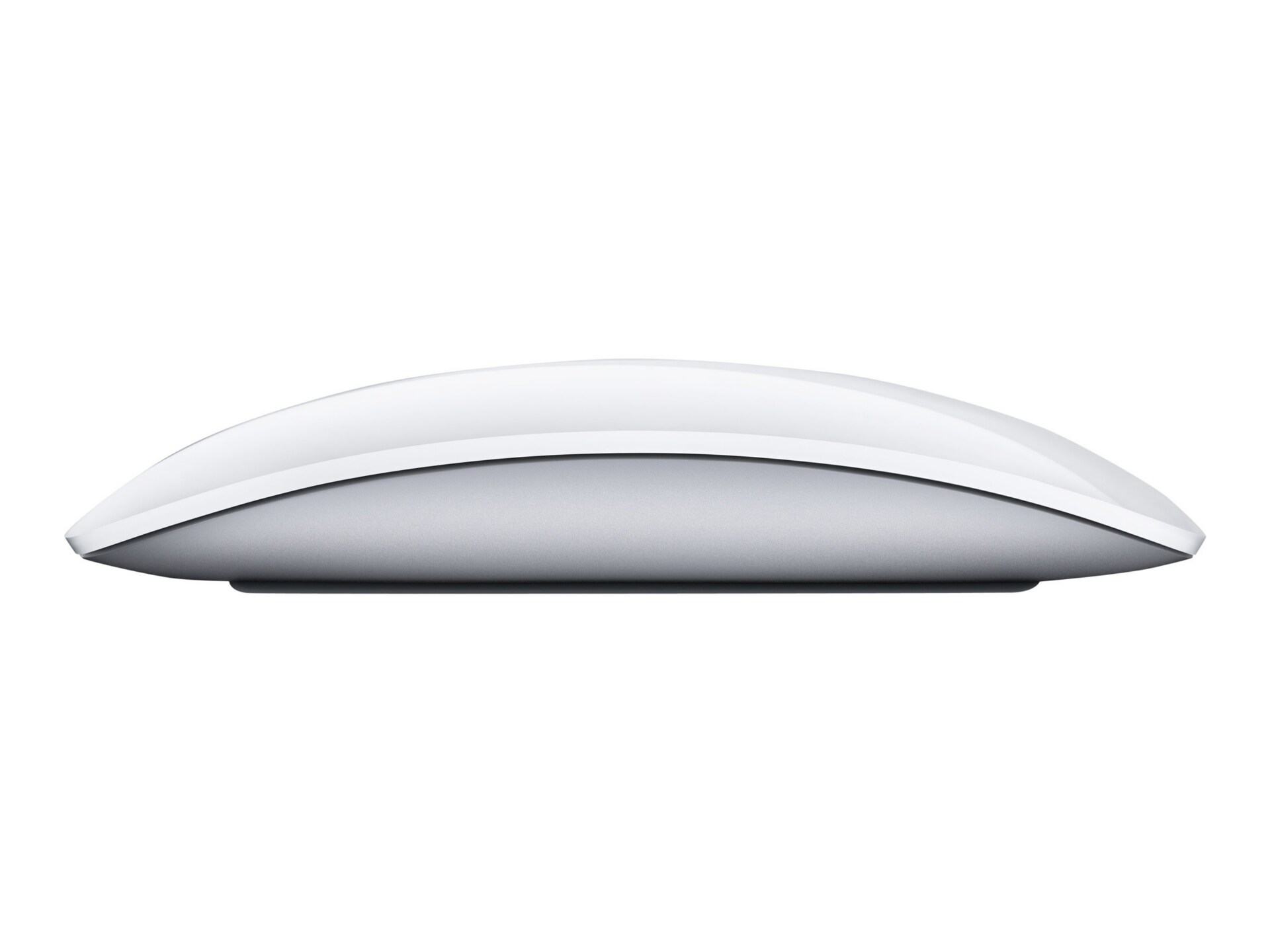 Quick tech specs
Mouse
wireless
for 10.2-inch iPad; 10.5-inch iPad Air; iPad mini 5; MacBook Air with Retina display
View All
Know your gear
Featuring impressive design, Magic Mouse 2 is completely rechargeable, so you'll eliminate the use of traditional batteries. It's lighter, has fewer moving parts thanks to its built-in battery and continuous bottom shell, and has an optimized foot design - all helping Magic Mouse 2 track easier and move with less resistance across your desk. And the multi-touch surface allows you to perform simple gestures such as swiping between web pages and scrolling through documents. Magic Mouse 2 is ready to go right out of the box and pairs automatically with your Mac.
Apple Magic Mouse 2 - mouse - Bluetooth
is rated
4.37
out of
5
by
19
.
Rated

5

out of

5
by
aromasman
from
Sleek design but miss middle click
Amazing minimalist design.Features like scroll left right, zoom-in zoom out are an upgrade to traditional mouse.My only complaint is that there is no central click.In traditional mouse scroller can be clicked and can be used to paste from clipboard. I wish there was some configurable option to do so.
Date published: 2019-08-21T00:00:00-04:00
Rated

5

out of

5
by
karanbazaz
from
Great mouse!
Great product, easy to use and holds a charge well.
Date published: 2017-05-18T00:00:00-04:00
Rated

5

out of

5
by
Steve
from
Horrible Mouse
Worst mouse I've ever used, I swear it has a mind of its own. Terrible, it would start scrolling in any 4 directions...
Date published: 2017-08-01T00:00:00-04:00
Rated

5

out of

5
by
ltong
from
Nice mouse - now with no battery replacement!
I had the previous magic mouse and had to replace the batteries a bit too often. When the bluetooth connection started failing on that mouse (about 2 years later) I bought this new magic mouse 2. Everything seems the same, except it uses the usb recharging cord instead of batteries. I love that feature! No more hunting down the "keeper-of-the-batteries" lady in the office. All the other great features are there still, like my favorite the touch-sensitive top. I use this for business all day, then gaming at night. It's a quality-designed product and I hope it lasts longer than my last mouse. The only issue I have (and it's a small issue) is that I can't charge and use the mouse at the same time since the charging port is on the bottom.
Date published: 2017-08-31T00:00:00-04:00
Rated

5

out of

5
by
TheStrowd
from
Very nice product
I replaced my logitec thumball mouse with the Apple Magic mouse and have been nothing short of amazed. The hardware alone shows that this is a well made product. I love how the scroll options work and it was very easy to use and set up. I love it!
Date published: 2018-02-21T00:00:00-05:00
Rated

5

out of

5
by
Robert
from
Great Product
This was purchased to as a lightweight solution for traveling on business trip. Easy to connect to device, great quality.
Date published: 2018-10-18T00:00:00-04:00
Rated

5

out of

5
by
twyrick
from
It's the standard mouse for a new Mac... what can you say?
I find some people either really like the Magic Mouse, or they're just enough of a purist so they don't want their expensive new Mac using a mish-mash of third party products. This is the one to get for people in either of those two camps. Best thing about this second revision over the original is the built-in rechargeable battery pack. Just attach to the (included) USB to Lightning cable while it's hooked up to a computer or powered USB hub (or any kind of charging brick or AC adapter made for USB connected devices) to recharge it, and you're all set.Personally? I find the Magic Mouse somewhat uncomfortable to use. The aluminum sides sort of press/cut into the palm of your hand while working with it and the thing generally feels like you're moving around a slightly used bar of soap. The supposed "magic" of it is the ability to do all the multi-touch gestures right on the top of it. That works .... but again, I'm just not a big fan. I go between Macs and Windows PCs often enough so I don't have all the odd multi-finger gestures memorized to use them efficiently. And sometimes, I find they get in the way, accidentally doing actions you didn't mean to do.My own all time favorite mouse has been the Logitech model, currently branded as "MX Performance Laser mouse". One of the most comfortable mice to use, ever, in my opinion - and you can assign all of its buttons to do different things in OS X, if you like. But then, that's not Bluetooth either ....
Date published: 2017-09-14T00:00:00-04:00
Rated

5

out of

5
by
mebobby
from
Sleek
The Apple Magic mouse is a perfect compliment to your Mac. Simple to use, easy to setup. Just wish the lighting port wasn't on the bottom of the mouse. But the battery life is outstanding so that is a little nit picky
Date published: 2019-03-21T00:00:00-04:00
Rated

5

out of

5
by
ecolson
from
Easy to pair with Mac and use
Delivered on time and easily paired to use. No issues with delivery/product quality.
Date published: 2019-03-27T00:00:00-04:00
Rated

5

out of

5
by
AC00
from
Excellent product
First time using mac book. This mouse is so much better than I'm using to with windows. Though bit high in price its all worth it.
Date published: 2019-04-24T00:00:00-04:00