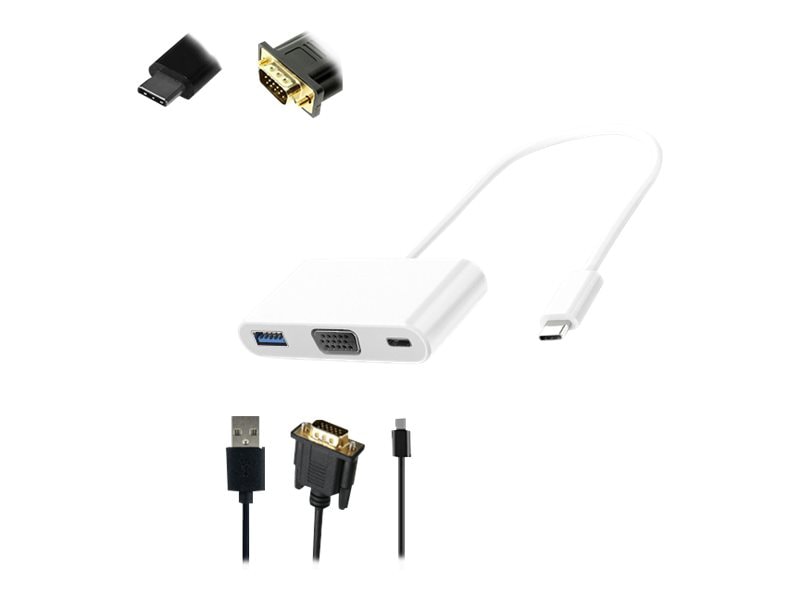 Quick tech specs
View All
Know your gear
The 4XEM 3-in-1 USB-C Docking Station with VGA port and USB 3.0 - your ultimate solution for seamless connectivity and power management.

Experience the brilliance of 4K support with the ability to connect a single display, achieving crystal-clear resolutions that bring your content to life. Equipped with 1 USB port, this hub facilitates quick and efficient data transfer at up to 5 Gbps, enhancing your workflow. Its power delivery pass-thru feature allows up to 100 W of power, ensuring your devices stay juiced up and ready to go.

Crafted with industry-leading chipset IDs, this docking station adheres to Power Delivery (PD 2.0) standards, providing efficient power management. The USB 3.1 Gen 1 (5 Gbps) host bus type ensures rapid data transfer, while the fixed attached USB Type-C cable guarantees a stable connection.

Enhance your workspace with the convenience of 1x VGA and 1x USB Type-A (5 Gbps) connectors, along with a USB Type-C port specifically for PD input. Achieve maximum analog resolutions of 1920 x 1080 @ 60 Hz, 8 BPC, adding clarity to your visual experience. This docking station supports Windows 10 and Mac OS 11, ensuring compatibility with popular operating systems.

Powered by the included bus power, this hub consumes a mere 5 W of energy, and its PD pass-through supports a maximum of 100 W power delivery, catering to various device power requirements. Elevate your connectivity game with the 4XEM 3-in-1 USB-C Docking Station - where power, versatility, and style unite to enhance your digital experience.