Micron Solid State Drives
Face the data deluge with confidence. Learn how to meet evolving memory and storage needs with Micron and CDW.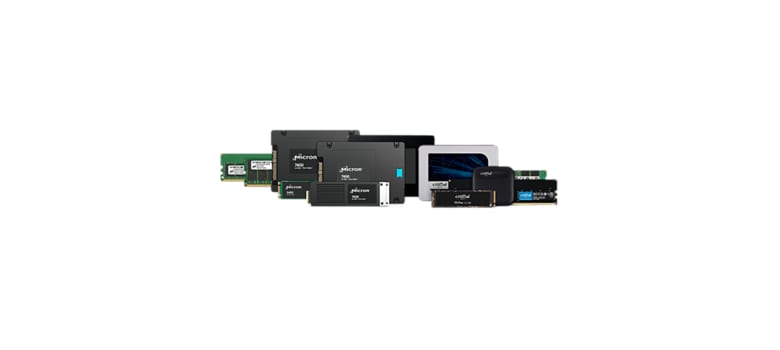 Take your data wherever you need with SanDisk portable SSDs.
Solid State Drives. Orchestrated by CDW.
Solid-state drives (SSDs) from Cisco®, HPE and other brands are available for a variety of enterprise, gaming and personal applications. They have storage capacities ranging from 16 GB to 30.72 TB. Internal hard drives are for upgrading or replacing storage in laptops, network storage and desktops. They come in different sizes, including compact options that are compatible with notebooks and larger options for desktop towers and drive arrays.

Internal and hot-swap hard drives connect via M.2, PCIe, mSATA or SATA slots, depending on their form factors. If you're comparing M.2 SATA and NVMe SSDs, be sure to check out our article.
SSDs for applications that work with a lot of data can boast high-speed performances of more than 5GB read and write speeds, and they connect via PCIe or M.2 slots. SATA and mSATA SSDs are compatible with most older computers and computing infrastructure. SSDs for enterprise use also have high endurance, some more than 1,000TB written (TBW), and mean time between failure (MTBF) of more than 2 million hours. Select options have security features to preserve data in case of power outages.

Select external hard drives come with USB cables for connection to USB ports. External drives for transferring and storing highly sensitive information have security features like 256-bit encryption, password protection and the option to set read-only access. Other options include antivirus software and remote management capabilities. Find other portable storage options at CDW®, including memory cards and flash drives.
Speak with a CDW expert for additional assistance.