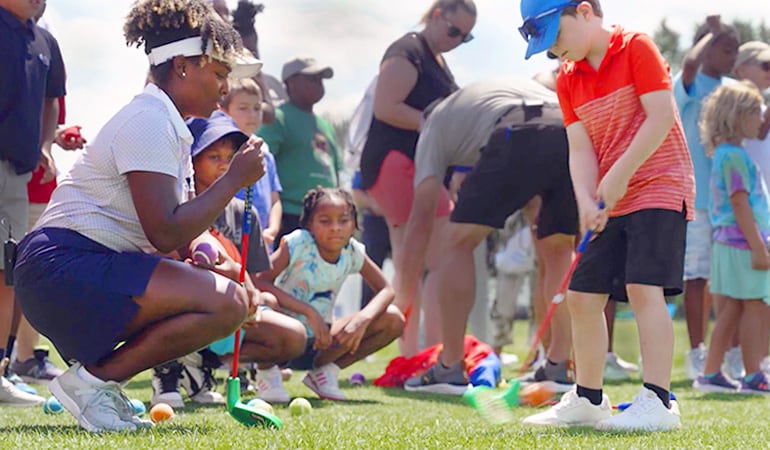 CDW was recently introduced as the newest Trustee for First Tee, a youth development organization that helps kids and teens build their strength of character through golf. CDW's support of the organization will deliver essential technology enhancements to meet the evolving needs of the coaches, kids, and families that First Tee serves.
"CDW is proud to stand behind First Tee as a Trustee," said Anand Rao, chief marketing and digital officer for CDW. "Part of our support will help the organization to modernize its technology. This aligns very well with CDW's aspiration to achieve equity by closing the digital divide that persists in traditionally underserved communities. In our connected world, CDW believes every person should be able to experience the unlimited possibilities that technology unlocks."
First Tee has embarked on a multi-year re-investment to modernize and enhance the organization, including curriculum, brand, and technology evolutions. As a Trustee, CDW will support virtual coach trainings to ensure nationally trained coaches are empowered to deliver First Tee's enhanced character-building curriculum at chapters across the country. In addition to the trainings, CDW will make a significant impact on a local level through chapter grants in select markets. These grants will be utilized to support technology advancements and upgrades, including devices, connectivity, and security.
"CDW is helping us break the barrier of connectivity between chapter leaders, coaches, and families," said Greg McLaughlin, First Tee CEO. "The impact of their support will be long lasting as we continue to evolve and reinvest in our character-building programs to ensure we reach kids and families in new and innovative ways."
The Trustee designation comes following a week of inspirational and empowering golf activities hosted by CDW for First Tee – Greater Detroit participants during the Rocket Mortgage Classic. The week kicked off with an unveiling of a new Trackman golf simulator at Durfee Community Center, a program location for the chapter, followed by a junior clinic featuring PGA TOUR player Gary Woodland among other notable golf personalities. 
Watch the below video to see how CDW supported the First Tee - Greater Detroit surrounding the Rocket Mortgage Classic PGA TOUR tournament.