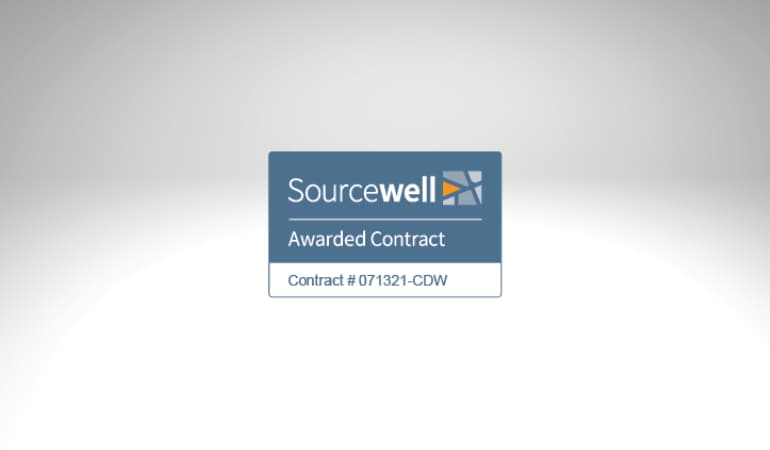 CDW-G Awarded Sourcewell Contract for IT Managed Services and Staff Augmentation Solutions 071321-CDW

CDW-G, a wholly owned subsidiary of CDW, a leading provider of technology solutions to government, education and healthcare customers, is proud to announce that it has been awarded the Sourcewell contract for "IT Managed Services and Staff Augmentation Solutions" (Services). Effective immediately, all eligible Sourcewell members nationwide have access to CDW-G's expert advice, full stack solution set, nationwide coverage and dedicated segment specific customer support to deliver turnkey offerings. The contract is active through September 10, 2025, with an option to extend for one additional year upon request of Sourcewell and mutual agreement of CDW-G. This award is a result of Sourcewell's Solicitation Process that resulted in CDW-G being evaluated as the No. 1 overall vendor chosen for this contract.
Sourcewell (formerly known as NJPA), a government organization, has over 40 years of  experience helping government, education and nonprofit agencies operate efficiently through a variety of solutions, which made CDW-G an ideal partner for this competitively sourced and awarded Services contract. The Services contract is one of CDW-G's most comprehensive contracts focused on providing professional, managed and staff augmentation services.
In addition, CDW-G also holds the Technology Catalog Solutions #081419-CDW contract with Sourcewell, which means all eligible Sourcewell members now have access to both the full catalog of technology products and services from CDW-G.
Sourcewell members will continue to benefit from aggressive pricing and, subject to applicable local procurement laws, can leverage the contract to request services from CDW-G as an alternative to going out to bid, allowing for quicker and easier purchase decisions.
"Sourcewell and CDW-G have been partners since 2003, and we are thrilled to now provide its more than 50,000 members with our technology services and expertise, and continue to offer them our wide range of tech products," said David Hutchins, vice president of strategic programs and sales enablement for CDW. "From roadmaps to adoption to project deployment and lifecycle management, CDW-G will be readily available to Sourcewell members, helping them design, orchestrate and manage their technology environments."  
CDW-G's deep relationships and dedicated resources with industry-leading manufacturers bring immense value to Sourcewell members. Its core capabilities, in addition to the capabilities from our recent acquisitions of Aptris, IGNW, Amplified IT, Focal Point, and  Sirius Computer Solutions, enable CDW-G to leverage a broad spectrum of expertise and competitive pricing around cloud, workspace, hybrid infrastructure, digital experience, that Sourcewell members will benefit from.
CDW-G's technology experts from multiple practice areas with dedicated segment and geo-specific account support understand Sourcewell members' operating environment, and are uniquely equipped to design, orchestrate and manage specific services to solve unique challenges and benefit from evolving technology trends. For more information about the CDW-G and Sourcewell contract, please visit the Sourcewell website here.