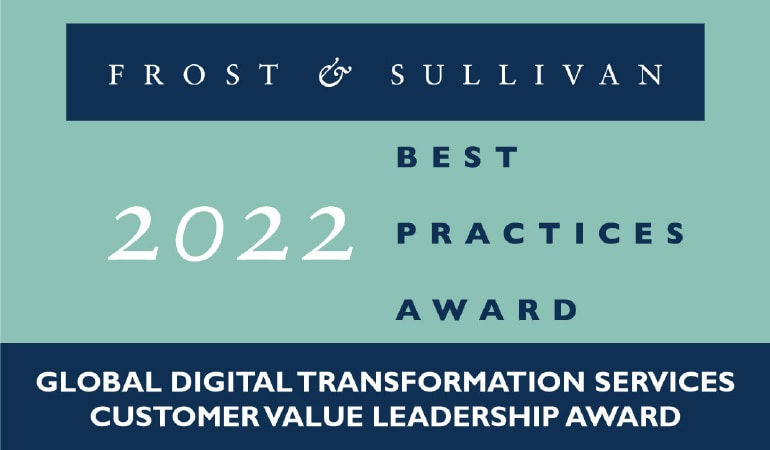 CDW is honored to receive Frost & Sullivan's Global Customer Value Leadership Award for the second year in a row. The award recognizes CDW's growing Amplified Services™ business for its commitment to the company's more than 250,000 customers globally, who seek support for their digital transformation.
CDW Amplified Services offers customers full-stack, end-to-end professional services and technology solutions, which help drive business outcomes. By accelerating innovation, containing costs, improving agility, minimizing risk, and enhancing customer experiences, CDW is a trusted advisor for enterprise and mid-size customers across sectors including healthcare, education, retail, and government.
"As a result of timely and valuable company acquisitions, CDW has acquired new customers and an impressive number of talented technology personnel and broadened its geographic reach and penetration in the large enterprise space," said Anisha Vinny, senior industry analyst at Frost & Sullivan.
"We are thrilled with this recognition from Frost & Sullivan, a top research firm with expertise in digital transformation as well as many vertical industries," said Tara Barbieri, vice president and general manager, Integrated Services Orchestration at CDW. "This award reinforces our commitment to customers and our dedication to addressing their complex business challenges, taking them from vision to value while delivering the exceptional customer outcomes that CDW has long been known for."
CDW's Amplified™ Services portfolio has grown significantly in recent years, aided by strategic acquisitions including Sirius, Focal Point, IGNW, Amplified IT, and Aptris, which have enabled the organization to expand both its services capabilities, technology talent and expertise, and geographic footprint.
Each year, Frost & Sullivan presents this award to the company that has demonstrated excellence in implementing strategies that proactively create value for its customers with a focus on improving the return on the investment that customers make in its services or products. The award recognizes the company's unique focus on augmenting the value that its customers receive, beyond simply good customer service, leading to improved customer retention and customer base expansion.
You can read the full report here and visit CDW's Amplified Services™ homepage to learn more about the full suite of services and solutions. You may also read about this honor in Frost & Sullivan's news release, here.