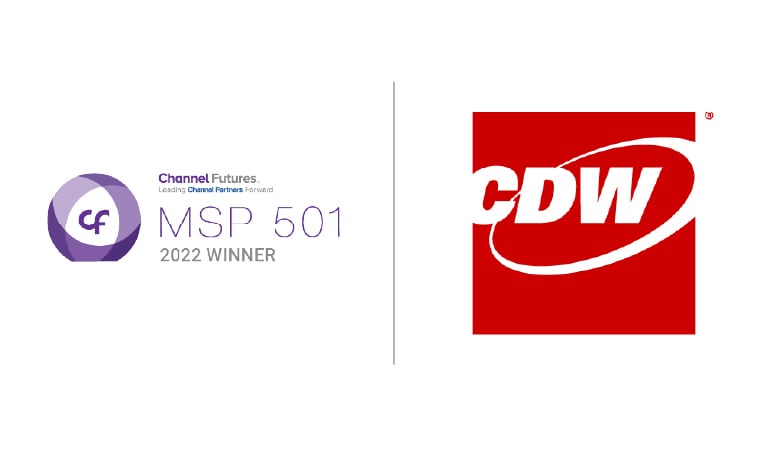 CDW is proud to announce that is has officially ranked for the first time on Channel Futures 2022 MSP 501, which is known as the tech industry's most prestigious list of MSPs (managed service providers) worldwide. The annual MSP 501 identifies the industry's best-in-class businesses growing via recurring revenue and innovation. MSPs that qualify for the MSP 501 list must pass a rigorous review conducted by Channel Futures. The list ranks applicants using a process that weighs financial performance according to long-term health and viability, commitment to recurring revenue and operational efficiency.
"To appear on the Channel Futures MSP 501 list is a welcome recognition of CDW's managed services business and its continued growth," said Tara Barbieri, vice president, Integrated Services Orchestration within Amplified Services. "We are proud to be acknowledged as one of the highest-performing and most innovative MSPs in the industry. While we've been doing this work for some time, we expect to grow our recognition in this sector as we continue to impress customers by the quality of our services and our expert team. With CDW's overall reputation for excellence, it is no surprise we maintain an industry leading net promoter score. Couple this with our extensive range of services and resources, and significant knowledge of emerging technologies, and we look forward to firmly establishing a presence on these revered lists."
According to Channel Futures, this year's list attracted a record number of applicants, making it one of the most competitive in the survey's history.
In terms of methodology, the Channel Futures MSP 501 survey examines organizational performance based on annual sales, recurring revenue, profit margins, revenue mix, growth opportunities, innovation, technology solutions supported, and company and customer demographics. The MSP 501 list itself recognizes top managed service providers based on metrics including recurring revenue, profit margin and other factors. The list is based on confidential data collected and analyzed by the Channel Futures editorial and research teams. Data was collected online from Feb. 1 – April 30, 2022.
Please visit CDW's Amplified Services  for more information about our professional technology services.