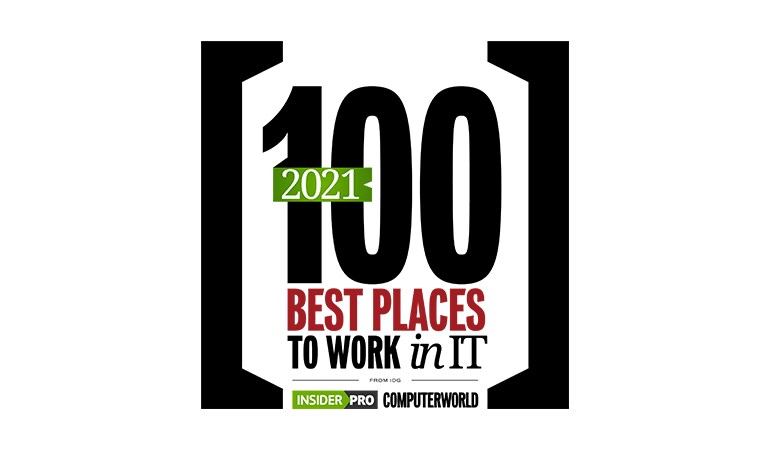 CDW is proud to be named by IDG's Insider Pro and Computerworld as a 2021 Best Places to Work in IT. The honor goes to 100 organizations that challenge their IT staffs while providing great benefits, training and career advancement opportunities.
CDW is committed to its IT coworkers and recognize their exceptional skills. As we do for all coworkers, we are continually cultivating growth opportunities across the company and strive to provide industry-leading coworker benefits. Our dedication to innovation and advancing our IT workforce is crucial to the success of our customers.
"This year represents CDW's 21st appearance on the Insider Pro and Computerworld list," said Sanjay Sood, senior vice president, operations and chief information officer. "Last year was one of unprecedented challenges for our customers, and our IT coworkers have only continued to provide the best possible service and experience. They are an essential member of our CDW team, and we continue to work hard to develop incredible IT talent."
In order to be considered for the list, IDG Insider Pro and Computerworld provide organizations with a survey to identify the 100 best places to work for IT professionals. The survey focuses on a range of areas including benefits, training and development opportunities, workplace culture, compensation, job duties and mentoring programs.
"Despite the overwhelming obstacles the pandemic has created for many businesses, IT has managed to thrive and in fact, become more essential in the workplace. Attracting and retaining top IT talent to research, deploy and maintain technology has never been more critical," said Kate Hoy, editor of IDG's Insider Pro. "Companies that have earned a spot on the Insider Pro and Computerworld 2021 Best Places to Work in IT list have been able to foster nimble and flexible work environments – while continuing to keep competitive compensation and benefits steady. Additionally, they foster a spirit of diversity, social responsibility, training and innovation."
Visit the CDW IT careers page to learn more about current opportunities.