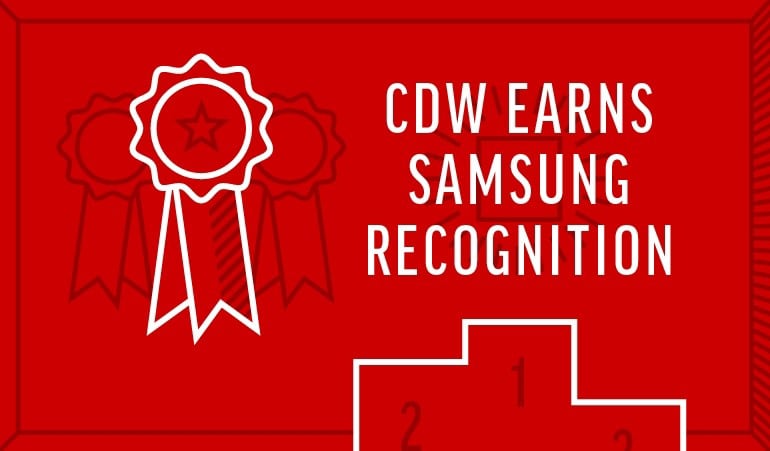 CDW is honored to be named top Installation partner of the year for K12/Education in 2020 by Samsung Electronics America at the Samsung Partner Awards and Samsung V/X: Business Reimagined. The awards program highlights the many contributions partners make to the display and mobile industry.

 "We are thrilled that our partnership with Samsung helped enable us to lead the charge against educational technology optimization and remote learning in 2020 for our valued customers," said Joe Simone, Vice President, Education, CDW. "As we continue to provide innovative technology that is student-centered, collaborative and inclusive, we are excited to continue our partnership and offer more robust service and solutions to further enhance our ability to serve customers' evolving needs in an everchanging world."
2020 introduced unprecedented challenges for educational institutions around the country. Collaboratively, CDW and Samsung enabled its customers in the education sector to stay agile, pivot where needed to continue operation and enable student accessibility for better educational outcomes in a virtual setting. The partnership proudly delivered excellent services while consistently driving revenue to help districts thrive in the face of adversity. As remote E-learning evolves and classrooms have more interactive opportunities for in-person instruction, it is CDW's top priority to continue pushing the needle on educational technology solutions and services for its customers.
 "At Samsung we value our partnership with CDW and the ideas they bring to the table. Over the course of the last year, our partners demonstrated their dedication to creating innovative solutions to support customers during challenging times," said Chris Mertens, Vice President of US Sales, Displays. "We are pleased to show our gratitude and honor CDW for their hard work and are excited to continue our partnership."